The Artist Known as Xavier Cugat
Long before his claims to fame as a big bandleader and recording artist who popularized the rhumba and tango in Hollywood, and marrying Charo (his 5th wife), Xavier Cugat's secret skill as portrait caricaturist helped pay the bills.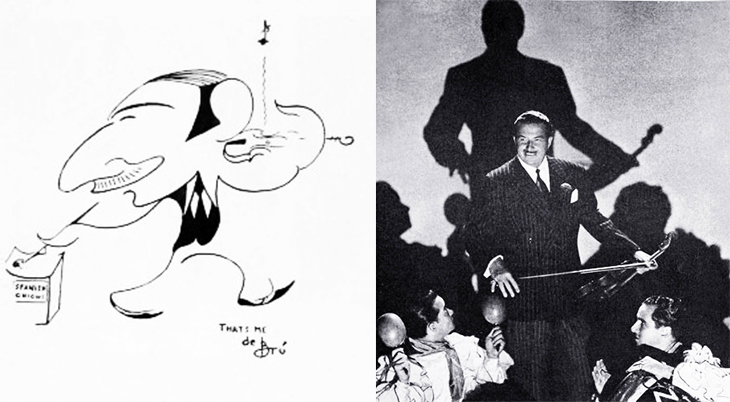 (Xavier Cugat 1927 Caricature: Photoplay | 1944 Cugat Orchestra: Cinemundial)
Child Prodigy Violinist
Nee Francisco de Asis Javier Cugat Mingall de Bru y Deulofeu, Xavier Cugat was born on January 1, 1900 in Barcelona (Catalonia), Spain. According to his biography on XavierCugat.com, at the time of his birth, Xavier's father Juan Cugat de Bru was in prison for "rebellious talk".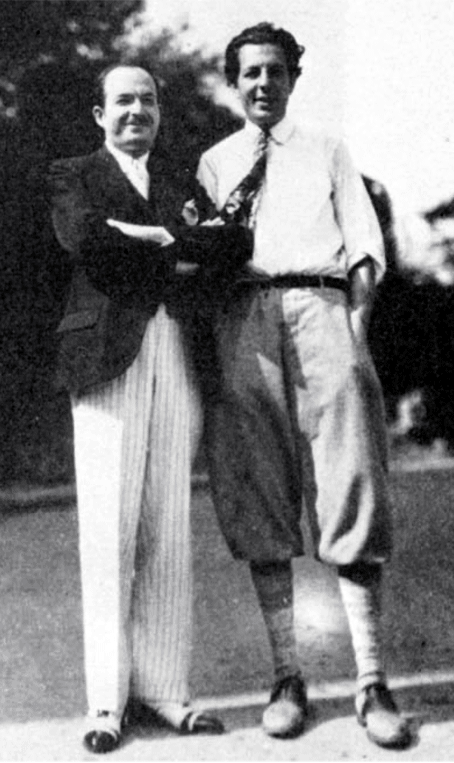 (Xavier Cugat & big brother Francis Cugat c. 1920s-1930s Photo: Arxiu familiar dels Cugat)
Xavier Cugat's October 1990 Los Angeles Times obituary noted his father Juan was a political exile from Spain when Xavier, his oldest brother Francisco (Francis), and middle brother Albert – arrived in Havana, Cuba around 1903-1904. Younger brother Enrique and a sister came along later.
Four-year-old Xavier was given a small violin as a Christmas gift from one of his new neighbors. Cugat trained as a classical violinist and began working at that craft from the age of nine at silent movie theatres (they were never fully "silent" – there was always accompanying live music, usually an organist). His obvious talent allowed him to quickly rise to become – at age 12 – first chair violinist for the Teatro Nacional Symphonic Orchestra.
Xavier had also discovered and nurtured a talent for drawing caricatures.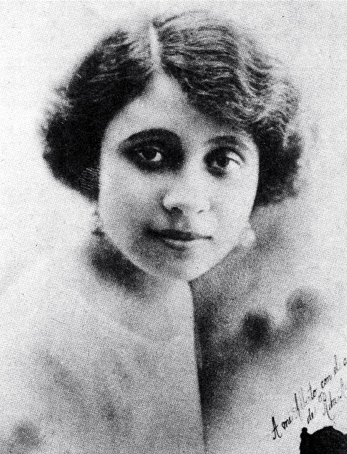 (Rita Montaner c 1923)
Xavier Cugat married Cuban-born singer, pianist and actress, Rita Montaner, in 1918, when they were both around 18 years of age. Their marriage ended in divorce in 1920.
Rita Montaner became well known as a operatic soprano and singer of Afro-Cuban songs in Cuba, America, and Europe. Not content with concert stages, she ventured into films as well during the 1930s and 1940s. On a visit to New York in 1926, Rita is credited with performing with Xavier Cugat.in the Schubert Follies at the Apollo Theater.
After her divorce from Xavier, Rita married Cuban lawyer Dr. Alberto Fernández Díaz, and they had two sons. She married twice more after Díaz died, and was 58 years of age when she died of cancer in April 1958.
Enrico Caruso and The Met arrived in Havana in mid-1920 to perform with the Teatro Nacional Orchestra for the princely sum of $10,000 a night. A bomb exploded one night and there is some mystery, according to the Washington Post's account, as to Caruso's whereabouts for a few days after.
Enrico Caruso and the opera company returned to New York, and were soon followed by  Xavier and his family, so he could begin touring with the great singer. Cugat has credited Caruso with helping enhance his carictature skills, as Enrico was also skilled at that art and they practiced drawing together.
Enrico Caruso's health had been quickly deteriorating, and he died unexpectedly at the age of 48 in August 1921, ending his protege Xavier's hopes for a long association.
Artists Run in the Cugat Family 
For the first half of the 1920s, Xavier struggled to make it as a concert violinist on his own in America. He worked with different band leaders and orchestras, studying his craft and drawing caricatures.
Meanwhile, Xavier's older brother Francis Cugat (aka Francisco Coradol-Cougat; born May 24, 1893) had become an accomplished artist after studying in Paris. The Exhibitor's Herald (June, 1917) noted that he was now the Chief Poster Artist for Mutual Film Corporation, and a designer of opera posters based in New York.
In 1921, Francis Cugat of the art department of the Metropolitan Opera Company was designing art titles for silent films (Sunshine Harbor, 1922). This association with the movie industry continued for Francis. He was reported to be working for Paramount in 1924, and his set design work for Douglas Fairbanks' epic film Don Q Son of Zorro (1925) was praised in trade magazines.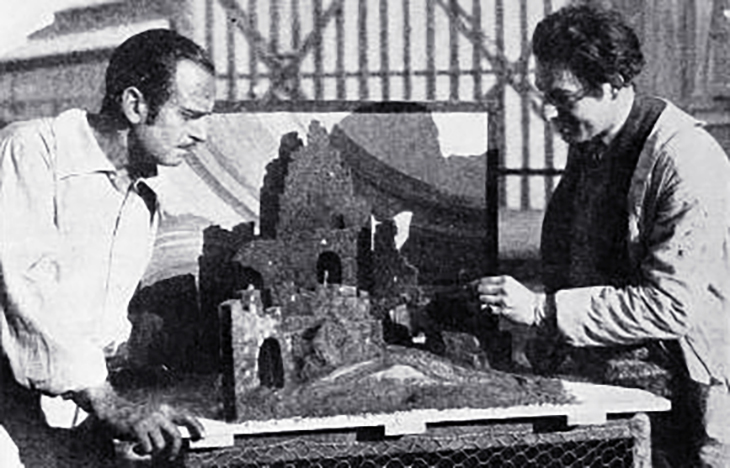 (Douglas Fairbanks and Francis Cugat 1925 Photo: Exhibitors Herald)
Francis Cugat married fellow painter Ruth Wadler in 1922. His press mentions usually omit any reference Cuba, and focus on him as an artist from Barcelona. His success may have parlayed into a few early film appearances for younger brother Xavier Cugat, who is credited in two noteworthy silent movies:
Director Rex Ingram's The Four Horsemen of the Apocalpyse (1921), which made stars out of leading man Rudolph Valentino & actress Alice Terry, who dance the tango to the (silent) violin of Cugat;
Director Erich von Stroheim's The Merry Widow (1925), starring John Gilbert and Mae Murray. Cugat appears as an orchestra leader.
Although Francis was already well known as talented celebrity portrait artist, painter and graphic designer of opera, stage, and film sets, it was his design of the original dust jacket for F. Scott Fitzgerald's opus The Great Gatsby (1925) which is often touted today as his biggest claim to fame.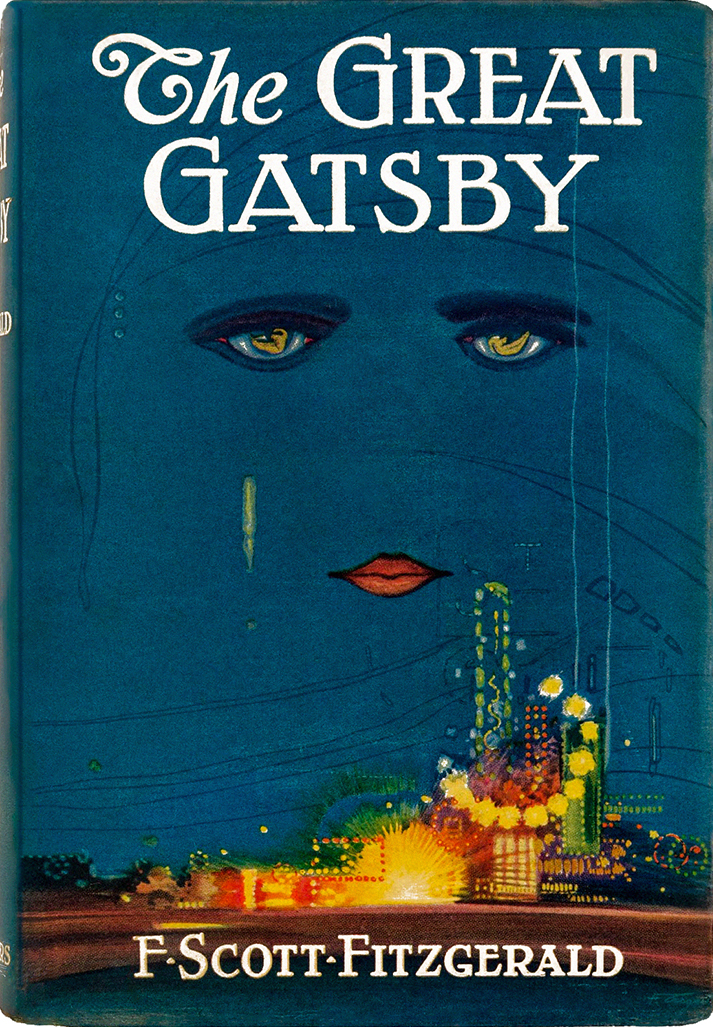 (The Great Gatsby by F. Scott Fitzgerald 1925 Dust Jacket Cover: Francis Cugat)
Francis Cugat moved to Hollywood in 1925 and continued to design sets for films, create posters and other art. His IMDB film credits only begin in 1946 as a technicolor color consultant or director on 65+ classic movies, such as:
The Bandit of Sherwood Forest (1946) starring Cornel Wilde & Anita Louise.
Desert Fury (1947) with John Hodiak, Lizabeth Scott, and Burt Lancaster.
The Loves of Carmen (1948) with Rita Hayworth & Glenn Ford.
The Red Pony (1949) starring Myrna Loy, Robert Mitchum, and Louis Calhern.
Jolson Sings Again (1949), with Larry Parks, Barbara Hale, and William Demarest.
Fancy Pants (1940) starring Bob Hope and Lucille Ball.
Director John Ford's The Quiet Man (1952) with Maureen O'Hara, John Wayne, and Victor McLaglen.
Salome (1943) starring Rita Hayworth, Stewart Granger & Charles Laughton.
Hollywood Ten blacklisted Director Edward Dmytryk's The Caine Mutiny (1954) with Humphrey Bogart,  José Ferrer, and Van Johnson.
Jet Pilot (1957) starring John Wayne and Janet Leigh, directed by Josef von Sternberg.
Francis Cugat was 88 years old when he died in Westport, Connecticut on July 13, 1981.
What became of Xavier's other older brother, Alberto Cugat? Cugat's Who's Who at Metro-Goldwyn Mayer (1944) profile mentions his humble beginnings in Cuba and "three brothers were struggling artists", and "all are now well known in their chosen artistic field."
I found this striking color portrait of actress and former silent film star Mary Brian on the cover of Cine-Mundial (January, 1931), painted by an A. Cugat.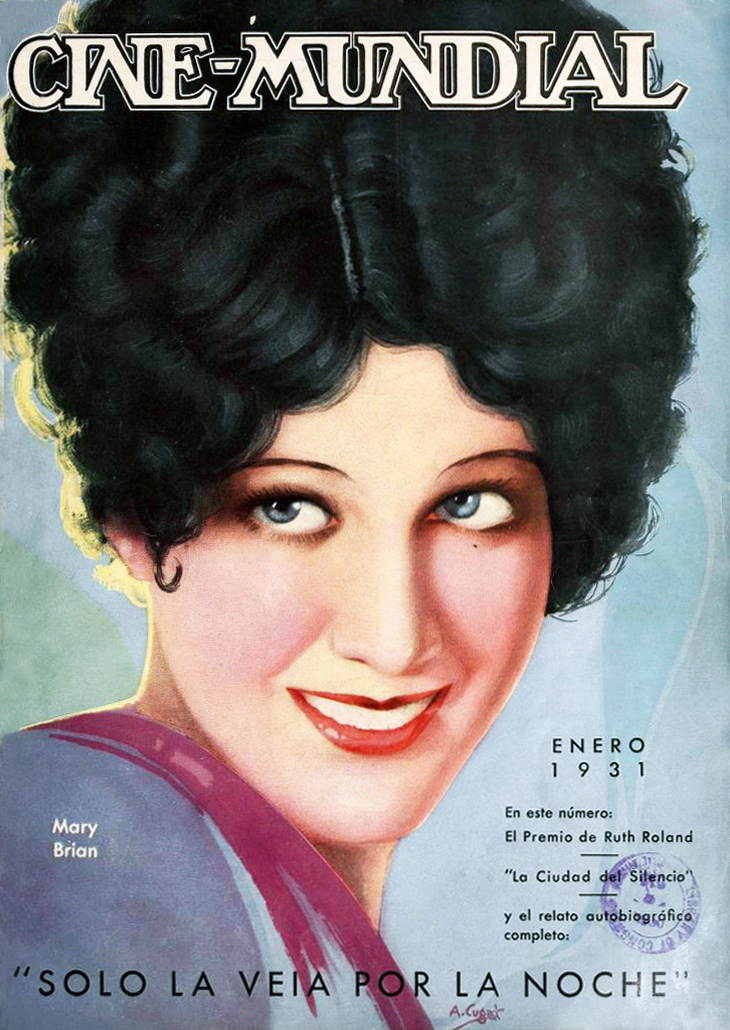 (Mary Brian 1931 Cine-Mundial Cover Painting: A. Cugat)
Given the multitude of names each Cugat family member had, it's possible this painting of Mary Brian was done by Francis Cugat; but, it could have been Alberto.
De Bru Caricatures
Cugat's MGM Who's Who profile says that when he first went to California, he became a cartoonist for the Los Angeles Times. Spanish-language movie fan magazine Cine-Mundial mentions Xavier Cugat for the first time in (1926), rough translation below:
"Javier Cugat, brother of the painter of the same name who triumphs in Hollywood [Francis], and whose magical violin puts classical notes in the concerts that Vicente Lopez broadcasts on radio, signs his caricatures X. Mingall."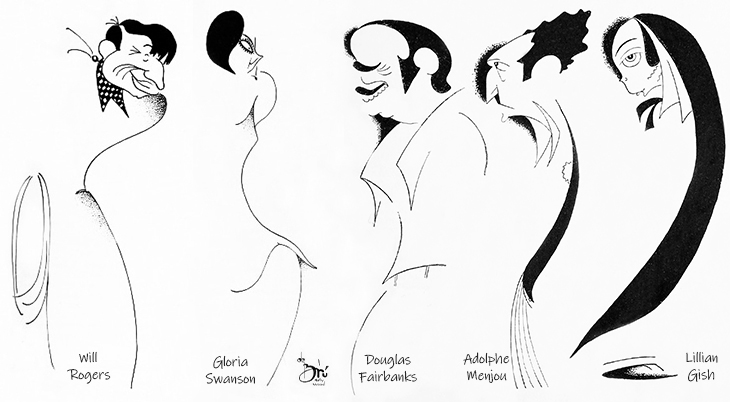 (Will Rogers, Gloria Swanson, Douglas Fairbanks, Adolphe Menjou & Lillian Gish 1927 Caricatures: Xavier Cugat)
Xavier had begun selling his caricatures to supplement his income as a struggling musician.
(Rudy Vallee 1931 Photo: Broadway and Hollywood 'Movies' & 1930 Caricature: Xavier Cugat)
His caricatures first began appearing in Hollywood fan magazine Photoplay in November 1927.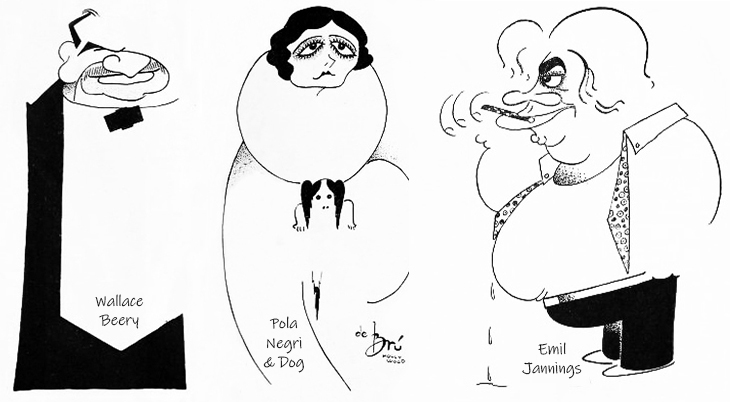 (Wallace Beery & Pola Negri 1927, Emil Jannings 1929 Caricatures: Xavier Cugat)
X. Mingall, de Bru, and Cugat were some of the signatures Xavier used during the 1920s and 1930s on his works.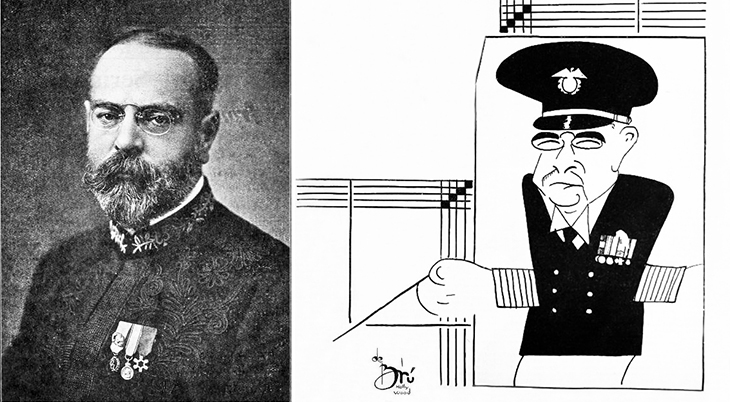 (John Philip Sousa 1909 Photo: Edison Monograph Monthly | 1930 Caricature: Xavier Cugat)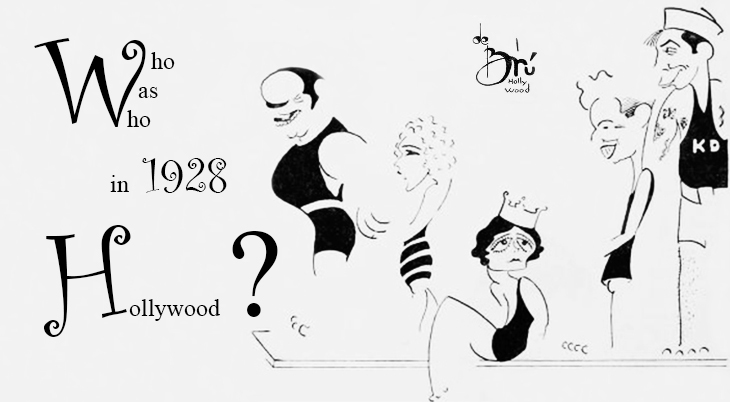 (Douglas Fairbanks, Mary Pickford, Pola Negri, Charlie Chaplin & Karl Dane 1928 Caricatures: Xavier Cugat)
Music and caricatures would be his trademark going forward, and his caricatures were published in different magazines. According to MGM's 1944 profile, Cugat then had 35,000 caricatures stored at his home.
The Carmen Castillo Years
Radio and Television Mirror (1940) described soprano singer-actress Carmen Castillo (born June 21, 1900), as the daughter of a "wealthy Mexican grandee".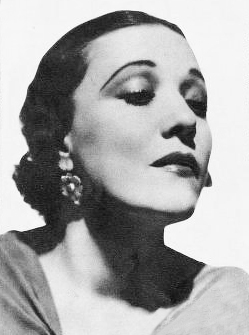 (Carmen Castillo 1937 Photo: Cine-Mundial)
Carmen Castillo was one of 32 children in her father's family – 16 kids by  his first wife, and another 16 by his second!
She made her Hollywood film debut with a supporting role in director Raul Walsh's silent movie The Loves of Carmen (1927), starring Dolores Del Rio, Don Alvarado, and Victor McLaglen.
Carmen's film career quickly fizzled, with only minor roles in two 1928 films – Woman Wise, starring William Russell, June Collyer, Walter Pidgeon, and legendary Hawaiian surfer Duke Kahanamoku; and The Man Who Laughs (1928), with Mary Philbin and Conrad Veidt.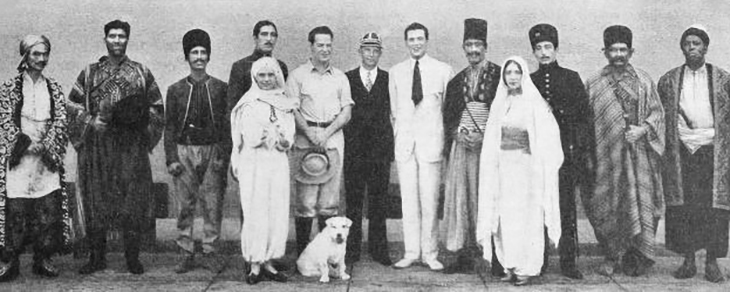 Above, the multi-national cast and crew of Woman Wise, from left: Sojin, Raul Paoli, Frank Leyva, Josephine Borio, Jamiel S. Hasson, William Russell, Director Albert Ray, Walter Pidgeon, Duke Kahanamoku, Carmen Castillo, Fernandez Mendez, Vincent Howard, and Henry Smith.
Now in Hollywood himself, Xavier Cugat and Carmen Castillo crossed paths. It wasn't long before Carmen encouraged Xavier to start a dance band. She sang, he played the violin and used his bow to direct the orchestra. 
"The violinist and cartoonist Xavier Cugat, and his 'Argentine' orchestra, have made their debut at the Montmartre Cafe, where they are highly applauded by the stars who attend the famous Hollywood restaurant, and by the curious generally attracted by movie celebrities" – Cine-Mundial, November 1928 
Hollywood film stars like Charlie Chaplin, Ramon Novarro, Douglas Fairbanks Jr., Lupe Velez, Dolores Del Rio, and others, helped popularize the Latin dances that Cugat introduced at the Montmartre Cafe, and later the Hotel Ambassador's famous Cocoanut Grove – the rhumba, the tango, bolero ( a slow rhumba), zamba, and danzon.
Below, Carmen Castillo provides the vocal for Xavier Cugat and his Waldorf-Astoria Orchestra's bolero Amor.
Carmen Castillo and Xavier Cugat were married in October of 1929.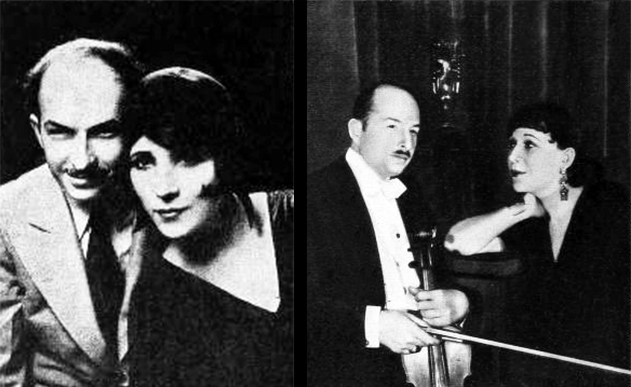 (Carmen Castillo & Xavier Cugat 1930 Photo: Radio Digest | 1933 Photo: Cine-Mundial)
They continued performing with the band, and Cugat's music fame began to spread as widely as that of his caricatures.
Grauman's Chinese Theatre Caricature Curtain
In March 1929, Motion Picture News reported that Xavier Cugat had been engaged by Pathé:
"To write the theme song, arrange the musical score and design the costumes and settings for a new talking film with a Spanish background." 
Cugat, like his older brother, was beginning to inch his way into the movie business.
Fox West Coast Theatres, under the direction of Harold B. Franklin, assumed ownership of Sid Grauman's Chinese Theatre in Hollywood around 1929; this landmark was built in 1927.  
"Xavier Cugat, noted portrait artist, has been retained by Fox West Coast Theatres to paint eighty facial portraits [caricatures] in full colors which shall become part of a novel curtain which Harold B. Franklin has ordered for the Chinese Theatre. The portraits will be of the motion picture celebrities, and will be hung upon the gigantic curtain to greet the audience, and supply them with the pleasant diversion of identifying their favorite stars while awaiting the performance…" – Hollywood Filmograph, June 21, 1930
As of November 1930, Modern Screen noted that a great deal of secrecy surrounded the caricature curtain and very few people had seen it; it still hadn't been unveiled, but was scheduled to make it's debut at the premiere of The Big Trail (1930), starring John Wayne and Marguerite Churchill.
Whether the curtain was ever completed or unveiled is a modern mystery; so much was happening in the film industry in 1930. Fox was playing around with widescreen formats, and sound was effectively killing silent films. These technical innovations required theatre owners to accommodate new equipment, and Cugat's caricature curtain may have gotten lost in the shuffle. 
Radio, Margo, and The Waldorf Astoria
For the next few years, Xavier Cugat and Carmen Castillo were kept busy performing tangos with their "Tango Rhumba" orchestra at various hotels in the Los Angels area. In January 1931, Radio Digest reported that he was hired to direct the orchestra of the new Hotel Ensenada resort centre in Mexico, which was financed by a group of Americans that included boxer Jack Dempsey.
He was soon back in California, and could be heard on Hollywood and San Francisco radio stations, broadcasting live from hotels. 
When the Cugat orchesta played the Cocoanut Grove room at the Ambassador Hotel in 1932, a new dancer joined their troup. One of Carmen's young nieces – Maria Marguerita Guadalupe Teresa Estela Bolado Castilla y O'Donnell (born May 10, 1917) – aka Margo, began performing with her aunt and uncle as a featured dancer. 
Xavier Cugat and his Orchestra became a regular feature at the legendary Waldorf Astoria Hotel in New York City – a feat accomplished when Cugat's opening act upstaged the previous orchestra, and bandleader Jack Denny quit in a huff.
The Cugat shows from the Waldorf Astoria were broadcast nationally on radio, and his performances were often recorded; Perfidia and Brazil are among his many best-selling hits.
Xavier's reign at the new Waldorf Astoria continued on and off from 1933-1949. The couple told Radio and Television Mirror (1940) that when in New York City, they lived at the hotel, and one of the dining rooms was even decorated by Cugat. The 1945 feature film Week-end at the Waldorf starring Ginger Rogers, Lana Turner, Walter Pidgeon, Van Johnson, Edward Arnold, and Keenan Wynn, features Xavier Cugat as himself. 
Margo accompanied her aunt and uncle to New York to perform with them at the Waldorf Astoria and was "discovered" by screenwriter-director Ben Hecht. Hecht chose her to co-star with Claude Rains in his film Crime Without Passion (1934), and Margo never looked back.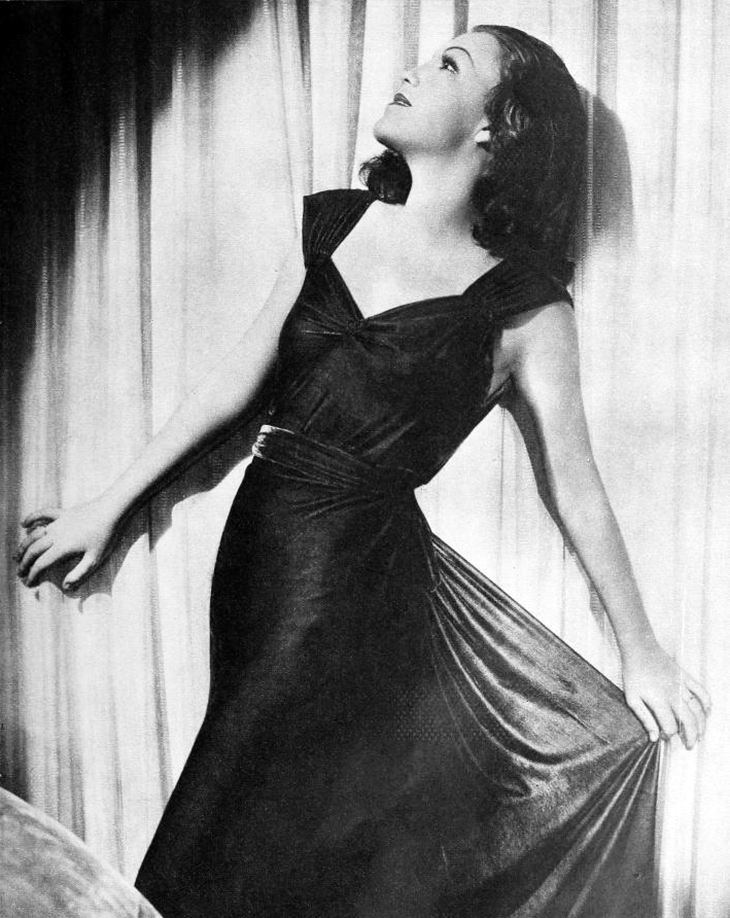 (Margo 1935 Photo: Eugene Robert Richee)
Margo had a successful career as a singer-dancer-actress on Broadway and co-starred in another 13 feature films. Among her movies are Rumba (1935) starring George Raft and Carole Lombard, Lost Horizon (1937) with Ronald Colman, Jane Wyatt, Edward Everett Horton, Gangway for Tomorrow (1943) with John Carradine and Robert Ryan, and Viva Zapata! (1952), starring Marlon Brando, Jean Peters, and Anthony Quinn
Margo married actor Francis Lederer in 1937, and they were divorced in 1940. She married Eddie Albert in 1945 and they had two children – daughter Maria, and son Edward Albert, who also became an actor. Margo and her husband Eddie Albert were co-stars in the movies I'll Cry Tomorrow (1955), with Susan Hayward, Richard Conte, and Jo Van Fleet, and Who's Got the Action? (1962), starring Dean Martin and Lana Turner. Margo died at their Pacific Palisades home in July 1985 of brain cancer. 
Movies, Discoveries, and Mr. and Mrs. Cugat
Xavier Cugat continued to enjoy success throughout the remainder of the 1930s and 1940s on radio, as a recording artist, and in live performances.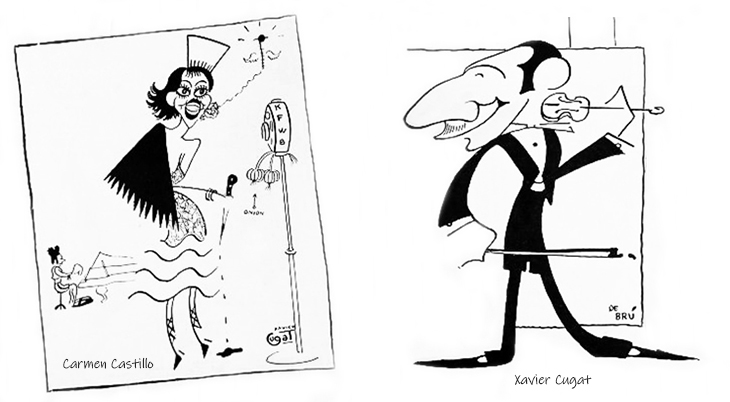 (Carmen Castillo & Xavier Cugat 1928 Caricatures: Xavier Cugat)
He was featured in a couple of Jane Powell films – A Date with Judy (1948) co-starring Wallace Beery, Elizabeth Taylor, Robert Stack, and Carmen Miranda, and Luxury Liner (1948), with George Brent and Frances Gifford.
Cugat also co-starred in two movies with Esther Williams and Ricardo Montalban – Neptune's Daughter (1949) with Red Skelton and Keenan Wynn, and On An Island With You (1948), with Peter Lawford, Jimmy Durante, and Cyd Charisse.

(Xavier Cugat c 1937 with Dolores Del Rio, Lawrence Tibbett, Adolphe Menjou, & Simone Simon)
Xavier Cugat discovered singers Adele Mara, Simone Simon, and teenage ex-pat Cuban Desi Arnaz, who was singing with a dance band in Miami at the time. According to Hollywood (1941), Desi had to finish high school before he could begin touring with Cugat's orchestra as a special vocalist in 1937. Offered a ten-year contract by Cugat, Arnaz turned it down to go on his own; three years later, he eloped with Lucille Ball.
Author Isabel Scott Rorick's best-selling comedy tome Mr. and Mrs. Cugat (1941), was NOT about Xavier Cugat and Carmen Castillo. The novel focuses on the fictional sketches of a bank executive and his wife. The movie Are Husbands Necessary? (1942) starring Ray Milland and Betty Field as the fictional Cugats, is based on this book. The radio program My Favorite Husband (1948) starring Lucille Ball and Richard Denning as the Cugats, was also based on Rorick's book. The radio program was so popular, Ball was asked to make it into a TV show…the result? I Love Lucy, starring Lucille Ball and Xavier's discovery, Desi Arnaz.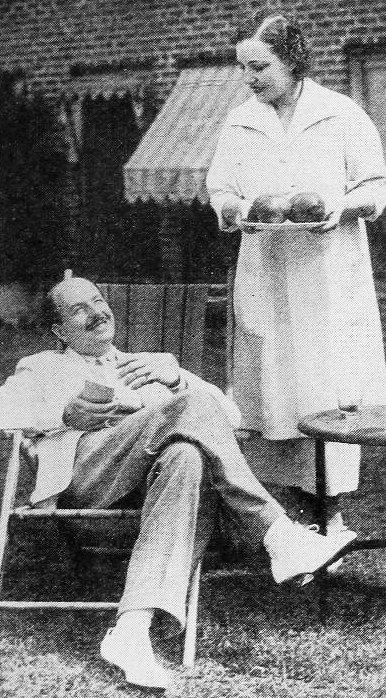 (Xavier Cugat & Carmen Castillo 1940 Photo: Radio and Television Mirror)
Carmen Castillo and Xavier Cugat were divorced in 1944.
Xavier married for a third time, to Lorraine Allen in 1947, and that marriage ended in divorce in 1952.
His fourth marriage in 1952 was to 20-year-old singer-actress Abbe Lane; Cugat was 52. They divorced in 1964.
Xavier Cugat's fifth and final marriage in 1966 was to Spanish classical guitarist and comedienne Charo, whom he also discovered. Cugat  was 66 when they got married, and Charo (whose age has been disputed) was at most, 25. Charo and Cugat were divorced in 1978.
Cugat never had any children with his wives. He moved back Barcelona, Spain and lived out his final years in a Ritz Hotel suite there. Xavier Cugat died of heart failure at the age of 90 in October 1990, in Barcelona. 
Other Resources
Exhibitor's Herald (1921; 1924; 1925; 1927) 
*Images are believed to be in the public domain or Creative Commons licensed & sourced via Wikimedia Commons, Vimeo, YouTube, or Flickr, unless otherwise noted*