Tippi Hedren - The Birds, Big Cats & Babylon
Before Tippi Hedren became a critic of keeping exotic pets in homes and successfully lobbied Congress in 2003 to outlaw the traffic of big cats between states, the actress kept lions on her own property in the 1970's!
Tippi Hedren still keeps lions, but they're now housed on the Shambala Nature Preserve she founded in 1983 in California.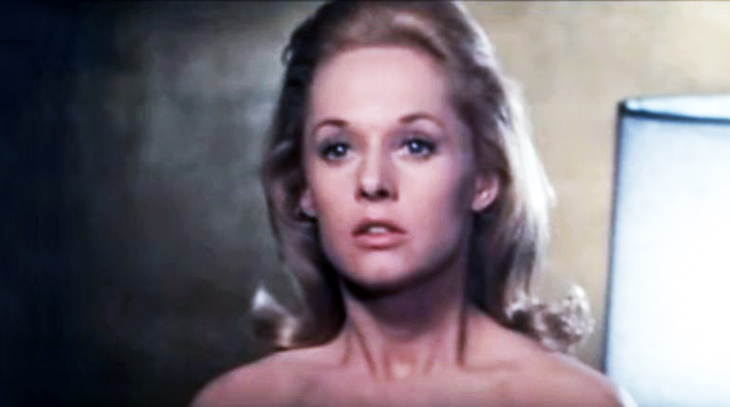 (Tippi Hedren 1964 Marnie Movie Trailer)
Nee Nathalie Kay Hedren on January 19, 1930 in New Ulm, Minnesota, the actress acquired the family nickname Tippi growing up. At the age of 20 she moved from Los Angeles to New York to become a model, and carved out a successful career in commercials.
Hedren's only child, daughter and actress Melanie Griffith, is a product of her first marriage in 1952 to Peter Griffith (they divorced in 1961). Tippi had been a young mother, modeling for around 11 years on the East Coast, before she moved her family to California in order to begin acting in films in the 1960s.
Most people will recognize Tippi Hedren from her first film and leading lady role in 1963's Alfred Hitchcock film The Birds, playing Melanie Daniels opposite leading man Rod Taylor's character of Mitch Brenner. Hedren was one of the many "Hitchcock blondes", sophisticated, cool leading ladies such as Kim Novak, Ingrid Bergman, Grace Kelly, Doris Day, Janet Leigh, Shirley Maclaine, Julie Andrews, Eva Marie Saint, Barbara Harris, and others.
This movie clip features Tippi Hedren and Rod Taylor, as "Melanie" arrives on the island and is greeted for the first time by The Birds.
At the time Hedren spoke glowingly about the famous director, and willing starred again the next year in Marnie, another Alfred Hitchcock suspense film, opposite leading man Sean Connery. In Marnie, Hedren plays an emotionally disturbed woman who is terrified of her husband, played by Connery. 
Hedren's troubled working relationship with Alfred Hitchcock was captured in a book and a 2012 movie The Girl. She recalled for an interviewer in 1963 that a cage was built for the attic scene in which she's attacked by birds – ravens, crows, and seagulls – a process which took 7 days to film, during which she was scratched and bitten on her face and close to her eye. 
"So at the end of this scene I collapsed and was sent to bed, under doctors orders, for five days".
Tippi Hedren guest-starred with Jeffrey Hunter, Warren Stevens, and Lloyd Bochner on an episode of Kraft Suspense Theatre in 1965. Below, "The Trains of Silence" episode of Kraft Suspense Theatre. 
Her last film to be released in the 1960s was The Countess From Hong Kong (1967), a romantic comedy starring Marlon Brando and Sophia Loren. Tippi plays Martha, the wife Brando's character Ogden is divorcing. Sydney Chaplin (Charlie's son), Michael Medwin, and Margaret Rutherford were other supporting cast members in The Countess From Hong Kong.
(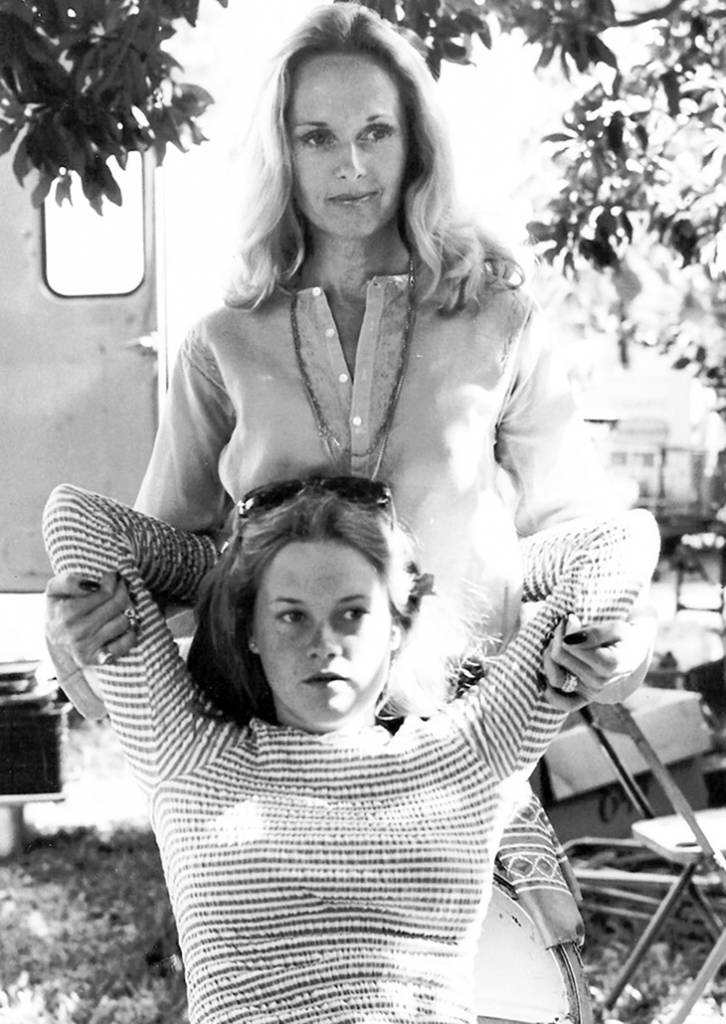 Tippi Hedren & Melanie Griffith 1975 Photo)
Tippi Hedren's notable 1970s films: 
Tiger by the Tail (1970), a post-Vietnam thriller co-starring Christopher George as a war hero trying to clear his name with the help of his girlfriend (Hedren). Tiger By the Tail's cast also had actors Dean Jagger, Charo, Glenda Ferrell, Lloyd Bochner, Skip Homeier, and Alan Hale Jr.
Mister Kingstreet's War (1971), co-starring John Saxon and Rossano Brazzi. In this pre-WWII adventure thriller, Hedren plays the wife of John Saxon's American character Jim Kingstreet. The couple are managing a nature preserve in Africa as war approaches.
The Harrad Experiment (1973), a romantic comedy-drama starring James Whitmore as professor Philip Tenhausen and Tippi Hedren as his wife. Younger actors Bruno Kirby and Don Johnson (who would later marry Hedren's daughter Melanie in real life) play students in The Harrad Experiment.
Big Cats at Home & In Movies
Tippi Hedren was married to second husband Noel Marshall for almost 18 years, from 1964-1982. The couple became intensively involved with big cats during their marriage, even bringing lions into their home to live. As a result, Hedren, Marshall, and all of the family members living with them, were injured at one time or another by lions.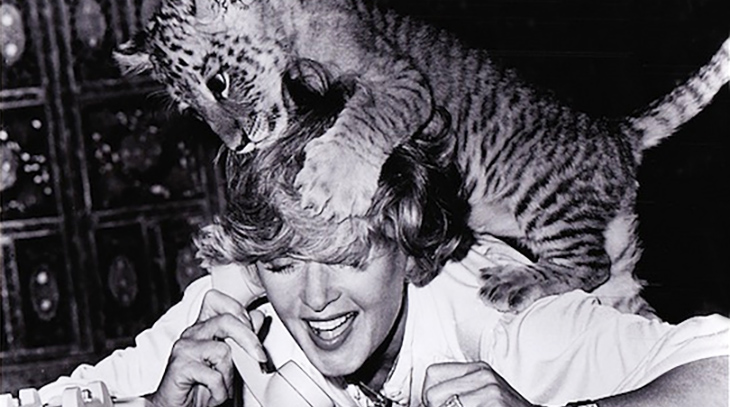 (Tippi Hedren 1981 Roar Photo: Filmways)
The Australian movie Roar (1981) about a family that travels to Africa to meet their father, starred Tippi Hedren, and her real-life family – husband Noel Marshall, daughter Melanie Griffith, and Noel's son's John and Jerry Marshall. Joel Marshal (Noel's other son) worked behind the scenes and as an art director on Roar.
The movie trailer for the re-release of Roar features a pride of lions and other big cats, along with the human stars – Tippi Hedren,  Melanie Griffith, and Noel Marshall.
Tippi Hedren's films during the 1980s and 1990s were minimal, but she did have a few smaller, supporting roles in these movies.
Foxfire Light (1982), co-starring with Leslie Nielsen, Barry Van Dyke, Faye Grant, and Lara Parker. Noted romance author Janet Dailey wrote the screenplay for Foxfire Light.
In the Cold of the Night (1990), a mystery-thriller starring Marc Singer, Jeff Lester, and Adrianne Sachs. Hedren was part of In the Cold of The Night's supporting cast, along with Shannon Tweed, John Beck, and David Soul.
Pacific Heights (1990) starred Hedren's daughter Melanie Griffith, as well as Matthew Modine, Michael Keaton, Laurie Metcalf, Carl Lumbly, Dorain Harewood, Sheila McCarthy, and Dan Hedaya. 
Teresa's Tattoo (1994), a crime comedy caper starring C. Thomas Howell, Nancy McKeon, and Lou Diamond Phillips. Teresa's Tattoo had a stellar supporting actors cast, with Tippi Hedren, Casey Siemaszko, Jonathan Silverman, Diedrich Bader, Joe Pantoliano, Mary Kay Place, Mare Winningham, Nanette Fabray, and singers k.d. lang and Melissa Etheridge.
Citizen Ruth (1996), a comedy starring Laura Dern, Swoosie Kurtz, Kurtwood Smith, Mary Kay Place, Kelly Preston, Kathleen Noone, and Burt Reynolds.
Break Up (1998), a thriller starring Kiefer Sutherland, Bridget Fonda, Hart Bochner, Steven Weber, and Penelope Ann Miller.
Hedren could be seen onscreen occasionally on television in episodic guest-starring gigs on series like Hotel, Hart to Hart, In the Heat of the Night, and Chicago Hope. She played the recurring character of Judith's mother in the comedy Dream On, starring Brian Benben as Martin Tupper and Wendie Malick as Judith Tupper Stone. 
From 1991-1992 Hedren was Helen MacLaine on The Bold and the Beautiful, opposite the daytime soap's then-stars Jim Storm, Jeff Trachta, Ronn Moss, Carrie Mitchum, Lauren Koslow, Schae Harrison, Michael Fox, Darlene Conley, Colleen Dion, Hunter Tylo, Brian Patrick Clarke, Katherine Kelly Lang, John McCook, and others.
1990s & 2000s Career Resurgence
Tippi Hedren married for the third time, to Luis Barrenechea in 1985; they divorced in 1995, and she has not since remarried.
Hedren's career seemed to pick up steam during her 60+ and septuagenarian years. She starred in The Storytellers (1999), a comedy with Brad Dourif, Zach Galligan, and Winsor Harmon. In The Storytellers, Hedren plays Lillian, an older writing trying unsuccessfully to sell scripts in Hollywood. Her grandon Kris Kringle (Michael Worth) helps her promote her scripts. 
After a cameo in the Don Murray film Internet Love (2000), Hedren had a recurring role on the short-lived romantic drama series Fashion House, and appeared in 10 feature films between 2001-2008 that included these movies:
The comedy-drama Raising Genius (2003) starring Justin Long, Wendie Malick, Ed Begley Jr., and Danica McKellar also had Clint Howard and Shirley Jones in the cast. 
The comedy I Heart Huckabees (2004) stars Dustin Hoffman & Lily Tomlin as a husband and wife detective team. Hedren was part of I Heart Huckabees star-studded supporting cast, along with Jason Schwartzman, Jude Law, Naomi Watts, Isabelle Huppert, Mark Wahlberg, Jean Smart, Jonah Hill, Isla Fisher, Talia Shire, and singer Shania Twain.
Tippi Hedren and Bronson Pinchot co-starred in Diamond Zero (2005), a sci-fi comedy. Joan Van Ark and Richard Moll were also in the cast of Diamond Zero.
She played a doctor in two films – Mind Rage (2001), and Searching for Haizmann (2003).
A glowing Tippi Hedren (approximately age 77) was interviewed in 2007 by Tom Gregory and reminisced about her life and career.
Return to Babylon
The biographical drama Return to Babylon was filmed between 2001-2003 on rolls of old 16mm film, using a hand-cranked camera. A tribute to and about stars of the 1920s silent movie era, Return to Babylon is a silent comedy scored with popular 1920s music. The movie was shot in and around Hollywood at historical locations that included Villa Talmadge (Norma Talmadge's home), Falcons Lair (Rudolph Valentino's home), and the 1920s mansion / home of silent movie star Antonio Moreno and his oil heiress wife Daisy Canfield Danziger.
Tippi Hedren co-stars as Mrs. Peabody in Return to Babylon, with Jennifer Tilly as silent film star Clara Bow and Maria Conchita Alonso as Mexican actress Lupe Velez, who was married to Olympic gold medal swimmer-turned-actor Johnny Weissmuller (Tarzan films). Ione Skye plays 1920s bit actress Virginia Rappe, who was found dead in actor Fatty Arbuckle's hotel room after a party (Arbuckle was charged in her death and eventually acquitted after three manslaughter trials).
Also featured in Return to Babylon are Debi Mazar as silent movie diva Gloria Swanson, Rolonda Watts as exotic dancer-actress Josephine Baker, Phillip Bloch as silent movie star Ramon Novarro, and Shiva Rose as silent actress Louise Brooks. Return to Babylon's director Alex Monty Canawati plays 1920s movie idol Rudolph Valentino, and Laura Harring is bisexual actress Alla Nazimova (who had a relationship with Valentino's wife Natacha Rambova).  
Years went by and no distributor could be found for the film; Return to Babylon was finally released on YouTube in 2019, below.
Although Tippi Hedren's appearances onscreen have understandably dwindled in her eighties, the octogenarian actress can be seen most recently starring in the dramatic thriller The Ghost and the Whale (2017) with Jonathan Pryce and Maurice Benard.
Hedren's daughter Melanie Griffith presented her with a Lifetime Achievement Award in film in October, 2014. Thanks to Melanie's marriage to actor Don Johnson, Tippi Hedren is grandmother to actress Dakota Johnson (co-star of the Fifty Shades film series).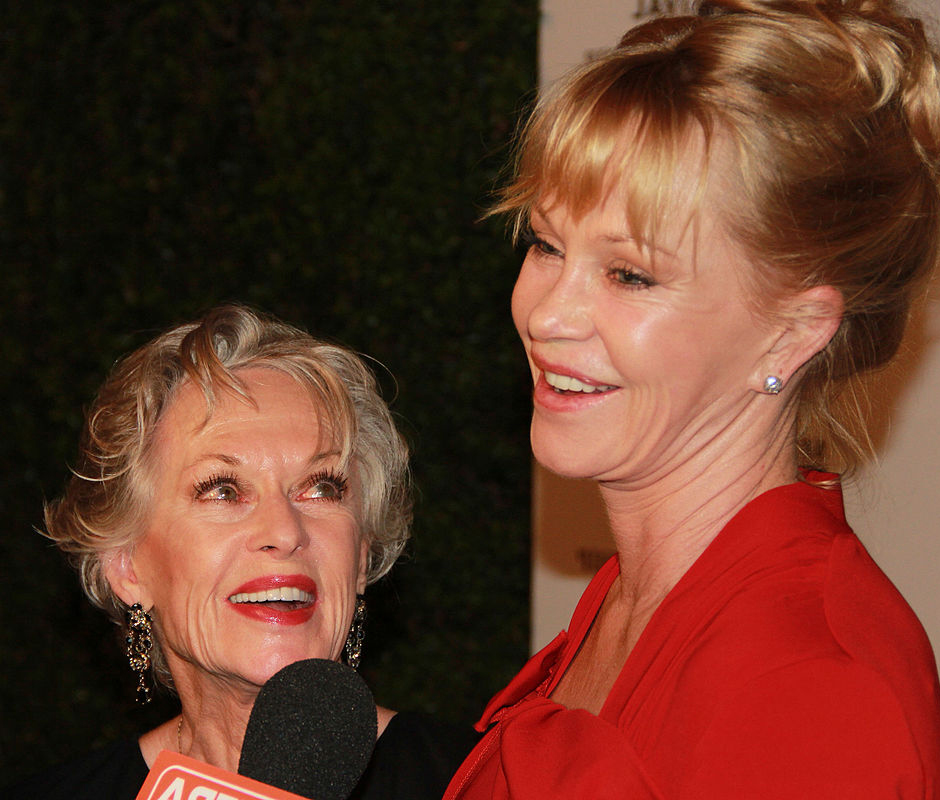 (Tippi Hedren & Melanie Griffith 2014 Photo: Real TV Films)
In an acting career that has spanned 7 decades, Tippi Hedren has appeared in more than 80 movies and television shows, and has acquired a family and film legacy to be proud of.
Note: This article was first published in 2015 with the title Celebrating Seniors – Tippi Hedren. It has been updated with new & additional content.
*Images are public domain or Creative Commons licensed & sourced via Wikimedia Commons, Vimeo, YouTube, or Flickr, unless otherwise noted*