Celebrating Seniors - Joseph Campanella is 92, Part 2
Joseph Campanella, Part 2: The Colbys to The Bold and the Beautiful (1986-2016)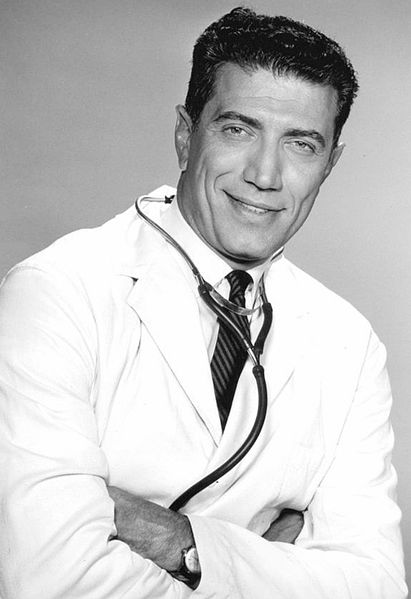 In an episode of Crazy Like a Fox in 1986, 55+ actor Joseph Campanella guest-starred with John Rubinstein, Michael Callan, Cyd Charisse, Belinda Montgomery, and Andrew Prine. He had worked with Cyd Charisse before, in an episode of Medical Center in 1975.
(Joseph Campanella 1965 The Doctors and the Nurses Photo: CBS Television | Wikimedia Commons / Public Domain)
Joseph Campanella was featured as recurring character Hutch Corrigan on the TV series The Colbys from 1986-1987. The Colbys cast included the likes of baby boomer favorite actors Charlton Heston, John James, Katharine Ross, Emma Samms, Maxwell Caulfield, Tracy Scoggins, Stephanie Beacham, Ricardo Montalban, Claire Yarlett, and Barbara Stanwyck. 
Barbara Stanwyck told People magazine that when it came time to cast her love interest on The Colbys she had requested Joseph Campanella for the role. Stanwyck and Campanella had worked together when he guest-starred twice on her series The Big Valley 20 years earlier, in episodes  Campanella recalled of filming their love scene on The Colbys that "I said the last line, which was, 'You're my mystery lady.' The director cried, 'Cut!' but Barbara continued playing the scene. She said: 'Oh, God, hold me. Nobody has said that to me in years.' "
Barbara Stanwyck had been divorced from her second husband Robert Taylor since 1952, and had said he was the love of her life; she never remarried. Joseph Campanella was Stanwyck's last on-screen love interest before her death in 1990.
Not content with a full slate of guest-starring gigs, TV movies, and feature films, Joseph Campanella also played the recurring character of "bad guy" Harper Deveraux on the daytime soap opera Days of Our Lives from 1987-1988; and again from 1990-1992 after he became a senior citizen.
Baby boomers may also remember seeing Joseph Campanella in the recurring role of Dr. Peter Alcott on Beauty and the Beast starring Ron Perlman and Linda Hamilton, in 3 episodes from 1988-1989.  
Upon becoming a senior citizen in 1989, Joseph Campanella showed no signs of retiring. From 1989-1991 he had a recurring role as a Deputy D.A. and then a Judge on Knots Landing.
He was reunited with actor Lee Horsley in an episode of Guns of Paradise in 1990; he had guest-starred on Lee Horsley's series Matt Houston 1983 in an episode with John Aprea, Richard Anderson, Terry Moore, and Markie Post. Richard Anderson and Joseph Campanella had first worked together in the 60's, when Campanella guest-starred on episodes of 12 O'Clock High and The Fugitive. 
Joseph Campanella's feature films and TV movies during the early 1990's included:
A Show of Force (1990), a thriller starring Amy Irving, Robert Duvall, Andy Garcia, Lou Diamond Phillips, Kevin Spacey, and Erik Estrada (CHiPS). Robert Duvall and Joseph Campanella had appeared together in an episode of The Lieutenant 26 years earlier, in 1964.  
Last Call (1991), a thriller starring William Katt, Shannon Tweed, and Stella Stevens.
Memories of Midnight (1991), a TV thriller starring Jane Seymour, Omar Sharif, Theodore Bikel, Ken Howard, Stephen Macht, and Thaao Penghlis. Joseph Campanella and Theodore Bikel had first appeared onscreen in an episode of Bob Hope Presents the Chrysler Theatre in 1963, almost 30 years earlier; and Campanella and Stephen Macht had co-starred in the TV movie Ring of Passion (1978).
Terror on Track 9 (1992), a TV thriller starring Richard Crenna, Joan Van Ark, Ving Rhames, and Swoosie Kurtz. He'd reunite with Swoosie Kurtz when he guest-starred on an episode of Touched by an Angel starring Roma Downey, Della Reese, and fellow guest-star Janet Leigh, in 1997.
Campanella reunited with actors Connie Selleca and Earl Holliman when he guest-starred on an episode of P.S.I. Luv U in 1991. He had guest-starred on Connie Selleca's series Hotel, and on Earl Holliman's series Police Woman in the 70s. 
A guest-starring role on Lois & Clark: The New Adventures of Superman in 1993, starring Dean Cain, Teri Hatcher, also had his The Colbys co-star Tracy Scoggins in the cast. George Murdock (Banacek), who had co-starred with Joseph Campanella in the 1973 TV movie You'll Never See Me Again, guest-starred in the same episode.
Joseph Campanella became a septuagenarian senior citizen in 1994 and appeared in the feature film release Save Me (1994) that same year.
His Save Me co-stars were Harry Hamlin, Michael Ironside, Steve Railsback, and Olivia Hussey. Steve Railsback and Joseph Campanella had co-starred in the 1983 movie Veliki transport, 21 years earlier.
He appeared in the TV movie The Rockford Files: I Still Love L.A. (1994) starring James Garner, Joanna Cassidy, and Joe Santos; he'd previously guest-starred twice on the The Rockford Files series with James Garner and Joe Santos.
Campanella began doing voice acting work and from 1994-1997, voiced the characters Lizard/Dr. Curt Connors on the animated series Spider-Man. He voiced "The Master" on the animated series The Road Rovers from 1996-1997.  
In the biographical drama James Dean: Live Fast, Die Young (1997) starring Casper Van Dien, Joseph Campanella co-starred with Carrie Mitchum, Diane Ladd, Mike Connors, Robert Mitchum, Connie Stevens, and Casey Kasem. Diane Ladd and Campanella had also co-starred together 37 years before, in the feature film Murder, Inc.
Joseph Campanella began what would become his longest-running role – as Jonathan Young on daytime soap opera The Bold and The Beautiful – in 1996. He stayed on The Bold and the Beautiful until exiting the series in 2005 when he was an octogenarian senior citizen.
Septuagenarian Campanella wasn't content to rest on his laurels. He took on a recurring role as Judge Joseph Camp (a play on his name) on prime-time series The Practice from 1998-2001. He also recurred as Barry Denott on 3 episodes of Melrose Place in 1999, appearing with Melrose Place regulars Jack Wagner, Heather Locklear, and guest star John Reilly.
Joseph Campanella played the recurring character of Joe beginning in the pilot episode for the TV comedy That's Life. That's Life starred Ellen Burstyn, Kevin Dillon, Paul Sorvino, Debi Mazar, Peter Firth, Steven Eckholdt, and Titus Welliver (2000-2001).
Guest-starring roles for the septuagenarian Campanella included a shot on The Division in 2002, with Bonnie Bedelia, Jon Hamm, Nancy McKeon, Peter Coyote, and Nancy Allen; and a gig on The Guardian in 2003, starring Simon Baker, Alan Rosenberg, with Dabney Coleman. Dabney Coleman and Joseph Campanella had co-starred in the movie The President's Plane is Missing (1973) 30 years earlier.
The TV horror movie The Glow (2002) saw Joseph Campanella co-starring with Portia de Rossi, Hal Linden, Dina Merrill, Grace Zabriskie (Twin Peaks), Kari Matchett, and Dean Cain; he'd appeared on Dean Cain's series Lois & Clark: The New Adventures of Superman in 1993.
Upon becoming an octogenarian senior citizen in 2004, Joseph Campanella guest-starred on an episode of Cold Case. In addition to Cold Case regulars John Finn, Danny Pino, Jeremy Ratchford, and Kathryn Morris, his fellow guest stars included veteran actors Shirley Knight and Rance Howard. 
Finally showing signs of slowing down but not yet retired, octogenarian Joseph Campanella co-starred in the feature film The Dukes (2007). Chazz Palminteri, Robert Davi, Peter Bogdanovich, Frank D'Amico, and Bruce Weitz were among his co-stars in The Dukes. 
In the comedy fantasy movie For Heaven's Sake (2008), octogenarian Joseph Campanella was reunited with fellow senior citizen Florence Henderson. Florence Henderson and Campanella had appeared together in an episode of The Brady Brides series back in 1981, 27 years earlier.
Baby boomers and senior citizens may have seen Joseph Campanella's last guest-starring spot on television, in an episode of CSI: Crime Scene Investigation in 2008; his last movie was the feature film Lost Dream (2009) with Patricia Richardson and Jeremy London.
Now a nonagenarian senior citizen, Joseph Campanella can celebrate a prolific acting career that spanned 6 decades and over 190 TV and film credits. In May 2016, Jill and Joseph Campanella celebrated 52 years of marriage, they are grandparents several times over. 
Update: Joseph Campanella died on May 16, 2018 at the age of 93 from Parkinson's disease complications
Previously: Joseph Campanella, Part 1: The Bold Ones to One Day at a Time (1924-1985)