Best "Angel" Songs?
Whether you believe in angels or not, you'll love these songs with "Angel" in the title. The interpretation of what an angel is, has transcended musical genres thanks to the creative genius of artists such as Steven Tyler, Sarah McLachlan, Shaggy, Annie Lennox, and others featured here. But YOU choose – what is the best Angel song?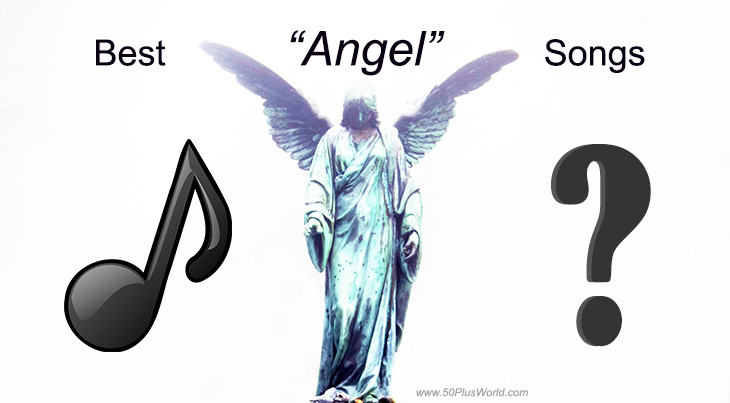 Angel, Steven Tyler / Aerosmith
Angel (1987) written by Steven Tyler and Desmond Child, recorded and performed by rock legends Aerosmith. The 1988 official music video for Aerosmith's song Angel, with Steven Tyler crooning the power ballad:
"Baby, you're my angel
come and save me tonight"
Angel, Annie Lennox / Eurythmics
Angel (1990), written and performed by Annie Lennox and David A. Stewart of the Eurythmics was a hit with baby boomers. The Eurythmics included the son on their We Too Are One (1989) album. This official music video of Angel features Annie Lennox, who re-recorded the song in 1997 to be included on the Diana, Princess of Wales: Tribute album.
"Angel
My Angel
Fly over me"
The Eurythmics had enjoyed an even bigger hit in 1985 with There Must Be An Angel (Playing With My Heart) (1985); clearly they're in tune with angels.
Broken Down Angel, Nazareth
Scottish hard rock band Nazareth's Broken Down Angel from their Razamanaz (1973) album, features Dan McCafferty on Lead vocals. McCafferty died in 2022, and is presumably with the angels now himself.
"She used to be someone you could depend on
To brighten up your coldest winter day
But the one she leaned upon let her down, now has moved away
And morning brings another empty day
Now she's only a broken down angel"
Angel in the Alleyways, Dion with Patti Scialfa and Bruce Springsteen
Here's a new one from Dion – Angel in the Alleyways (2021), with a little help from Patti Scialfa and Bruce Springsteen
"Maybe you are not alone
An angel walks
An angel prays
Here by your side at night unseen in the alleyways"
Angel, Shaggy featuring Rayvon
Who can forget reggae musician Shaggy's unique song Angel (2001) featuring Rayvon? Below, Shaggy, and Rayvon perform Angel in the official music video
"Girl, you're my angel, you're my darling angel
Closer than my peeps you are to me, baby"
Angel by Shaggy can be heard on the movie soundtrack for the romantic comedy Little Black Book (2004).
Angel, Sarah McLachlan
Some might say that Sarah McLachlan has the voice of an angel herself. Her haunting song Angel from her Surfacing album, resonates with many who face hardship and loss during the holidays.
"You're in the arms of the angel
May you find some comfort here"
Angel of the Morning, Juice Newton
Juice Newton's country-tinged ode Angel of the Morning might inspire you to say goodbye
"I see no need to take me home
I'm old enough to face the dawn
Just call me Angel of the morning, angel
Just touch my cheek before you leave me baby"
Angel, Elvis Presley
Elvis Presley (as Toby) sings Angel to Holly (Anne Helm) in Follow that Dream  (1962), one of Elvis' many 1960s movie musicals & hit songs.     
Written by Sid Tepper and Roy C. Bennett, Angel was also recorded by Cliff Richard in 1965. 
"Angel, with those Angel eyes
Come and take this earth boy
Up to paradise"
Angel of Harlem, U2
Irish rock band U2 scored a bit hit with the single Angel of Harlem, from their Rattle and Hum (1988) album. Partly an ode to New York, the song was in face inspired by the band's first trip to New York in 1987.
"New York, like a Christmas tree
Tonight this city belongs to me
Angel
Soul love, this love won't let me go
So long, Angel of Harlem"
U2 recorded part of Angel of Harlem at Sun Studios in Memphis, Tennessee. 
Angel and the Badman, Johnny Cash
Johnny Cash sang Angel and the Badman on his They Mystery of Life (1991) album.
"There was a man whose deeds were dark as night
And quite by chance he rode into the light…
He met a girl like none he'd ever known…
The hookers, guns and drinkin' in his life were out of place
And in his mind he saw an Angel's face".
Likely inspired by the western movie Angel and the Badman (1947), starring John Wayne and Gail Russell.
Angel Eyes, Jeff Healey
Written by John Hiatt and Fred Koller, blind Canadian jazz-rock guitarist and singer-songwriter Jeff Healey covered Angel Eyes on his album See the Light (1988). Angel Eyes was a #5 chart his in the U.S. in 1989.
"So tonight I'll ask the stars above
How did I ever win your love?
What did I do, what did I say
To turn your angel eyes my way?"
John Hiatt later covered Angel Eyes himself on his 1994 album Hiatt Comes Live at Budokan? Swedish pop supergroup ABBA's song Angeleyes (1979) bears no relationship to the Hiatt song.
Angels Love Badmen, The Highwaymen
Angels Love Badmen (1990) by The Highwaymen – Willie Nelson, Johnny Cash, Waylon Jennings, Kris Kristofferson. Written by William Jennings, and performed on the Highwayman 2 album. Johnny Cash kicks off Angels Love Badmen singing solo, and is joined by the other Highwaymen.
"Angels love bad men that's how it's always been
They give their whole hearts when they fall"
She Talks to Angels, The Black Crowes
She Talks to Angels (1990) by The Black Crowes, has the underlying theme of the pain of addiction. She Talks to Angels is included on their Shake Your Money Maker album.
"She never mentions the word 'addiction'
In certain company…
Says she talks to angels
Said they call her out by her name"
Teen Angel, Mark Dinning
Mark Dinning's Teen Angel (1959) is a lament of young love lost, and was a big hit with fans of all ages. Dinning (younger brother of the country & western Dinning sisters) sang his hit tune on American Bandstand in 1959, introduced here by Dick Clark
"Teen angel, teen angel, teen angel, ooh
That fateful night the car was stalled upon the railroad track
I pulled you out and we were safe, but you went running back"
Pearl Jam's Last Kiss is reminiscent of the theme expressed in Dinning's Teen Angel. 
Teen Angel sung by Mark Dinning can be heard on the soundtrack of American Graffiti (1973). Dinning was never able to repeat the success of Teen Angel, although the had some minor hits. 
Calling All Angels, Train
Calling All Angels (2003) by Train is a Grammy-nominated Top 20 hit single included on their album My Private Nation. 
"I need a sign to let me know you're here
All of these lines are being crossed over the atmosphere…
I'm calling all angels
I'm calling all you angels"
Train knocked on the Angel door again with their recording of an original song, Angel in Blue Jeans (2014) on their Bulletproof Picasso album.
Send Me An Angel, Scorpions
The Scorpions rock ballad Send Me An Angel (1990) from their album Crazy World, is a beautiful take on the theme of being lost and looking for the way out of the wilderness.
"Close your eyes and you will find
Passage out of the dark
Here I am [Here I am)
Will you send me an angel?"
Angel, Jack Johnson
Angel (2008) by Jack Johnson – a Hawaii-based soft rock musician, actor and director – is newer and may be less well known, but is equally beautiful. Jack Johnson performs Angel on his Sleep Through the Static (2008) album.
"I've got an angel
She doesn't wear any wings
She wears a heart that can melt my own
Wears a smile that can make me wanna sing"
Which Angel song you think is the best, will likely depend on whether you're a fan of country music, folk, pop, or rock…and if you fall into the demographic of baby boomers, zoomer, generation x or other. So, what's your pic for the best song with Angel in the title?
Note: This article was first published in 2016 as Angel – Aerosmith or Eurythmics? It was been updated with significant additional content.
If you like this "Best of" song list, you may also like:
Top Christmas Songs in Classic Clips