ABBA's Dancing Queen, Agnetha Fältskog
Swedish songbird Agnetha Fältskog showed musical promise at an early age, writing her first song at age six.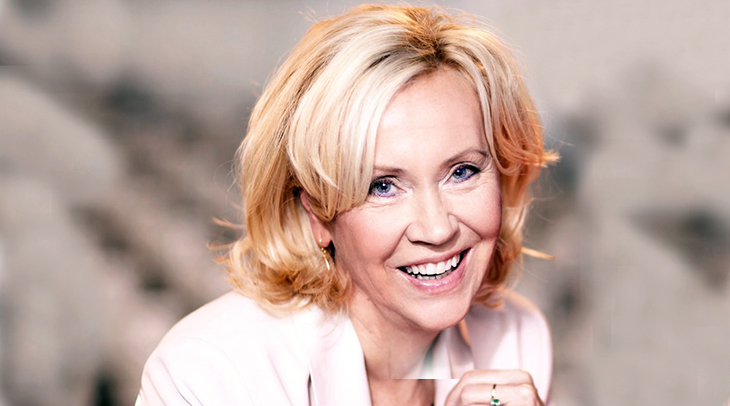 (Agnetha Fältskog 2013 Photo: Stockholm Pride / mynewsdesk.com)
Born in Jonkoping, Sweden on April 5, 1950, she learned to play piano and sang with friends, eventually leaving high school at age fifteen to pursue music full-time. 
Agnetha managed to obtain success in Sweden as a solo artist, writing and recording the song I Was So in Love after a break up with her first boyfriend, Björn Lilja. The record was a chart hit in Sweden in early 1968 and sold more than 80,000 copies. In January of 1968 year, Agnetha performed her hit song on the Swedish TV show Series 8; that same episode included a performance by Anni-Frid Langstad. According to Carl Magnus Palm, author of Bright Lights, Dark Shadows: The Real Story of ABBA (2014), watching the show at home was Hootenanny Singers musician Björn Ulvaeus, who was impressed by Agnetha's performance. They met for the first time later that year.
Over the next four years Agnetha achieved appearances in musical productions on stage and television in Sweden, and a brief engagement to German record producer and songwriter Dieter Zimmerman that ended in 1969. She continued writing songs, and began a relationship with Björn Ulvaeus after re-connecting with him at the taping of a television special in May 1969.
By early 1970, Björn and Benny were already writing songs together, and Benny was dating Anni-Frid Lyngstad. When the two couples vacationed together on the Greek island of Cyprus in April 1970, Agnetha and Björn got engaged. They foursome also performed together for the first time, and discovered the power of their combined talents.
The 1970s pop supergroup ABBA – an acronym for the first letters of each band member's names – was formed. Their first single was She's My Kind of Girl (1970). Agnetha Fältskog and Anni-Frid Lyngstad were the headlining singers for ABBA.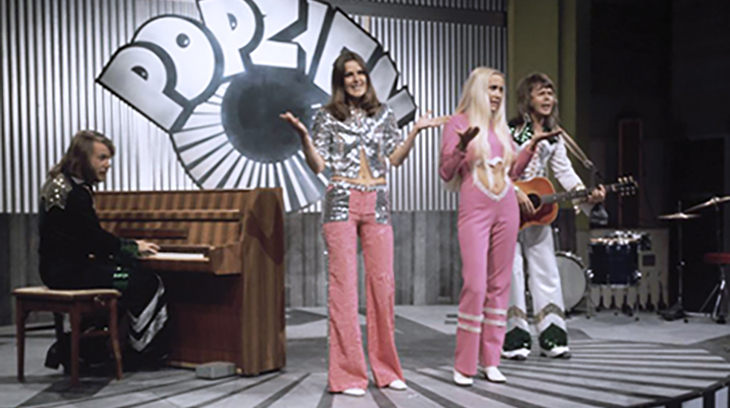 (Abba 1973 Photo: VARA)
ABBA was one of the most commercially successful acts in the history of popular music. Their albums and international hit singles such as Waterloo (1974), Mamma Mia (1975), Fernando (1976), Dancing Queen (1976), The Name of the Game (1977), and Take a Chance on Me (1978), brought them international success.
Waterloo (1974) was ABBA's first hit single to achieve #1 chart status outside of Sweden, and made it to #6 on the U.S. music charts.
The group's penchant for showmanship included elaborate costumes, but it was their vocal and songwriting abilities that propelled them up the charts.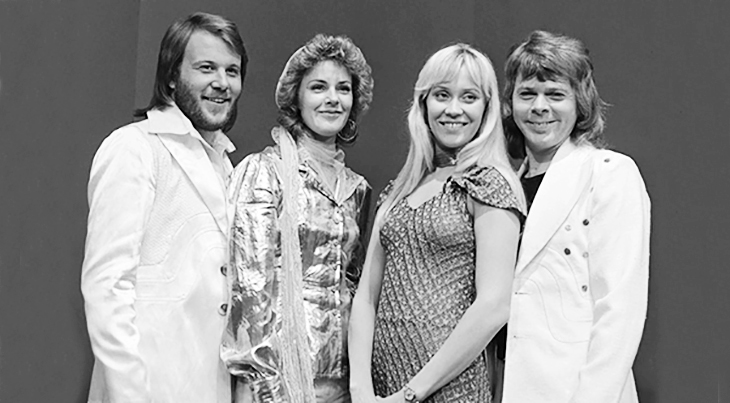 (Benny Andersson, Anni-Frid Langstad, Agnetha Fältskog & Björn Ulvaeus 1974 Photo: AVRO TopPop) 
ABBA's hit single Fernando was a #1 hit in most of Europe in 1976, and made it to #13 in the U.S. that year.
Although separately Anni-Frid, Benny and Björn, and Agnetha were each writing and recording songs of their own, everything took a back seat to the monumental success ABBA was enjoying, and the subsequent demands on their time. Agnetha in particular achieved a modestly successful solo album in Sweden, and drew the most attention by reporters and photographers at public appearances by the group around the world.
Dancing Queen was a number # hit single in Europe (exception Austria where it was #4), the U.S. and  Australia in 1976. 
Agnetha Fältskog and Björn Ulvaeus had daughter Linda Elin in 1973 and son Peter Christian in 1977. At the height of their success with ABBA, Agnetha and Björn's relationship was crumbling; they had grown apart. After trying marriage counselling in mid-1978, they decided to separate and their divorce was finalized in 1979.
Meanwhile, after being engaged for nine years, Benny and Frida had gotten married in October 1978. The foursome continued working together and performing as ABBA.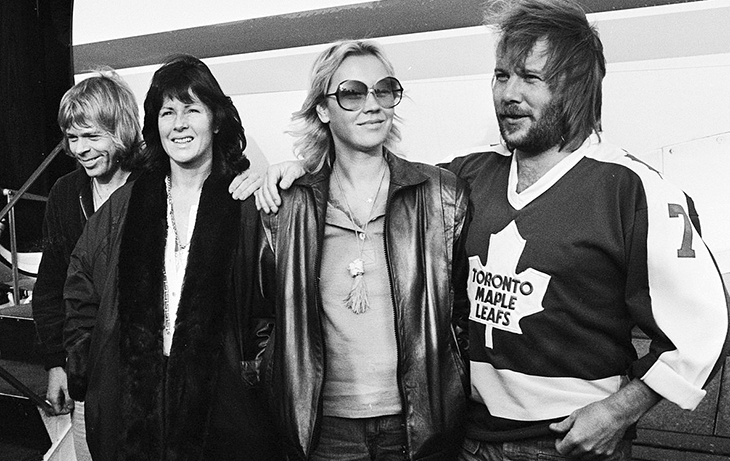 (Björn Ulvaeus, Anni-Frid Lyngstad, Agnetha Fältskog & Benny Andersson 1979 ABBA Photo: Fernando Pereira)
Within a week of Agnetha moving out of their house in 1978, Björn had met someone new. Their divorce was finalized in 1979, and by the end of that year Agnetha had dated hockey player Lars-Erik Ericsson for a few months.
ABBA toured extensively in Canada and America to support their Voulez-Vous album (1979), but a difficult return flight home to Sweden from the tour heightened Agnetha's fear of flying.
Back in Sweden, the group concentrated on recording the next LP, Super Trouper (1980). The album generated several hit songs, including the title track, and single The Winner Takes It All. Famed Swedish director Lasse Hallström filmed the music video for The Winner Takes it All, which played on the recent divorce of Agnetha and Björn (both of whom have said the song was not about their divorce, as there was no winner).
Björn Ulvaeus married Lena Källersjö in January 1981. By this time, the marriage of Benny Andersson and Anni-Frid had begun disintegrating, with the couple drifting apart. A few months after they announced their relationship was over, they had each moved on to new romances; a week after their divorce was finalized at the end of November 1981, Benny married his new girlfriend Mona. Agnetha was now living with police inspector Torbjörn Brander. That same year,  ABBA recorded and released their last album The Visitors, in the midst of this personal upheaval.
Björn and Benny each became new fathers once again in 1982. Although the break-up of ABBA the band was never officially announced, ABBA stopped performing and recording together as a group that year.
Most of the ABBA members went on to pursue solo careers. Björn and Benny began working on musical theatre projects, and Anni-Frid moved to London in 1982 to make a fresh start. She was happily married to German Prince Heinrich Ruzzo Reuss of Plauen in 1992, and their social circle included Sweden's King Carl XVI Gustaf and Queen Silvia. They remained married until his premature death from cancer at the age of 49, in 1999.
Agnetha Fältskog had some hit albums in the 80's, but after a bus accident in 1983, her enjoyment of any type of travel ended. She effectively retired in 1988 to spend time with her young children, and moved to a remote farm she'd purchased on the island of Ekerö. A 1990 marriage to Swedish surgeon Tomas Sonnenfeld ended in divorce in 1993. At the end of the 90's she was stalked on her Swedish island farm by Gert van der Graaf, a Dutch man with whom she'd recently ended a relationship. A restraining order resulted in van der Graaf's deportation, but when it expired three years later he returned and she had to go through the process again.
During the 90's ABBA's music experienced a revival after being featured in the hit films Priscilla, Queen of the Desert and Muriel's Wedding. Other artists began covering their songs, and in 1999, with input from Björn and Benny, ABBA's music was adapted into the successful musical Mamma Mia! (named after their 1976 hit song), which has toured worldwide.
EXPRESS reported that her relationship breakdowns, coupled with increasing bouts of stage fright while she was with ABBA, her mother's suicide in 1994, her father's death in 1995, and resulting depression, anxiety resulted in her becoming more withdrawn and reclusive. Commentators likened her to another famous Swede, Greta "I vant to be alone" Garbo." Garbo herself later told Life, "I never said I vant to be alone. I only said, I want to be let alone." If either of these sentiments are the case with Agnetha is unknown.
Despite her anxieties, Agnetha Fältskog's comeback album My Colouring Book was released in 2004 and hit #1 in Sweden immediately. 
In 2008 a film was made of Mamma Mia!, and ABBA's songs were rendered by the likes of Meryl Streep and Pierce Brosnan. Mamma Mia! was the highest grossing film in the UK that year. Below, the original ABBA sings their hit single Mamma Mia!
Below, the members of ABBA re-united for a picture with the cast of the movie Mamma Mia! in 2008.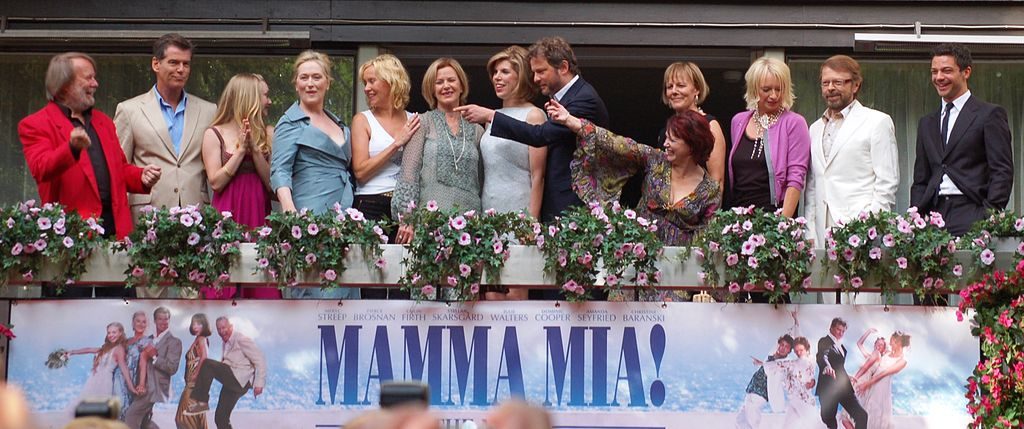 (Abba/Mamma Mia Cast 2008 Photo: Daniel Åhs Karlsson)
Above from left: Benny Andersson, Pierce Brosnan, Amanda Seyfried, Meryl Streep, Agnetha Fältskog, Anni-Frid Lyngstad, Christine Baranski, Colin Firth, Phyllida Lloyd, Catherine Johnson (red hair), Judy Cramer, Björn Ulvaeus, and Dominic Cooper.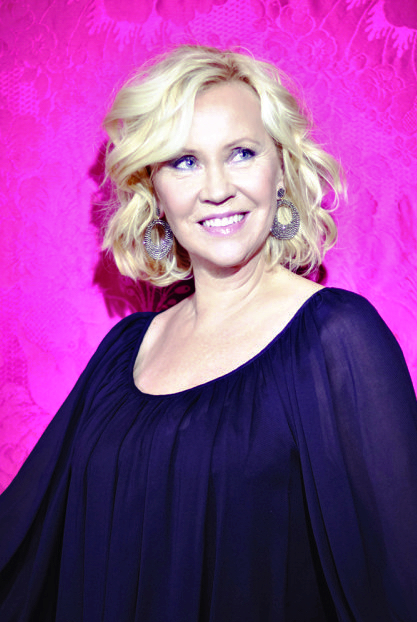 (Agnetha Fältskog 2013 Photo: Stockholm Pride)
On March 15, 2010, ABBA was inducted into the Rock and Roll Hall of Fame, immortalizing their songs and the influence they had on generations of music fans. Agnetha's most recent solo album A (2013) went platinum and was a top five hit in Europe. 
As of 2014, Agnetha professed to be happy, staying busy with her grandchildren, and still living on her Swedish island horse farm.
A couple of years later, ABBA reunited for a one-shot performance at a private party in 2016, and rumours or more such reunions have persistently cropped up.
Independent reported in 2020 that five new tracks were set to be released in 2021 (delayed due to COVID-19 impacts).
Note: This article was first published in 2015 as Celebrating Seniors – ABBA's Agnetha Fältskog Turns 65. It has been updated with new & additional content.
*Images are believed to be in the public domain or Creative Commons licensed & sourced via Wikimedia Commons, Vimeo, YouTube, or Flickr, unless otherwise noted*