Peter Rabbit & Benjamin Bunny ...and Beatrix Potter
Feeling nostalgic for Beatrix Potter's classic children's stories of Peter Rabbit and his friends? This episode of the 1993 TV series The World of Peter Rabbit and Friends combines live action with animation, and revisits her classic children's stories & characters with "The Tale of Peter Rabbit & Benjamin Bunny". Something to share with the grandkids.
Between 1902-1930 Beatrix Potter wrote and illustrated 23 classic children's books, with her first, The Tale of Peter Rabbit (1902), arguably being the most well-known and memorable. In case you don't remember the story, young Peter Rabbit is warned off Mr. McGregor's vegetable patch by his mother, who tells him his father had ended up in a pie by McGregor's wife. Peter ignores her warnin and eats so much from the garden his stomach begins to hurt. While escaping from Farmer McGregor he loses his shoes and jacket. Trying to find his way back to his mother and home, he gets lost and has to dodge a cat. When he does arrive home he's sent to bed with a cup of tea while his mothers and sisters enjoy a big meal of berries and milk.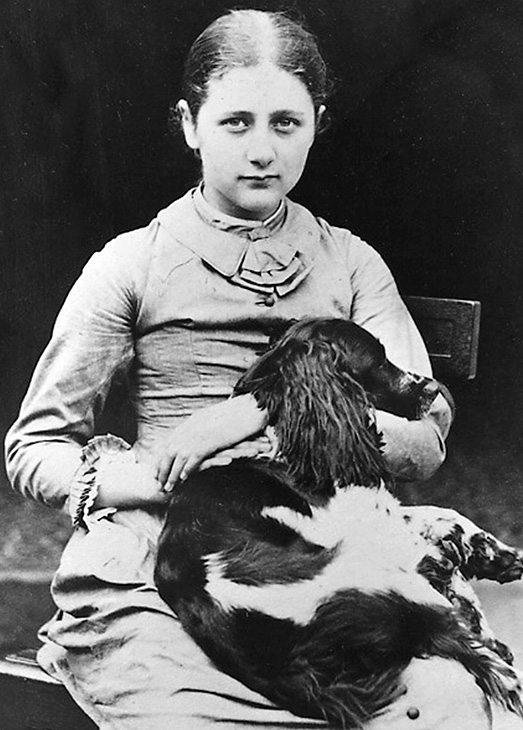 (Beatrix Potter c. 1878 age 12, with Spot the Dog)
Born in 1866, illustrator Helen Beatrix Potter grew up in the Victorian era at #2 Bolton Gardens, West Brompton (suburban London).
Her father Rupert William Potter was a lawyer and amateur photographer, and her mother Helen (nee Leech) came from a wealthy family. The Potter family grew wealthier thanks to Rupert's stock market investments.
Beatrix's younger brother Walter Bertram Potter was born in 1872; they both had numerous small pets and enjoyed drawing. 
From childhood she was interested in animals and nature, and enjoyed visiting London art galleries.
When her family vacationed in the Lake District of Scotland, young Beatrix Potter would send illustrated letters home to friends.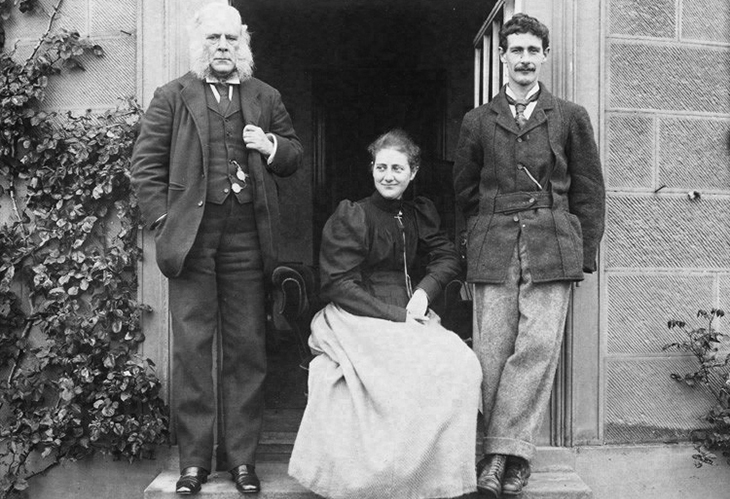 (Beatrix Potter, father Rupert William Potter & brother Walter Bertram Potter 1894)
At the age of 39, Potter had a brief one-month unofficial engagement in 1905 to her The Tale of Peter Rabbit publisher Norman Warne. It ended abruptly when Warne died of leukemia at the young age of 37.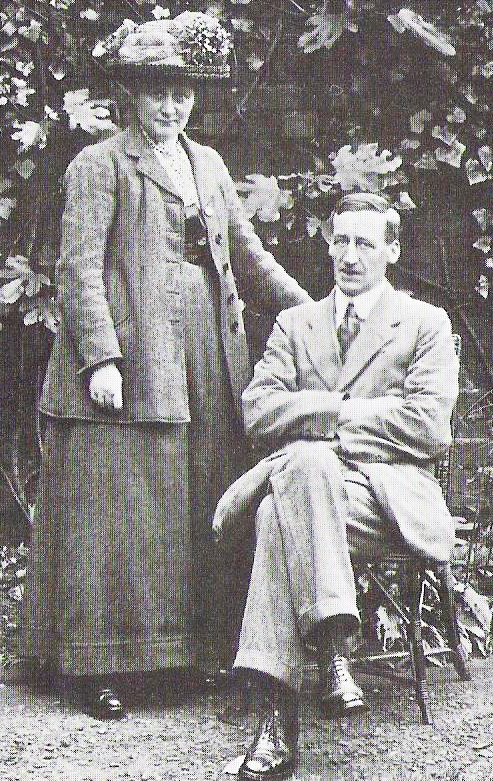 (Beatrix Potter & William Heelis 1913 Wedding Day Photo: Rupert Potter / Judy Taylor)
Beatrix Potter was an ardent conservationist and fan of country living, and due to the success of her children's books and her business smarts in marketing associated products (stuffed rabbits, dolls, tea sets, etc.), she was able to purchase Hill Top Farm in the English Lake District in 1905. A local solicitor named William Heelis helped her acquire surrounding properties. Beatrix Potter married William Heelis on October 15, 1913 when she was 47, and they enjoyed a long and happy marriage of 30 years at Hill Top Farm.
When she died on December 22, 1943 of pneumonia and heart disease, Beatrix Potter left almost all of her original book illustrations and much of her extensive property to Britain's National Trust.
Some other classic titles from Beatrix Potter include:
The Tale of Squirrel Nutkin (1903)
The Tale of Benjamin Bunny (1904)
The Tale of Mrs. Tiggy-Winkle (1905)
The Tale of Mr. Jeremy FIsher (1906)
The Story of Miss Moppet (1906)
The Tale of Tom Kitten (1907)
The Tale of Jemima Puddle-Duck (1908)
The Tale of Mrs. Tittlemouse (1910)
The Tale of Timmy Tiptoes (1911)
The Tale of Pigling Bland (1913)
Wishing you a Happy Easter today for those who celebrate!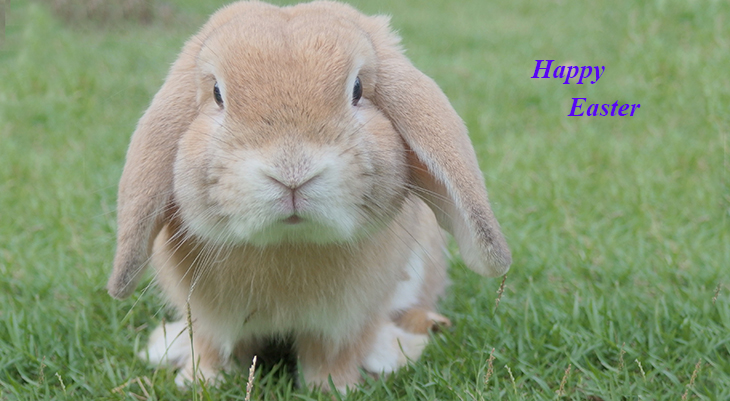 (Bunny Rabbit Photo: Waranya Mooldee via Unsplash)
*Images are public domain or Creative Commons licensed & sourced via Wikimedia Commons, Vimeo, YouTube, or Flickr, unless otherwise noted*