Retirement Downsizing: Making Less Do More
Getting ready to retire? After decades of working, you probably just want to relax and have fun. If the kids are gone or you no longer need all of the rooms you have now, you're likely also thinking of living in a new, smaller space that can still fill your lifestyle needs. The good news is that downsizing could help you free up some money for the vacations and hobbies you want to pursue in retirement.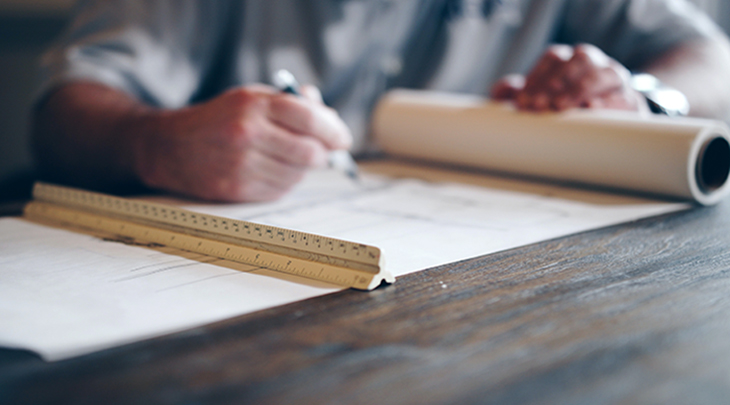 (Photo: Daniel McCullough via Unsplash)
When you're downsizing, you're trying to save as much space as you can while still keeping your living space cool and cozy. You may have less rooms, or less spacious rooms in your new home. Downsizing isn't easy to do, but if you take some time to think about how to make the most out of your new, smaller living space, you'll likely find several different ways to achieve this.
Here are some ideas to help you achieve your retirement living and downsizing goals.
Move into a smaller home
Finding a smaller home that's less expensive to maintain and simpler to clean, isn't as easy as you might think. You may be surprised to discover that many bigger, two-story homes are priced around the same as smaller bungalows. One-floor homes are in high demand as aging baby boomers are ready to downsize and want less stairs to navigate. 
Maintenance-free apartments and condominiums may be a good option if you're not interested in working around the house or yard in retirement.
There will be suitable smaller home options out there for you, but it may take some time to find them. Start looking sooner rather than later for a home that will suit your needs, and give yourself lots of time to find the right place for you.
Fix a fixer-upper
If you're having difficulty finding a property that's move-in ready, start thinking outside the box and consider a fixer-upper that needs some love and attention. This may require you to invest some more time and energy in finding the right place that will be perfect for your retirement.
Make sure that your new place is in the right condition, especially when it comes to plumbing and electrical work – as these can become very expensive "fixes". Before you buy, find a knowledgeable person to help you check for ancient blocked drains, leaks, short circuits, and other potential home (and pocketbook) hazards.. 
Dealing with plumbing or electrical problems on your own after you've moved in isn't a good idea either. Choose a reliable expert to help with necessary renovations, modifications, or repairs.
You'll also need to budget for the necessary and desired repairs and renovations to make your fixer-upper into your dream home. When considering making an offer, ensure this repairs and renovations budget item is accounted for as part of the overall price you'll end up paying.  
Renovations that up the resale value of your new home may include such things as making it more energy efficient, optimizing the use of space, or creating multi-functional rooms. These updates may not only make your life there less expensive and more enjoyable, they may add to the resale value when it comes time to sell.
Ideally once you've fixed your fixer-upper, you'll have a perfect place to enjoy your senior years for decades to come.
Keep it low
One of the biggest problems all retirees are dealing with is the fact that they can no longer live in houses that have more than one level. Stairs make them uncomfortable and insecure – which is why they should stick with single-story homes. Falls can be fatal for older adults, and stair safety is critical. Keep this in mind when it comes to buying or renting a new place, as well as when it comes to renovating your home to make it more senior-friendly.
If you don't want to move, then make the most of your existing home. Consider turning the main floor into your personal living space and having a family member(s) move into the upstairs or basement if you have one. You could also design an outdoor entrance with stairs for the second floor, and rent this space to someone else. 
Another alternative is to make your basement or upper floor into an self-contained apartment for you, and install a chairlift for easier access to other floors and the exterior. 
Two-in-one rooms
When you're downsizing, you're going to want to save as much space as you can while still keeping your living space cool and cozy. 
Make your new rooms more practical – instead of serving just one purpose, make them multi-functional. Instead of a bedroom just for sleeping, you can also turn it it into a library or a gym where you can stay physically active, which is vital in retirement. 
Your living room can double as a a new dining/living room, or living room/bedroom. 
Thinking creatively will help you to save space and keep the essentials you must have for comfortable daily living.
Get some new furniture
Most of us have – over time – crowded furniture and "stuff" into our homes. This includes heavy pieces that take up too much space and are hard to move. So, you need to do one – or both – of these two things:
Get some new furniture that's smaller, lighter, and flexible. 
Get rid of those massive pieces of furniture you don't use (or love). Donate or sell them, and put the proceeds towards buying something more appropriate for your new lifestyle.
For example, you can buy a new bed for yourself and your spouse. Get one with a metal frame that has room for storage underneath. It will be lighter to move, take up less space, and be more practical than your standard wooden bedframe with a headboard and footboard. 
Throw away, donate or sell the clothes that have been gathering dust and taking up space in your closet for years. A new closet organizer will help you to make the most out of your new closet space for storage of clothes and other items.
Other popular space-saving / multi-functional furniture ideas
transforming coffee tables that become dining tables and vice-a-versa
sectional tables, couches, or benches than have built-in storage, and can expand if you have company, and contract when it's just you
explore a Murphy bed that folds up against the wall, and doubles as a bookcase or desk when not in use as a bed. 
Renovate to camouflage storage areas
Disguising certain areas of your home is an element of downsizing and renovations that is often overlooked.
For example, you can hide your pantry in the middle of your kitchen in a new island, and dedicate a cabinet or two to protect all the goods you need for your favorite recipes. Similar cabinet solutions will work to install and hide a main floor washer-dryer in a bedroom, kitchen, or bathroom. 
The same goes for space-saving bathroom solutions. Installing a small shower instead of a huge tub, and a wall-mounted toilet, can save you quite a lot of space, and that's a plus when it comes to downsizing. 
Explore these ideas to see if they'll make sense for you in the long run. Making your retirement and home more enjoyable should be your top priority when you think of downsizing.
*This article is for general informational purposes only. 50+ World does not endorse any product or service providers, nor does it receive remuneration from them. Obtain expert advice – financial, legal, medical, industry-specific, etc. – from qualified practitioners about your unique situation.*