Vacation vs Retirement: Florida Keys
If you're doing some financial planning to prepare for your retirement in your 50+ and senior years, or just thinking of your next vacation, here's what to know about the Florida Keys and Key West as a potential vacation or retirement living destination.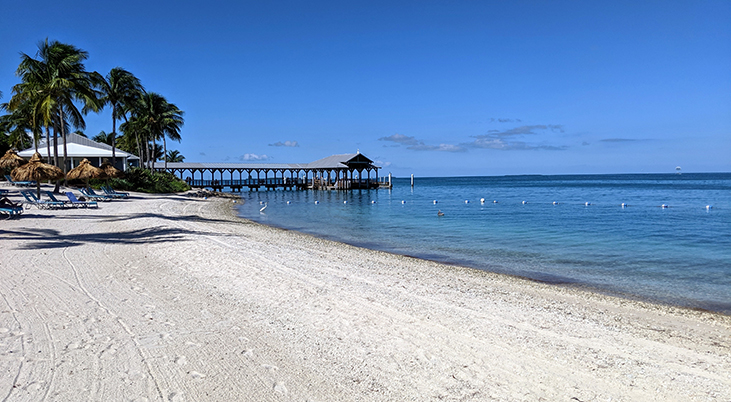 (Sunset Key Beach, off Key West, Florida Photo: Mark Male via Unsplash)
Retirement Living in the Florida Keys
Living in the Florida Keys offers a choice of great communities and a laid-back lifestyle. However, there are no retirement communities per se. Cost of living in the Florida Keys is similar to other southern beachfront locales in the U.S., with the added benefit of not really being part of the mainland USA.
The Florida Keys offer a year-round mild climate, with winter temperatures rarely ducking below 50F, and breezes in the summer keeping the humid temperatures in the 80's.
In 2018, the crime rate (both violent crime and property crime) in the Florida Keys dropped significantly from the previous year. Key West crime rates have tended to be higher than average Florida or national crime rates, per Alarms.org.
So – if you want to retire and live there in your 50+ and senior citizen years, the benefits of living in the Florida Keys in your retirement are:
Weather – year-round warm weather = access to exceptional and non-stop swimming, sailing, golfing and other outdoor activities.
Relaxed Lifestyle – the Keys are on "island time", while still connected to the mainland via bridges – the best of both worlds. You can truly relax in your retirement.
Community – friendly people and diverse communities. Key West has long been known as a fun, pedestrian, bike, and LGBTQ-friendly community. According to the Monroe County, Florida Genealogy Trails History Group, Key West has recently had a Cuban-born mayor, an openly gay mayor. Author J. Wills Burke mentions The Streets of Key West: A History Through Street Names (2004), that former 5-time Key West Mayor Charles "Sonny" McCoy waterskied from Key West Harbor to Havana, Cuba in 1978, in a little over six hours. 
Entertainment & Culture – Diverse restaurants, and unique local attractions/entertainment on Key West's Duval Street and elsewhere on the islands.
Unfortunately the crime rate in the Florida Keys has been slightly higher than elswhere.
Vacation in Florida Keys
However, if you're still in the phase of your life where you need to work to earn money and save for your retirement (for some of us, that's going to be well in our senior years), then the Florida Keys may be better as a lovely vacation destination for now. Many jobs are in low-paying tourist service sectors. If you want to see the change of seasons, you will miss that in the Keys, due to the year-round temperate climate.
For reasons to vacation in the Florida Keys, see the above list!
If you're considering other desirable retirement dream home locations / vacation destinations, think about these communities:
Top Communities in Myrtle Beach
Vacation vs Retirement Living: Hawaiian Islands