Top Communities In Myrtle Beach
If you are looking to move, whether you are a young professional, starting a family, or are thinking about retirement and your golden years, Myrtle Beach is a fantastic place to consider.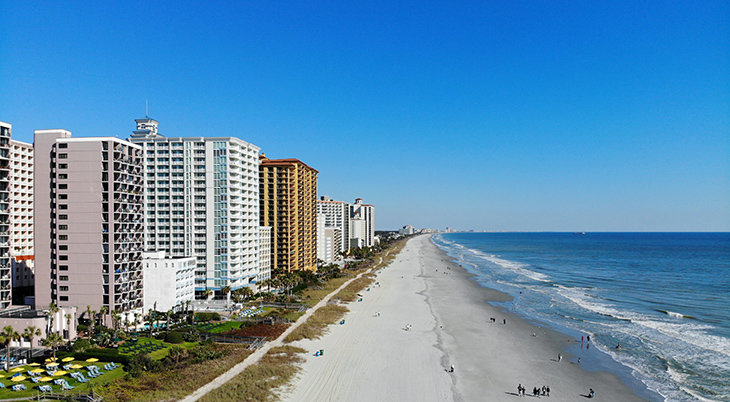 (Myrtle Beach, South Carolina Photo: Jeremy Kierez via Unsplash)
That being said, if you are looking at real estate in Myrtle Beach SC, there are definitely some communities that you will want to prioritize. 
So without further ado, here are the top communities in Myrtle Beach to consider purchasing a home in.
Grand Dunes
This is the largest and most meticulously planned community in the whole of the Grand Strand. The original subdivisions are gated and on the west side of the bridge that crosses the Intracoastal Waterway, but it has not expanded to include oceanfront lands, as well as homes between Highway 17 Business and Highway 17 Bypass.
Carolina Forest
This is one of the most popular places to live in of the entire Grand Strand. The Carolina Forest sprawls over a 9000-acre master-planned community with approximately 30 neighborhoods and prices that can fit into a variance of different budgets.
Located off Highway 501, Carolina Forest has its own schools, post office, medical offices, shopping, centers, and more!
Market Common
This community was years in the making and is a crown jewel for city planners in Myrtle Beach. Located right where the old Myrtle Beach Air Force base used to be, the new neighborhoods now revolve around a shopping and dining district.
Here you will be able to interact with fresh faces and meet old friends for joyful walks, delicious lunch and dinner meals, outdoor jogs, and more.
Another benefit is that you can find houses that fit your price point no matter the budget, as well as pick from different styles including brightly colored Charleston-style homes, traditional brick executive homes, condos, townhouses, work and play condos, and everything in between!
Prestwick
Located in the south Strand next to the famed Surfside Beach, Prestwick is a community for those who adore an active and outdoor lifestyle. Not only does it feature 13 competition-quality tennis courts, Prestwick is also home to a swimming pool, award-winning golf course, and stylish clubhouse.
On top of that, Prestwick has beautiful outdoor areas with ponds and greens and 24-hour security.
While the lifestyle it offers is luxurious indeed, homes in Prestwick start at around $350,000 USD.
Prince Creek
This masterfully planned community surrounding the Tournament Players Club golf course in Murrells Inlet, has more than 16 beautiful communities in which to live.
A home here will almost certainly fit your budget, and there are both gated and non-gated options when it comes to homes and subdivisions in Prince Creek, South Carolina.
Amenities at Prince Creek include multiple pools, clubhouses, tennis courts, exercise facilities, boating access, and of course the golf course.
The range of price when it comes to homes at Prince Creek is quite great, with the most affordable options starting at $100,000 USD and the most expensive topping out at around $500,000 USD.
**This article is for general informational purposes only. 50+ World does endorse these providers, nor does it receive remuneration from them.**