Housing Options for Seniors and 50+
Where will you be sitting back and relaxing in your retirement years? The view may not be as spectacular as the one below, but there are a myriad of housing options available today for retirees, older adults, and seniors in Canada and the United States.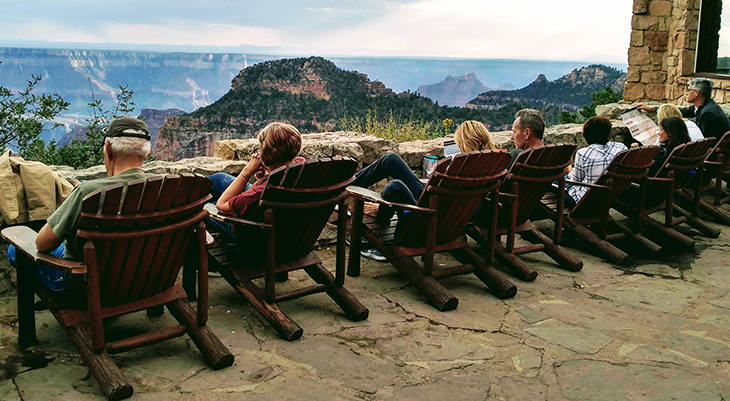 (Photo: David Usvardi via Unsplash)
What exactly are those housing options, and what's the best fit for you in your next home? As I learned from investigating housing options for my parents as they aged – and in looking ahead at my own future wants and needs – there are a lot of things to consider in choosing where to live in early retirement and beyond.
What to Consider When Choosing Where to Live
Location, Location, Location
Retiring to a cottage in the woods may sound idyllic, but if your health or that of your partner takes a turn for the worse, it may become a nightmare rather than a dream. You may need or want the security of easier access to medical supports such as clinics, hospitals, nursing care, or in-home care providers, that are more readily available closer to towns and cities. At one point my parents lived in a small town about an hour from the nearest larger city. As their health declined, they were fortunate that they were only 5 minutes from the local emergency department, as there were frequent trips there in the middle of the night. When more complex procedures, surgeries, and medical care were required, the drive into the city was a barrier for easy access and visiting.
Are close family and friends important to you? Moving closer to them (or further away) is an important consideration if you want to be able to see more (or less) of them. You – and they – might think they'll want to come visit you often, or be able to help you in an emergency – but if a long car drive, or possibly bus, train or plane transportation will be required, the reality is that they may not be able to be there the way you (and they) would like.
The Finer Things in Life
What makes life worth living? Often it's the little daily comforts like companionship, or being able to have a cup of tea or coffee when you feel like it (or a glass of beer or wine occasionally). Sometimes it's about special events that take you out of the daily routine and make life interesting, such as learning a new hobby/craft, entertainment, day trips or travel opportunities. 
When choosing your future home – whether that's renovating the one you're living in so you can age in place, or moving and buying or designing a new retirement dream home – keep these things in mind:
Daily Amenities – The importance of small conveniences cannot be underestimated. Do you want your own full kitchen or is access to one enough…or are you tired of cooking, and a shut-off kettle of your own will make you happy if someone is making your meals? Is navigating stairs, or getting in and out of the shower, becoming difficult? Will you have parking for the car you intend to keep (and will that cost more)?
Leisure Activities – Social gatherings, entertainment, hobbies, learning/enrichment opportunities, day trips & outings….Access to these and many other enjoyable pursuits may depend on your own mobility and/or proximity to facilities and providers, if you're unable to get their on your own steam now or in the future.
Pets – Do you have a pet that you're able to care for yourself, and want to bring with you? Not all pets are welcome everywhere, so if keeping your pet is a critical consideration at this time in your life, then it should be on your Pro's & Con's checklist for the housing options you are thinking of. Responsible pet ownership for apartment and condo dwellers is also an important consideration if you want your neighbors to be happy with you.
Finances
This is usually the bottom line. We'd all love to live in a palace with hot and cold running maid service, but unless you're a millionaire, for most people your next home will be primarily determined by your ability to pay for it on a monthly basis.
Whether you're thinking of retirement as something in the distant future or you're already there, meeting with a financial adviser or retirement planner should provide you with clarity and a workable personal game plan to achieve your retirement living goals.
Financial Considerations For Senior Housing
Current monthly income, and food and housing-related expenditures. Property taxes, utilities, home & car insurance, and of course groceries – not just the big weekly grocery order, but the little last-minute meal or snack purchases that add up. Knowing where you are today money-wise will give you a baseline for comparison.
Calculate your future monthly income, and the timing for when those income sources will come into play. Will they remain stable, or be subject to decreases / increases (when and why)?
Anticipate all food and housing-related expenditures for the future home options you are considering.
Retirement savings – do you have any, and if so, when and how can they be accessed? Often there are age and other income requirements that need to be considered before you make a withdrawal from a retirement savings program, in order to minimize tax impacts.
Seniors & Retirement Housing and Care Options
Thanks to the aging baby boomers, there are more housing options available than ever before. Some of the terms have changed from years ago though; what used to be called Nursing Homes when I went to visit Grandma, are now called LTC's (Long-Term Care) …and so on. 
Listed by ascending level of care and support required, here are some of the popular housing options available today to folks in their 50+ years, retirees, and seniors of all ages:
Aging in Place – Stay in the existing home, perhaps with modifications or in-home support services as needed to allow for easy access & mobility. Bungalows, condominiums, or apartments offer the benefit of less stairs.
Downsizing – Moving to a smaller home and/or the act of organizing and reducing the quantity of furniture and other items in your current home.
Co-Ownership / Co-Housing – Shared home ownership and living space between 2 or more people. If this option appeals, consider why home sharing is an affordable retirement option and check out these 5 tips on adult home sharing.
Life-Lease Residences – Home Ownership based on comparable housing market value at time of purchase, with an agreed-upon number of years built in to the lease, to reasonably encompass a person living in a home for the rest of their life, or until they are no longer capable of living there.
Adult lifestyle Communities / Retirement Communities – Clusters of detached, semi-detached, or attached homes, apartment or condominium buildings and complexes, which have or are situated near, amenities that have high appeal for retirees and seniors – ie, golfing/golf courses, recreation centers, social activities, heath and medical supports (clinics, pharmacies, etc.), and more.
Independent Living Housing / Retirement Residences – Types of housing designed for older adults and seniors, including designated senior apartments, condominiums, houses, as well as adult lifestyle or retirement communities and retirement homes or residences.
Assisted Living – General term for housing options where some assistance with the activities of daily living are provided, such as medications, home and personal care.
Memory Care / Alzheimer Care – A type of assisted living care / home that includes additional help with gentle reminders, and may have extra safety, security, memory, social, and quality of life supports in place for residents.
Continuing Care Retirement Communities – Communities and/or facilities that allow older adults and seniors to remain in the same general location over time as their housing needs evolve; from independent living to assisted living, and nursing home or long-term care (LTC).
LTC / Long Term Care Residences (Nursing Homes)  – A higher level of nursing and medical care can be provided, as either a temporary or long-term solution. A Long Term Care Home Checklist may help when you're searching for a LTC home for yourself or a loved one. 
Hospice Care / Palliative Care – A high level of nursing, medical, and personal care for people with terminal or life-threatening illness, usually with end-of-life care requirements. Care is focused on providing comfort and quality of life, and may be provided in-home, at a retirement residence or LTC.
Seniors Housing & Care Resources:
The Care Guide Source For Seniors – https://thecareguide.ca/
Housing Information for Senior Citizens – https://www.hud.gov/topics/information_for_senior_citizens