Vacation vs Retirement Living: Hawaiian Islands
If you're doing some financial planning to prepare for your retirement in your 50+ and senior years, thinking of buying a vacation home, or just planning your next trip, here's what to know about Hawaii as a potential retirement living or vacation destination. 
Retirement Living in the Hawaiian Islands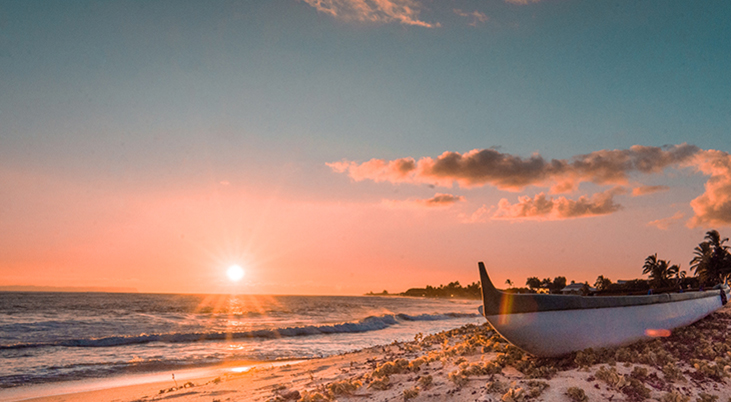 (Waimea Beach Sunset, Oahu, Hawaii Photo: Jimmy Conover via Unsplash)
The top draws for Hawaii residents and vacation travelers alike, are the miles of easily accessible, beautiful beaches. Lanikai and nearby Kailua Beaches on the island of Oahu in Hawaii have made many Top Beaches lists over the years for good reason.
Hawaii Housing and Cost of Living
If you accumulate sufficient wealth to afford living in the Hawaiian Islands in your retirement, then Hawaii is an ideal retirement living destination. In additional to plenty of housing options such as traditional detached homes, apartments, condominiums, and assisted living seniors communities, there are active adult communities as well in Hawaii.
The cost of living is quite high in the Hawaiian Islands:
Hawaii housing prices, including home purchases or rentals, detached homes or seniors apartments & condominiums, are comparable to those in the most expensive major American and Canadian cities such as Los Angeles, New York, Toronto, and Vancouver. In 2018, Zillow / Business Insider ranked Hawaii, California, and Washington, DC as the 3 states with the highest median house prices in the U.S. (all between $549-635K), and highest price per square foot.
Hawaii food prices – Grocery shopping is more limited and costlier on the smaller Hawaiian islands, compared to Oahu with it's greater population and higher levels of commerce. Much of the food (fruits, vegetables, coffee, vanilla, beef, chicken and seafood) is locally grown or sourced on the Hawaiian Islands.
Hawaii shopping prices – Because Oahu, Kauai, Mauai, Hawaii and the other Hawaiian Islands are far from any mainland, most manufactured goods are shipped to the islands, and that makes them expensive to buy in Hawaii.
Hawaii Jobs – Many jobs are part-time and/or in the low-paying service industry, so holding several jobs is not uncommon and makes finding good affordable housing difficult to find.
Benefits of Living or Vacationing in Hawaii
If you're still in the phase of your life where you need to work to earn money and save for your retirement (for some of us, that's going to be well in our senior years), then Hawaii may be better as a lovely vacation destination for now.
On the other hand, if you have the money to retire & live there in your 50+ and senior citizen years, the benefits of living in Hawaii in your retirement are that same as for those who travel there on vacation:
Weather – year-round warm weather = access to exceptional and non-stop swimming, surfing, golfing, and other outdoor activities. In "summer" (May-October), the average daytime temperature is 85° F / 29.4° C. In "winter" (November-April), it's 78° F / 25.6° C., as per The Hawaiian Islands.
Relaxed Lifestyle – forget the sense of urgency that permeates the mainland – you're on "island time" in Hawaii, and can truly relax in your retirement.
Community – multi-cultural, friendly people and communities.
World-Class Scenery – virtually every eco-system can be found in the Hawaiian Islands, from snow-capped mountains, to volcanoes, rainforests and of course stunning black, pink, or white sand beaches. 
Outstanding Vegetation – I saw orchids growing in eavestroughs and street gutters in Hawaii….small indoor tropical house plants in the northern US and Canada, are large outdoor shrubs and trees in Hawaii.
Low Crime – Hawaii 5-O is fiction, not fact. Hawaii has a relatively low violent crime rate. According to the FBI (as reported in U.S.News), in 2017 Hawaii ranked 13th in the U.S. for the lowest violent crime rate (Maine had the lowest), but 37th for lowest property crime rate (New Hampshire had the lowest). 
Great Entertainment – Diverse local restaurants (it's hard to find a fast-food chain restaurant in Hawaii); unique local attractions/entertainment; and historically significant sites such as Pearl Harbor.
So if you're thinking of downsizing and moving, buying that retirement dream home or vacation house, or going there on vacation – enjoy Hawaii!
Note: This article was first published in 2016. It has been updated with more current information.
Information on other popular retirement destinations:
*This article is for general informational purposes only. 50+ World does endorse any providers, nor does it receive remuneration from them.*