Celebrating Seniors - Dionne Warwick is 75
Celebrating septuagenarian senior citizen Dionne Warwick's 75th with vintage videos of 6 of her best: Don't Make Me Over, Walk On By, Always Something There To Remind Me, I'll Never Fall In Love Again, Hope Is Just Ahead, That's What Friends Are For.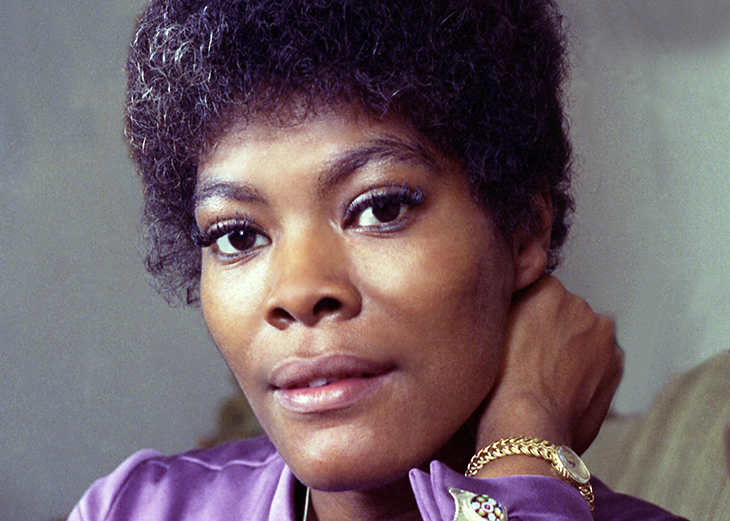 (Dionne Warwick 1973 Photo: Allan Warren)
Gospel, R&B, soul & pop singer Dionne Warwick was born Marie Dionne Warrick in East Orange, New Jersey on December 12, 1940. Her mother Lee Drinkard managed and later sang with her brothers and sisters in a successful gospel group known as The Drinkard Singers.
Aside from singing with the Drinkard Singers while growing up, Dionne's musical influences included icons such as Lena Horne and Aretha Franklin. In an interview with Alanna Nash for AARP magazine in 2015, Dionne commented on having met Aretha Franklin at church in Newark when she was a teenager, and their enduring friendship ever since.
Warwick earned a Music Education scholarship to Hartt College of Music in Connecticut (eventually earning a Master's degree in both Music Education and Music). Hartt later awarded her an honorary doctorate in 1973. While still in school, Dionne and her sister Delia (Dee Dee) formed their own group, The Gospelaires. The Gospelaires performed professionally, cutting their own albums and working as background singers for big musical acts such as The Drifters, Ben E. King, and Ronnie Hawkins.
Dionne Warwick came to the attention of composer Burt Bacharach while singing background for The Drifters; he became her producer and signed her with Scepter Records in 1962. Dionne's debut solo album Presenting Dionne Warwick (1963) included her first top 40 hit single Don't Make Me Over (1962). Below, Dionne Warwick singing her first hit Don't Make Me Over, live in 1963.
Dionne Warwick's first top 10 pop hit Anyone Who Had A Heart (1963) reached #8, and her solo career took flight, aided greatly by Hal David's lyrics and Burt Bacharch's melodies. A string of US and international hits courtesy of her baby boomer audiences followed over the next 25 years.
Walk on By (1964), performed in the video below by Dionne Warwick, made it to #6 on the US charts. Walk on By was written by Burt Bacharach and Hal David, and mad it to #6 on the Billboard Hot 100 charts in the 1960s. Warwick was presented with the 1965 Grammy Award for Best Rhythm and Blues Recording for for her performance of Walk on By.
She married for the first time in 1966 to drummer and actor William David Elliot (d.1983). Shortly after they divorced in 1967, they married again for the second time. Before their second marriage ended in divorce (1975), they had two sons together – David Elliott (b. 1969) and Damon Elliott (b. 1973). Damon's godmother is the legendary jazz singer Ella Fitzgerald, one of Warwick's idols. Both sons are in the music industry; David is a singer-songwriter and Damon as a music producer.
Senior citizen Dionne Warwick is now grandmother to 7 grandchildren – David's 20-year-old daughter Cheyenne Elliott is also a singer and performed duets with Warwick on her 2014 album Feels So Good.
Songwriters Burt Bacharach and Hal David's wrote (There's) Always Something There to Remind Me circa 1964, and it was recorded by several artists. In 1967 Dionne Warwick recorded (There's) Always Something There to Remind Me and it was a modest hit for her, making it to #65 on the music charts. Below, Dionne Warwick singing (There's) Always Something There to Remind Me.
I'll Never Fall in Love Again (1971) made it to #6 & a re-release in 1979 got to #5. She won the 1971 & 1980 Grammy Award for Best Female Pop Vocal Performance of this song. Below, Dionne Warwick & Glen Campbell singing I'll Never Fall in Love Again as a duet on the Glen Campbell Goodtime Hour in 1969.
Dionne Warwick's most recent #1 Billboard Hot 100 hit was the group effort with Elton John, Gladys Knight & Stevie Wonder in 1985, That's What Friends Are For.
Below, Dionne Warwick singing That's What Friends Are For with Elton John, Gladys Knight, & Stevie Wonder.
Dionne Warwick completed her autobiography in 2010 as she turned the corner into her septuagenarian senior citizen years. My Life, as I See It touches on her family's musical talent – pop singer Whitney Houston (her cousin), gospel singer Cissy Houston (her aunt), and opera singer Leontyne Price (a cousin). 
In a 2012 interview with Danica Daniel for CentricTV.com, senior citizen Warwick had this to say about growing older and aging gracefully:
"I think aging is beautiful, you know? When you accept it for what it is. And I don't feel the need to have anybody cut on my skin or poke needles into my face, or anything of that nature."
Dionne Warwick's 2012 album Now celebrated her 50 year anniversary in the music business. The album was nominated for a Grammy Award for Best Traditional Pop Vocal Album.
Her most recent album Feels So Good (2014), included this single below, a duet with Billy Ray Cyrus – Hope is Just Ahead (2014).
A visit to Brazil early in her career inspired Dionne Warwick to later live in Brazil for a number of years, she even learned to speak Portuguese. Although Warwick moved back to the U.S. in 2005, she has said in interviews that she intends to move back to Brazil when she retires. This may or may not come to pass, due to her financial and health issues. Warwick declared bankruptcy in 2013 reportedly due to financial mismanagement, and earlier this year in January 2015, she required hospitalization and ankle surgery after a fall.
Dionne Warwick told AARP in 2015 that getting older has affected her music career in minor ways;
"I don't move as fast as I used to, and I've lowered the keys to my songs…but we still get through, and I'm proud to show the gray hair I've earned."