Remembering Ben E. King
Soul & R&B singer and composer Ben E. King passed away April 30th, 2015 at the age of 76 – but his classic songs and video performances live on, including these 4 enduring hits: Stand By Me, There Goes My Baby, Save the Last Dance For Me, and Spanish Harlem.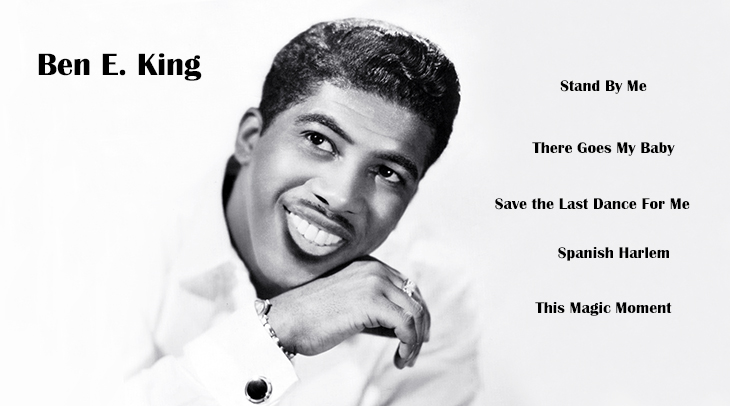 (Ben E. King 1963: Maurice Seymour)
Nee Benjamin Earl Nelson when he was born on September 28, 1938, Ben E. King began singing with his mother and aunts in their Henderson, North Carolina church choir. 
"Those religious songs made me feel very close to my mother, so I always had a wonderful time singing those songs together with her. Even now, when I go to see her – although she is 95 years old – she still sings, and I sing along with her." – Interview with Ben E. King, legendary American soul singer and songwriter, Min-On Concert Association, May 2014
The family moved to Harlem, New York, when he was 9 years old. It was as Ben Nelson that he joined The Five Crowns doo-wop group in 1958.
Meanwhile, former trumpeter George Treadwell had become a songwriter and manager of musical acts during his marriage to jazz singer Sarah Vaughan. He handled his wife's career as well as  clients such as Billie Holiday and R & B group the Drifters. When the Drifters lead singer Clyde McPhatter left the group in 1955, Treadwell took over ownership of the Drifters name. George's marriage to Sarah Vaughan ended in divorce in 1957, and he remarried to Fayrene Johnson.
Ben E. King in The Drifters
By the end of 1958, George Treadwell had fired the entire Drifters line-up, and hired the Five Crowns to replace them in the act. Treadwell co-wrote the Drifters song Dance With Me (1959) with Louis Lebish and Irving Nahan.
The Drifters hit single There Goes My Baby (1959) was co-written by George Treadwell, Ben E. King, and Lover Patterson. There Goes My Baby was produced by Jerry Leiber and Mike Stoller, and was the debut for Ben E. King as lead singer of the Drifters.
There Goes My Baby was a #1 hit song for the Drifters  Among the many recording artists who subsequently have performed it are Ricky Nelson, and Donna Summer. 
Veteran songwriters Doc Pomus and Mort Shuman penned the Drifters 1960 hit single Save the Last Dance for Me. Although Ben E. King sang lead vocals for the Drifters when they recorded it, by the time Save the Last Dance For Me was released in August 1960, King had already left the vocal group to become a solo recording artist.
As Save the Last Dance For Me began to make it's way up the charts, King was working on his first solo recordings.
"The record hasn't shown much action in the marketplace, but the company intends to continue featuring Ben as a single artist. They think he has a great deal of promise and might turn out to be another Clyde McPhatter. Clyde sang lead with the Drifters before taking off on his own as one of the brightest stars on the popular music scene." – Top Tunes – 'Save the Last Dance for Me', by Harry Bacas, The Evening Star, September 18, 1960
Save the Last Dance For Me with King singing lead vocals, became a #1 hit single for the Drifters.
Solo Recording Artist
 Ben E. King's first big solo hit was the soulful Spanish Harlem. (1961), written by Jerry Leiber and Phil Spector, produced by Leiber and Mike Stoller.
More hits ensued. The following year, he scored a minor hit with the single Don't Play That Song, written by his boss – the President of Atlantic Records, Ahmet Ertegun. 
Stand By Me was co-written by Ben. E. King with Jerry Lieber and Mike Stoller, and released in 1961. It would become King's signature song.
Stand By Me was a #1 hit for King twice – when it was originally released, and again in 1986 after it was featured in the Stephen King movie of the same name. Among the many artists who have recorded this classic tune are John Lennon, Meat Loaf, Tracy Chapman, Ike and Tina Turner, Ronnie Milsap, and Otis Redding. King performed at the 2012 ceremony when Stand By Me was inducted into the Songwriter's Hall of Fame.
Ben. E. King Songs on Movie Soundtracks
One of the most popular songs of all time, Stand By Me can also be heard on the soundtracks of these notable feature films:
The Wanderers (1979), a romantic crime drama starring Ken Wahl and Karen Allen.
Urban Cowboy (1980), a modern western romantic drama with John Travolta, Debra Winger, and Scott Glenn in a love triangle. Mickey Gilley sings Stand By Me and other songs.
The Flamingo Kid (1984), director Garry Marshall's romantic comedy-drama stars Matt Dillon, Hector Elizondo, Molly McCarthy, Richard Crenna, Jessica Walter, Janet Jones, Fisher Stevens, and Bronson Pinchot, among others.
To Sleep with Anger (1990), a drama starring Danny Glover, with Paul Butler and DeVaughn Nixon
Among Giants (1998), a rom-com with Pete Postlethwaite, Rachel Griffiths, Lennie James, Andy Serkis, and James Thornton.
No Regrets (2004), a romantic drama starring Janine Turner, Kate Jackson, Brad Johnson, Robert Merrill, and Edward Albert.
Flipped (2010), a Rob Reiner-written and directed romantic comedy-drama. With Madeline Carroll, Callan McAuliffe, Rebecca De Mornay, Anthony Edwards, John Mahoney, Penelope Ann Miller, and Aidan Quinn.
Richard Jewell (2019), a drama directed by Clint Eastwood. Starring Paul Walter Hauser, Sam Rockwell, Brandon Stanley, Ryan Boz, John Hamm, Olivia Wilde, and Kathy Bates.
The family comedy-drama The Sandlot (1993) features King singing Stand By Me, as well as There Goes My Baby. There Goes My Baby can also be heard in the movies American Hot Wax (1978) and There Goes My Baby (1994).
Other performance by Ben E. King on movie soundtracks include Amor in Valentine's Day (2010); Beautiful Girls in Cloverfield (2008), Supernatural Thing in Very Bad Things (1998), I (Who Have Nothing) in Strike! (1998), If You Need a Miracle in Made in America (1993); Every Day I Have to Cry; I'm Leaving it All Up to You in Shag (1988); and Perfect Ending in Best Seller (1987).
Music Halls of Fame
King performed and toured right up until the year of his death. He spoke to the Min-On Concert Association in during his concert tour of Japan at the age of 75:
"I really feel that music is a gift meant for all people, so we should share that previous gift with everybody, especially during times of tragedy. In such times, music is more valuable, because it can lift up hearts and bring joy…" – Interview with Ben E. King, legendary American soul singer and songwriter, May 2014
The Drifters were elected into the Vocal Group Hall of Fame three times – the first group, featuring lead singer Clyde McPhatter; the second group, with Ben E. King as lead singer; and the third group, from the members of the 1970s-era Drifters.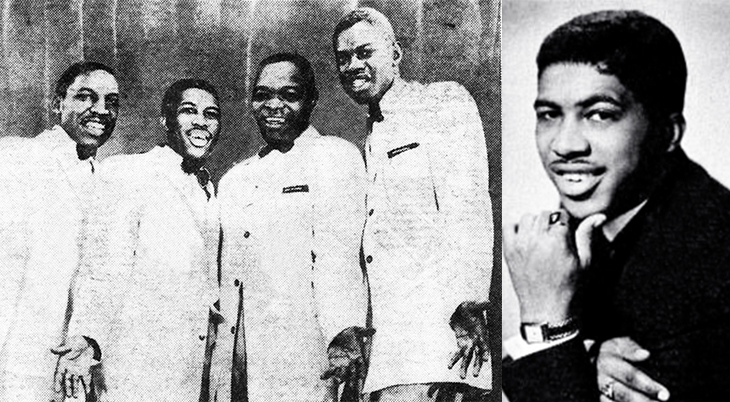 (Ben E. King with The Drifters in 1960 & solo in 1961)
At the 1986 induction ceremony for the Rock & Roll Hall of Fame at New York's Waldorf Astoria Hotel, Ben E. King was bypassed. Ahmet Ertegun was inducted in 1987, but it wasn't until 1988 when The Drifters were inducted into the Hall of Fame in the group category, that King and former Drifters lead singer Clyde McPhatter got a nod, albeit not for their solo efforts. Although he was nominated as a solo artist three times (1986, 1987, & 1988), as of 2021 Ben E. King has not yet made it into the Rock & Roll Hall of Fame as a solo artist / songwriter.
Ben E. King was survived by his wife of 51 years, songwriter Betty Nelson (they had been married since 1958), and their three children.
Note: This article was first published in 2015. It has been updated, with new and additional content.
*Images are believed to be in the public domain, used by permission, or Creative Commons licensed & sourced via Wikimedia Commons, Vimeo, YouTube, or Flickr, unless otherwise noted*