Pages From Rip Torn's Life
Update: Rip Torn has died on July 9, 2019, at the age of 88. Cause of death is unknown. He is survived by his third wife Amy Wright and their two children (Katie Torn and Claire Torn), his children with his second wife, actress Geraldine Page (daughter Angelica Page, twin sons Tony Torn and Jon Torn), and his oldest daughter Danae Torn, from his first marriage to actress Ann Wedgeworth. Both his first and second wives pre-deceased him – Geraldine Page died in 1987, while Ann Wedgeworth died in 2017.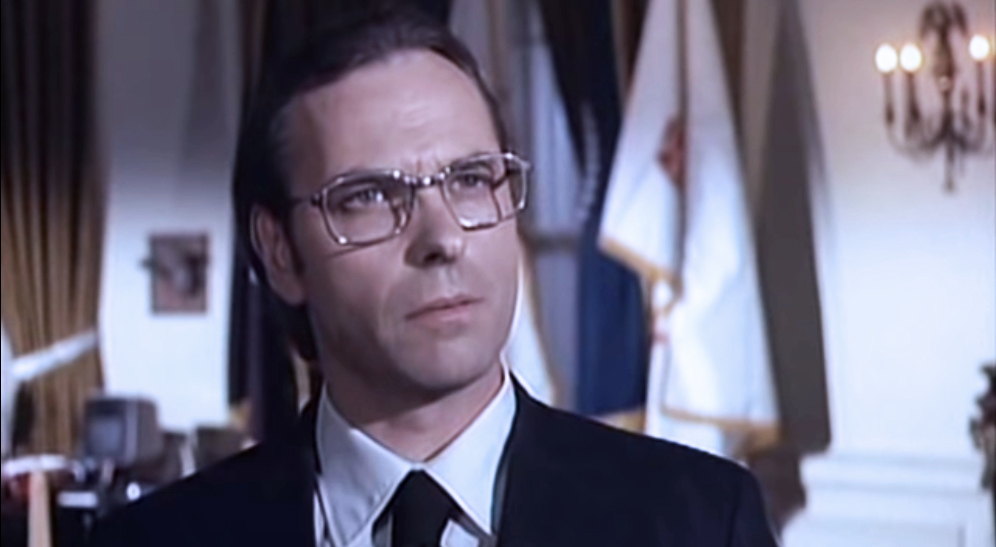 (Rip Torn 1973 The President's Plane is Missing)
Early Pages From Rip Torn's Life
It was a dark and stormy night….
Just kidding, no one knows what the weather was like when actor and comedian Elmore Rual Torn, Jr. (Rip Torn) was born on February 6, 1931 in Temple, Texas. He was known throughout his life by the nickname 'Rip' based on a generations-old family tradition. Through his mother Thelma (nee Spacek), Torn's first cousin was actress Sissy Spacek.
Rip Torn served in the U.S. Army Military Police after graduating from drama studies at the University of Texas. According to a 1980 People Magazine interview with his  fellow Texas native and University of Texas graduate Ann Wedgeworth in 1980, Rip met the aspiring actress after seeing a picture and telling a friend the he was going to meet and marry her. Rip torn did marry Ann Wedgeworth in 1956 when Torn was 25, and moved to New York to pursue careers on Broadway, after Rip got his first Hollywood feature film Baby Doll (1956) under his belt. A daughter – Danae Torn (b. 1957) – and success on stage followed, but Ann said the marriage didn't work out because "We both had violent tempers…we were too mean to live together." Rip Torn and Ann Wedgeworth divorced in Mexico in 1961. 
Meanwhile, Rip Torn told The New York Times in 2006 that he had met older actress Geraldine Page while understudying for the role of Brick in Cat on a Hot Tin Roof on Broadway (1955). Rip said he met the twice-divorced Geraldine Page at the Actors Studio in 1955 and asked for a lick of her ice cream.
Page said that the couple didn't attend parties together.  "We get along marvelously unless we get exposed to other people…Rip is volatile and I'm quiet, which is maddening."
Geraldine Page and actor Rip Torn were co-stars onstage in Sweet Bird of Youth (1962), and in the movie.
Rip Torn's Movie and Television Pages 
Rip Torn co-starred with actor Christopher Plummer in the TV movie Johnny Belinda (1958); some 40 years later, both Christopher Plummer and Rip Torn, now senior citizens, would be in the featured film The Insider (1999).  
Below, Rip Torn guest-starred on an episode of suspense series Thriller in 1960. 
 (Rip Torn 1960 Thriller)
Geraldine Page and Rip Torn were married in 1963 and had three children – actress Angelica Torn (b.1964), who now goes by the name Angelica Page, and twin sons Anthony & Jonathan Torn (b. 1965). The married couple shared a mailbox TORN-PAGE, and a mutual enjoyment of gardening.
Their house got crowded a year later when Rip's cousin Sissy Spacek lived with them while getting started in the world of New York theatre and music at age 17.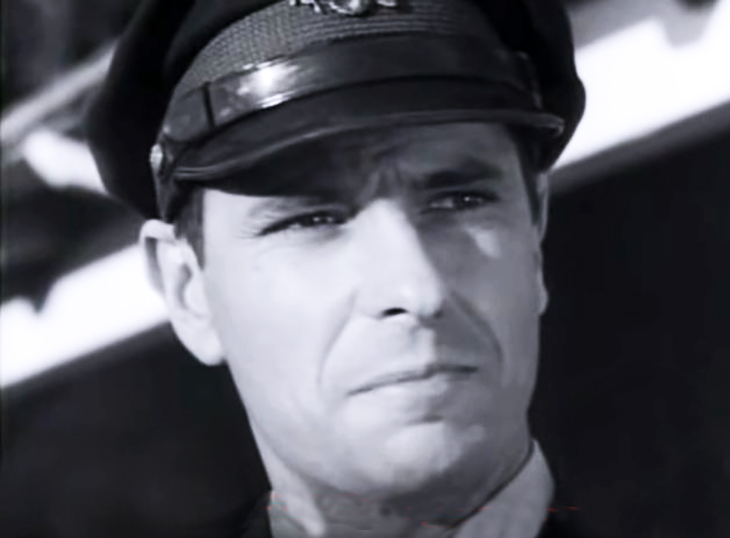 (Rip Torn 1965 12 O'Clock High)
Rip continued to act in movies and television, and co-starred in the TV thriller The President's Plane is Missing (1973) with Buddy Ebsen (Barnaby Jones), Dabney Coleman, and Joseph Campanella. He played manipulative country western singer Maury Dann in Payday (1973), as shown in the Payday movie trailer below.
Rip Torn's Complicated Family Pages
In 1976, 45-year-old Rip Torn was starring in Hamlet in an off-Broadway play and took a fancy to the 19-years-younger actress playing Ophelia, Amy Wright.
Amy Wright told People Magazine that although Torn wanted to be with her, she didn't want to break up his marriage to Geraldine Page. Geraldine and Rip Torn founded the Sanctuary Theater Workshop in New York that year and Amy began acting in plays with Geraldine Page, making the situation awkward and complex. According to Amy in an 1989 interview with People Magazine,
"Gerry was willing to act with me for Rip's sake…I was jealous of her for certain reasons—for being a better actress, for being married to Rip and having known him for so many years, and she was jealous of me for other reasons. We both suffered." 
Although the company disbanded a year later, the off-stage relationships continued. "Gerry and Rip had their life, and Rip and I (Amy) had our life."
When interviewed by People Magazine in 1986, Geraldine and Rip were sharing their home with Rip's grown daughter Danae, their daughter Angelica, and her toddler son. Amy was living separately with her 3-year-old daughter by Torn, Katherine (Kate), making 55-year-old Grandpa Rip Torn a father again. In the interview Geraldine Page insisted that Amy Wright was not a threat to her marriage, and Rip Torn referred to his "independent" life. Geraldine Page was 62 when she died in 1987 at their Manhattan home, leaving Rip Torn a widower.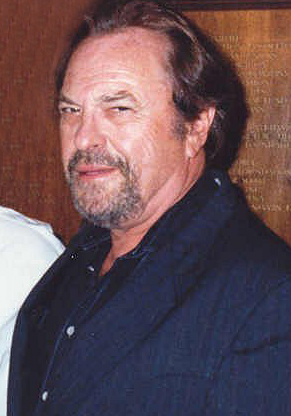 (Rip Torn 1993 Photo: Alan Light)
For her part, in 1989 Amy Wright said
"He (Rip Torn) is the only one who knows about both. I don't think Gerry ever saw the baby or if she ever wanted to."
Amy gave birth to their second daughter Claire in 1992, and many sources indicated the couple married, although no wedding date was  confirmed. 
Professional Acclaim and Alcoholism
Much of Rip Torn's acting career has been characterized by "almost" great roles on film and stage, and was likely hampered by his alcoholism and volatile temperament. 
Still, he has more than 80 feature film credits to his name between 1956 and 2013.
He has many supporting actor roles in films such as Defending Your Life (1991), co-starring with Albert Brooks, Meryl Streep, and Lee Grant. Below, Albert Brooks, Rip Torn and Meryl Streep are featured in the movie trailer for Defending Your Life.
Other memorable roles for Rip Torn after becoming a senior were in the movies Men in Black (1997) and the 2002 Men in Black sequel. He earned an Academy Award Best Supporting Actor nomination for his portrayal of Marsh Turner in Cross Creek (1983). Rip Torn last appeared on Broadway in The Young Man From Atlanta (1997).
Younger fans may remember Rip Torn best for his portrayal of Artie in the comedy series The Larry Sanders Show (1992-1998). Rip Torn was nominated every year for a Best Supporting Actor in a Comedy Series Emmy Award for his performances on The Larry Sanders Show, and won in 1996.
An avid gun collector, septuagenarian senior citizen Rip Torn made headlines for a drunken episode in 2010, when, armed with a handgun, he broke into a Connecticut bank that had a colonial facade and was arrested. Apparently he thought it was his own home in Connecticut that he was trying to get into; Torn had previously acquired 3 drunk driving convictions. Rip Torn's daughter Angelica indicated her father would be attending rehab after the incident. 
Rip Torn was interviewed on InnerViews circa 2010.
Rip Torn's last appearances onscreen was in the film Bridge of Names (2012). His last page has now been turned, and this chapter is over.
The End
Note: This article was first published in 2016 with the title Celebrating Seniors – Rip Torn Turns 85. It has been updated with new & additional content.
*Images are public domain or Creative Commons licensed & sourced via Wikimedia Commons, Vimeo, YouTube, or Flickr, unless otherwise noted*