Vintage Happy New Year Greetings
Inspired by vintage illustrations and paintings by artists such as A.M. Hopfmuller, Flohri, and Jon McLaren, share these Happy New Year wishes with friends and family.
Silent film comedian Mack Swain toasts the onset of 2022, sending his Happy New Year wishes all the way from 1921.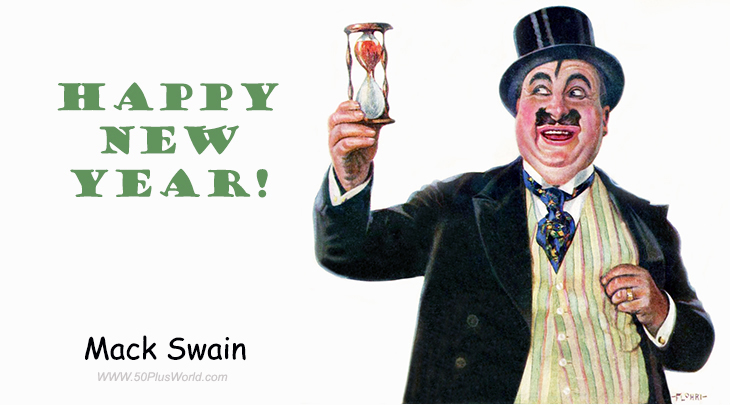 (Mack Swain 1921 Film Fun Cover Portrait by Flohri)
This fashionable lady from 1905 thinks of her best intentions for the new year as she packs a snowman, and wishes you a Happy 2022.
(Life Magazine 1905 Cover Illustration: Unknown Artist)
A 1931 New Year's Baby painted by J.H. Shonkwiler sends his greetings, updated for sharing in 2022.
(What's On The Air January 1931 Cover Illustration: J. H. Shonkwiler)
Jazz Age art deco artist A.M. Hopfmuller's vision from 100 years ago – the end of 1920 and the start of 1921 – still works for 2021 / 2022.
(SHADOWLAND 1921 Cover Painting: A.M. Hopfmuller)
Country Gentleman magazine cover artist William Meade Prince's vision of the New Year's Eve countdown features a boy and his dog snoozing while a clock strikes midnight.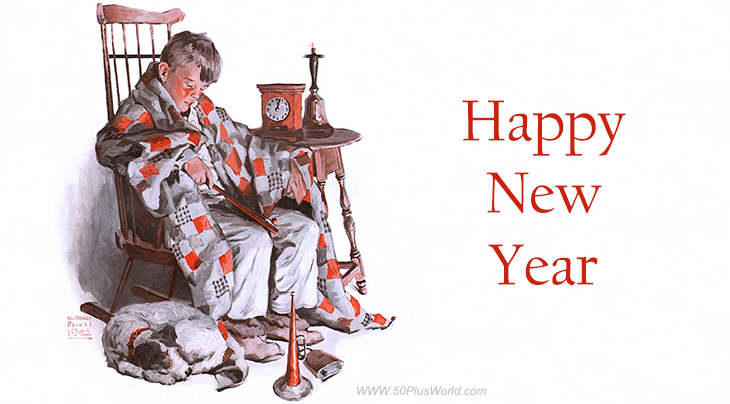 (Country Gentleman 1925 Cover Painting: William Meade Prince)
A fashionable woman blows a horn to celebrate New Year's Eve back in 1912…Fast forward 110 years and 2022 is arriving!
(The Ladies' World 1923 Cover Illustration: Charlotte Weber-Ditzler)
Artist Jack McLaren's vintage 1923 cover painting of Maclean's magazine features a bearded angel, and a New Year's Baby driving vintage a automobile. 
(Maclean's 1923 Cover Illustration: Jack McLaren)
A 1904 couple in elaborate fancy dress costume is ready to celebrate the end of the old year and the beginning of the new, updated for 2021 / 2022.
(Saturday Evening Post 1904 Cover Illustration: Sarah Stillwell)
Happy New Year to one and all!
These Happy New Year greeting cards are suitable for sharing on social media (no link to 50PlusWorld.com is required, but it is appreciated). 
More New Year Fun Stuff:
Top New Year's Eve Movies in Clips