SHADOWLAND's Art Deco Artist A.M. Hopfmuller
Artist A.M. Hopfmuller designed the dazzling art deco covers of the Brewster Publications Jazz-age arts and entertainment magazine SHADOWLAND from 1919-1923. 
Hopfmuller's grand-daughter-in-law Ruth Hamann shared her memories of the artist, whom she knew well for years, with me in August 2021.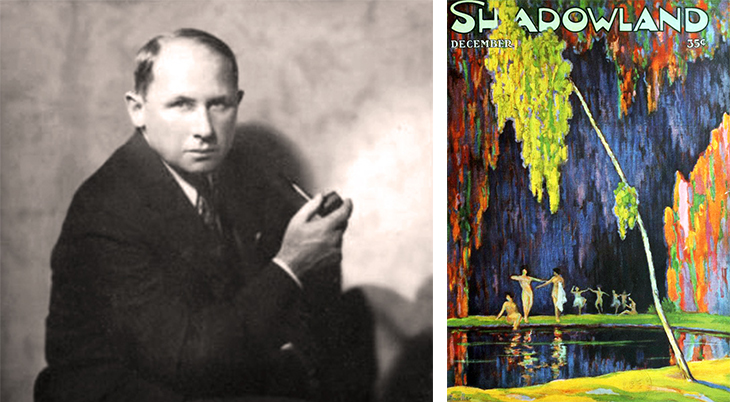 (A.M. Hopfmuller c. 1920 Photo: Hal Phyfe / © Hopfmuller Family Archives | SHADOWLAND Dec. 1919 Cover)
Bayreuth, Germany Beginnings
Adolph M. Hopfmuller was born on November 11, 1875 in Bayreuth, Baviaria, in Germany. According to Ruth, Adolph was the youngest of 7 surviving children (as many as 5 may have died in infancy/childhood) born to Johann Friedrich Hopfmuller and his wife Sophia Maria Johanna Phillipine (nee Leindecker). Germany was itself in it's infancy, having been united as an empire just 4 years earlier, under the leadership of Chancellor Otto von Bismarck.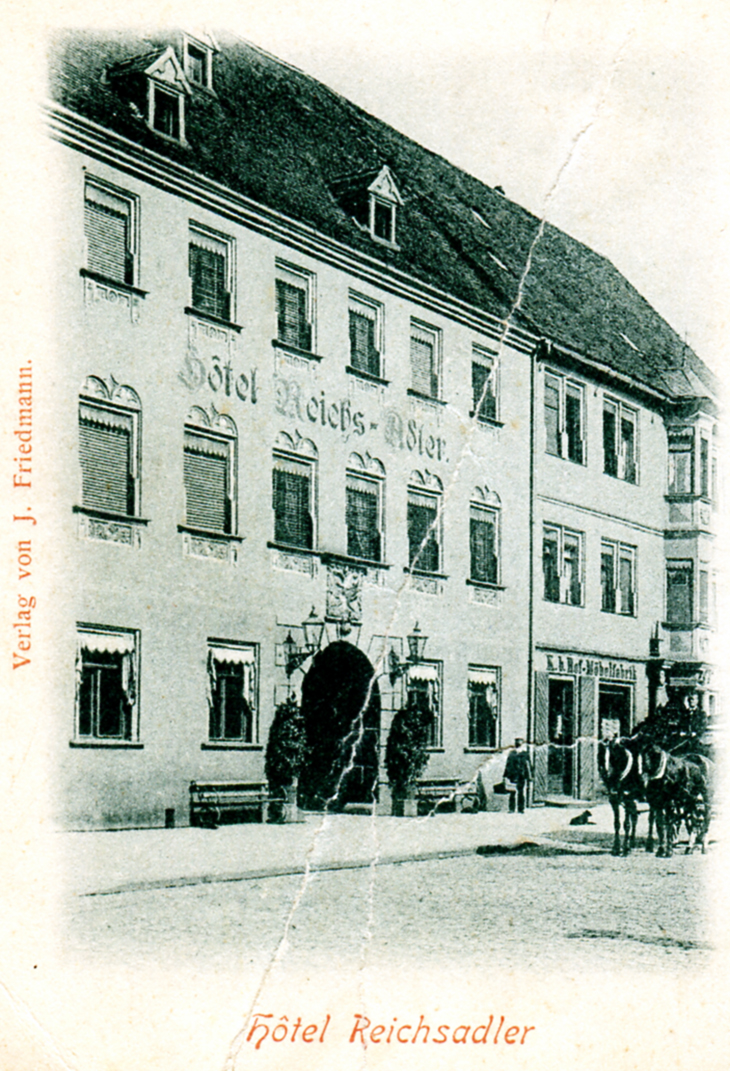 (Hotel Reichsadler, Bayreuth, Germany c. 1880s: © Hopfmuller Family Archives)
The Hopfmuller family owned Hotel Reichsadler in Bayreuth, and guests such as Richard Wagner and Franz Liszt passed through their doors. Johann and Sophia Hopfmuller baptized and raised their children in the Lutheran faith.
As Ruth tells it, Adolph's birth was "surprise" to his parents. He was significantly younger than his siblings, some of whom were married and had their own families by the time his parents died. Father Johann Hopfmuller passed away in 1880 when Adolph was only 5 years old, and two years later his mother Sophia also died.
An orphaned Adolph was sent to a Catholic boarding school at the age of 7 by an older brother. He hated the school, and ran away to sea when he was around 15 years old.
Life at Sea
For the next ten years or so, A.M. Hopfmuller sailed around the world as a crewman on square-rigged ships. Ruth recalls many colorful stories that "Grandpa" told about his life at sea: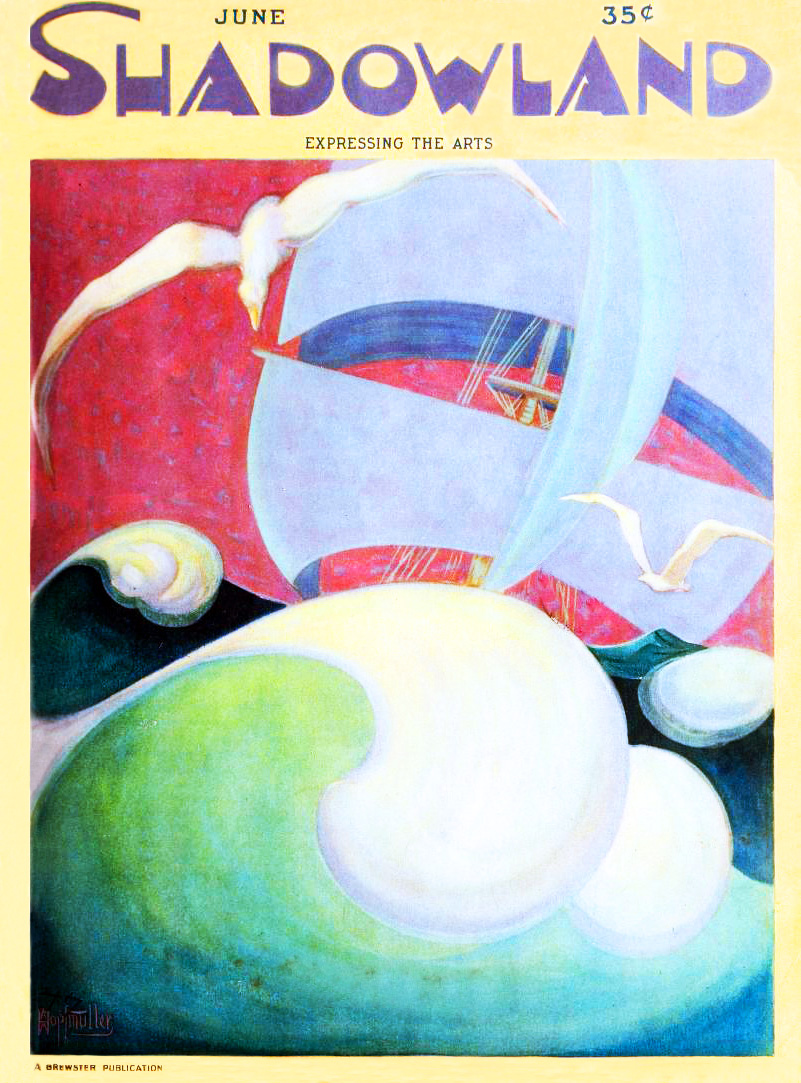 (Shadowland June 1923 Cover: A.M. Hopfmuller)
"He sailed…to Africa, Australia, and South America…among his adventures were rounding the Cape of Good Hope and Cape Horn, during which time he was no stranger to climbing to the top of the masts in ice storms and other nasty weather."
During the 1890s, Germany was in a race with Britain to build up their navy. 
"After jumping ship in Argentina, fearing his ship as unseaworthy (it later sank!), he made his way back to Germany to fulfill his obligatory military service in the navy." – Ruth Hamann
Post naval service, Adolph M. Hopfmuller worked as a sailor on passenger ships. On one of these voyages he met Mary Klassert, who was sailing from Germany to New York. He eventually made his own way to New York City, where by now some of his 3 brothers and 3 sisters were living. He stayed with family members while he worked at different jobs. 
Some of those early jobs in New York took advantage of his sea-going experience climbing masts, and he found himself working high above the streets hanging flags, banners, etc. for public events.
An American Artist
A.M. Hopfmuller married Mary Klassert, and their first child Florence (m. Braunstein) was born in 1903 Their second daughter Agnes (m. Meyer) came along in 1908; and their youngest daughter Elsie (m. Hamann) was born in 1910. By this time, Adolph was a naturalized U.S. citizen himself, having taken the Oath of Allegiance in 1906, according to Fold3 by Ancestry.
At some point Adolph's interest in art surfaced, and while working and supporting his family he also took art classes at The Art Students League school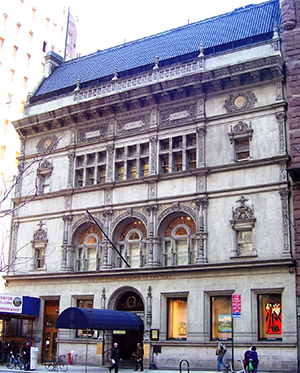 (Art Students League School Building, 215 West 57th St., New York 2011 Photo: Beyond My Ken)
The school had been founded in 1876, the year Adolph was born.
By 1892, a French Renaissance Revival style building had been completed at 215 West 57th St., New York, to house the American Fine Arts Society. The Fine Arts Society consisted of 3 entities that joined together to raise building funds for their new home – The Art Students League, the New York Architectural League, and the Society of American Artists. The building is still standing, however as of 2011 only the Art Students League was still using it.
Students / teachers at The Art Students League whom A.M. Hopfmuller could well have crossed paths with while he was there, include such noteworthy artists and instructors as Frank Vincent DuMond, Georgia O'Keeffe, and Norman Rockwell.
Hopfmuller also painted scenery and made posters for the Triangle Theater (long gone now) in Brooklyn in the early 1900s.
Brewster Movie Fan Magazines Artist
By 1917, Hopfmuller had begun working for pioneering movie fan magazine publisher Eugene V. Brewster. Brewster and Vitagraph studios film magnate J. Stuart Blackton had co-founded M.P. Publishing in Brooklyn in 1910; in 1911 The Motion Picture Story Magazine was the very first movie fan magazine to be published. The name was abbreviated to Motion Picture Magazine in March 1914.
In the very early days of the film industry, the names of the actors were usually not listed. Mirroring this, quite often names of the creative staff – writers and artists whose works were published in the early Brewster fan magazines – were either omitted completely, listed as a fictitious alter-ego (with different staff members contributing under the same fake name), or only identified by an abbreviated signature/icon, i.e. "W".
Brewster launched an additional fan magazine called Motion Picture Classic in September 1915. As with Motion Picture Magazine, only executive, editorial, and sales staff were listed, and they were the same for both magazines.
No staff artists were listed for either magazine, although the elaborate picture frame borders, interior column banners, and other illustrations scattered throughout, clearly would have required artistic talent. Only the full colour cover portraits of film celebrities, were (usually but not always) signed or credited to the artist.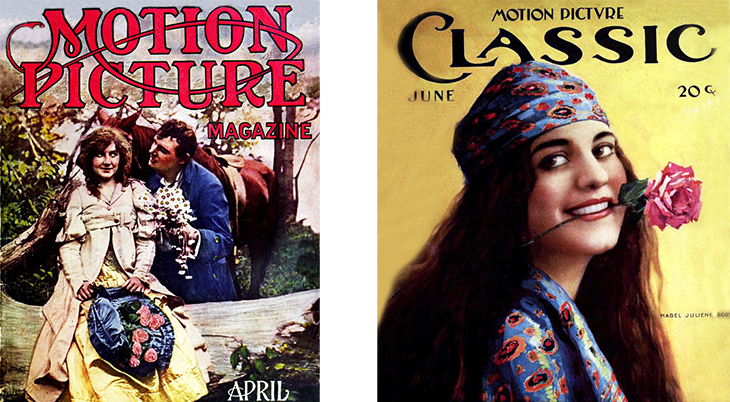 (Motion Picture Magazine 1914 Mary Fuller & Ben Wilson | Motion Picture Classic 1919 Mabel Julienne Scott: Leo Sielke Jr.)
For these reasons, much of A.M. Hopfmuller's early work for the Brewster publications may never be known. Ruth believes he began working for Brewster in 1917, and addition to art works, Hopfmuller contributed by writing articles, primarily features about artists – including his friend, Alexander Couard. Some of his articles may have appeared under the pseudonym "The Painter". Adolph also worked as a judge at some of the many events that the entrepreneurial and expansive Eugene V. Brewster hosted, such as fashion shows and contests. 
It wasn't until the September 1918 edition of Motion Picture Magazine that Staff Artists Leo Sielke Jr. (who painted many movie star portrait covers for both Classic and Motion Picture Magazine) and A.M. Hopfmuller, first appear.
No staff artists were listed for Motion Picture Classic until a few years later, possibly because the staff were identical for both magazines and thus it was considered there was no need to credit them twice.
Meanwhile, Hopfmuller's stature as an artist apart from Brewster Publications, was growing. He's listed in a group of 'Long Island Painters' whose work was showcased by Brooklyn's Ardsley Studios in it's final season (1919-1920), according to Hamilton Easter Field and the Rise of Modern Art in America (1973) author Doreen A. Bolger.
When Eugene V. Brewster launched his third magazine SHADOWLAND in 1919, it was obvious this was something quite different. Billed as the "Handsomest Magazine in the World", SHADOWLAND was most definitely an ARTS magazine, not just a movie fan magazine. Literary, theatrical, visual and fine arts, interior and set design, and yes, movies, and much more from the world of art, were all showcased inside SHADOWLAND. 
Gracing the cover of every SHADOWLAND edition – from the first edition in September 1919 through to the last in 1923 – is a full colour, art deco painting by A.M. Hopfuller.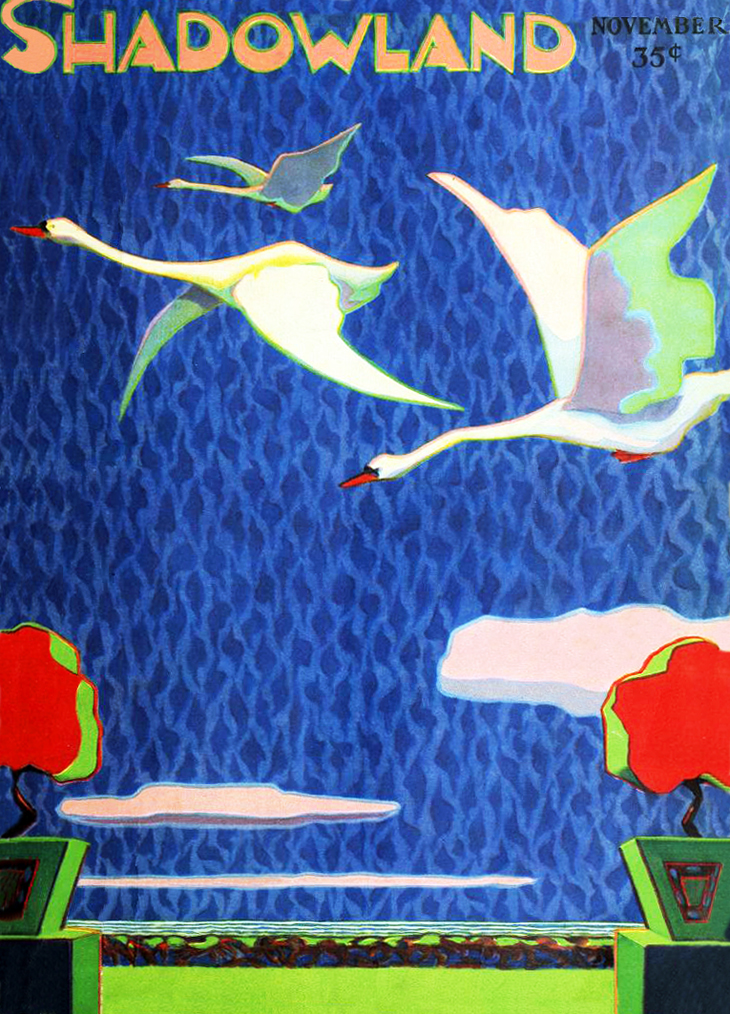 (Shadowland November 1919 Cover: A.M. Hopfmuller)
As Fontcraft speculates, most likely Hopfmuller also created the unique font for SHADOWLAND's title on the covers. However, only insiders could have known this because no staff artists were identified in the early SHADOWLAND editions.
By the middle of 1920, Hopfmuller began to sign his cover paintings.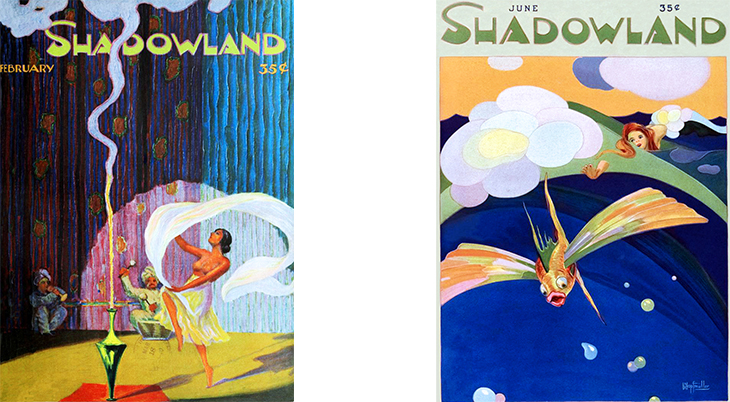 (Shadowland Covers by A.M. Hopfmuller: February 1920 Unsigned | June 1921 Signed)
Finally the December, 1922 edition of SHADOWLAND has a signed cover and credits A.M. Hopfmuller for the cover painting inside.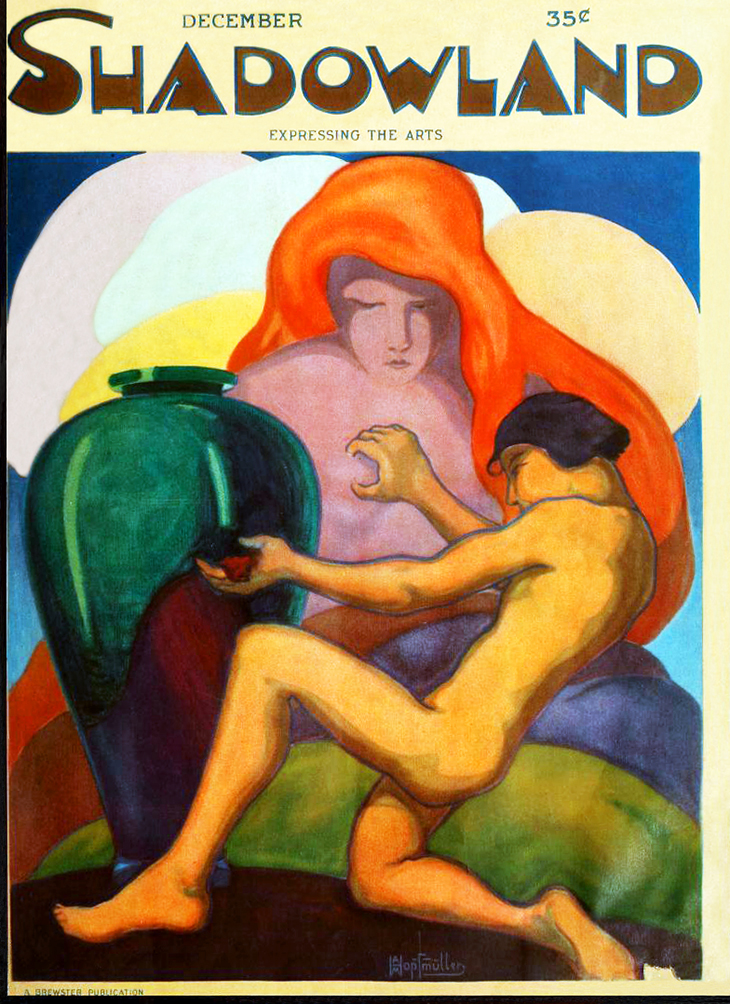 ("Allegorical Conception of the Creation of Pottery" December 1922 SHADOWLAND by A.M. Hopfmuller)
By February of 1920, Motion Picture Magazine had begun listing Leo Sielke Jr. as Art Director, with A.M. Hopfmuller as Staff Artist through to July of that year. Hopfmuller's name then disappears from Motion Picture Magazine credits for a while, most likely because he was now focusing more efforts – still uncredited – on SHADOWLAND, and possibly also on Motion Picture Classic, which continued to not list any staff artists.
Brewster Publications Art Director
A.M. Hopfmuller is credited as the new Art Director of Motion Picture Magazine, taking over from Leo Sielke Jr., in February 1921. A few months later, Hopfmuller began being identified as the Art Director for Motion Picture Classic magazine as well. 
In February 1923 A.M. Hopfmuller was listed as the Art Director for SHADOWLAND. He had no separate credit for the cover painting that month, although that's his work too!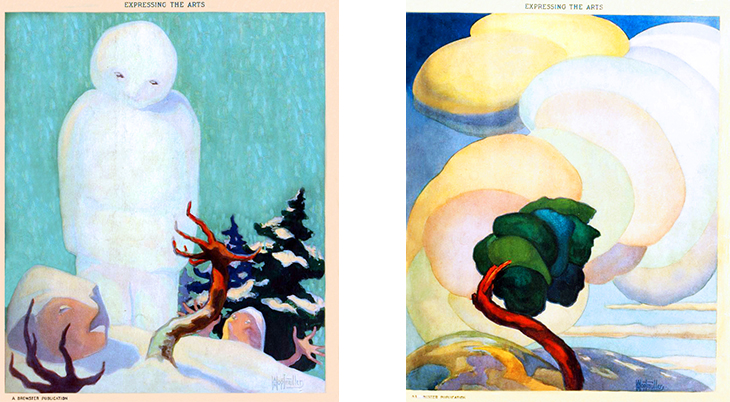 (A.M. Hopfmuller SHADOWLAND Covers – Jan "A Winter Idyl" Mar. "March Wind")
SHADOWLAND March 1923 says A.M. Hopfmuller is the Art Director of Brewster Publications, and notes that "His cover on this number of Shadowland is an impression of the boisterous March wind." 
The April 1923 SHADOWLAND edition gives us Hopfmuller's conception of the origin of glass-blowing on the cover.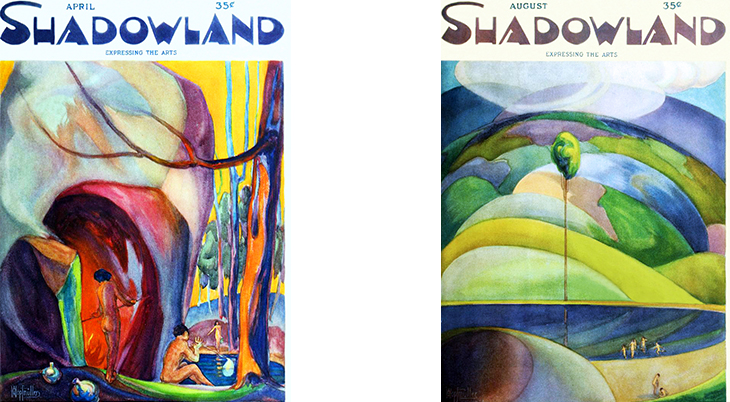 (A.M. Hopfmuller 1923 SHADOWLAND Covers – April "Glass-Blowing" | August "The Lake")
Another SHADOWLAND edition in the 'Our Contributors' page says the decorative landscape cover is by their art Director A. M. Hopfmuller.
SHADOWLAND was retired in November 1923 and blended into the Brewster Publications sister magazine, Motion Picture Classic. A.M. Hopfmuller continued as the Art Director of Brewster Publications (Classic and Motion Picture Magazines) until he left the company in early 1926 at the age 51.
Painting After Brewster
Although he may have retired from Brewster Publications, A.M. Hopfmuller never retired from painting. He went on to work for another publishing mogul, William Randolph Hearst, on magazines such as Smart Set and McClures, and was named the Art Editor of Harper's Bazaar in 1927.  
He was a founding member of The Brooklyn Society of Modern Artists, according to The Brooklyn Daily Eagle, and his paintings were exhibited in local art shows. A.M. Hopfmuller is listed amongst the artists whose work was included in an Exhibition of Water Color Paintings Pastels and Drawings by American and European Artists at the Brooklyn Museum from January 28-February 28, 1927. 
 A.M. Hopfmuller belonged to these other art associations as well:
Independent Society of Artists  – The Society of Independent Artists was formed in 1917.
Brooklyn Water Color Club – Founded in 1920.
Brooklyn Society of Artists – The Sun noted that among the members of the newly founded Society that would be contributing framed paintings for a Red Cross fund raiser in 1917, were Hamilton Easter Field, Leo Sielke, Jr., J. Stuart Blackton, and Eugene V. Brewster – all of whom were associated with SHADOWLAND & Motion Picture Magazine wile Hopfmuller worked there..
During the 1930s, A.M. Hopfmuller designed dust jackets for books, and other magazine covers.
Leisure and Family Life
Adolph had moved his family out to the countryside of Valley Stream on Long Island in the 1910s, and his daughters attended high school there. 
Although his wife Mary Hopfmuller died in 1935, Adolph wasn't alone. The family remained close even after his daughters grew up and got married, living within blocks of him/each other in Valley Stream.
His creative interests and abilities weren't limited to painting. Hopfmuller worked with wood, hand-carving picture frames, building rustic garden furniture, and carved bookcases. 
"He enjoyed building models of sailing ships for his grandchildren to sail/race in a local park (we still have one). And he designed and maintained a beautiful garden on his property adjoining his house." – Ruth Hamann
A.M. Hopfmuller died in 1971 at the age of 95. 

(Shadowland Covers 1920, 1921, 1922 & 1923: A.M. Hopfmuller)
Ninety years after they were first created, the Amon Carter Museum of American Art in Fort Worth, Texas hosted an exhibit of A.M. Hopfmuller's SHADOWLAND covers in their library. And today, 100+ years later, prints of A.M. Hopfmuller's SHADOWLAND covers are sold online as the works of art they are.
Other Resources:
*Source images are believed to be in the public domain, used by permission, or Creative Commons licensed & sourced via Wikimedia Commons, Vimeo, YouTube, or Flickr, unless otherwise noted*