Daily Dose of Southern Italy & Sicily
Sharing daily highlights from our two-week bus tour "Country Roads of Southern Italy and Sicily" with Insight Vacations!
We arrived in Rome jet-lagged from an 8.5 hour flight from Toronto that had an additional 3 hour departure delay due to weather. No sooner had we collected our baggage than we were put in a taxi and sent off to the Hotel Piram in Rome. Thanks to our flight delay, we barely had time to see our room before hopping on an air-conditioned bus to tour Vatican City Museums. 
Day 1 – Rome & Vatican City
Our local tour guide took us through some highlights of the Vatican Museums, part of the UNESCO World Heritage Site that includes Rome and Vatican City.
My choice pic of this first day of our tour of Southern Italy and Sicily is of the original Bramante Staircase, built in 1505.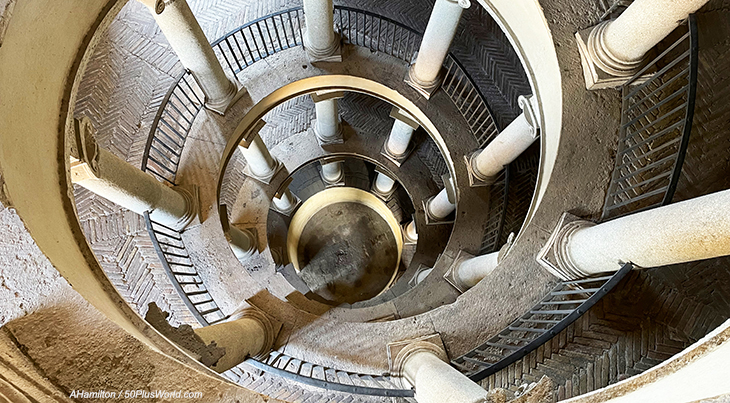 (The Original Bramante Staircase in the Pio-Clementine Museum)
The double-helix design by Donato Bramante, with herring-bone paving, has survived through the 5+ centuries since it was first built. Although this original Bramante Staircase (there's another, more recent version) is not generally open to the public, we were lucky enough to be able to see & climb it in person.
Day 2 – Rome & Vatican City
Quite unplanned (this trip had been postponed for a couple of years from when it was first booked), we arrived in Rome during Easter Weekend / Holy Week. The city was packed, but our "Local Expert" historian/tour guide Amelia guided us deftly through the city streets, timing things so that we'd be able to enjoy the sights.
The famous Trevi Fountain was relatively uncrowded in the morning when we visited it.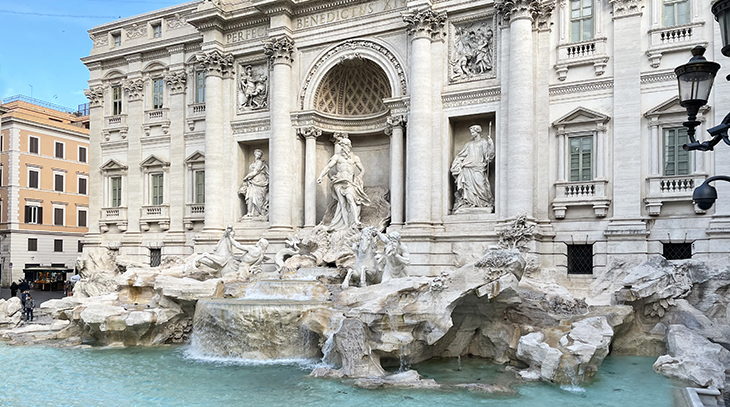 (Trevi Fountain, Rome, Italy)
I was surprised at how large the Trevi Fountain is. For some reason I had envisioned a free-standing, circular fountain. Not so, as you can see in the photo above.
As envisioned by Bernini's sketches, architect Nicola Salvi began building the Baroque style Trevi Fountain, and it was completed after Salvi's death by architect Giuseppe Pannini in 1761.
Day 3 – Pompeii
With Mount Vesuvius as the backdrop, the UNESCO World Heritage archaeological site of Pompeii is visually stunning. The 79 AD eruption of Mount Vesuvius resulted in Pompeii being covered in approximately 17 feet of volcanic ash, where it lay "undiscovered" for centuries.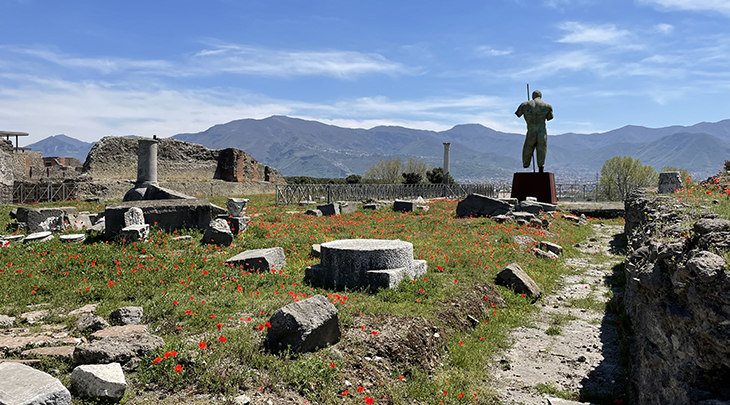 (Daedalus Statue by Igor Mitoraj, Pompeii, Italy)
Polish sculptor Igor Mitoraj's poignant statue of Daedalus is surrounded by wildflowers and remnants of the ruins of Pompeii. Our local expert tour guide Willy was amusing and informative as he steered us around the historic site of Pompeii.
Day 4 – Capri & Positano
No trip to the island of Capri would be complete without a boat tour around the island, so you can admire the sheer rock faces, caves, and azure-blue ocean coves. Capri is surrounded on one side by the Gulf of Naples, and on the other by the Tyrrhenian Sea.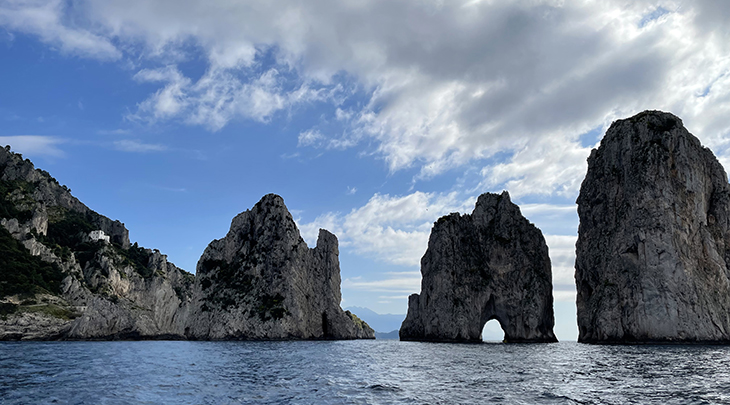 (Faraglioni Rocks, Capri, Italy)
The Faraglioni rocks of Capri are 3 spurs of rock jutting up out of the Tyrrhenian Sea – on the left is Stella, centre (with an arch) is Faraglione di Mezzo, and on the right, is Faraglione di Fuori.
After Capri, we visited the cliffside fishing village of Positano on the Amalfi Coast. Positano was very reminiscent of our previous vacation in Northern Italy, when we visited Cinque Terre and toured those colorful little towns along the Ligurian Sea coast.
Day 5 – The Trulli of Alberobello
Truly unique, the Trulli of Alberobello are yet another UNESCO World Heritage Site to be found in Southern Italy, in the province of Apulia / Puglia. The buildings still standing today dot the Apulia countryside, with the highest concentration of them found in the village of Alberobello.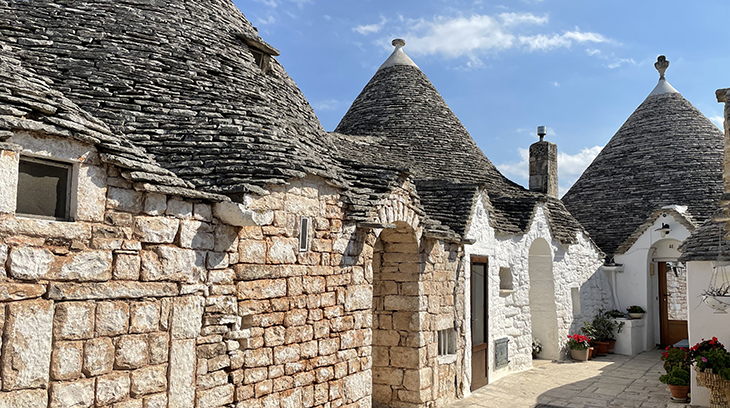 (Trulli of Alberobello, Puglia, Italy)
As our local expert guide Lucia explained, these white-washed limestone buildings with conical roofs were originally made without mortar beginning in the 15th century, using a dry stone technique that dates back to prehistoric times. 
Day 6 – Ostunia, "The White Town"
There are many predominantly white / white-washed towns in Southern, Italy, but Ostunia has earned the title of "The"  white town. As our bus trekked towards Ostunia, glimpses of a mass of white buildings atop a hill could be seen for many, many miles and many, many minutes before we actually arrived.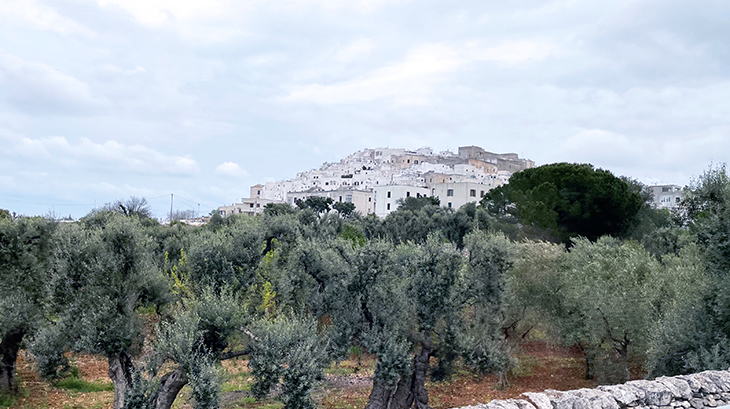 (Ostunia, "THE White Town" and surrounding olive trees, Apulia, Italy)
The white walls surrounding the medieval town of Ostunia date back to between the 10th and 15th centuries AD, and were built to guard the citadel and it's citizens from invaders. Olive trees surround the city on all sides.
Day 7 – Lecce
Lecce, called the "Florence of the south" because of it's many 15th and 16th century buildings with detailed baroque architectural features, is also home to far older structures. Take for example this 2nd century AD Roman amphitheater uncovered at Piazza Sant 'Oronzo in 1901.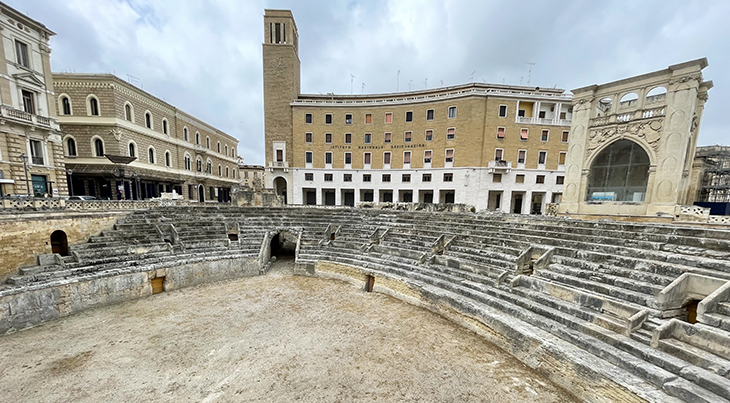 (Lecce's 2nd century AD Roman Amphitheater & Palazzo del Seggio, Sant'Oronzo Square)
The Roman amphitheater has been only partially uncovered, the rest still lies buried under other historic buildings that line Sant 'Oronzo Square – including the Gothic / Renaissance Palazzo del Seggio, built in 1592 for a Venetian doge (on the right, above). Today it's an information centre for tourists.
Day 8 – Grottole & Matera
Both the city of Matera and the hilltop town of Grottole are located in the province of Matera, and are known for their caves. The Sassi of Matera were cave dwellings that weren't abandoned until the 1960s, when the Italian government relocated the inhabitants to more modern housing. Now Matera is a UNESCO World Heritage Site because of the complex of caves / houses and the history of the region. 
Grottole's prehistoric caves are found under more modern buildings, but other structures from the town's past still stand (in part or whole).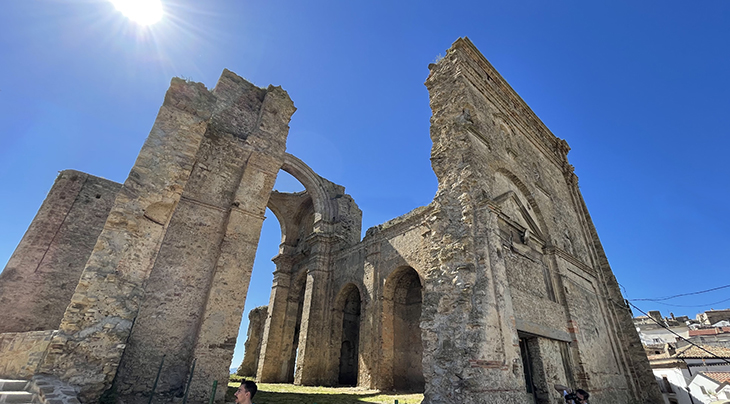 (Chiesa Diruta, the "Fallen Church", Grottole, Italy)
Building began on Grottole's Catholic Catholic cathedral – Chiesa Diruta – in the 15th century, but thanks to earthquakes etc. Chiesa Diruta is today known as the "fallen church".  Our Insight Vacations tour group was the first such larger tour group to visit Grottole.
Day 9 – Sicily & Giardini Naxos
The bus drive from Matera and the ferry to Messina in Sicily took us through some amazing countryside scenery in southern Italy. Before this trip, I had imagined that Northern Italy was hillier than Southern Italy (perhaps because they have the Italian Alps?). However, by day 9 I had certainly come to realize that assumption was WRONG!  Lost of hills and mountains in both Southern Italy and Sicily (and we walked up and down a lot of them, lol). 
We arrived at our hotel in Giardini Naxos in Sicily. It was about a 5 minute walk to the beach where we picked up sea glass and quartz rocks – making our luggage just that bit heavier on the trip home.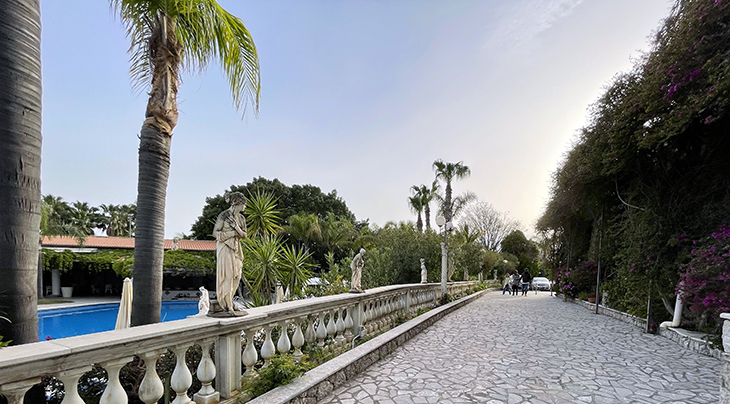 (Sant Alphio Garden Hotel and Spa, Giardini Naxos, Italy)
The Sant Alphio Garden Hotel and Spa grounds and pool area were beautifully landscaped. In April it was too cool to jump in the pool, but a very peaceful and pleasant place to sit an relax on a lounge chair on a sunny day. 
Mount Etna could be seen in the distance from one side of the hotel, usually with a plume of smoke coming out. From our balcony, we could see beautiful flowers, Taormina ,and the hilltop town of Castelmola in the distance.
Day 10 – Mount Etna
Visible for many miles, Sicily's Mount Etna was referred to by our local expert as a benevolent "Lady" or "mother" figure for Sicilians, unlike "that nasty boy, Mount Vesuvius". 
Mount Vesuvious is the volcano whose explosive eruption in 79AD buried the Roman towns of Pompeii and Herculaneum under 17 feet of volcanic ash. Mount Etna in contrast, is an effusive volcano; her eruptions are more frequent and less dangerous than those of explosive volcanoes such as Vesuvius, and Mount St. Helens in Washington, U.S.
Our tour bus ascended the winding roads leading up to the Mount Etna parking lot at Rifugio Sapienza, which at 2000 metres, is approximately 1300 metres from the top of the volcano. From the parking lot it was a very short walk to the dormant Silvestri Craters.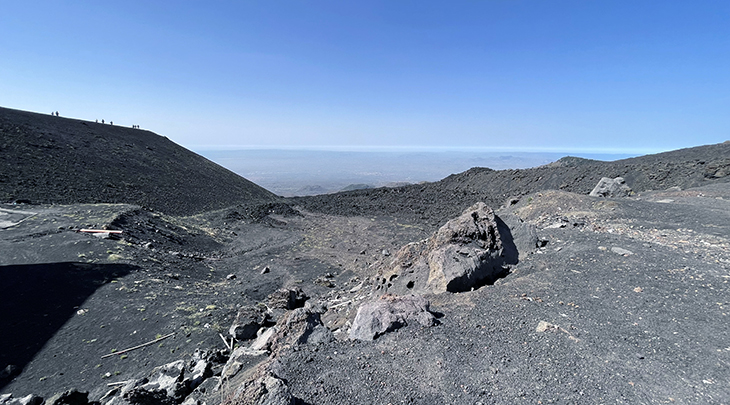 (View from Silvestri Crater, Mount Etna)
For an idea of the scale of this magnificent view, notice the people on the left side atop the lip of one side of the crater, and beyond the centre, the view all the way down to the Sicilian coastline!
Day 11 – Neapolis Park, Syracuse
Thousands of Athenian slaves began mining the rock quarries of Syracuse in the 5th century BC. They carved limestone blocks used to build temples, tombs, theatres, and more, of the ancient Greeks (and later Romans).
(Latomie Del Paradiso Quarry, Neapolis Park, Syracuse, Sicily)
Any trace of roof that would have been in place above the quarry is long gone, but you can still see remnants of structures built with those rocks; as well as caves and tunnels that survived the test of time. The quarry is now filled with flowers, orange trees, and olive trees. 
Day 12 – Agrigento, Valley of the Temples
Along the South-west coast of Sicily is the city of Agrigento, home to the Valley of the Temples archeological site. Remnants of seven ancient Doric-style Greek and Roman temples in various stages of restoration dot the valley.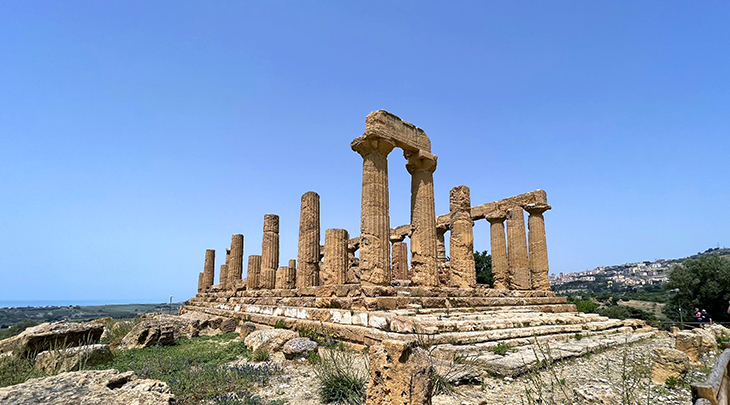 (Greek Temple of Hera / Roman Temple of Juno, Agrigento, Sicily)
Above, the Greek Temple of Hera was built in 450 BC. The original temple was damaged by fire when Carthaginians invaded in 406 BC. During the Roman era the Temple was restored and knkown as the Temple of Juno (the Roman equivalent of Hera). In the far distance on the left is Mediterranean. The "modern" city of Agrigento was formed atop the hill in the Middle Ages, when the lower areas of the city previously known by it's Ancient Greek name of Akragas, were abandoned. 
Day 13 – Palermo's Medieval Palatine Chapel
King Ruggero II commissioned the Palatine Chapel during the High Middle Ages, in 1130 A.D.. After 10 years of construction, it was consecrated in 1140. Another 3 years were required to complete the ornate and beautiful mosaics of the dome.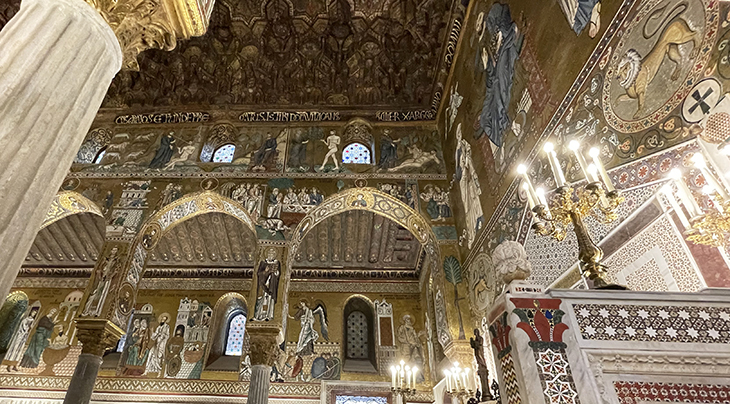 (Palatine Chapel / Cappella Palatina Mosaics, Palermo, Sicily)
The mosaics of the nave and aisles of the Palatine Chapel were completed between 1154-1166, during the reign of King Guglielmo. Various stories from the bible are depicted in detailed artwork all around the walls and ceiling.
As our local experts in frequently commented, Sicily is closer geographically to Africa than it is to Rome. Over the centuries it had different rulers, and the Palatine Chapel reflects Palermo's legacy from Greek, Roman, Norman, Byzantine, and North African influences.
Our fabulous bus trip through Southern Italy and Sicily ended, and as we made our way home our heads and hearts were filled with some great memories and experiences to savor.
*Photos and text in this article are © 2022 Anita Hamilton, all rights reserved. Do not use or reproduce without written permission.*