Ciao, Cinque Terre
Visiting the remote, picturesque medieval villages of Manarola, Vernazza & Riomaggiore on Italy's Ligurian coast is a unique experience. The Cinque Terre National Park is a UNESCO World Heritage Site and encompasses these 3 villages, plus Corniglia and Monterosso al Mare. 
(Riomaggiore, Cinque Terre Coastline, Italy)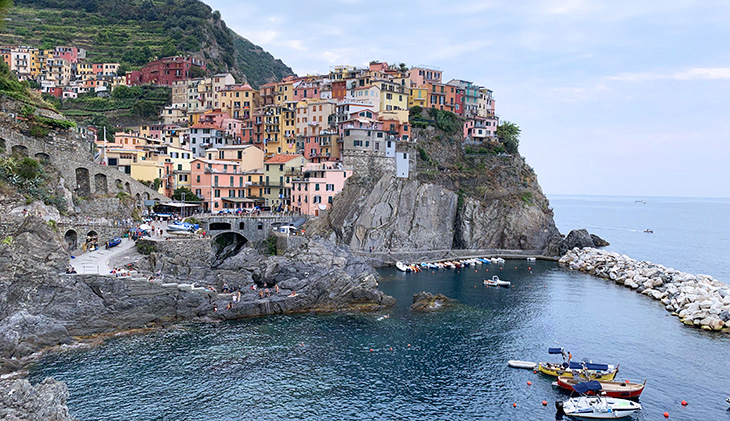 (Manarola Harbor, Cinque Terre, Italy)
Getting to Cinque Terre
When planning a dream vacation to Italy, it was these picturesque fishing villages that fueled my imagination. But how to get there? 
Our 10-Day Country Roads of Northern Italy Tour with Insight Vacations would begin and end in magnificent Milan, with stops in Lake Maggiore, Venice, Verona, the Dolomites, and several other places including Lake Como. Wanting to see a bit more of the countryside on our own, we had decided to fly into Florence, spend a couple of days there first, then see the Cinque Terre region before heading to Milan.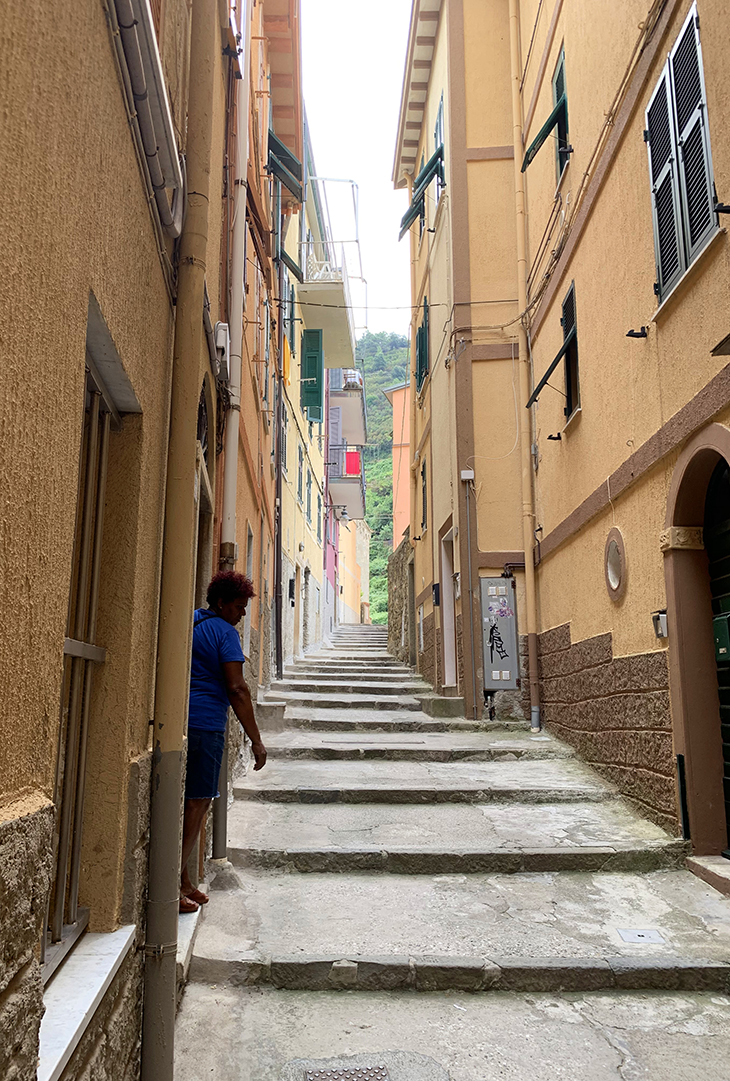 (Manarola, Cinque Terre, Italy)
Cinque Terre is not called remote for no reason. There is no road you can drive on to easily get from one village to another. If it exists at all, a local road into a Cinque Terre village will be very steep, winding, and narrow, with extremely limited parking once you arrive. 
Transportation to the Cinque Terre villages is either by sea (ferry or private boat) or the regional/local train. (La Spezia/Cinque Terre line). Another option would be walk to the villages on trails, but when we visited Cinque Terre in August 2019, the main trail from Riomaggiore to Manarola "Via dell'Amore", had been closed all year with no expected date to reopen.
The Genoa-La Spezia train line which goes through Cinque Terre was built in the last half of the 1800s, and revitalized the economy of these tiny villages.
From Florence there are quite a few 12-hour day bus tours to Cinque Terre. Several companies offer a private car and driver to take you to Cinque Terre (and return or not if you wish), but unless you're splitting the cost with a few people, this quite expensive.
What to do? We quickly ruled out renting a car and driving ourselves, as we're dangerous enough on wide highways when we know the language and can read the signs. Sitting on a bus for an extra 2 hours at the end of a 10 hour day in order to backtrack to Florence didn't appeal.
We decided our best option would be to get ourselves (and our luggage) to Cinque Terre, stay overnight in one of the villages, spend the next day there relaxing, and the following day take the morning train to Milan.
The Ciao, Florence! tour company allowed us to bring our luggage on the bus (I contacted them by email first before booking online) and leave it there while we went with the tour group from village to village on the local train/boat. We'd return to the bus with the tour group at the end of the day to get our luggage. From there, we'd get back on the local Cinque Terre train and go to our chosen village to stay for a couple of nights. At the end of our time in Cinque Terre, we'd get back on the train and continue on to Milan.
Where to Stay in Cinque Terre
Each of the five Cinque Terre villages has bed and breakfast or "hotel" options, but don't expect a luxury Hilton or other major chain. These are small towns with older buildings built on the side of a hill, so space is limited, as is the local population.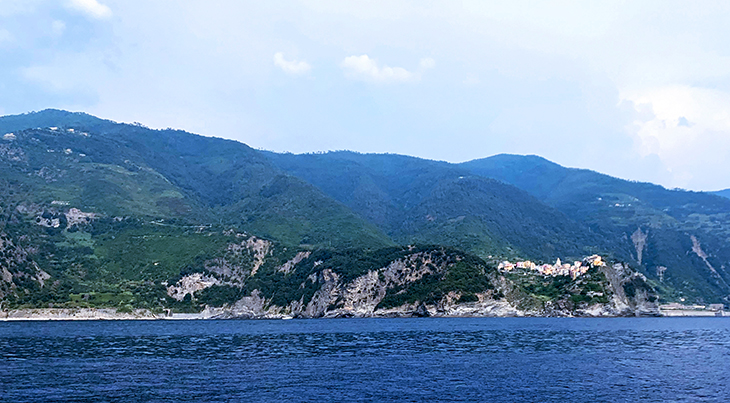 (Corniglia & Cinque Terre Coastline, Italy)
One of the villages – tiny Corniglia, population less than 300 – sits atop an outcrop that requires visitors to either climb up 85 steps from the ocean ferry/boat, or down 377 stairs from the train track above. Our 1-day tour of Cinque Terre didn't include visting Corniglia, and so we considered staying the. Ultimately, we decided against it as we'd have big luggage to tote for a two-week stay in Italy, and couldn't imagine walking up or down that many stairs with it. Riomaggiore, Vernazza, and Manarola offer slightly easier access, but still have quite steep streets to navigate within the town. 
We decided to stay in Monterosso al Mare for several reasons, primarily because it is the only Cinque Terre village with a direct train to Milan. It's also the biggest and flattest of the 5 villages, with more accommodation and dining options, and a beach. The place we stayed at was about 2 blocks from the train station, a 5-minute walk on level ground.
Manarola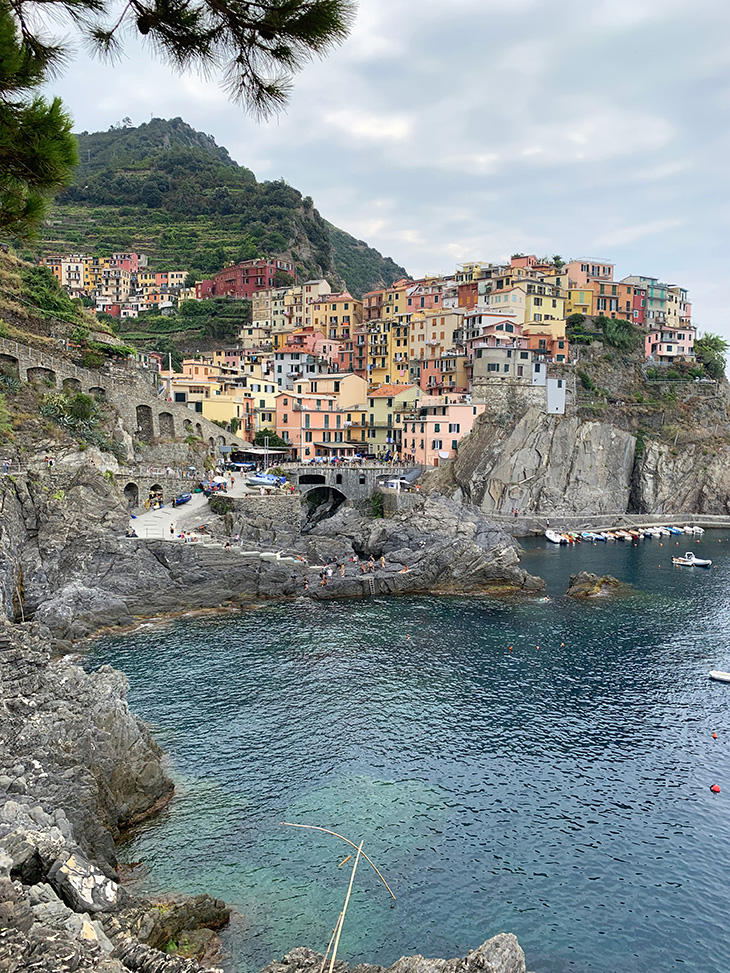 (Manarola, Cinque Terre, Italy)
Our tour bus departed from Florence around 7:30 AM, and the guide gave a quick explanation of what to expect of the day, and what Cinque Terre means in English (Five Lands), peppered with repeated descriptive words like wonderful and beautiful.
Given the early hour of departure, most of the passengers slept or sat quietly on the bus during the rest of the 2 hour drive.
There was no comfort stop, and no washroom on the bus.
The bus deposited our group in a parking lot just above the Cinque Terre town of Manarola around 9:30 am.
We walked downhill behind the tour guide, taking pics along the way of the steep terraced hillside gardens, vineyards, and lush vegetation.
(Manarola Terraced Gardens / Vineyards, Cinque Terre, Italy)
Near the top of the hill above the houses is the Piazza Papa Innocenzo IV, with the medieval Church of San Lorenzo (built in 1338*, and a tall bell tower from that same century.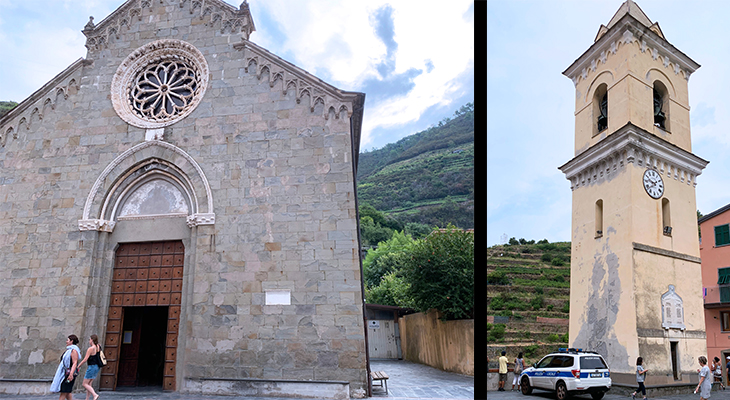 (Church of San Lorenzo & Manarola Belltower, Cinque Terre, Italy)
A wall dedication plaque references Pope Innocent IV (c. 1195 – 1254), nee Sinibaldo Fieschi; he was Pope from 1243 until his death in 1254, and rumour has it he was born in Manarola. 
We have about 45 minutes on our own in Manarola, and after the long bus ride with no break, most passengers had to visit the washroom immediately. Alas – many of the restaurants in Manarola are not open at that hour of the morning.The few that were open, had long lines/waits to use their tiny washrooms; we weren't the only tourists in town. 
(Manarola Terraced Promenade, Cinque Terre, Italy)
It's already getting hot here on the Ligurian coast, 27 C, but it feels hotter with humidity, so we opt for a cooling gelato while taking turns in line to wait for the washroom.
Once out of the restaurant, we had 10 minutes to see what we could of the town before having to meet up with our tour group again at the train station. 
We walked quickly in and out of a few shops, and along a walkway with a terraced rock wall sprouting yucca and other vegetation.
Locally made wine, olive oil, and pesto are sold in Manarola's village stores.
Vernazza
The train takes us to Vernazza, which along with Monterosso al Mare, is one of the oldest of the Cinque Terre villages, dating back to the 11th century or earlier.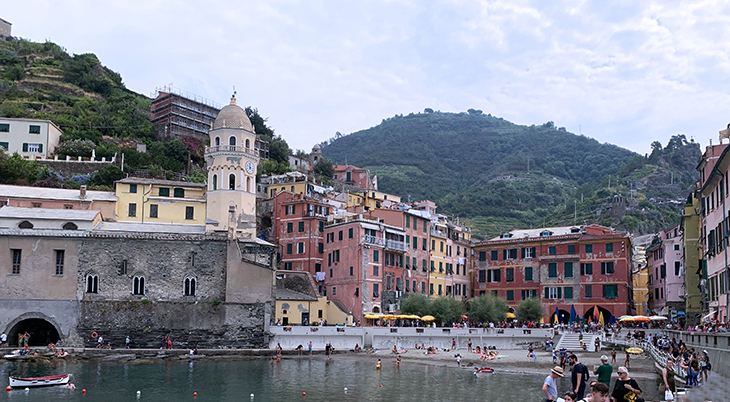 (Church of Santa Margherita d'Antiochia & Bell Tower, Vernazza, Cinque Terre, Italy)
Vernazza is another very pretty, colorful village and is known for it's lemons and associated products. Despite it being a weekday, the streets are crowded with tourists.
There's an hour to do some quick souvenir shopping and walk around Vernazza's main street, before we have to head back to the train station to meet our tour group. At Monterosso we have 2.5 hours to have lunch and look around, before taking the ferry boat back along the Cinque Terre coastline to Riomaggiore.
Riomaggiore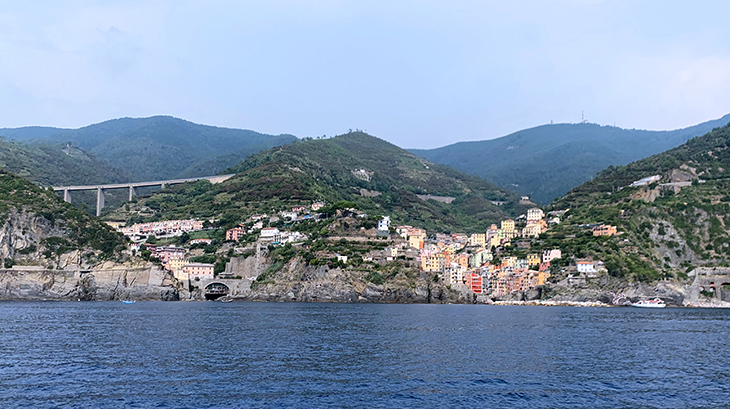 (Riomaggiore, Cinque Terre, Italy)
On arrival at the Riomaggiore pier, there are quite a few stairs to climb up to get to the main street of the town. Thankfully there's a nice breeze because it's very hot.
It's so hot that once we arrive at the street (which also has a steep incline uphill), we can only manage to walk half way up before we have to stop and get off our feet, and relax with a cool drink in hand.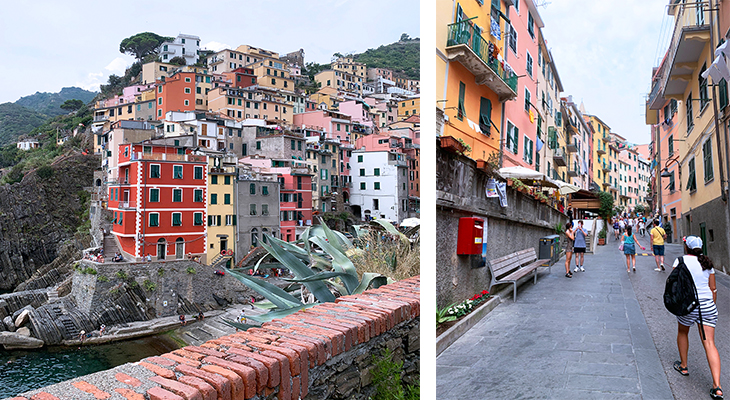 (Riomaggiore, Cinque Terre, Italy)
The allotted hour passes quickly before we get on our final train of the tour, back to La Spezia where the tour bus awaits. There are pay washrooms at the Riomaggiore train station, with an attendant directing stall traffic.
It's been a full day walking the four villages of Cinque Terre included in the tour, and our fellow travelers agree that we've visited a unique part of the world.
Ciao, Cinque Terre – but not really, as we're heading back to Monterosso for the night and another day in that charming village!
Over the next 12 days we also toured Bolzano, Isola Bella, St. Mark's Square and the Venetian lagoon, the Prince-Bishops City of Trento, Sirmione at Lake Garda, and enjoyed a prosecco wine-tasting at a vineyard. Northern Italy has so much to offer tourists.
**This article is for general informational purposes only.**
***Photographs & text in this article are © 2019 Anita Hamilton / 50+ World. All rights reserved. Do not download or reproduce without written permission.***