La Vigna di Sarah B&B Prosecco Wine Tasting
Mid-way between Cortina d'Ampezzo and Venice is La Vigna di Sarah, an agri-tourism winery south of the Italian Alps near Vittorio Veneto.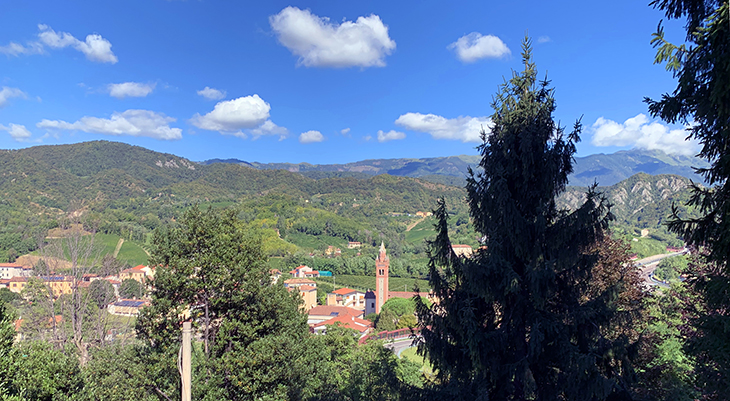 (Hills of Conegliano, La Vigna di Sarah, Vittorio Veneto, Italy Photo: Anita Hamilton / 50+ World)
This Prosecco wine region in northern Italy's Dolomite foothills of Conegliano and Valdobbiadene, was named a World Heritage area by UNESCO in July 2019 for it's distinctive landscape and land use practices. 
La Vigna di Sarah founder Sarah Dei Tos, and Chef/Manager Michael Esposito have been partnering in the winery since approximately 2010. Our Insight Vacations bus tour delivered us to their charming winery atop a hill with outstanding views, for a Prosecco wine tasting on a beautiful early September day.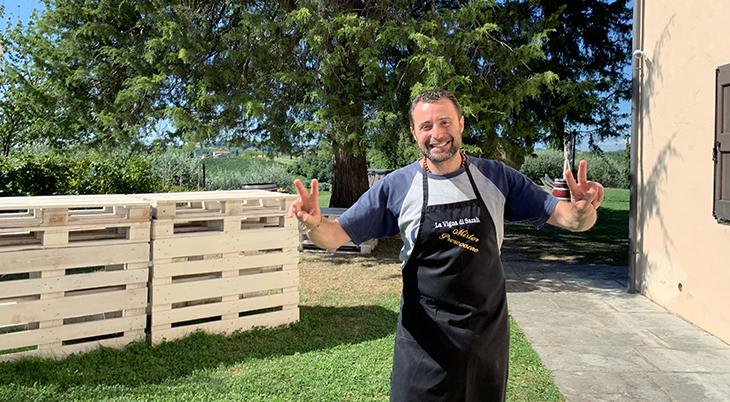 (Chef Michael Esposito, La Vigna di Sarah, Vittorio Veneto, Italy Photo: Anita Hamilton / 50+ World)
Enthusiastic about the wine and foods of this region, Chef Michael Esposito has been featured on the Discovery Channel. 
A long covered table is set up for our tour group on the hilltop beside the farmhouse, and we are served appetizers of Buffalo Mozzarella, tomato, and a very light plain flaky square of pastry – delicious!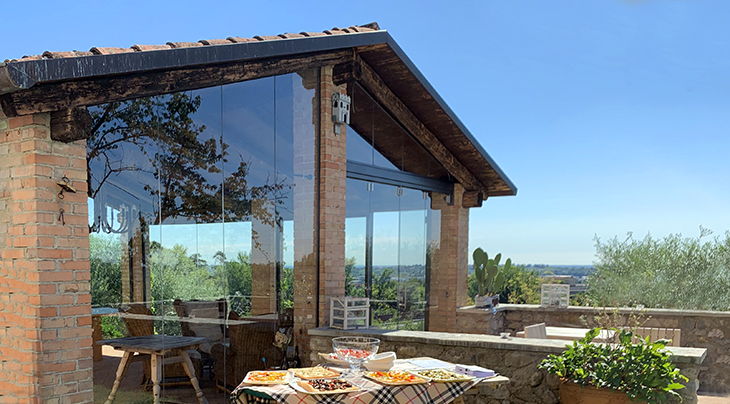 (Prosecco Wine Tasting Appetizers, La Vigna di Sarah, Vittorio Veneto, Italy Photo: Anita Hamilton / 50+ World)
We taste 3 Prosecco wines, described in their brochure as "creamy sparkling wine". Michael explains that they let their wines ferment longer than the usual 6 weeks which most wineries do; theirs are closer to 3-6 months. Di Luna is a unique wine, harvested by a unique method – hand picked at night during a full moon. 
La Vigna di Sarah is also a bed and breakfast. Their brochure explains you can stay in the renovated farmhouse (each bedroom has it's own bathroom and shower) or in larch wood Lunotta mini-suites, which look like overturned wine-barrels, on the property.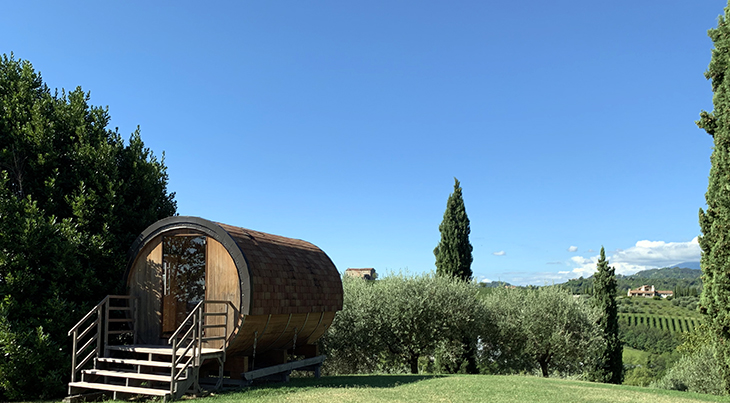 (La Vigna di Sarah Lunotta, Vittorio Veneto, Italy Photo: Anita Hamilton / 50+ World)
Breakfast is included in overnight stays, and guests have access to the dining room, living room, and outside terrace overlooking the Prosecco Valdobiadene Docg vineyards.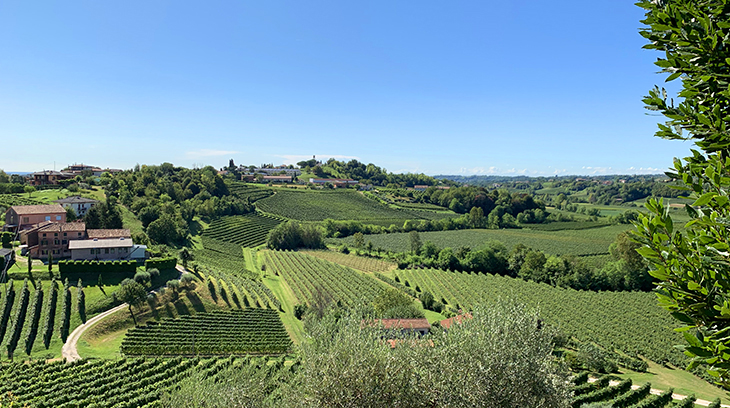 (La Vigna di Sarah & Surrounding Vineyards, Vittorio Veneto, Italy Photo: Anita Hamilton / 50+ World)
They also have a 300 square metre biological vegetable garden of seasonal vegetables. 
La Vigna di Sara – with it's great views of the surrounding countryside and vineyard fields, back-dropped by the Dolomite foothills – was another highlight in what was a dream vacation to Italy.
Our bus tour had previously taken us to "Shakespeare's Fair Verona" where the history and beauty of the city influenced his tragedy Romeo and Juliet, the Prince-Bishops city of Trento, and Bolzano. Our next stops would be Venice – to see Venetian palazzos featured in movies and plays – the islands of the Venetian Lagoon, Lake Garda, Lake Como and the Italian Lakes district with the impressive Isola Bella Borromeo Palazzo & Gardens, just off the shores of Lake Maggiore.
You may also enjoy our visit to the UNESCO World Heritage villages of Cinque Terre, and the town of Monterosso al Mare. 
How to Get There: La Vigna di Sarah is easily accessible by road, just off the A27 north of Conegliano in the Veneto region of northeastern Italy. Our Country Roads of Northern Italy tour with Insight Vacations began and ended in magnificent Milan, and included a wine-tasting stop at La Vigna di Sarah as part of the tour.
How to Arrange a Wine Tasting or Stay There:  You can inquire about visiting the winery or staying there, directly on their website – www.LaVignadiSarah.it  
**This article is for general informational purposes only.**
***Photographs & text in this article are © 2019 Anita Hamilton / 50+ World. All rights reserved. Do not download or reproduce without written permission.***