Guten Tag & Buon Giorno, Bolzano
The Southern Tyrol countryside around Bolzano boasts castles, churches, vineyards and apple orchards. This area of Northern Italy in the foothills of the Italian Alps produces 30% of the apples that supply Europe.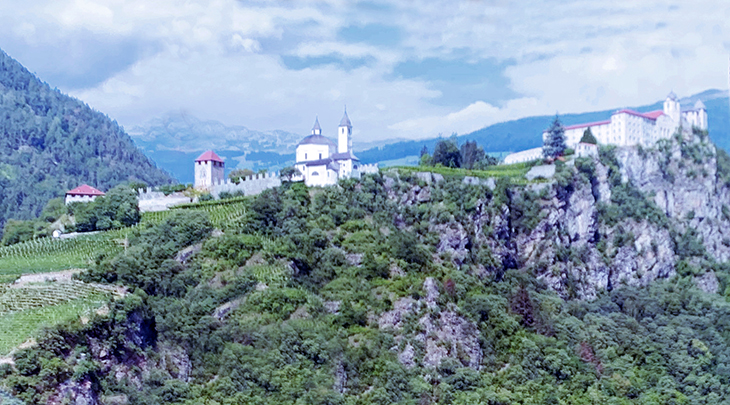 (Southern Tyrol Countryside and Castle Around Bolzano, Italy Photo: © 2019 Anita Hamilton / 50+ World)
The Evolution of a Multicultural Community
On a morning stop in Bolzano during a recent tour of north eastern Italy with Insight Vacations, we found a city that honors it's German, Italian, and Ladin culture. Our local expert tour guide explained that with a current population that is made up of approximately 74% descendants of German-Austrian, 25% Italian, and less than 1% of Ladin origin, children learn those three languages in school. Traffic and commercial signs are often in multiple languages; for example, the Italian city name Bolzano is Bozen or Bolzen in German, and Balsan or Bulsan in Ladin. 
As with many cities and villages in Northern Italy such as Verona, Lake Garda, and the Prince-Bishops city of Trento, in preceding centuries and decades the "ownership" of Bolzano changed hands several times between different Italian city states  and Germany, France, or Austria. Bolzano was occupied by early Romans during the rise of the Roman Empire, as they marched north to conquer other lands. After the Romans came the Lombards, Ostrogoths, and Bavarians, forcing the previous inhabitants to retreat into the surrounding mountains and valleys, where the Ladin culture evolved and flourished.
We practiced our Italian greeting "Buon giorno" (good morning) on the shopkeepers and waiters in Bolzano, and tried the German version "Guten tag" (good day) as well.
Ötzi the Iceman
When the frozen mummified body of Ötzi the iceman (along with his clothing and tools) was found on off a nearby mountain pass in the Ötzal Alps on the Austrian-Italian border in 1991 by Italian hikers, ownership of the mummy went back and forth between Austria and Italy for several years. Austria shipped the mummy to Innsbruck and did a lot of research on his remains, until an international mapping company decided that he was found on Italian soil and Ötzi was shipped back to Italy.
Testing on Ötzi has shown he dates back to 3,200 BC, and other archaeological findings indicate there were human settlements in the area as early as 5000 BC. A museum was built in Bolzano to preserve his body and related artifacts, and you through a small viewing window you can see his mummified body lying in a refrigerated room.
Waltherplatz / Piazza Walther Von der Vogelweide
Bolzano's lovely main town square – Waltherplatz / Piazza Walther Von der Vogelweide – was created in 1808 around existing buildings. A statue honoring medieval German love song composer / lyrical poet Walther von der Vogelweide (1170-1230) was unveiled in 1889, and although briefly moved out of the plaza around 1935 under Mussolini's fascist dictatorship, it was moved back after the end of World War II.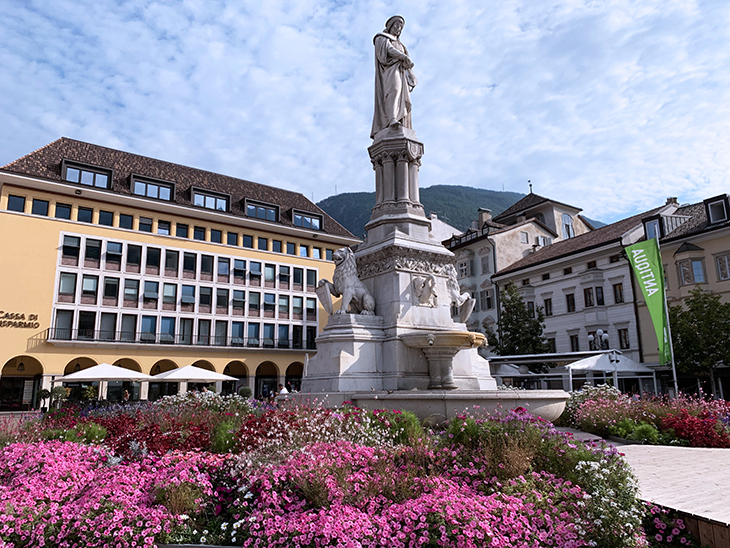 (Walther Von der Vogelweide Statue in Waltherplatz Photo: © 2019 Anita Hamilton / 50+ World)
Hotels, restaurants, and shops have lined the plaza since it's inception, and it's not so hard to image what it might have looked like a hundred years or more ago. Even easier when you can look at postcards from the era, below.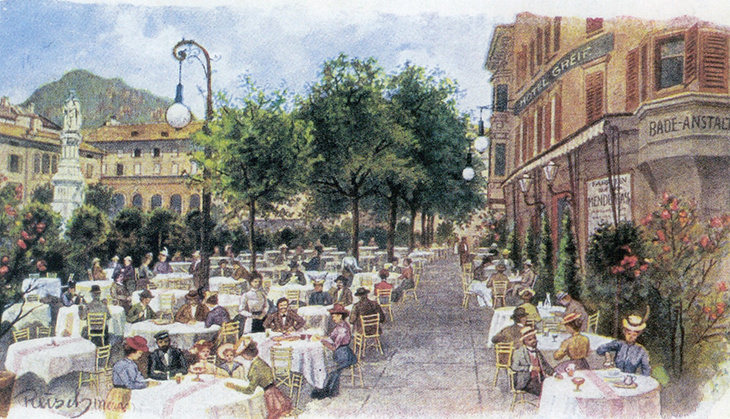 (Waltherplatz 1894 Painted Postcard: Friedrich August Reisch)
Loacker has a cafe and store at the edge of the plaza near the Cathedral where you can buy their chocolates, and enjoy a snack or a meal. Typically Loacker's treats are made of light wafer layers, alternating with layers of chocolate.
Assumption of Our Lady Cathedral
This beautiful, gothic church (Italian: Duomo Maria Assunta | German: Dom Maria Himmelfahrt) with a single ornate bell tower, lies at one end of the Waltherplatz.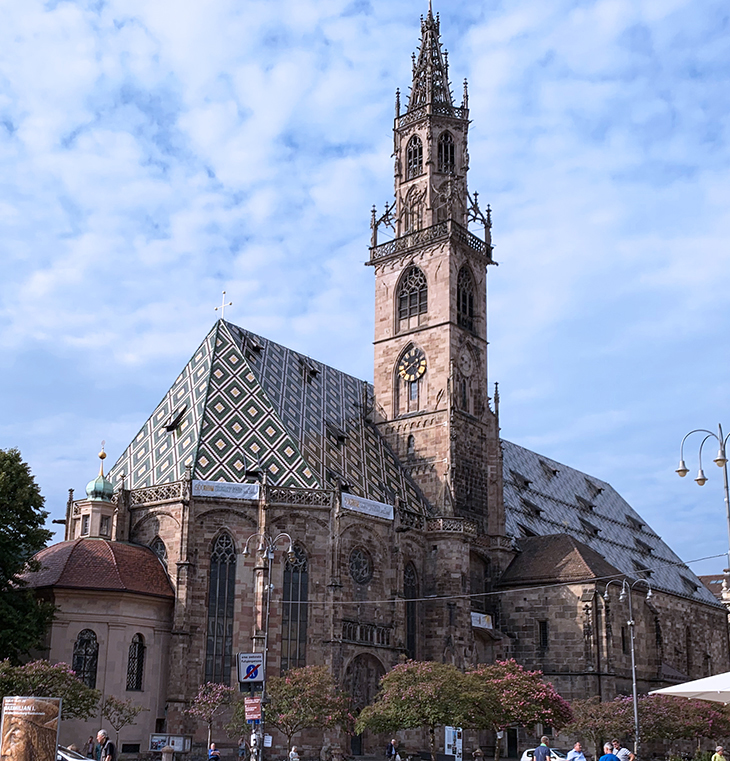 (Assumption of Our Lady Cathedral & Bell Tower, Bolzano, Italy Photo: © 2019 Anita Hamilton / 50+ World)
The cathedral is made of yellow and reddish sandstone, with a green tile roof (a similar style to structures in Austria), and dates back to the 1300s. The imposing Gothic bell tower (213 feet or 65 metres high) is a landmark, and historical plaque indicates work began on it in 1501, ending in 1519.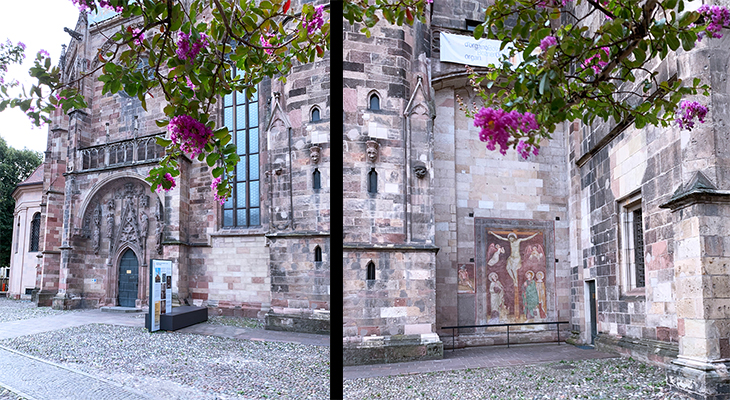 (Assumption of Our Lady Cathedral Exterior Walls Photo: © 2019 Anita Hamilton / 50+ World)
In the above close up of two different sections of exterior walls of the Cathedral, you can see the beautiful warm sandstone, gothic architecture details, and a beautifully preserved mosaic. 
During WWII, Allied bombs (trying to block the Brenner railway line) partially destroyed the church, but the tower remained standing. Reconstruction took from 1946-1959. 
Dominican Church & St. John's Chapel 
(Dominican Church, Bolzano, Italy Photo: © 2019 Anita Hamilton / 50+ World)
Just a block away from the Waltherplatz and the Cathedral, is the simple Dominican Church (Chiesa dei Domenicani) which was first completed in 1272; it was later expanded.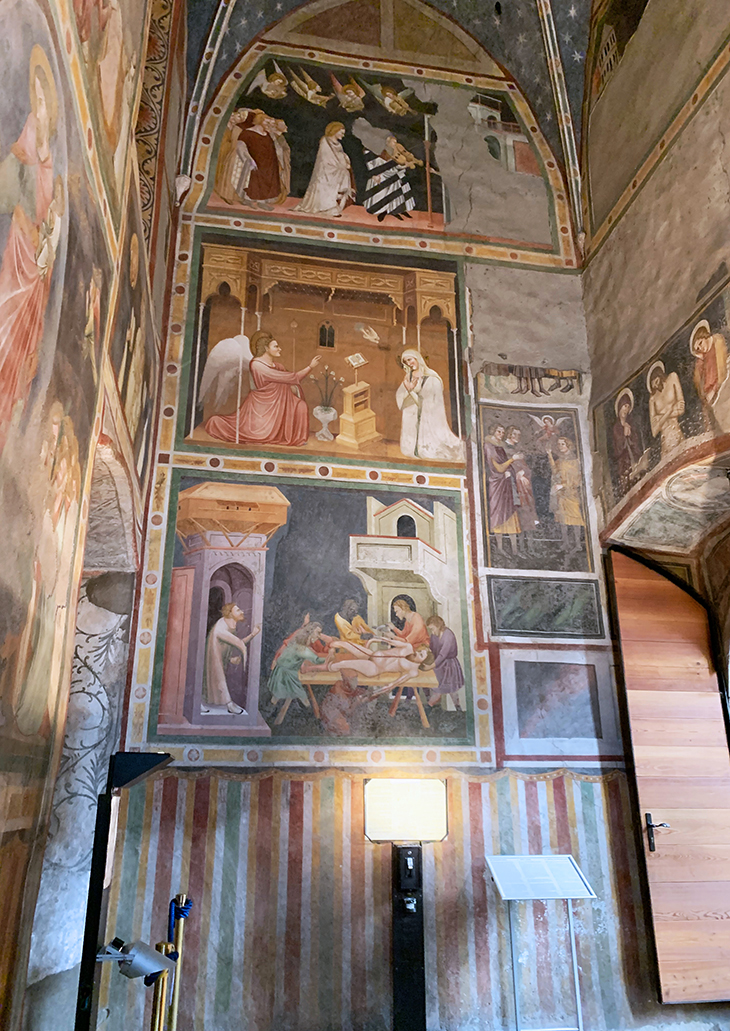 (St. John's Chapel Fresco Murals, Bolzano, Italy Photo: © 2019 Anita Hamilton / 50+ World)
As you  might expect, the church is dedicated to St. Dominic.
At the side of the church is St. John's Chapel / Capella di San Giovanni, which houses some amazing frescoes courtesy of artists in the school of Giotto (b.1267-d.1337).
Murals completely cover both ends and side walls of the chapel. 
Among the fresco murals pictured here at one end of the chapel, is the Martyrdom of St. Bartholomew (bottom centre).
Below, The Triumph of Death is among the frescoes along one side of the chapel.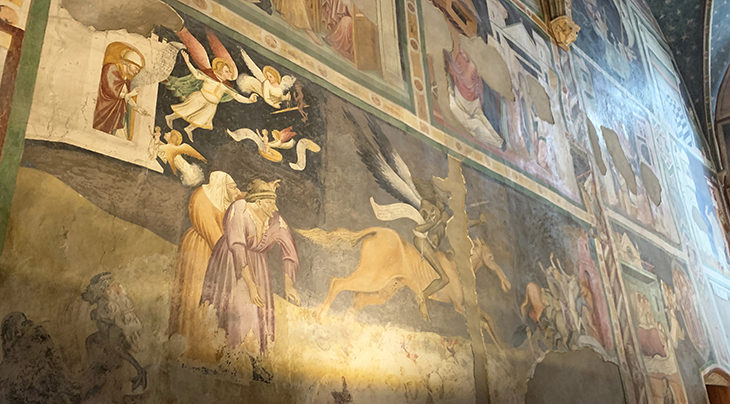 (St. John's Chapel The Triumph of Death Fresco,  Bolzano, Italy Photo: © 2019 Anita Hamilton / 50+ World)
The Arcades
Our tour guide takes us through the streets of old Bolzano centre, explaining it was important for local families to have a winery and a residence in the Arcades of Bolzano. The Arcades area today is a shopping mall with boutiques on either side. As in most areas of old Bolzano, the streets are cobblestone but I noticed marble sidewalks here.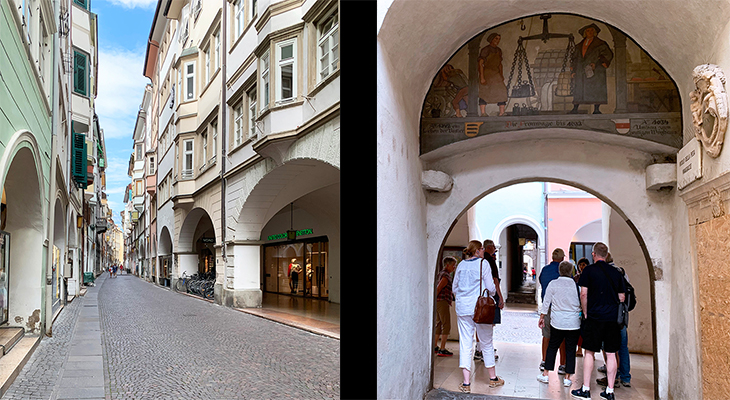 (Bolzano Arcades Street & House Close-Up Photo: © 2019 Anita Hamilton / 50+ World)
Most houses on the Arcades have an inner, protected courtyard (as in the photo above), and big cellars for storage. Note the fresco on the arch above the courtyard entrance.
Bolzano's Piazza delle Erbe
As in Verona, only on a much smaller scale, one of the plazas in Bolzano is the Piazza delle Erbe, a fruit and vegetable market – not so different from what it would have been like centuries ago.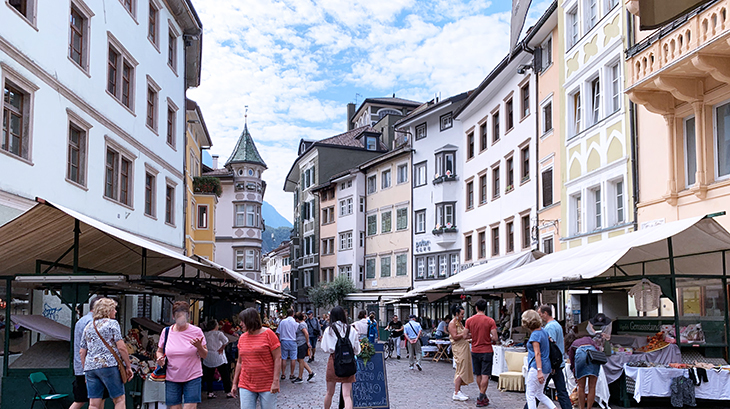 (Piazza delle Erbe Market, Bolzano, Italy Photo: © 2019 Anita Hamilton / 50+ World)
Tucked back against a building wall is Neptune's Fountain / Gabelwirt (Innkeeper with Fork) statue and fountain, built in 1745.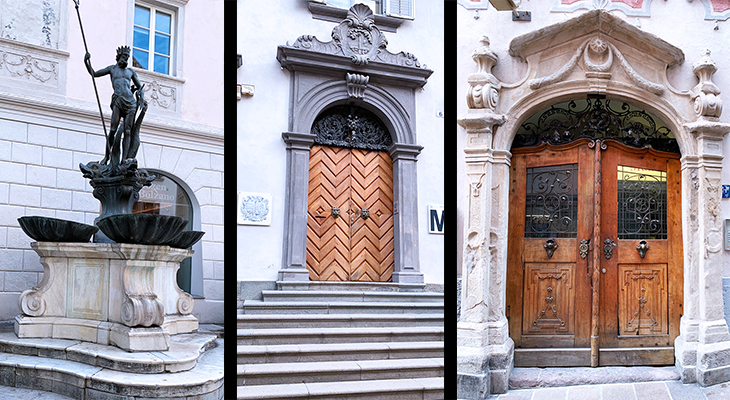 (Neptune's Fountain / Gabelwirt, Piazza Delle Erbe, Bolzano Photo: © 2019 Anita Hamilton / 50+ World)
Throughout our walk through Bolzano, we saw many beautifully preserved, ornate wooden doors with marvelously detailed arches. 
Torgglhaus / Casa Al Torchio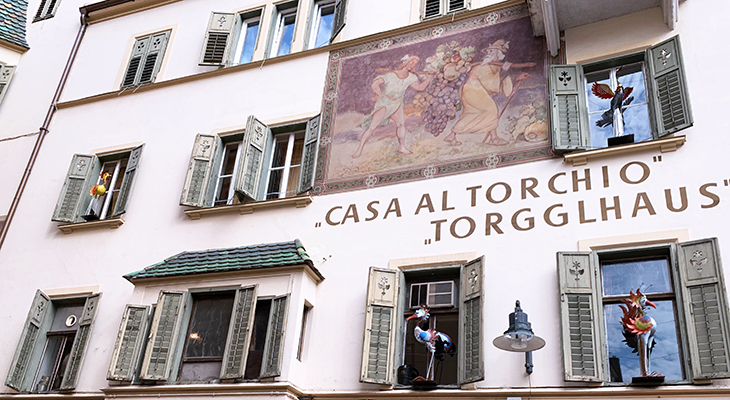 (Bolzano's Torgglhaus / Casa Al Torchio Photo: © 2019 Anita Hamilton / 50+ World)
A medieval house stood on the site pictured above in the Piazza delle Erbe, before it was rebuilt in 1895 and called Torgglhaus. It was renovated again in 1913 and painted at that time. In subsequent decades, different business including a restaurant, grocery store, coffee house, delicatessen, etc. have inhabited the premises. 
Our tour bus leaves Bolzano and heads on up the highway towards our next destination – the Dolomites and Cortina d'Ampezzo – passing more apple orchards, towns, churches, castles, vineyards & wineries, along the way. It's all part of a dream vacation to Italy, which has included stays in Lake Como, Cinque Terre's Monterosso al Mare, Florence, Milan, Lake Maggiore, and timeless Venice (St. Mark's Square and the Venetian Lagoon).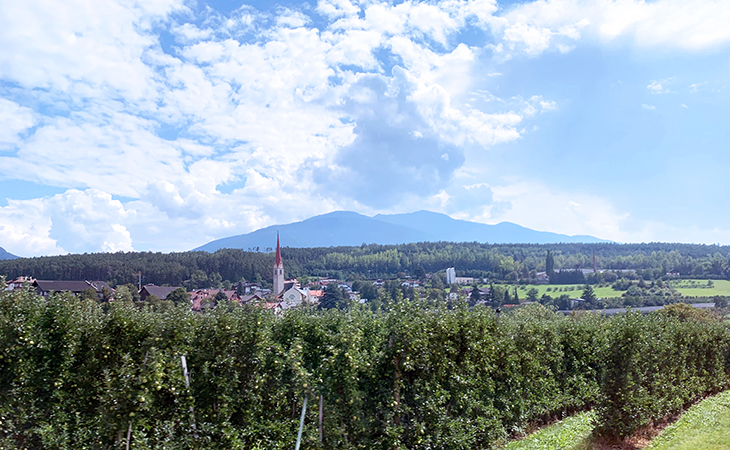 (Apple Orchards, Bolzano, Italy Countryside Photo: © 2019 Anita Hamilton / 50+ World)
Pop Culture Trivia: Bolzano in Films
Quite a few movies have been filmed in the picturesque Dolomites and foothills of the Italian Alps, with Bolzano and the surrounding countryside captured on film in these notable movies:
Three Coins in the Fountain (1954), a romantic drama starring Dorothy McGuire, Jean Peters & Maggie McNamara as 3 women seeking love in Rome. Clifton Webb, Louis Jourdan, and Rossano Brazzi are their love interests. Three Coins in the Fountain was filmed primarily in Rome, however parts of the movie were also filmed in Venice, the Dolomites, and Bolzano.
Five Golden Hours (1961), a romantic comedy starring Ernie Kovacs, Cyd Charisse, George Sanders, and Dennis Price. Five Golden Hours was filmed primarily in Bolzano, as well as MGM's Hertfordshire studios in England.
Rome Adventure (1962), a romantic drama filmed in Rome and other Italian locations including Isola Bella and Bolzano. Rome Adventure stars Troy Donahue, Suzanne Pleshette, Angie Dickinson, Rossano Brazzi, Constance Ford, Chad Everett, and Hampton Fancher.
A Place for Lovers (1968), a romantic drama starring Faye Dunaway and Marcello Mastroianni as new lovers enjoying an ill-fated love affair. Venice, Cortina d'Ampezzo, Trevizo, and Bolzano were all film locations. It was on the set of A Place for Lovers that Dunaway and Mastroianni first met, and a year later they were living together. The affair ended a few years later when he wouldn't divorce his wife.
Death in Venice (1971), a drama starring Dirk Bogarde and Marisa Berensen. Although filmed primarily in Venice, flashbacks in Death in Venice were filmed in Bolzano and the Dolomites.
Ash Wednesday (1973), a drama starring Elizabeth Taylor and Henry Fonda as a couple whose marriage is in trouble. Ash Wednesday was filmed in Cortina d'Ampezzo, the Dolomites, Bolzano, and Rome. 
National Lampoon's European Vacation (1985), a comedy made for tourists, starring Chevy Chase, Beverly D'Angelo, Dana Hill, &  Jason Lively as the vacationing Griswolds, with John Astin as a host. Film locations for National Lampoon's European Vacation were spread across the US, the UK, and Europe, including Bolzano.
Just Married (2003), a romantic comedy featuring Ashton Kutcher and Brittany Murphy as newlyweds honeymooning in Europe. Venice was the primary Italian film location for Just Married, , but Campo Tures northeast of Bolzano is also featured in the movie.
The Best Offer (2013), a crime drama starring Geoffrey Rush as a lonely art expert who is hired to auction off a collection of antiques; Jim Sturgess plays a restorer and new friend, while Donald Sutherland plays an old friend who helps him acquire a secret collection of paintings. The Best Offer was filmed in Czech Republic, Austria, and several locations in Italy including Bolzano, Rome, Florence, Trieste, and Milan.
Clouds of Sils Maria (2014), a drama starring Juliette Binoche as an older actress reflecting on her past successes and painful  memories. Co-starring Kristen Stewart and Chloë Grace Moretz. Sils Maria in Switzerland was the primary filming location, with other places in Germany and Italy including the South Tyrol and Bolzano, also featured.
Resources: 
Local Expert / Historian Walking Tour
Bolzano Plaques
**This article is for general informational purposes only.**
***Photographs & text in this article are either © 2019 Anita Hamilton, or Creative Commons licensed. All rights reserved. Do not download or reproduce without written permission.***