January 1949 Moments in Time
News headlines and entertainment trivia from November 1949
Gertrude Berg's The Goldbergs TV Series Premieres
The Goldbergs TV sitcom starring actress Gertrude Berg as lovable, meddlesome Jewish mother Molly Goldberg, premiered on CBS on January 17, 1949.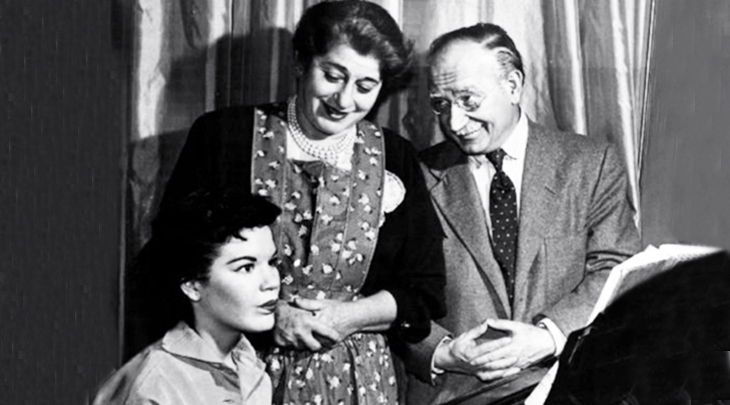 (Arlene McQuade, Gertrude Berg, & Eli Mintz 1954 The Goldbergs Photo: BBDO for DuMont TV)
Molly's daughter Rosalie Goldberg was played by Arlene McQuade, her son Sammy (Sammele) by Larry Robinson and later Tom Taylor, and Uncle David by Eli Mintz.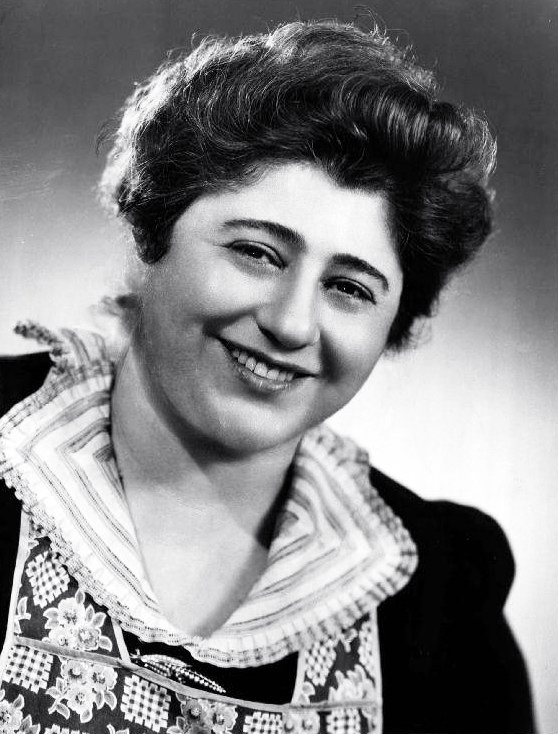 (Gertrude Berg 1951 Photo: NBC Television)
Gertrude Berg (nee Tillie Edelstein in 1899), created and starred on The Goldbergs television series, writing all the episodes. 
Berg had first launched her comedy series centered around a Jewish family living in the Bronx, on radio in 1929. The Rise of the Goldbergs soon became simply The Goldbergs. The Goldbergs expanded to a stage play in 1948, debuted on television in 1949, and even became feature film in 1950.
Gertrude Berg won the 1st Best Actress Emmy Award for her portrayal of Molly Goldberg, berating out Betty White, (Dame) Judith Anderson, Helen Hayes, and Imogene Coca at the 3rd annual Emmy Awards in 1951. 
The Goldbergs aired it's final TV episode in 1956 (1955 was the last year of filming), with the Goldbergs moving from the Bronx to the suburb of Haverville. 
Gertrude Berg went on to star on Broadway, winning a Tony Award in 1959, and guest-starring on other television series such as What's My Line. From 1961-1961 she starred as mature 60+ widow Sarah Green in Mrs. G. Goes to College / The Gertrude Berg Show. Her co-stars in that short-lived series were Cedrick Hardwicke, Mary Wickes, Skip Ward, Karyn Kupcinet, Paul Smith, and Aneta Corsaut.
Gertrude Berg died of heart failure at the age of 66 on Sept. 14, 1966.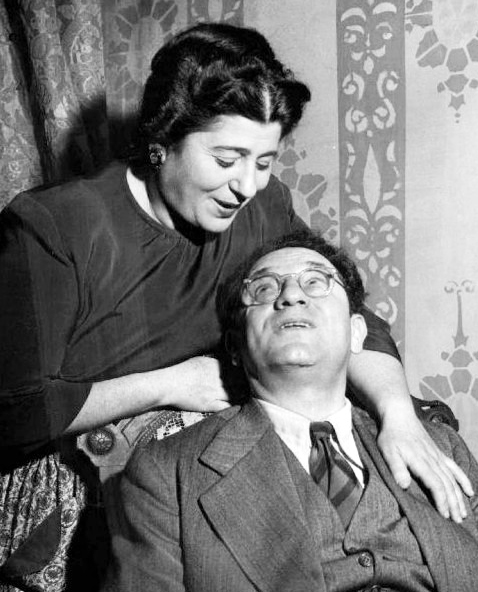 (Gertrude Berg & Philip Loeb 1949 The Goldbergs Photo: CBS Television)
Philip Loeb played Molly's husband Jake Goldberg on the television series and in the movie. Loeb was blacklisted in 1950 and CBS put pressure on Gertrudge Berg to fire him, to no avail. CBS dropped the series in 1951.
When the series was picked up by NBC in 1952, the character of Jake Goldberg was played by actor Harold Stone for a few episodes, followed by Robert H. Harris.
Philip Loeb killed himself with an overdose in 1955 at the age of 64 shortly after his wife died, and after years of unemployment due to being blacklisted.
The First Emmy Awards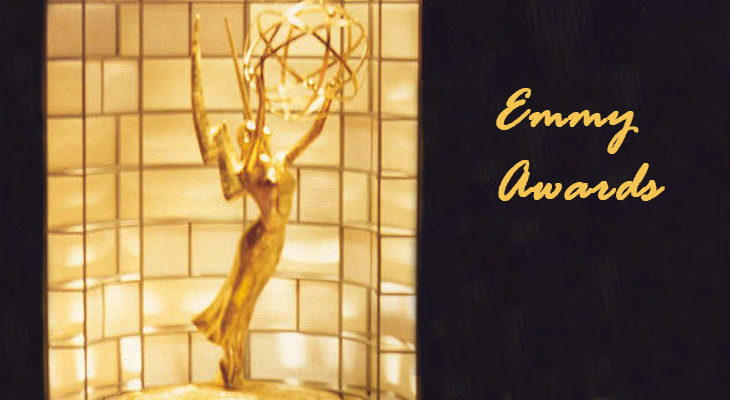 (Emmy Awards Show Statuette 1993 Photo: Alan Light)
On January 25, 1949, the first annual Emmy Awards were held at the Hollywood Athletic Club, courtesy of the Television Academy.  The very first Emmy Award was given to ventriloquist Shirley Dinsdale, whose children's show Judy Splinters aired on local KTLA TV station. 
The Emmy statuette of a winged woman holding an atom was designed by television engineer Louis McManus, and according to Emmys.com he used his wife as a model. The atom represents the "science and technology" of television. Louis McManus was given a special Emmy at the inaugural Emmy Awards in 1949, for his original design of the statue.
The Television Academy had formed 3 years earlier in 1946, at a time when only about 50,000 households had television sets. 
Evelyn Knight's Hit Song A Little Bird Told Me is #1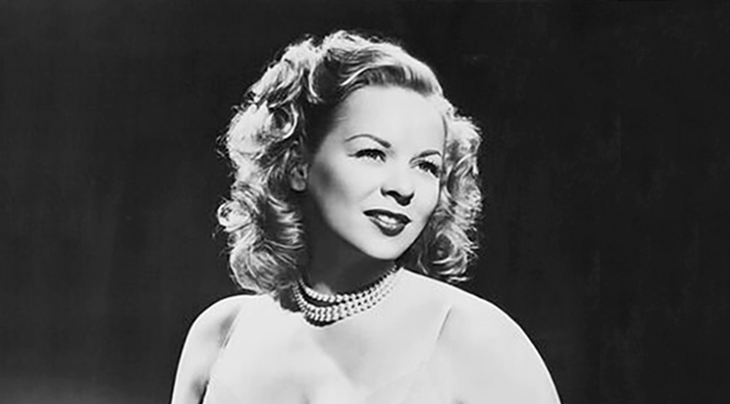 (Evelyn Knight 1949 Photo: Earle Ferris)
Beautiful singer Evelyn Knight had two hit songs in 1948 – Powder Your Face with Sunshine (Smile! Smile! Smile!), and A Little Bird Told Me, with The Stardusters.
A Little Bird told Me had staying power, sitting on the song charts for five months and at the #1 position for seven weeks during most of January and February of 1949. 
Evelyn Davis was born on December 31, 1917, and was sometimes was billed as Honey Davis. After she married photographer Andrew B. Knight, she went by her married name Evelyn Knight for the rest of her professional career. Evelyn Knight was retired from show business by 1960, and died of lung cancer at the age of 89 in September 2007. 
*Images are believed to be in the public domain or Creative Commons licensed & sourced via Wikimedia Commons, Vimeo, YouTube, or Flickr, unless otherwise noted*