Great Movies for Horse Lovers?
If you're a horse lover looking for some great movies that feature horses, check out some favorite horse movies below from years gone by that baby boomers and seniors may remember.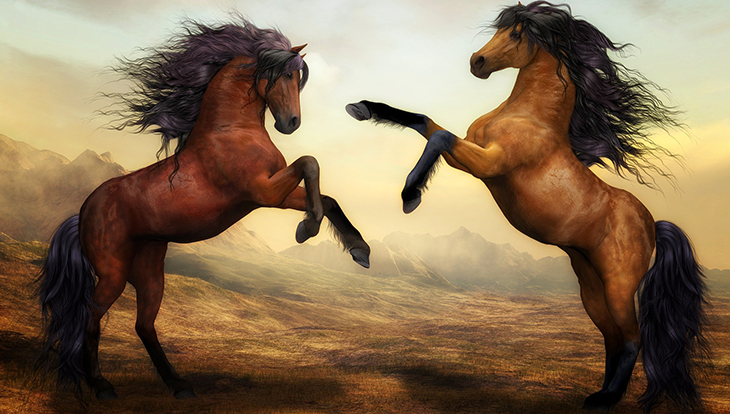 (Horses Painting Photo: Susannp4 via Pixabay)
The Electric Horseman
The Electric Horseman (1979), starring Robert Redford as a drunken former rodeo champ/cowboy and Jane Fonda as the reporter who follows him on his quest to release a valuable horse (Lets Merge; Rising Star in the film) into the wild. Although set in current times when it came out, The Electric Horseman is now more than 35 years old. Also in the cast of The Electric Horseman are Wilford Brimley, Willie Nelson, Valerie Perrine, John Saxon, Nicolas Coster, and James Sikking. 
Hidalgo
Hidalgo (2004), an adventure film based on a real character, portrayed by Viggo Mortensen as a Pony Express distance rider who travels to Arabia to compete in a horse race with his mustang paint horse Hidalgo. Omar Sharif and J. K. Simmons are also in the cast of Hidalgo. Below, a clip from a horse race scene in Hidalgo.
Seabiscuit
Seabiscuit (2003), a feature film about the Depression-era little thoroughbred racehorse that could, Seabiscuit, his jockey (Tobey Maguire), owner (Jeff Bridges), and trainer (Chris Cooper). Elizabeth Banks, Valerie Mahaffey,  and William H. Macy are also in the cast of Seabiscuit. That same year, the complementary TV documentary The True Story of Seabiscuit (2003), was narrated by William H. Macy, with interviews of Tobey Maguire, Chris McCarron, and Jeff Bridges, interspersed with archive footage of Seabiscuit, Babe Ruth, Lou Gehrig, Jesse Owens, and others.
Other related Seabiscuit films:
Seabiscuit (1939), a documentary that featured the original owners, Mr. and Mrs. Charles Howard, Sam Riddle (Man O'War's owner), and Charles Kurtsinger as themselves.
The Story of Seabiscuit (1949), a fictionalized feature film starring Shirley Temple (in one of the last films she made before marrying Charles Black in 1950 and retiring), Barry Fitzgerald, Rosemary DeCamp, and others.
Black Beauty
Black Beauty, a tale first written by Anna Sewell in 1877, as told from the perspective of a horse in the mid-1800's.
Both the more recent Black Beauty (1994) movie starring Sean Bean and the horse Docs Keepin Time (who also starred in the 1970's TV series The Adventures of the Black Stallion), and Black Beauty (1971) starring Mark Lester and Walter Slezak, are favorites.
The book has been adapted for several other feature films, made-for-television movies, and TV mini-series.
Another 1946 Black Beauty film starring Mona Freeman and Richard Denning deviated from the book (Beauty's owner is a girl instead of a boy) so that it could be set up as more of a romantic dramatic vehicle for the two human stars, and Black Beauty is restored to his owner within months, not years. Evelyn Ankers, Charles Evans, and Arthur Space have supporting roles in the film. 
I've never seen the star-studded Black Beauty (1978) TV miniseries with Edward Albert, Peter Breck, Eileen Brennan, Ken Curtis, William Devane, Jack Elam, Mel Ferrer, Farley Granger, Clu Gulager, Van Johnson, Diane Ladd, Martin Milner, Cameron Mitchell, Diana Muldaur, Warren Oates, Glynnis O'Connor, Forrest Tucker, and many other familiar names/faces. 
Black Beauty (2015) starred Sarah Ann Schultz as Kym, who persuades her Grandpa (Bruce Davison) to rescue a horse; Luke Perry is also in this movie.
The Black Stallion
The Black Stallion (1979), based on the first, well-loved Black Stallion book by Walter Farley, set in the 1930s-40s. The Black Stallion movie stars Kelly Reno as Alec Ramsey, Teri Gar as his mother, Hoyt Axton as his father, and Mickey Rooney as trainer Henry Daily. Sequels to the original book by Walter Farley (and his son, Steven Farley) that were also made into movies are
The Black Stallion Returns (1983), with a returning Kelly Reno and Teri Garr.
The Young Black Stallion (2003), a Disney movie filmed in Namibia and South Africa. 
Below, the official movie trailer for The Black Stallion in 1979 features Kelly Reno and Mickey Rooney.
Secretariat
Secretariat (2010), based on the 1970's unbeaten, Triple Crown winning racehorse Secretariat, who also spawned the first racehorse ownership syndicate. Secretariat stars Diane Lane, John Malkovich, Scott Glenn, Dylan Walsh, Fred Thompson, and James Cromwell. I clearly remember having a scrapbook of newspaper clippings about the real Secretariat, and avidly watching every race on TV as he out-ran the competition.
The Horse Whisperer
The Horse Whisperer (1995), directed by and starring horse lover Robert Redford, based on the novel by Nicholas Evans, which in turn was inspired by horse trainer Buck Brannaman. Buck Brannaman was a consultant on the The Horse Whisperer, and Robert Redford's stunt double. The Horse Whisperer also stars Kristin Scott Thomas, Sam Neill, Dianne Wiest, Chris Cooper, and then-child actresses Scarlett Johansson and Kate Bosworth.
Below, The Horse Whisperer movie trailer featuring Robert Redford.
Other Old and New Horse Movies
Warhorse (2011), about an English boy, his family and his thoroughbred horse before, during, and after World War I. Based on the children's novel Warhorse (1982) by Michael Morpurgo, who mined stories from World War I veterans and experiences he saw while watching children interact with horses at his Farms for City Children camp. Mopurgo's novel has also been made into a stage play. 
The Horse in the Grey Flannel Suit (1968), a favorite Walt Disney light comedy horse movie when I was a child. The Horse in the Grey Flannel Suit stars Dean Jones and features Disney child star Kurt Russell. The film was based on the book The Year of the Horse (1955), written by Eric Hatch.
The Man From Snowy River (1982), an Australian film starring Kirk Douglas and Tom Burlinson in an adventurous tale set in the late 1800's. The Man From Snowy River features Brumby horses, a black stallion, and gold mining themes.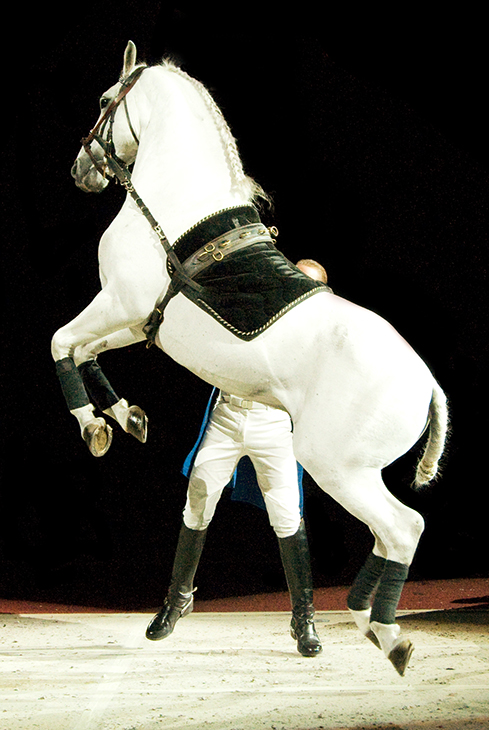 (Lipizanner Stallion Photo: Tom Hammer)
Miracle of the White Stallions (1963) is a Walt Disney movie based on the evacuation of the Lipizzaner horses during World War II. Much of the movie was filmed on location in Vienna. Miracle of the White Stallions starred Robert Taylor, Curd Jürgens and James Franciscus. 
Dreamer (2005), about a girl (Dakota Fanning) nursing an injured racehorse back to health with the help of her horse trainer father (Kurt Russell again) and her grandfather (Kris Kristofferson). Dreamer has Elisabeth Shue playing the girl's mother, with Ken Howard and David Morse also in the cast.
Justin Morgan Had a Horse (1972), another Walt Disney movie with a somewhat fictionalized account of the origins of the Morgan Horse. With Don Murray as Justin Morgan, who breeds and raises the first Morgan Horse from a colt. Supporting actors Whit Bissell as Mr. Mays, Gary Crosby as Bob Evans, R. G. Armstrong as Squire Fisk, James Hampton as Aaron, John Smith as Mr. Ames, and Lana Wood as Kathleen.
Movie's I'd like to see but haven't yet found:
Champions (1981) starring John Hurt
Shergar (1999)
The Silver Stallion: King of the Wild Brumbies (1993) starring Russell Crowe
Phar Lap (1983)
I'd also love to see these original, older movies which each spawned sequels and/or TV series: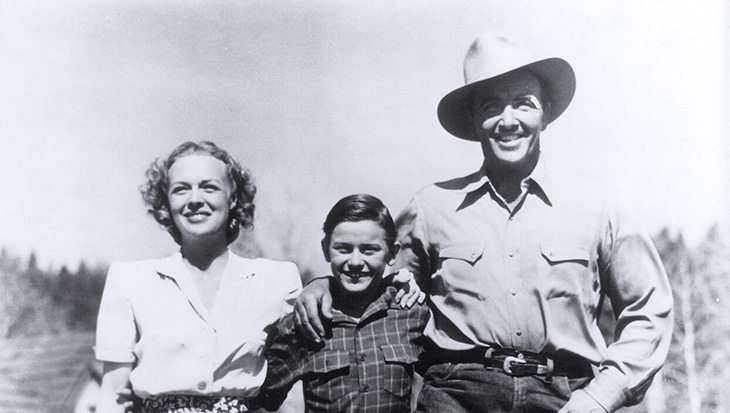 (Rita Johnson, Roddy McDowall, Preston Foster 1943 My Friend Flicka Photo)
My Friend Flicka (1943), starring Roddy McDowall as Ken McLaughlin, and based on the classic book My Friend Flicka by Mary O'Hara. Preston Foster plays his father Rob, Rita Johnson is his mother Nell, and James Bell is Gus; actor Jeff Corey is Tim Murphy.
My Friend Flicka was also a 1955-1960 TV series with Johnny Washbrook, Gene Evans, Anita Louise, and Frank Ferguson.
The 2006 film Flicka is also based on Mary O'Hara's book, but instead of young Ken McLaughlin, actress Alison Lohman plays Katy McLaughlin. Tim McGraw is dad Rob, Maria Bello is mom Nell, and Ryan Kwanten is her brother Howard. Danny Pino and Jeffrey Nordling are among the supporting cast members in Flicka.
National Velvet (1944), based on Enid Bagnold's 1935 children's classic book about a girl who dreams of training her horse The Piebald to win the Grand National steeplechase. National Velvet stars then-child actors Elizabeth Taylor and Mickey Rooney, with Angela Lansbury.
The 1960-1962 TV series National Velvet has Lori Martin as Velvet, with Ann Doran as her mother Martha Brown, James McCallion as Mi, Arthur Space as her father Herbert, and CArole WElls and Joey Scott as her sister Edwina and young brother Donald. 
The 1978 sequel International Velvet stars Tatum O'Neal as an orphaned teenager living with her Aunt Velvet, who helps her buy a descendant of The Piebald. Christopher Plummer, Anthony Hopkins, and Richard Warwick are also in International Velvet. 
Below, the movie trailer for National Velvet features Mickey Rooney as stable boy Mi Taylor, Elizabeth Taylor as Velvet Brown, and Donald Crisp & Anne Revere as her parents, Mrs & Mrs. Brown.
What's your favorite horse-themed movie, television series, or book?
*Images are public domain or Creative Commons licensed & sourced via Wikimedia Commons, Vimeo, YouTube, or Flickr, unless otherwise noted*