History Fix from January 1946
Baby Boomer Trivia From August 1946: Jockey George Woolf, Adolf Eichman Escapes, CIA Established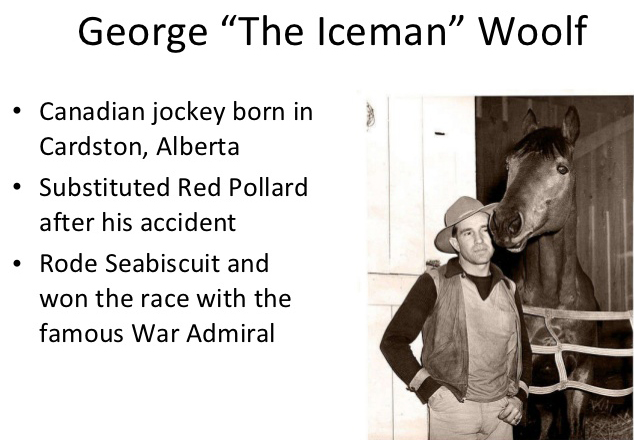 On January 3, 1946, Canadian jockey George Woolf "The Iceman" fell off his horse Please Me during the fourth race at Santa Anita Park, his home base racetrack. Suffering from a concussion, Woolf was taken to hospital and died the next day at the young age of 35. George Woolf had been a Type 1 diabetic since his early days in racing, and there was speculation that is diabetes may have been a factor in his fall. Right, jockey George Woolf with his favorite racehorse, Seabiscuit. (Photo: SlideShare)
The George Woolf Memorial Jockey Award was created in his honor in 1950 and is awarded by Santa Anita Park to "The thoroughbred horse racing jockey in North America who demonstrates high standards of personal and professional conduct, on and off the racetrack".  
During his career, Alberta-born George Woolf had more than 3,780 mounts and had racked up over 720 wins, finishing in the money over 45% of the time. He learned to ride horses as a child and competed in rodeo events before turning to racing thoroughbreds in 1928. Woolf's nickname "The Iceman" was earned by his ability nap before major races, and patience in waiting for the right time to make a move in a race. In 1935 George Woolf won the first $100,000 horse race (the Santa Anita Handicap) aboard Azucar, beating Equipoise and Twenty Grand. The following year he won the 1936 Preakness Stakes aboard Bold Venture. Woolf may be best remembered by seniors for his winning performance aboard Seabiscuit in the 1938 Pimlico Special match race against Triple Crown winner War Admiral (below); Woolf had stepped in for his injured friend, Seabiscuit's usual jockey Red Pollard.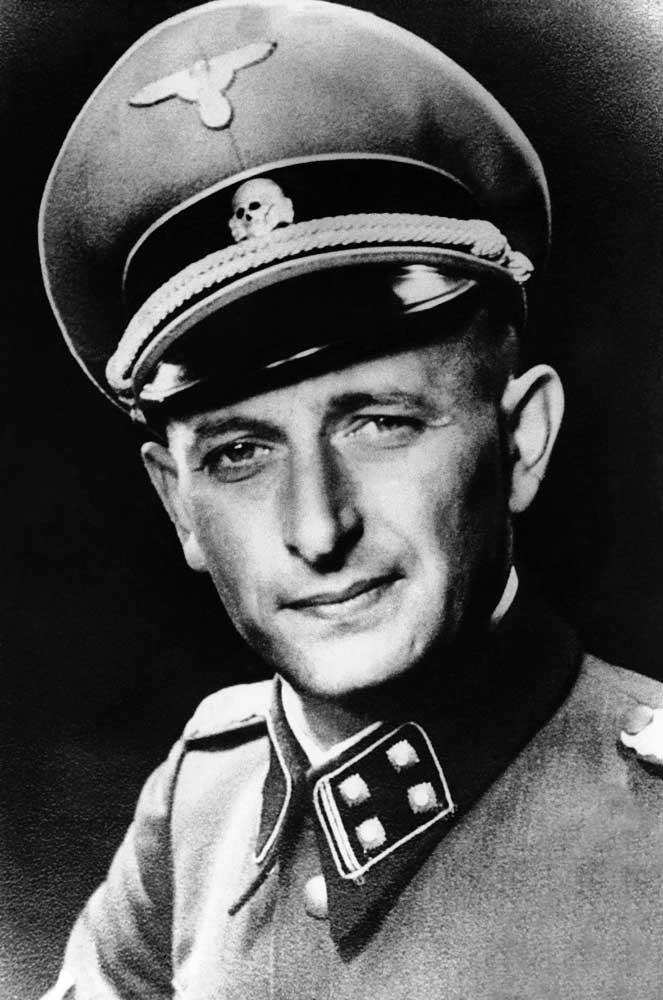 Adolf Eichman escaped on January 5, 1946 from the detention camp in Oberdachstetten when he was being held under the name Otto Eckman.
Eichman assumed the identity of Otto Neninger and moved around Germany in hiding until 1950. Nazi hunters including Simon Wiesenthal searched for him for years. Adolf Eichman, right. (Photo: Imagining Genocide)
Eichman had obtained false identification papers in the name of Ricardo Klemmer in 1948 in preparation for a move to Argentina. He sailed by ship in June 1950 to Argentina and his family joined him there in 1952. He was working for Mercedes-Benz in Argentina when he was kidnapped off the street in May 1960 by a team of Israeli Mossad agents. Adolf Eichman was hanged to death in June 1962 afer being convicted of war crimes in Israel. 
U.S. President Harry S. Truman established what is today known as the CIA on January 22, 1946, despite opposition from the FBI (Federal Bureau of Investigation), the United States military and State Department. The working name was the National Intelligence Agency, operating as the Central Intelligence Group. 

A few days later, on January 24, 1946, President Truman presented the new Director of Central Intelligence, Rear Admiral Sidney Souers, with at black cloak, black hat, and wooden dagger. Two years later the Central Intelligence Group was succeeded by the CIA. (Photo: Central Intelligence Agency)