History Fix From April 1946
Baby Boomer Trivia From April 1946: Hawaiin Tsunami, Jackie Robinson Breaks Baseball's Colour Barrier

Today's senior citizens may remember the April 1, 1946, Aleutian Islands, Alaska earthquake that triggered a Pacific Ocean tsunami with waves up to 130' high. The nearby Scotch Cap U.S. Coast Guard Lighthouse was destroyed and it's 5 crew members killed, so no warning transmissions about the earthquake or tsunami were sent.
Less than 5 hours after the earthquake, the first tsunami waves (up to 55')  reached the Hawaiian islands of Kauai and Hawaii (the Big Island). Although the shores of all of the Hawaiian Islands suffered destruction, the damage was worst at the port city of Hilo, Hawaii.  The west coast of the United States also felt some effects of the tsunami, although the highest reported waves there were less than 15' and only 1 person in California died as a result. Below, waves breaking over Pier No. 1 in Hilo Harbor, Hawaii on April 1, 1946.
(Photo: NOAA Photo Library)
Approximately 159 people were killed as a result of tsunami in Hawaii. Baby boomer and other generations of readers of James Michener's fictional multi-generational best-selling novel Hawaii (1959) will recognize references to the 1946 tsunami. 

Second baseman Jackie Robinson became the first black (African American) baseball player to play in the AAA (MLB farm team) leagues on April 18, 1946.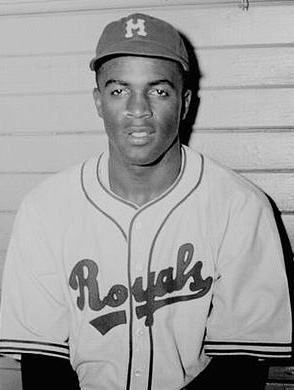 Jackie Robinson 1956 Montreal Royals Photo: Conrad Poirier / National Library & Archives of Quebec)
Robinson had been signed by the Montreal Royals of the International League baseball team in the fall of 1945, to play for them in the 1946 season; the Royals were a farm club for the MLB Brooklyn Dodgers. On April 18th, Robinson played in the opening game of the season for the Montreal Royals vs the Jersey City Giants, and broke the colour barrier for black athletes in professional baseball. 
Jackie Robinson was an extremely talented athlete - a quadruple threat in high school, junior college, and at UCLA - lettering in basketball, baseball, football, and track.
For more "History Fix From 1946":

History Fix From February 1946
History Fix From September 1946
History Fix From November 1946