January 1947 Headlines
Baby Boomer Trivia From January 1947: Canadian Citizenship Act, The Black Dahlia Murder and Suspects

Canadian Citizenship Act Established
On January 1, 1947 the Canadian Citizenship Act came into effect under the government of Canadian Prime Minister William Lyon Mackenzie King. The Canadian Citizenship Act established the criteria for obtaining citizenship and identified when/how it could be lost or revoked. 
Before January 1, 1947, people born in Canada and naturalized immigrants to Canada (regardless of where they were born) were classed as British subjects.
The Black Dahlia Murder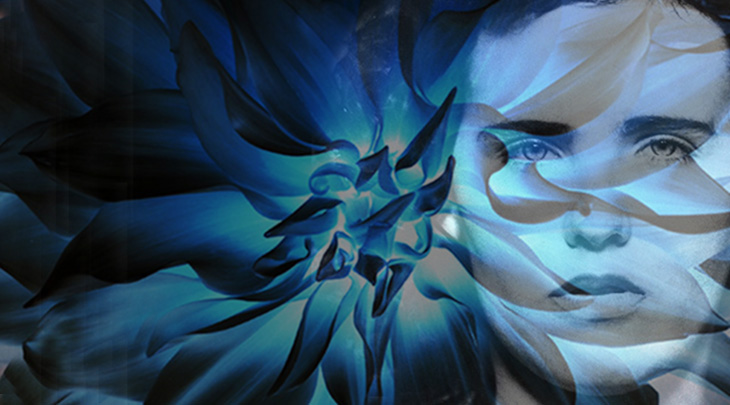 The naked body of 22-year-old American actress Elizabeth Short "The Black Dahlia", was found murdered and cut in two pieces on Norton Avenue (3 blocks west of Degnan Boulevard) in Los Angeles on January 15, 1947. Elizabeth Short had last been seen on January 9, when she had been wearing a black tailored suit.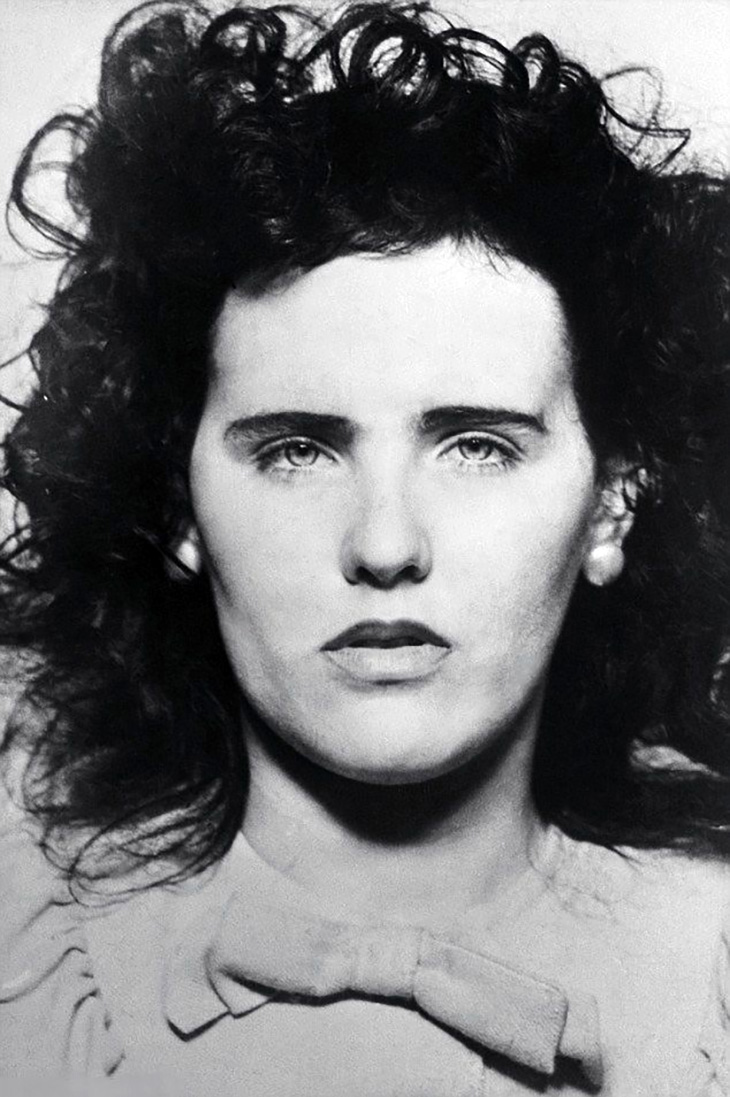 (Elizabeth Short, The Black Dahlia 1943 Photo: Santa Barbara Police)
Newspapers owned by William Randolph Hearst sensationalized her case, and the nickname "The Black Dahlia" was bestowed on Elizabeth Short after her death.
Various contradictory rumours reported in the press insinuated Elizabeth Short was a prostitute, had been pregnant, or was unable to have sexual intercourse, none of which were substantiated by the investigation into her death. 
Seniors may remember the details of The Black Dahlia case. Elizabeth Shot's killer had beaten her and mutilated her face and body, which had been severed at the waist and drained of blood;. surgical or medical expertise by her killer was suggested. Ligature marks were found on her ankles, wrists, and neck. After death her nude body was washed and posed by the killer, who has never been found.
The Black Dahlia Murder Investigation
A person claiming to be Elizabeth Short's murderer called the Los Angeles Examiner on January 23, 1947, upset that the murder wasn't getting as much coverage, and offering to mail Short's effects to the editor. The Los Angeles Examiner office received a package on January 24th which had Elizabeth Short's photographs (she was an aspiring actress), birth certificate, an address book with the name Mark Hansen (a nightclub owner and friend whose home she had stayed at) embossed on the cover, and other names on pieces of paper. Notes were written to the newspaper signed the Black Dahlia Avenger. The following day, one of Elizabeth Short's shoes and her purse were reported seen in an alley on top of a garbage can; they were later found at the dump.
LAPD homicide detective John P. St. John (d. 1995, called Jigsaw John) worked Elizabeth Short's murder case from 1947 until his retirement in 1993, and is credited with having commented that "It is amazing how many people offer up a relative as the killer." 
The Black Dahlia Murder Suspects
Many original suspects were eliminated, ie soldier Joseph A. Dumais confessed but was proven to be at Fort Dix at the time of the murder. Other suspects were added during the investigation.
Several suspects remained in the unsolved murder of Elizabeth Short: Mark Hansen (d. 1964), and Hansen's friend, Dr. Patrick S. O'Reilly; Dr. Walter Bayley (d.1948); George Knowlton (d. 1962) and L.A. Times publisher Norman Chandler (d.1973) were accused by Knowlton's daughter Janice Knowlton; bellhop and aspiring true crime writer Leslie Dillon (AKA Jack Sands); Robert M. "Red" Manley (d. 1986), the last person seen with Elizabeth Short before she disappeared. 
Similarities between other cases and Elizabeth Short's murder have been investigated but never led to an arrest for these other suspects:
Dr. Francis E. Sweeney – Sweeney was suspected in the Cleveland Torso Murders of 12 victims between 1934-1938; he was investigated and discounted by LAPD investigators in 1947. He died in 1964.
Jack Anderson Wilson  – Wilson was another Cleveland torso murder suspect, implicated by new evidence in The Black Dahlia case in 1980. LAPD Detective John P. St. John said he was close to arresting Wilson for Elizabeth Short's murder, but Wilson died in February 1982 in a fire. 
Richard Russel Thomas – The murder and dismemberment of Suzanne Degnan (age 6) in Chicago in 1946 and the fact that Short's body was found within 3 blocks of Degnan Avenue in Los Angeles, was investigated by LAPD. Suzanne Degnan's ransom note and the note from the Black Dahlia Avenger both used a combination of capitals and small letters, with a similar misshapen "P".  Ex-Convict Richard Russell Thomas in jail in Arizona on charges he molested his daughter, confessed to Suzanne's killing and then recanted in June 1946; he was never convicted of Degnan's murder, and died in 1974.
William Heirens – The 17-year-old was arrested in June 1946, and after being beaten and denied access to his parents or a lawyer for 4 days, confessed to the murders of Suzanne Degnan and 2 other Chicago women in 1945, in what was dubbed the Lipstick Killer murders. William Heirens also recanted his confession, but soon after pled guilty in order to avoid a trial and possible death penalty. He was convicted in 1946 and spent the rest of his life (65 years) in prison protesting his innocence; he could not have killed Elizabeth Short.
Dr. George Hill Hodel Jr. – Dr. Hodel Jr. was charged with murdering his secretary in 1945 (she died from a drug overdose), and acquitted of sexually abusing his daughter Tamar in 1949. In 1950 George Hodel became a prime suspect in the Elizabeth Short murder. The LAPD Task Force bugged his home and taped references by Hodel about illegal abortions, payoffs, his secretary's death, and the Black Dahlia, but due to insufficient evidence he wasn't charged.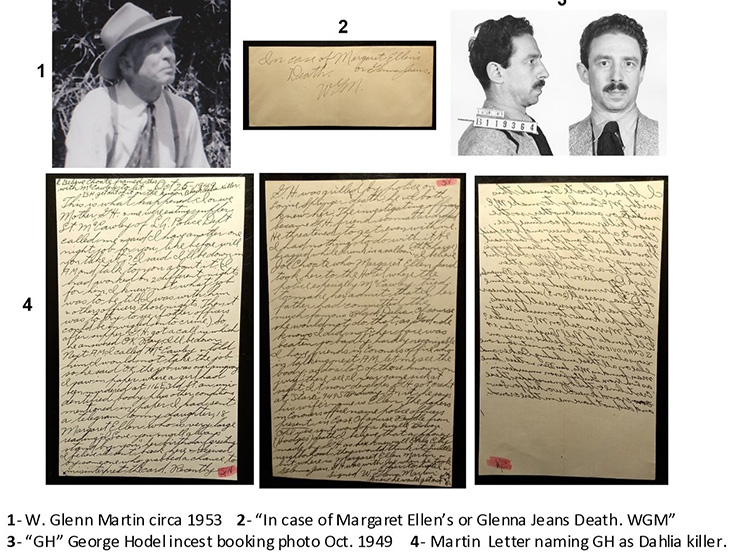 (Glenn Martin, Letter & George Hodel Montage: Steve Hodel / CC BY-SA 4.0)
In 1950 George Hodel left the country and moved to Asia, not returning from Manila until 1990. His son, LA homicide detective Steve Hodel, began investigating the case after his father's death in 1999 and came to the conclusion that his father had not only killed Elizabeth Short, but that George Hodel may also have been Chicago's Lipstick Killer, and the 1960's Zodiac Killer, and committed other murders. George Hodel's friend Fred Sexton was also a suspect in Elizabeth Short's murder; Sexton died in 1995 . 
The Black Dahlia murder case has never been solved and the suspects are now dead.