The Loves of William Randolph Hearst
Aided by some strong women in his life, William Randolph Hearst (inspiration for the movies Citizen Kane and The Cat's Meow) left a legacy of achievement (and notoriety) in newspaper and magazine publishing, political influence, and architecture.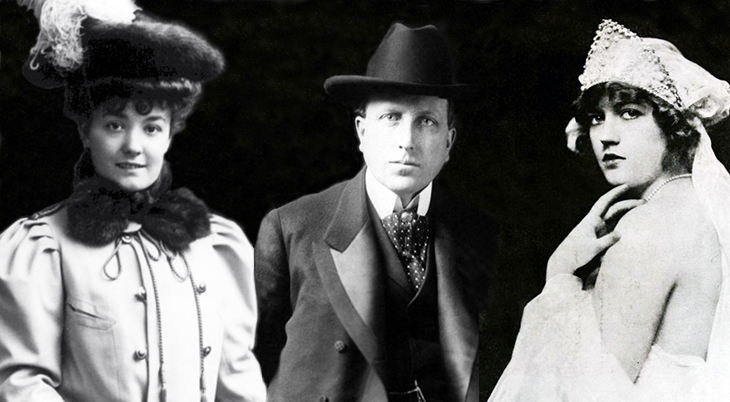 (Millicent Hearst 1906: James Edward Purdy | W.R. Hearst 1904: B.M. Clinedinst | Marion Davies 1919: Alfred Cheney Johnston)
William Randolph Hearst's death in August 1951 put an end to his decades of acquiring companies, historic art, and notable properties in America and Europe. 
Mother Phoebe Hearst & Family
Born on April 29, 1863 in San Francisco to wealthy parents, as a child and teenager young William Randolph Hearst was inspired by the great European castles, architecture, art and history he absorbed during two extensive "Grand Tours" with his mother Phoebe Apperson Hearst. It was Phoebe who passed on her love of history, arts and culture to her son.
Phoebe's father Randolph Walker Apperson was born April 10, 1809 in Virginia. Her mother Drusilla Whitmire (daughter of Henry and Ruth Hill Whitmire of South Carolina) was born on September 24, 1816. Drusilla Whitmire married Randolph Apperson on June 28, 1840. Their daughter Phoebe Elizabeth Apperson was born on December 3, 1842 in Virginia, and son Elbert Clark Apperson was born in Missouri in 1851.
(Randolph Walker Apperson & Drusilla Whitmire Apperson c. 1900 or earlier Portrait: Orrin Peck)
Although the Appersons were slave owners (according to Hearst biographer Mrs. Fremont Older) before the Civil War, they were not wealthy. Phoebe became a schoolteacher as a young woman.
William Randolph Hearst's father George Hearst was born to his Scots-Irish his farming parents William G. Hearst and Elizabeth Collins on September 3, 1820. From those humble beginnings, he first became a mining engineer, and made – and then lost – his first fortune during the Gold Rush years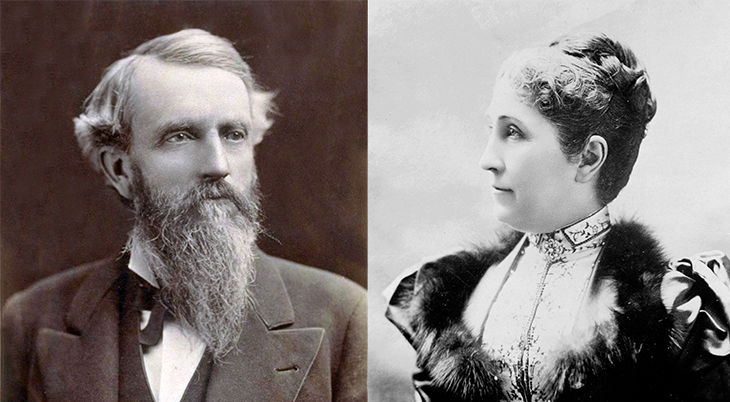 (George Hearst c. 1891 or earlier: Edouart & Cobb | Phoebe Apperson Hearst c. 1880-1900; Clinedinst Studio)
George Hearst married Phoebe Apperson on June 15, 1862. It was the middle of the Civil War. While the Missourian groom opposed the war, he was firmly on the side of the Confederacy. George was 20 years older than his bride, but had known her as a child in Missouri. The newlyweds initially moved into a suite at the luxurious Lick House hotel in San Francisco.
Hearst was away at his mining camp when their son William Randolph Hearst was born in 1863, affectionately called "Sonny" by his father. Hearst purchased a brick home on Rincon Hill, where Phoebe moved with William and his wet nurse/nanny Eliza Pike. By this time Phoebe's parents were also in California, George having sent for them and paid their way so his wife would not be all on her own. 
George Hearst had recouped his earlier losses and was on his way to becoming a millionaire goldmine owner many times over (many millions, and many mines). At Phoebe's urging he purchased another, grander house on Chestnut Street (north of what would become San Francisco's Russian Hill district) overlooking San Francisco Bay. 
Phoebe and George had purchased a ranch home for her parents Randolph and Drusilla Apperson in Lawrence Station, California (near San Jose) in 1863. Phoebe's brother Elbert, (and later his wife Elizabeth, and their two children) also lived in Lawrence Station.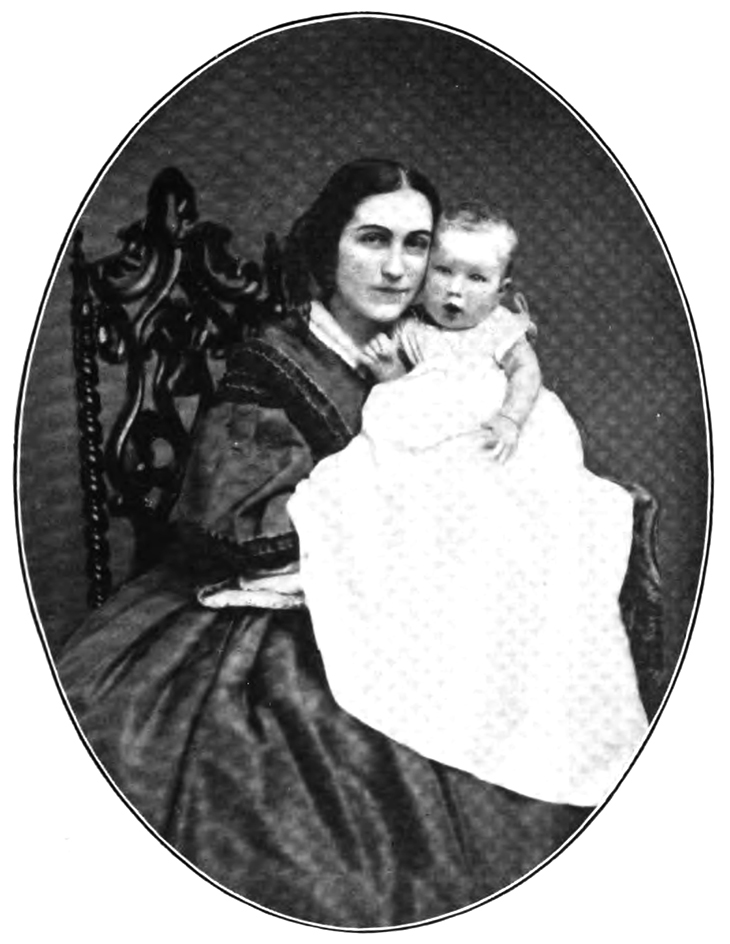 (Phoebe Apperson Hearst & William Randolph Hearst 6 mos. 1863)
Phoebe and her son "Willie" or "Billy Buster" as his father now called the young boy, were often on their own (not including servants) while George was away at his different mines. From an early age, toddler Willie accompanied his mother to operas and museums in San Francisco, and travels to visit her parents and brother. Young Willie loved his mother, his grandparents, and his absent father.
W.R. Hearst's childhood friends included Eugene Lent, son of his father's real estate broker, Fred Moody, and Orrin Peck, whose parents the Hearst's had met on their post-wedding travel from Missouri to California.
George Hearst was still away at his mines, and was also busy acquiring land in anticipation of farming and future railroad access. He bought the Santa Rosa Ranch (40,000 acres near San Simeon, California) in the mid-1960s, but soon after suffered his biggest financial setback to date. After months of economizing and selling carriages (but never property), Phoebe left Willie with his maternal grandparents and sailed off to Hawaii for a month with her 16-year-old brother Elbert. In 1867, Phoebe was forced to rent out their San Francisco home; she and Willie moved in with her parents. 
Faced with the knowledge that George would bit mostly away for the next year, in mid-1873 Phoebe took 9-year-old Willie with her ton an 18-month tour of Europe, financed by Hearst securing letters of credit for them. It was during this tour that William Randolph Hearst's love of acquiring and collecting works of art was born.
When Phoebe and son returned from Europe, the Chestnut Street home was sold to pay off debts. They spent the next few years living in different rented homes, with family, or friends. 
By 1876 George Hearst had once again recouped his losses and was riding high on the wave of success from his Ontario and Homestake mines. In Mexico, Hearst bought the million acre Babicora Ranch in Mexico, and the Anaconda mine. Phoebe now resided with Willie (and George, when at home) at a mansion on Van Ness Avenue in San Francisco, complete with an art gallery. 
A teenage "Will" Hearst and his father began to spend time at the San Simeon ranch. It was rugged countryside as yet undeveloped, and not easily accessible except on horseback. Camping with his father (and later friends) at San Simeon was favorite pastime for William. George Hearst built a new wharf and ranch house at San Simeon in 1878, enabling Phoebe to be able to join father and son there. Above it all at San Simeon was Camp Hill, covered in oaks but with fine views overlooking the Pacific that William loved.
Women, Harvard & Newspapers
George Hearst bought the San Francisco Examiner newspaper in 1880, but his main interests (aside from mining) were politics and race horses.
Meanwhile, his son William Randolph Hearst had grown up. Before leaving San Francisco to attend Harvard in 1883, he'd been briefly engaged to his first significant romantic love, San Francisco society darling Sybil Sanderson. Sybil was a talented singer, and daughter of California Supreme Court Judge Sanderson. Their engagement was broken after a few months, and Sybil left to Paris to follow her dream and study music.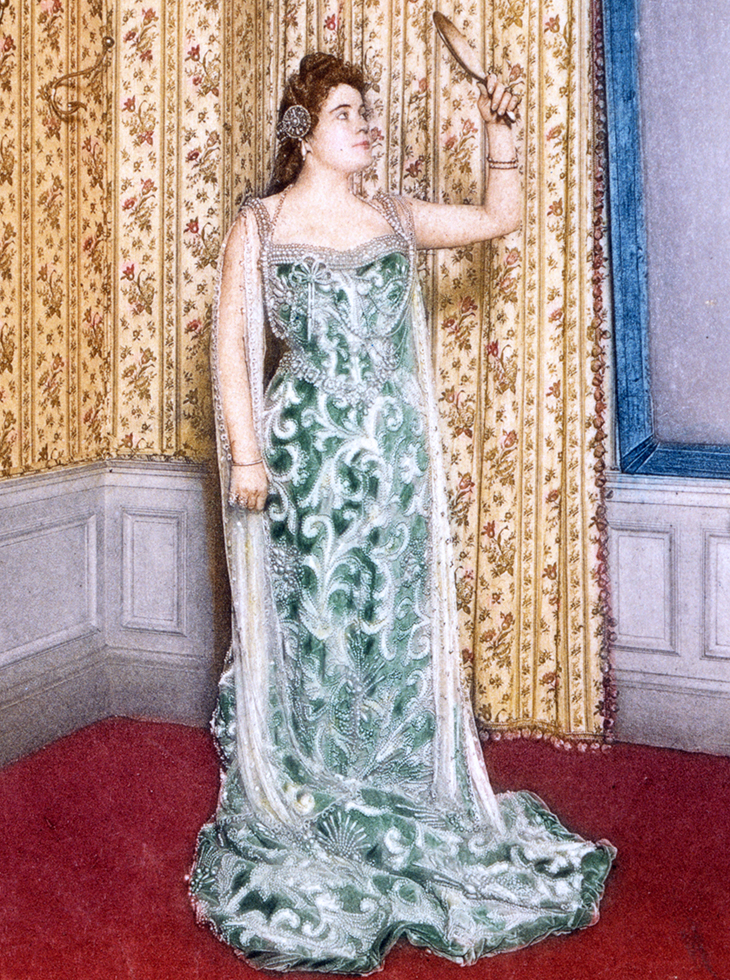 (Sybil Sanderson 1895 Photo: Boussod, Valadon & Co.)
Sybil Sanderson became the toast of Paris and later debuted at the Metropolitan Opera House. She married Cuban millionaire Antonio E. Terry in 1897, but he died in 1899. She died of pneumonia in 1903 at the age of 38, after some years of suffering from alcoholism and depression.
Although his old friend Eugene Lent was at Harvard too, Hearst wasn't happy there. He missed California. Eventually he made some new friends that included cartoonist Fred Briggs, writer E.L. Thayer (Casey at the Bat), and Jack Follansbee, who would become a business partner in Hearst's Mexican properties. George Hearst gave Jack Follansbee 100,000 acres of the massive Babicora ranch in Mexico after the senior Follansbee ran into financial trouble.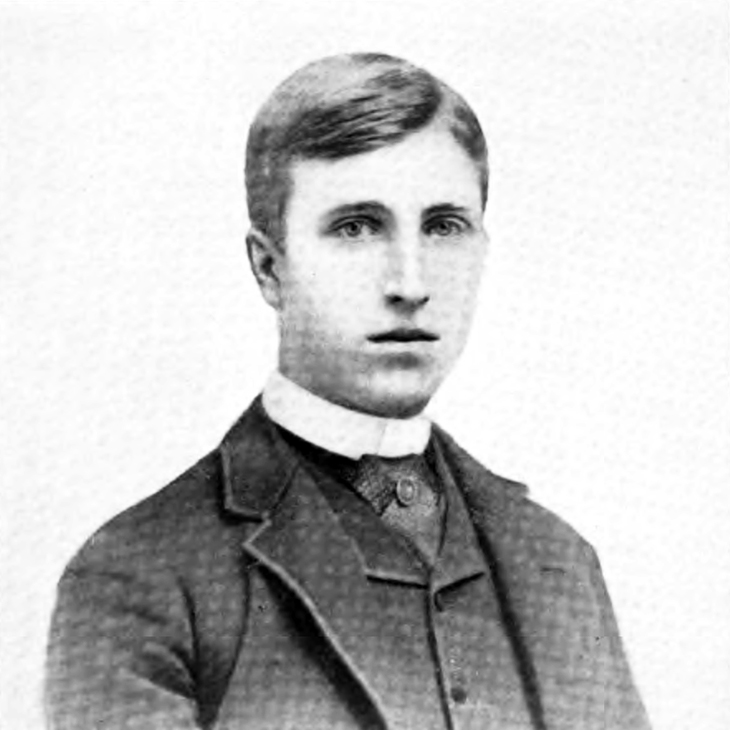 (College Freshman William Randolph Hearst c 1883-1884)
A bright spot was the Harvard Lampoon newspaper, which was a money-losing venture edited by Lent. Hearst took over as business editor of the Lampoon, and pursued advertisers and subscribers over the next two years until it became profitable. He had discovered another passion and talent for making money. 
George Hearst's aspirations to political office were rewarded when he was elected a U.S. Senator from California in 1886. George and Phoebe moved to Washington, D.C. where she was a popular society hostess.
It wasn't a great disappointment for William when he was kicked out of Harvard. During the break he met Eleanor Calhoun at one of his mother's drawing room get-togethers. The niece of former Vice President and California Senator John C. Calhoun, Eleanor had plans of studying for a career on stage in Europe as an actress. Eleanor and William's engagement was opposed by Phoebe and George Hearst on the grounds of her stage aspirations, and being older than William. William returned to Harvard, and time and distance resulted in the engagement to his second significant romantic love being broken after 18 months.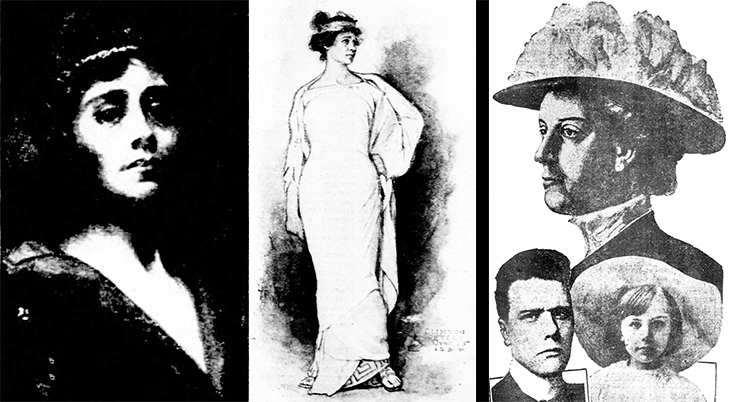 (Eleanor Calhoun 1894 Sketches: Clinton Peters | Princess & Prince Hreblianovich w. daughter Princess Mara 1912)
Like Sybil before her, Eleanor Calhoun followed her dream overseas and became a success on stage. She hobnobbed with British royalty, and was royalty herself in June 1903 when she married exiled Prince Stephen Lazar Eugene Lazarovich-Hrebelianovich (of the defunct Royal House of Serbia). Eleanor and Hearst remained on friendly terms despite the broken engagement and their later marriages.
William had a growing interest in politics himself, and asked his father to give him control of The San Francisco Examiner in 1887. Soon after, he moved to New York City and purchased The New York Journal so that he could expand his newspaper empire.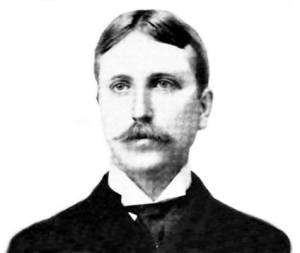 (Publisher William Randolph Hearst age 28 c. 1891)
William Randolph Hearst hired top editors and writers such as Mark Twain and Jack London. He's also credited with creating tabloid or "yellow journalism", characterized by highly sensationalized headlines in large font, backed by stories that were often based on fables instead of facts.
George Hearst was 70 when he died in February 1891, while he was still in office as a Senator.
George's wealthy widow Phoebe Hearst became well known for her support of suffragism, and financial backing of emerging artists (such as her son's friend, portrait painter Orrin Peck), education (endowing many buildings on California campuses), and architects (like Julia Morgan, who designed many of those same campus structures). 
During the 1890s William refurbished a property at Pleasanton, California, where his father had begun a stock farm, which became known as El Rancho del Oso. On a trip to Italy he purchased a well-head in Verona, and had it installed at this ranch. When William moved to New York, his mother Phoebe moved out to the ranch and made vast improvements again, re-christening it La Hacienda del Pozo de la Verona.
The rhetoric and editorials published in Hearst's newspapers helped push the U.S. into the 1898 Spanish-American War. William had a vested interest in the outcome, due to the vast Hearst landholdings in Mexico (Babicora Ranch).
William's grandfather Randolph Walker Apperson was 91 when he died November 14, 1900. His widow, Hearst's grandmother Drusilla Whitmire Apperson, was 87 when she died on January 21, 1904 at her Lawrence Station home. 
Politics, Millicent Willson, and Magazines
Like his father before him, William Randolph Hearst's ambition and desire to influence politics prompted him to run for public office in the early 1900's with mixed success. In 1902 & 1904 he was elected as a New York Democrat to the U. S. House of Representatives.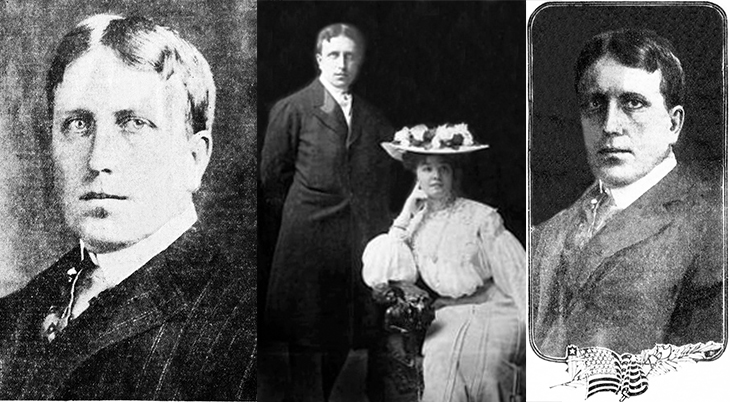 (Congressman William Randolph Hearst 1902 | Milllicent Willson Hearst 1903)
In 1897, 34-year-old William Randolph Hearst's eye was caught by 14-year-old Millicent Willson, a New York showgirl appearing in a vaudeville act with her older sister Anita.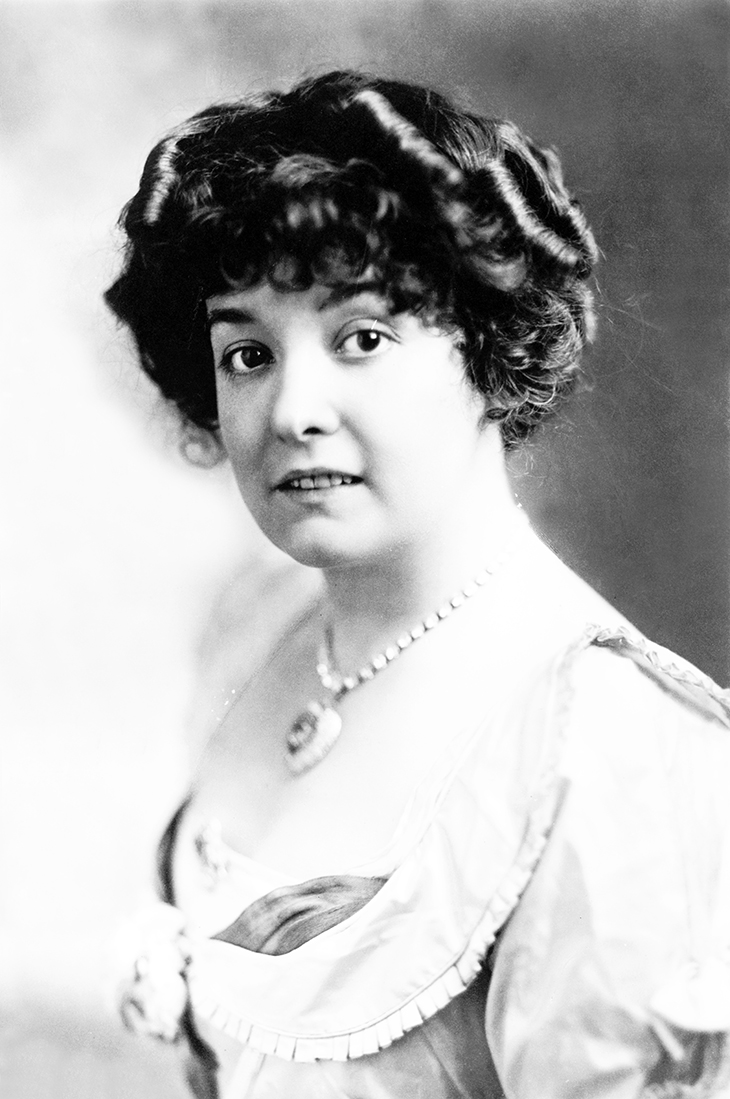 (Millicent Veronica Willson Hearst 1914 Photo: Harris & Ewing)
"Mrs. Hearst, Sr., was Millicent Wilson, of the vaude team of Willson Sisters. Over a generation ago the sisters used to spend the summer in a cottage at Atlantic Highlands with their parents, Mr. and Mrs. James Willson. Hearst used to visit over the week-end, coming from town in a steam launch. At that period the life-saver and swimming teacher at Atlantic Highlands was the late Thomas Ince, who became a millionaire film producer." – Variety, August 6, 1930
Millicent's father name was George Willson (not James as per Variety), and before he became a music publisher and president of the American Advance Music Company, he'd been in vaudeville. According to some sources, her mother Hannah Murray Willson had been a brothel owner.
Millicent was only 14 when she and her older sister Anita began a vaudeville act of their own on Broadway, catching the eye of W.R. Hearst – almost 20 years Millicent's senior. The day before he turned 40, William Randolph Hearst married Millicent Willson on April 28, 1903, ending 6 years of courtship.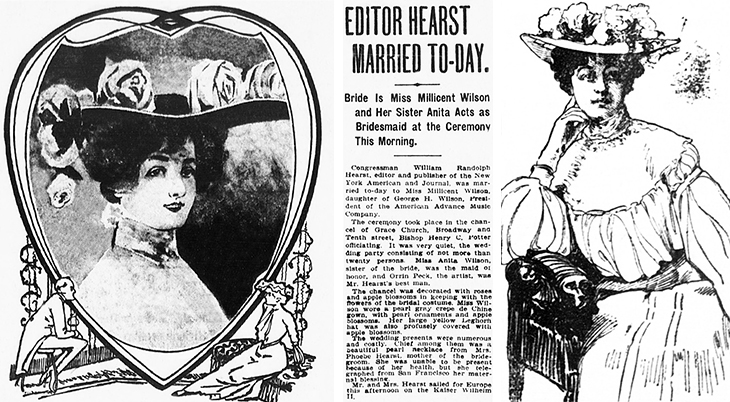 (Millicent Veronica Hearst 1903 Illustrations – Apr. 28: The Evening World | Sept. 9: Sisterville Daily Oil Review)
Although Hearst's mother Phoebe was unable to attend the wedding due to her health, she sent a pearl necklace to the bride. Millicent's sister Anita Willson was Millicent's maid of honor, and William's childhood friend Orrin Peck was the best man.
Immediately after a celebratory wedding breakfast at the Waldorf Astoria Hotel (courtesy of famed Chef Oscar), the couple set sail for Europe on the Kaiser Wilhelm II luxury ocean liner. They arrived in Paris, where it was likely a shock to William to read that his former fiancee Sybil Sanderson had died earlier that week.
Millicent and William Randolph Hearst's honeymoon drive across Europe spawned the launch of a new magazine he published, Motor.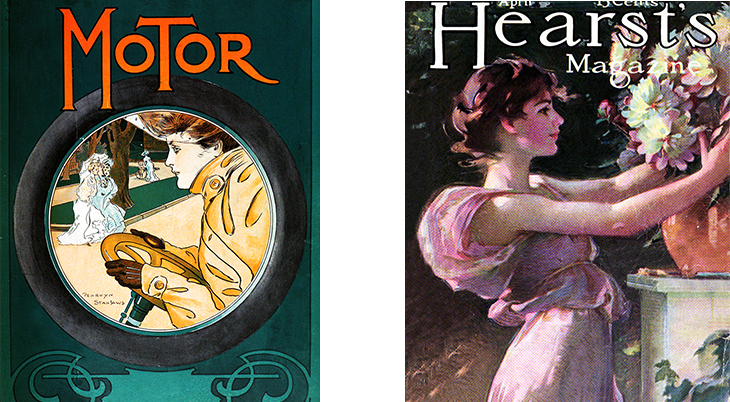 (Motor 1904 Cover: Penrhyn Stanlaws | Hearst's 1913 Cover)
From this magazine, yet another Hearst publishing empire was born – Hearst Magazines. He founded or purchased many magazines still in print today (Good Housekeeping, Harper's Bazaar, Cosmopolitan, etc.), and continued to hire top writers, artists & illustrators (A.M. Hopfmuller), and editors away from his competitors. 
 (William Randolph Hearst 1910 Photo: Bain News Service / U.S. Library of Congress)
William and wife Millicent Hearst lived in New York and had five sons – George Randolph Hearst Jr. (b. 1904), William Randolph Hearst., Jr. (b. 1908), John Randolph Hearst (b. 1910), and twin boys Randolph Apperson Hearst and Elbert Willson Hearst (b. 1915); Elbert was later known as David Whitmire Hearst.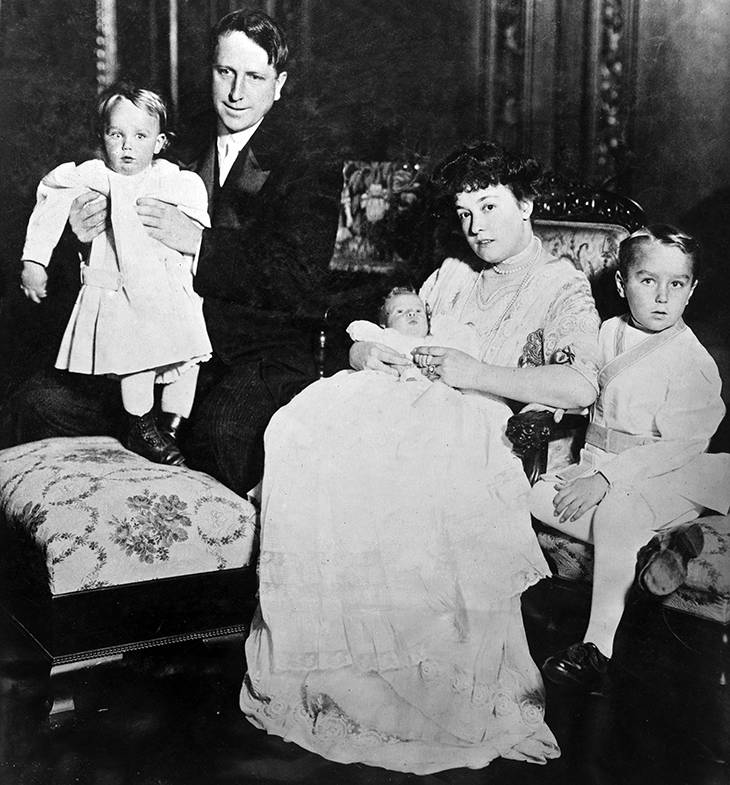 (William Randolph Hearst holding William Jr., Millicent holding baby John, & George c. 1910; Bain News Service)
After running unsuccessfully as an candidate for Mayor of New York City in 1905, and losing a 1906 campaign for consideration as a candidate as governor, William dropped out of politics. He continued to buy more newspapers, eventually owning 31 newspapers in 13 cities (daily and Sunday papers combined) by 1915.
It was a natural progression for Hearst to go from print newspapers, to newsreels as the motion picture industry began to take hold in the 1910s.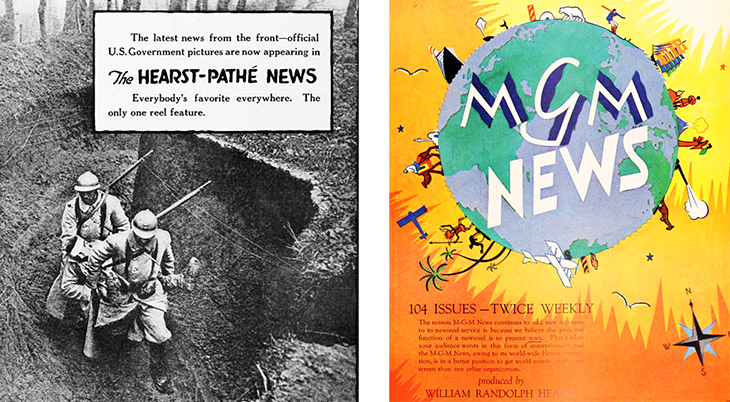 (Hearst-Pathe News: 1918 | MGM News Produced by William Randolph Hearst 1929)
The Hearst-Selig Weekly newsreel began in 1914, and motion pictures was the next step. The International Film Service Company was founded in 1919 by Hearst. 
Below from left, William Randolph Hearst in 1920 outside the International Studio in New York, with movie director Robert G. Vignola and Hearst's close friend, The New York Journal newspaper editor Arthur Brisbane.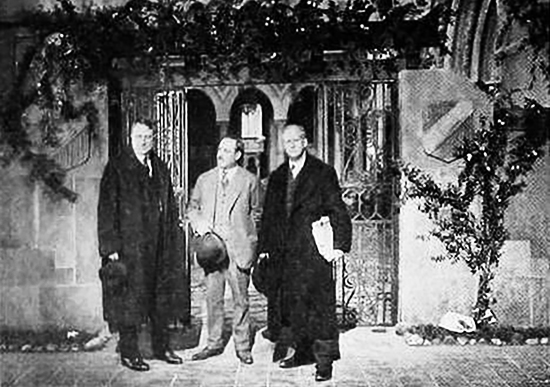 (William Randolph Hearst, Robert G. Vignola & Arthur Brisbane 1920 Photo: Motion Picture News)
Millicent and William Randolph Hearst often visited the San Simeon area in California with their young sons to camp at the now 240,000 acre Hearst Ranch. Phoebe had inherited it when George died in 1891, and upon her death in 1919, William became the owner. He was soon living at the ranch, while Millicent stayed in New York City with their sons. There were two reasons for this….
Shortly after inheriting the ranch, Hearst had begun working closely with architect Julia Morgan on the design and construction of what would become eventually become known as Hearst Castle (but only after his death). The castle was built on top of Camp Hill, where he had loved the commanding views as a child and young man. William Randolph Hearst was 56 when construction on Hearst Castle began; he was 84 when it was completed. It would be one of the great loves of his life.
The second reason was the entrance on the Hearst life stage in 1916 of Ziegfeld Follies New York showgirl and actress Marion Davies. A short but intense period of courting followed, complicated by Hearst's marriage to Millicent, and a 34 year age difference. By the early 1920s, Marion was well established as Hearst's mistress and he had moved her out to California to be closer to him. Marion Davies would prove to be the greatest and most enduring love of his life. 
Although they remained separated until Hearst's death, Millicent Hearst continued to visit the ranch with the boys. In 1929 she even played host (as William's wife) at Hearst Castle when Winston Churchill visited San Simeon (Marion discreetly stayed away).
Note: This article was first published in 2015 as Remembering William Randolph Hearst, Part 1 of 3. It has been updated with new & additional content.
More:

William Randolph Hearst, Part 3 of 3: Marion Davies & The Thomas Ince Affair

Additional Resources: 
William Randolph Hearst: American (1936) by Mrs. Fremont Older
The Chief: The Life of William Randolph Hearst (2000) by David Nasaw
*Images are believed to be in the public domain, used by permission, or Creative Commons licensed & sourced via Wikimedia Commons, Vimeo, YouTube, or Flickr, unless otherwise noted*