Done in August 1951
Boomer Trivia From August 1951: William Randolph Hearst Dies, An American in Paris Premieres Starring Gene Kelly & Leslie Caron, Babe Didrikson-Zaharias wins LPGA Championship
Leslie Caron Film Debut in An American In Paris
The musical film An American in Paris (1951) premiered in London, England on August 26, 1951; it opened across North America in November 1952.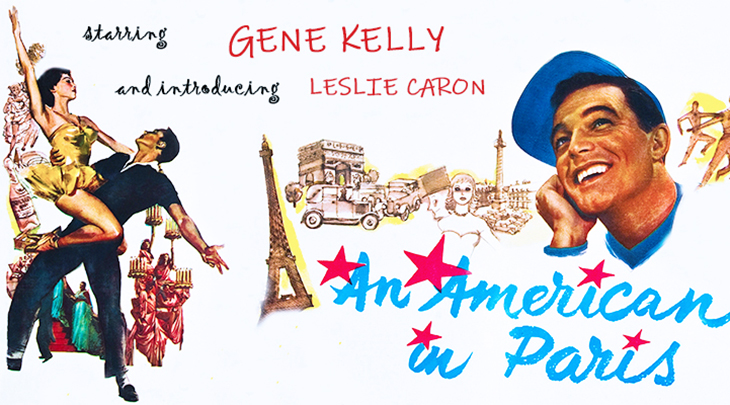 (Gene Kelly & Leslie Caron 1951 An American in Paris Modified Movie Poster)
An American in Paris leading man Gene Kelly – an accomplished singer, dancer, and actor – also choreographed the movie, which was directed by Vincente Minnelli. 
Co-starring with Gene Kelly in An American in Paris (1951) in her first movie, is former ballet dancer turned actress Leslie Caron. An American in Paris features music and lyrics by George and Ira Gershwin, and a closing 17-minute ballet sequence that reputedly cost $500,000.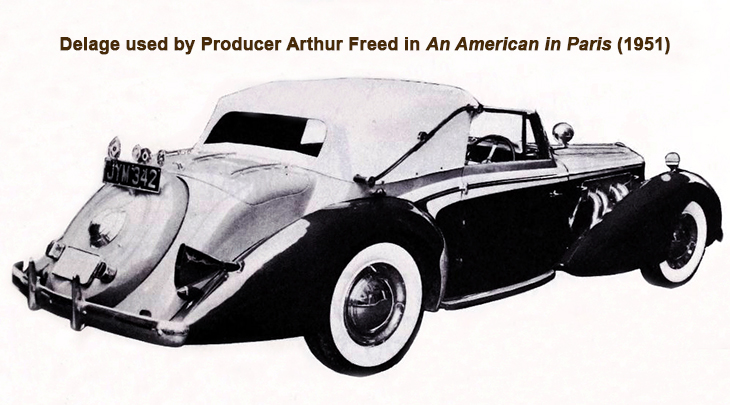 Gene Kelly is American WWII veteran and struggling artist in Paris Jerry Mulligan. Oscar Levant plays his friend and neighbor, while Nina Foch is an heiress and art patron that wants more from Jerry than his paintings. Leslie Caron is Jerry's love interest Lise Bouvier. Uncredited but filling supporting roles or cameos, are former silent film star Anna Q. Nilsson, Hayden Rorke, and actress Judy Landon, who also appeared in Gene Kelly's next musical, Singin' in the Rain (1952).
Produced by Arthur Freed, in addition to winning Best Picture, An American in Paris won another five Academy Awards at the 1952 Awards ceremonies: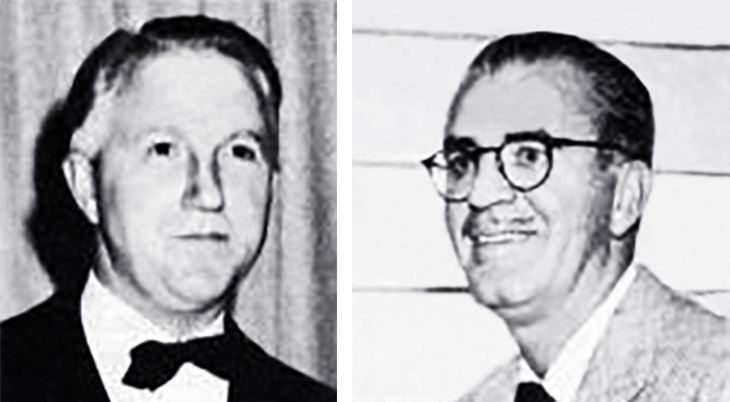 (Preston Ames & Cedric Gibbons 1952 Photo: Production Design)
Best Art Direction, Color (Preston Ames – 1st of 2 wins, Cedric Gibbons – 8th of 11 wins, F. Keogh Gleason – 1st of 4 wins, Edwin B. Willis 5th of 8 wins); Best Costume Design, Color (Orry-Kelly – 1st of 3 wins, Walter Plunkett, Irene Sharaff – 1st of 5 wins); Best Scoring of a Musical Picture (Saul Chaplin – 1st of 3 wins, Johnny Green – 2nd of 4 wins); Best Writing, Story and Screenplay (Alan Jay Lerner 1st of 2 for screenplay); and Best Cinematography, Color (Alfred Gilks).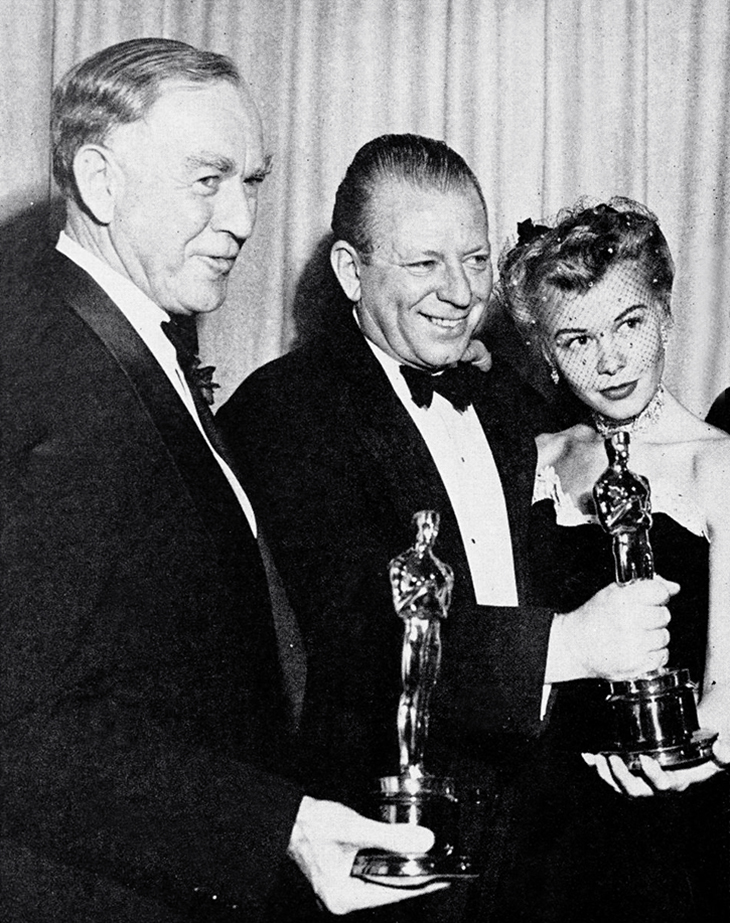 (Alfred Gilks / An American in Paris & William Mellor / A Place in the Sun presented with their Oscars by Vera Ellen at the Academy Awards ceremony in April 1952)
Gene Kelly also received the only Academy Award of his career – an Academy Honorary Award for "versatility as an actor, singer, director and dancer, and specifically for his brilliant achievements in the art of choreography on film."
Babe Didrikson Zaharias Wins the LPGA World Golf Championship
On August 12, 1951, American ladies golfer Mildred "Babe" Didrikson-Zaharias won the LPGA World Golf Championship, her 8th major championship that year. Didrikson-Zaharias was the leading money winner in ladies golf in 1950 and 1951.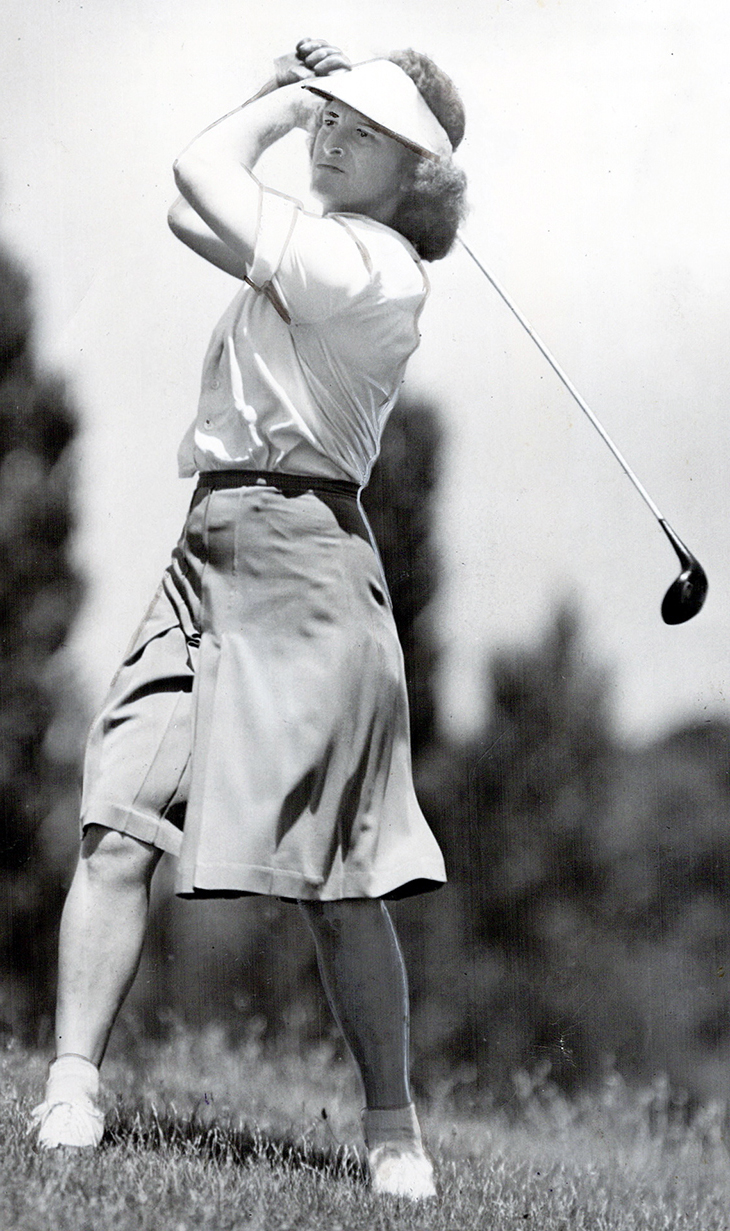 (Babe Didrikson Zaharias 1948)
Born on June 26, 1911, Babe Didrikson became a professional golfer in January 1938 when she was teamed with pro wrestler and sometime actor George Zaharias in the Los Angeles Open men's PGA tournament. They married 11 months later, on December 23, 1938.
She reverted to amateur status in 1942 and won several major amateur ladies golf championships, before turning pro again in 1947.
An all-around athlete, Babe Didrikson had been a star in basketball and track & field, before she took up golf as an amateur in 1935.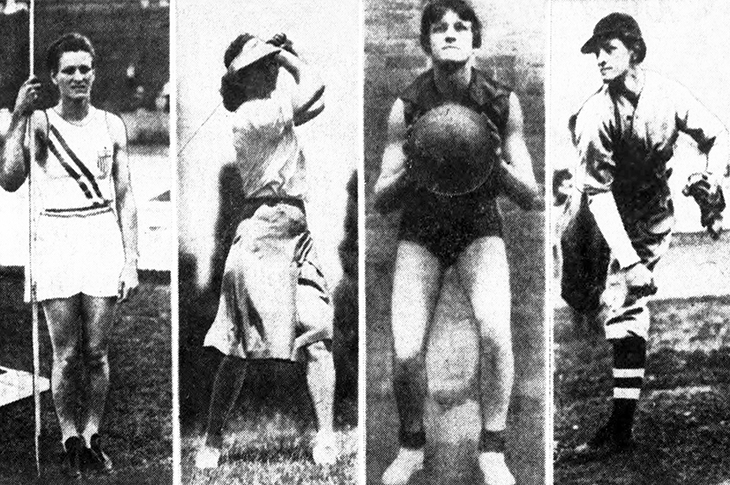 (Babe Didrikson Zaharias c. 1932 Olympic Javelin; Golf, Basketball & Baseball: AP Photos)
She won 3 track and field medals at the 1932 Olympics – a gold medal in the 80 meter hurdles, breaking her own world record time; another gold medal in the javelin with an Olympic record throw; and a silver in the high jump. She played herself in Pat and Mike (1952) starring Spencer Tracy and Katharine Hepburn.
Her friend and fellow professional golfer Betty Dodd moved into Babe and George's Beaumont, Texas home in 1950.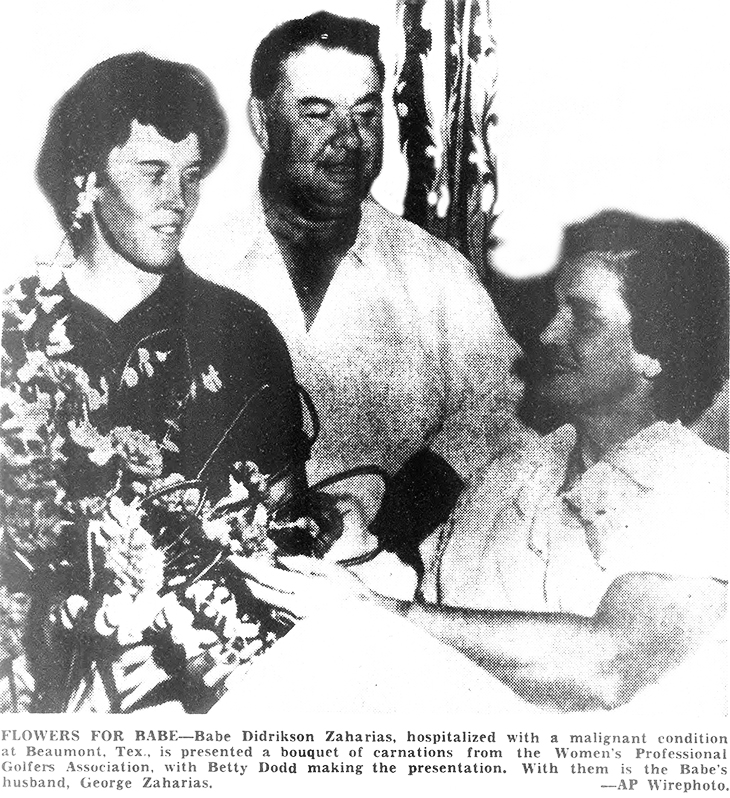 (Betty Dodd, George Zaharias & Babe Didrikson Zaharias 1953 AP Wirephoto)
Babe Didrikson-Zaharias was diagnosed with colon cancer in 1953.  After a comeback year in 1954, she died in September 1956 at the age of 45.
While filming the biographical drama Babe (1975), actress Susan Clark played Babe and met actor Alex Karras, who played George Zaharias. Susan Clark and Alex Karras were married from 1980 until he died in 2012. 
William Randolph Hearst Dies
Millionaire newspaperman and industrialist, 88-year-old William Randolph Hearst died on August 14, 1951 at the Beverly Hills, California home he shared with his live-in mistress of 34 years, Marion Davies. His estranged wife Millicent Willson Hearst was in New York City, her primary residence for most of those 34 years.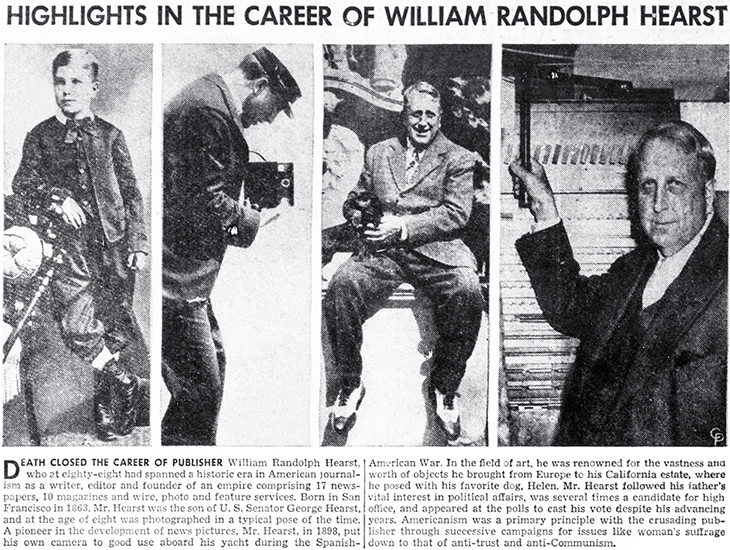 (William Randolph Hearst Career Highlights Photos & Article: CP / August 1951 The Daily Record)
Hearst's funeral in San Francisco was attended by over 1,000 mourners, but Marion Davies was not there.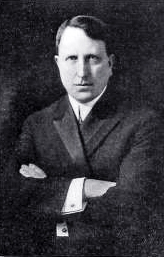 (William Randolph Hearst 1916 Motography)
William Randolph Hearst had passed away while a Marion Davies slept. When she woke up, she was told that four of his sons (William Randolph Hearst, Jr., George, , David, and Randolph Hearst), had already removed his body from the house, had it embalmed, and flown to their mother Millicent's San Francisco home.
Hearst's other son John accompanied Millicent from New York to San Francisco for the funeral, which Marion was not invited to attend.
Among his 60 honorary pallbearers were General Douglas MacArthur, Louis B. Mayer, and former President Herbert Hoover. Hearst was buried in San Francisco's Cypress Lawn Cemetery near the tombs of his parents.
The will that was filed in court only a few hours after Hearst died, left his newspaper fortune to his widow Millicent Wilson Hearst and 5 sons. His entire estate was estimated to be in excess of $200 million at that time. There was an additional, separate bequest to Millicent of $1.5 million in cash and $6 million in trust. 
One codicil to the will left the Beverly Hills house to Marion Davies (Douras) because she,
"Came to my aid during the great depression with a million dollars of her own money, thereby doing much to save myself and my institutions from financial disaster at that time." William Randolph Hearst Will, The Evening Star, Aug. 15, 1951
However, another codicil revoked this bequest to Marion. It was later explained that it was Marion Davies that had originally bought the Beverly Hills house, deeded it to Hearst, and he had already given the deed back to her when he died.
The will specified also that his 5 sons with Millicent were his only children:
"I hereby declare that the only children I have ever had are my sons in this will named…If any one else shall establish in court…that he or she is a child of mine or issue of a child of mine, other than by my said sons, such person shall receive $1…I hereby declare that any such asserted claim of heirship or kinship to me is and would be utterly false and wholly fraudulent." – Hearst, The Evening Star, August 15, 1951
This pre-emptive disavowal was probably just good boilerplate lawyering for a multi-millionaire. It may also have been to ensure that Patricia Van Cleve Lake – who was raised as Marion's niece, lived with and traveled with Marion and Hearst for most of her life – would not be tempted to tell the world that she was their love child. It wasn't until she was dying in 1993, that Patricia Lake told her son in a deathbed confession, that she was the daughter of Marion Davies and William Randolph Hearst.
Note: This article was first published in 2016. It has been updated with new / additional content.
*Images are assumed to be in the public domain and/or Creative Commons licensed & sourced via Wikimedia Commons, Vimeo, YouTube, or Flickr, unless otherwise noted*