What Was New in June 1952
News Headlines & Entertainment Trivia from June, 1952: Classic Movie Release – Pat And Mike; The Wild Side of Life by Hank Thompson is #1 in Country Music; TV Sitcom My Little Margie Premieres 
Pat and Mike Film Premiere
The romantic comedy Pat and Mike starring real-life lovers Spencer Tracy and Katharine Hepburn, premiered on June 6, 1952. Directed by George Cukor, the screenplay for Pat and Mike was written specifically with stars Tracy and Hepburn in mind, by their friends Ruth Gordon and Garson Kanin.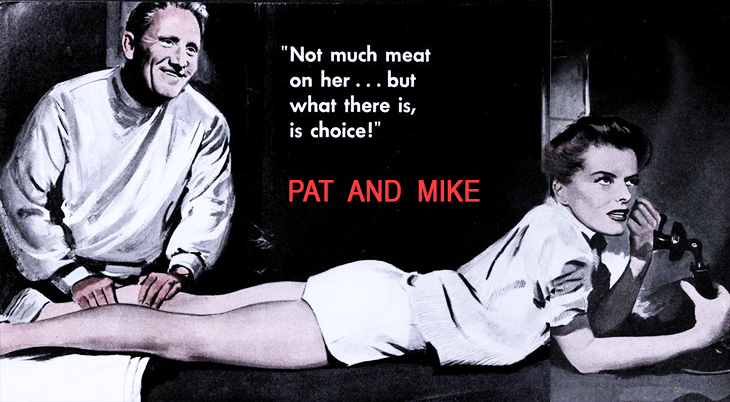 Katharine Hepburn plays Pat Pemberton, a former "Physical Ed" teacher, who is a gifted golfer and tennis player turning pro. Her fiance Collier Weld (William Ching) puts her off her stroke with his unhelpful bossying; he wants her to quit and become a housewife. Spencer Tracy plays sports promoter Mike Conovan, who's other clients include dim boxer Davie Hucko (Aldo Ray). Pat's winning form comes to the forefront and the inevitable happens, but only after viewers have the chance to enjoy the quiet charm and humor of Spencer Tracy and Katharine Hepburn playing a couple onscreen. Charles Bronson, Jim Backus, Chuck Connors (in his first-ever film role), and Our Gang / Little Rascals alum Carl "Alfalfa" Switzer have small supporting roles in Pat and Mike.
This trailer for Pat and Mike features an introduction by Aldo Ray, and features Katharine Hepburn, Spencer Tracy, and Charles Bronson.
Sports enthusiasts may recognize several athletes from the worlds of golf (Babe Didrikson Zaharias, Helen Dettweiler) and tennis (Gussie Moran, Don Budge, Alice Marble, Frank Parker), who play themselves in Pat and Mike. Katharine Hepburn was herself a good athlete and did all of her own golf and tennis scenes in the movie.
Pat and Mike was the seventh of nine films that starred Katharine Hepburn and Spencer Tracy  – after Woman of the Year (1942), Keeper of the Flame (1943), Without Love (1945), The Sea of Grass (1947), State of the Union (1948), Adam's Rib (1949), and before Desk Set (1957) and Guess Who's Coming to Dinner (1967).
The Wild Side of Life is #1
Hank Thompson and His Brazos Valley Boys reached #1 on the Billboard country music song charts on May 10, 1952 with The Wild Side of Life.
Written by Arlie Carter and William Warren, their catchy song title and lyrics in The Wild Side of Life inspired later songs:
The lyric "I didn't know God made honky tonk angels", inspired the response from a woman's perspective, "It Wasn't God Who Made Honky Tonk Angels", which was a #1 hit for country music singer Kitty Wells later in 1952.
Alt rock singer Lou Reed's "Walk on the Wild Side" 1972 hit song was ultimately inspired by The Wild Side of Life (by way of the 1956 novel A Walk on the Wild Side, by author Nelson Algren).
Country music singer Martina McBride and her father Daryl Schiff sang a combination of The Wild Side of Life and It Wasn't God Who Made Honky Tonk Angels. Waylon Jennings and his wife Jessi Colter recorded a similar version in 1981, below.
Hank Thompson's cover of The Wild Side of Life stayed at #1 for 15 weeks in 1952, the longest of any #1 country music hit song that year, and was declared the #1 Country Music Song of the Year for 1952.
Later artists who covered The Wild Side of Life include country music legends Burl Ives, Hank Williams, Ray Price, Conway Twitty, Merle Haggard, Mickey Gilley, Webb Pierce, Leon Russell & Willie Nelson, and Freddy Fender. Rocker Jerry Lee Lewis covered it, and Rod Stewart has performed The Wild Side of Life in concert.
My Little Margie Television Debut
The sitcom My Little Margie with former movie stars Gale Storm as Margie and Charles Farrell as her father Vern Albright, debuted on June 9, 1952.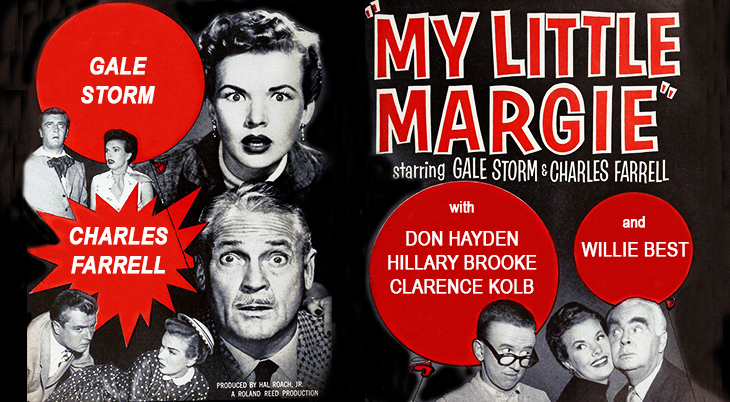 (Gale Storm & Charles Farrell 1955 My Little Margie)
The premise of My Little Margie has Margie Albright and her widowed father Vern living in a New York apartment (the Carlton Arms Hotel). Vern is a VP at an investment firm, where his boss is George Honeywell (Clarence Kolb) and his secretary is Betty (Dian Fauntelle). Vern's girlfriend Roberta Townsend is played by Hillary Brooke, and Margie's boyfriend Freddy is portrayed by Don Hayden. Their next-door neighbour (and Margie's partner in shenanigans) is Mrs. Odetts (Gertrude Hoffman), and the building's elevator operator is Charlie (Willie Best) 
The very first episode of My Little Margie – "Reverse Psychology", below – aired on June 9, 1952. It features Charles Farrell, Gale Storm, Willie Best, Hillary Brooke, Don Hayden, Clarence Kolb, and Eileen Stevens as maid Mildred.
My Little Margie ran from 1952 to 1955, switching from CBS to NBC along the way, and at one time, airing parallel episodes on radio.
Among the many actors who had guest-starring or supporting roles on My Little Margie, are actors Paul Maxey (later star of The People's Choice), Roy Roberts, Peter Leeds, John Hubbard, Lucien Littlefield, John Lupton, Fess Parker, Michael Fox, Dorothy Patrick, George Nader, and many others.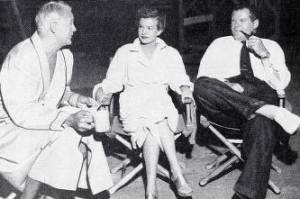 (Charles Farrell, Gale Storm & Hal Roach Jr. talking between takes of My Little Margie in 1955)
The series was produced by Hal Roach Jr., the son of Our Gang / Little Rascals film shorts creator Hal Roach.
My Little Margie is now in the public domain, and if you can't find it on a television station, you may be able to watch episodes on YouTube or other online channels.
While she was starring on My Little Margie, Storm (who had begun her career as a film actress in 1940) was signed to a recording contract by Dot Records and her first single "I Hear You Knockin'" (1954) was a massive hit. 
Both Storm and her co-star, former silent film matinee idol Charles Farrell, went on to star in other television series after My Little Margie was cancelled – Storm in The Gale Storm Show / Oh! Susanna, and Farrell in The Charles Farrell Show.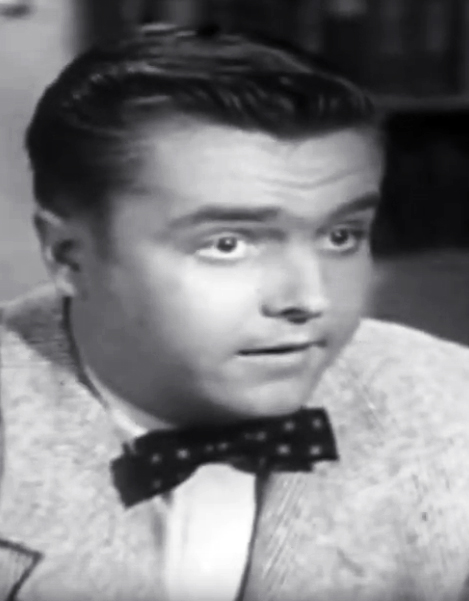 (Don Hayden 1955 My Little Margie)
Don Hayden, who played Margie's boyfriend Freddie Wilson, was the son of veteran Canadian actor Harry Hayden and American actress Lela Bliss.
Aside from his role as a semi-regular on My Little Margie, between 1945-1958 Don Hayden acquired 1 credited film role, in the 1945 movie Twice Blessed. Otherwise, his short film career consisted of un-credited movie roles or small parts on TV.
His father Harry Hayden guest-starred twice on My Little Margie. In this 1952 episode Vern's Chum's, both of Don's parents played Freddie's parents Stephen and Trixie Wilson.
While he was a regular on My Little Margie, Don Hayden married actress Melinda Markey (daughter of Joan Bennett and Gene Markey) in 1954. In 1958 Hayden and Markey were divorced, and Don made his last appearance on screen in an episode of The Life and Legend of Wyatt Earp. He retired from film and was 71 when he died in 1998.
*Images are believed to be in the public domain and/or Creative Commons licensed (Flickr, YouTube, Wikimedia, Vimeo) or used by permission, unless otherwise noted*