Great Balls of Fire - Jerry Lee Lewis Is at Peace
"The Killer", rock and roll pianist and singer Jerry Lee Lewis, is no longer the Last Man Standing, as his 2006 hit record proclaimed. Lewis was as well known for his riotous personal life (crime, violence, drinking, drugs, and 7 marriages), as his aggressive piano playing and singing.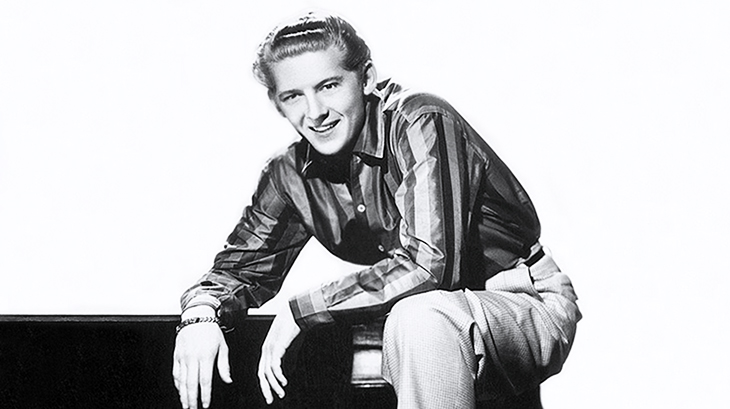 (Jerry Lee Lewis & piano circa 1950's)
The New York Times reported that Jerry Lee Lewis died October 28, 2022 at the age of 87, at his Mississippi home. His story began in Louisiana in the dirty thirties of the Great Depression.
Louisiana, Bigamy and the birth of the Million Dollar Quartet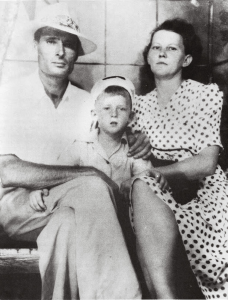 (Elmo, Jerry Lee and Mamie Lewis)
Jerry Lee Lewis was born September 29, 1935 in Ferriday, Louisiana.
The Lewis family lived in poverty and moved frequently; Jerry Lee's mother Mamie picked cotton and his father Elmo was a carpenter, farmer, and illegal whiskey-maker (for which he served jail time). Like the rest of his ten brothers and sisters, Elmo was also a singer and musician.
Elmo's brothers and sisters and their children often married cousins and in-laws.
One of Elmo's sisters married into the Gilley family, and another married into the Swaggart family – giving young Jerry Lee two first cousins that would gain their own fame – country singer Mickey Gilley and evangelist Jimmy Swaggart. All the cousins attended fiery Assembly of God revivalist church meetings.
Jerry Lee's older brother Elmo Kidd Jr. was killed by a drunk driver at age 9 in 1938; one sister Frankie Jean died in 2013, while another, Linda Gail, who opened some of his concerts, survived him.
In his 2014 biography Jerry Lee Lewis: His Own Story, written by Rick Bragg, Jerry Lee recalled seeing his first piano up close when he was 4 years old; and after touching the first key, he was able to instinctively pick out the tune to Silent Night, Holy Night:
"And I reached up and, for one reason or 'nother, it just come to me."
His father mortgaged their farm several years later to buy an upright piano for Jerry Lee to hone his skills on, which he did for hours on end. As a teenager Jerry Lee Lewis and his cousins Mickey Gilley and Jimmy Swaggart would often play piano together. Mickey Gilley passed away in May of 2022, the same year Jerry Lee died.
Hymns and gospel music were the approved songs for Jerry Lee to play and sing, but he also listened to the Grand Ole Opry. He was influenced by Jimmie Rodgers "the father of country music", Moon Mullican who played "hillybilly boogie", his piano playing cousin Carl McVoy, blues music, and Hank Williams.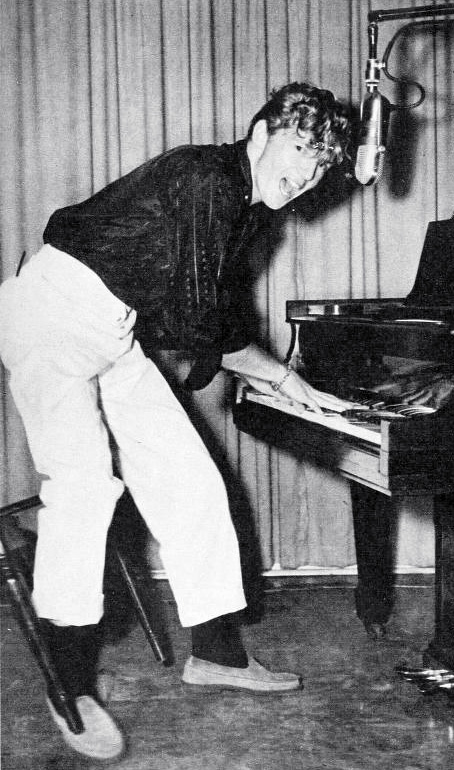 (Jerry Lee Lewis c. 1958)
Jerry Lee's first performance singing and playing piano was in his church. According to one story, his nickname "Killer" came about when he got into a fight with his teacher in 7th grade, over being kicked back down to 6th grade which he had failed, due to rarely attending classes or doing homework. 
By age 14 Jerry Lee Lewis had quit school and was playing piano and singing in clubs in nearby Natchez, telling the owners he was 21.
In 1951 he met Dorothy Barton, the daughter of a traveling evangelist, in church. The couple began dating and 16-year-old Jerry Lee and 17-year-old Dorothy, virgins both, were married in February 1952. Jerry Lee lied and indicated he was a 20 year old farmer on the marriage license.
The marriage was over within a few months; Jerry Lee would take off to play in honky-tonk clubs, with ready access to other women.
Dorothy moved home to her parents and Jerry Lee went to New Orleans, but divorce papers were never filed as Jerry Lee was not a big believer in either the law or paperwork.
Below, an audio recording of Jerry Lee Lewis playing New Orleans Boogie in 1952.
At his mother's behest, Jerry Lee Lewis enrolled at the Southwest Bible Institute in Waxahachie, Texas to "use his God-given talents as a singer and piano player to bring people to the Lord", but was quickly booted out after his enthusiastic performance at an assembly. Jerry Lee returned to playing in clubs and honky-tonks. Never the most law-abiding of children or teenagers – joyriding in cars, in 1953 he turned to "selling" sewing machines in a scam, and then on an impulse stole a pistol, for which he was sentenced to 3 years probation.
That same year Jerry Lee Lewis began dating 17-year-old Jane Mitcham. When Jane got pregnant and Jerry Lee told her he couldn't marry her because he was already married, Jane's family showed up with horsewhips and guns and they got married anyway (September 1953). Now a bigamist for the first time, Jerry Lee's divorce from Dorothy Barton came through a couple of weeks later. The couple fought verbally and physically; Jane believed she was married and Jerry Lee didn't think he was, legally. Jane and Jerry Lee's son Jerry Lee Lewis Jr. was born November 1953 and Ronnie Guy Lewis as born in 1956. In his biography Jerry Lee said he didn't think Ronnie was his son. The couple divorced in October 1957.
Jerry Lee Lewis tried out for the Louisiana Hayride, cut a demo record in 1954 and tried unsuccessfully to get onto the Grand Ole Opry in Nashville in 1955, but it didn't pan out. Meanwhile he continued to play and sing at clubs and honky-tonks.
He made the trip to Memphis, Tennessee in 1956 to audition for Sun Records founder and music producer Jack Clement (Sam Phillips was on vacation); Lewis wanted to see if Sun Records and Sam Phillips could do for him what he had done for Elvis Presley with the young baby boomers. Jerry Lee Lewis recorded Crazy Arms.
This scene below from the slightly fictionalized 1989 Great Balls of Fire movie (based on Myra Gale Brown's autobiography by the same name) stars Dennis Quaid as Jerry Lee Lewis and Trey Wilson as Sam Phillips, and depicts a very similar recounting of events that Jerry Lee tells in his biography. In the background, the real Jerry Lee Lewis can be heard singing his re-recorded version of Crazy Arms.
Back home in Ferriday after the audition, Lewis met his cousin J. W. Brown for the first time. J. W. was Jerry Lee's father Elmo's sister Jane's son; the cousins had never met before because J. W. hadn't grown up in Ferriday. J. W. was a young father of two, and wanted to become a musician himself (he would play bass guitar in Jerry Lee's band). Jerry Lee was waiting to hear from Sam Phillips and at a loose end, so when J. W. invited Jerry Lee to move in with him at their home closer to Memphis, he did. Jerry Lee met J. W.'s son Rusty and his 12-year-old daughter Myra Gale Brown.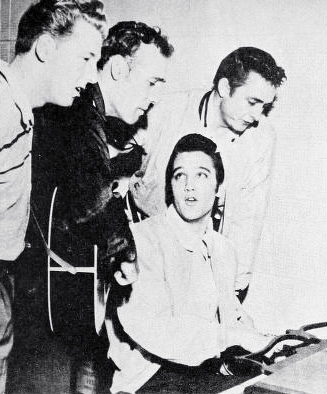 (Jerry Lee Lewis with Carl Perkins, Johnny Cash & Elvis Presley at Sun Records, 1956)
Jerry Lee Lewis was soon hired as a Sun Records session musician and began recording with other artists.
Perhaps the most famous recording to come from those sessions was the December 4, 1956 jam session with Elvis Presley, Johnny Cash, and Carl Perkins, now known as the Million Dollar Quartet.
Elvis and Jerry Lee were from the Assembly of God church and sang gospel songs they both knew.
Below, Elvis and Jerry Lee can be heard singing Just A Little Talk With Jesus during the session.
Jerry Lee Lewis continued as a session musician and also recorded solo singles – rock and roll and country music – throughout 1957. His live performances were known for his physical, aggressive keyboard playing – standing up, kicking the piano bench, playing with his heel. Although most of his music was rock and roll, there were some hard country and gospel tunes as well.
Jerry Lee Lewis, Carl Perkins, and Johnny Cash went on a months-long northern tour that included Canada; by the time the tour ended, Whole Lotta Shakin' Goin' On was getting national airplay, on it's way to becoming a hit courtesy of young baby boomer teenagers.  When the radio stations put a ban on playing Whole Lotta Shakin' Goin' On, Jerry Lee traveled to New York City and collared a spot on the Steve Allen Show.
Great Balls of Fire and Going Country

Whole Lotta Shakin' Goin' On (1957) went on to hit #3 on Billboard US charts, and #1 on the Country chart. It was entered into the Grammy Hall of Fame in 1998.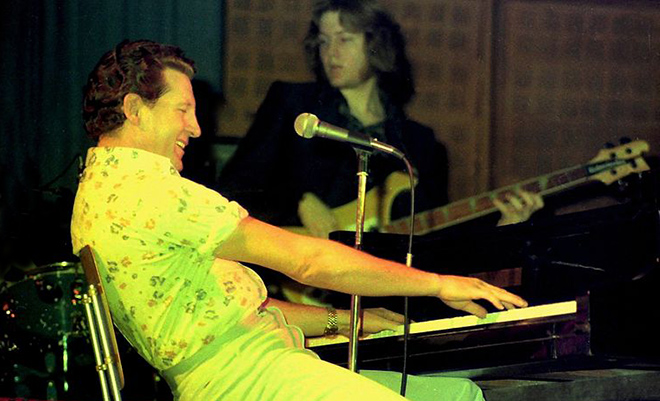 (Jerry Lee Lewis 1977 Photo: Klaus Hiltscher)
Great Balls of Fire (1957) was written by Otis Blackwell expressly for Jerry Lee Lewis to sing, but it almost didn't get made; Jerry Lee felt it was too worldly. Finally he did record it and it became a #2 Billboard US hit, and a #1 on the Country charts. It was  entered into the Grammy Hall of Fame in 1998. Both songs were propelled up the charts by young baby boomer teens in the 1950s.
A vintage Jerry Lee Lewis singing Great Balls of Fire.
Back in Memphis, Jerry Lee Lewis and Elvis Presley had became friends, hanging out and driving their competing Cadillac cars. Jerry Lee wanted the same level of commercial and critical success Elvis had achieved, and more; he wanted to be bigger than Elvis. Along with the music, they had their Assembly of God church upbringing in common; and both men were popping pills (amphetamines in Jerry Lee's case). Alcohol was a problem for Jerry Lee's father, and although Jerry Lee said in his biography he never drank that much, he was a hard drinking man like his father.
Meanwhile, wife #2 Jane (Mitcham) Lewis was still in Ferriday with their sons; Jerry Lee thought that like him, she was finding it hard to remember that they were married, and he was enjoying all the female adulation that came with success. Jerry Lee's sister had gotten married at age 12, and he'd had a 12 year old cousin who had gotten married the year before. He was spending time with Myra Gale Brown who was now 13 and in his/their eyes, a woman. Jerry Lee filed for divorce from Jane in September, 1957.
Jerry Lee Lewis promptly married Myra in December after obtaining a document that said she was 20 years old. Once again his divorce from wife Jane was not finalized when he married Myra, and he was a bigamist. It was nothing really new for the Lewis clan to marry cousins, and Jerry was adamant that women married very young in the Deep South.
His career was just getting started, performing concerts for $10,000/night, when Jerry Lee traveled to England for a concert tour in May of 1958; his divorce from Jane had just recently been finalized. Jerry Lee was cautioned by Sam Phillips and his brother to try and keep the marriage to Myra quiet, but Lewis saw nothing to be ashamed of and refused.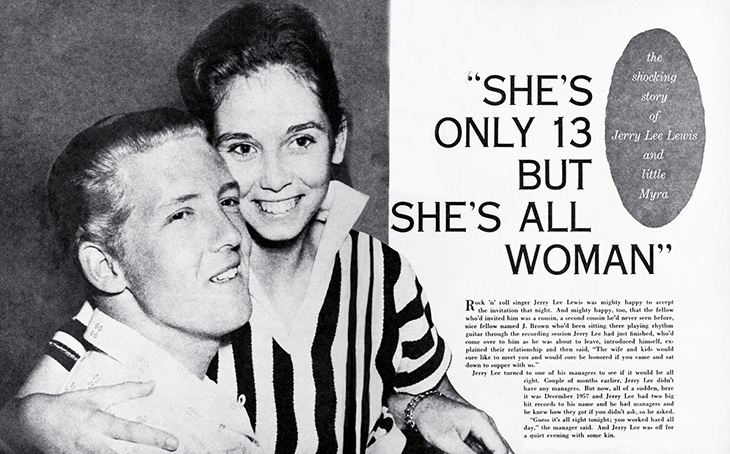 (Jerry Lee Lewis & wife Myra Gale Brown Lewis 1958 Modern Screen)
Jerry Lee Lewis brought Myra and his parents with him on the trip to England. A British reporter got wind of Jerry Lee's marriage to Myra, their familial relationship, her age (Myra and Jerry claimed she was 15 instead of 13), and the fact that they had gotten married when he was still legally married to Jane, and a scandal erupted.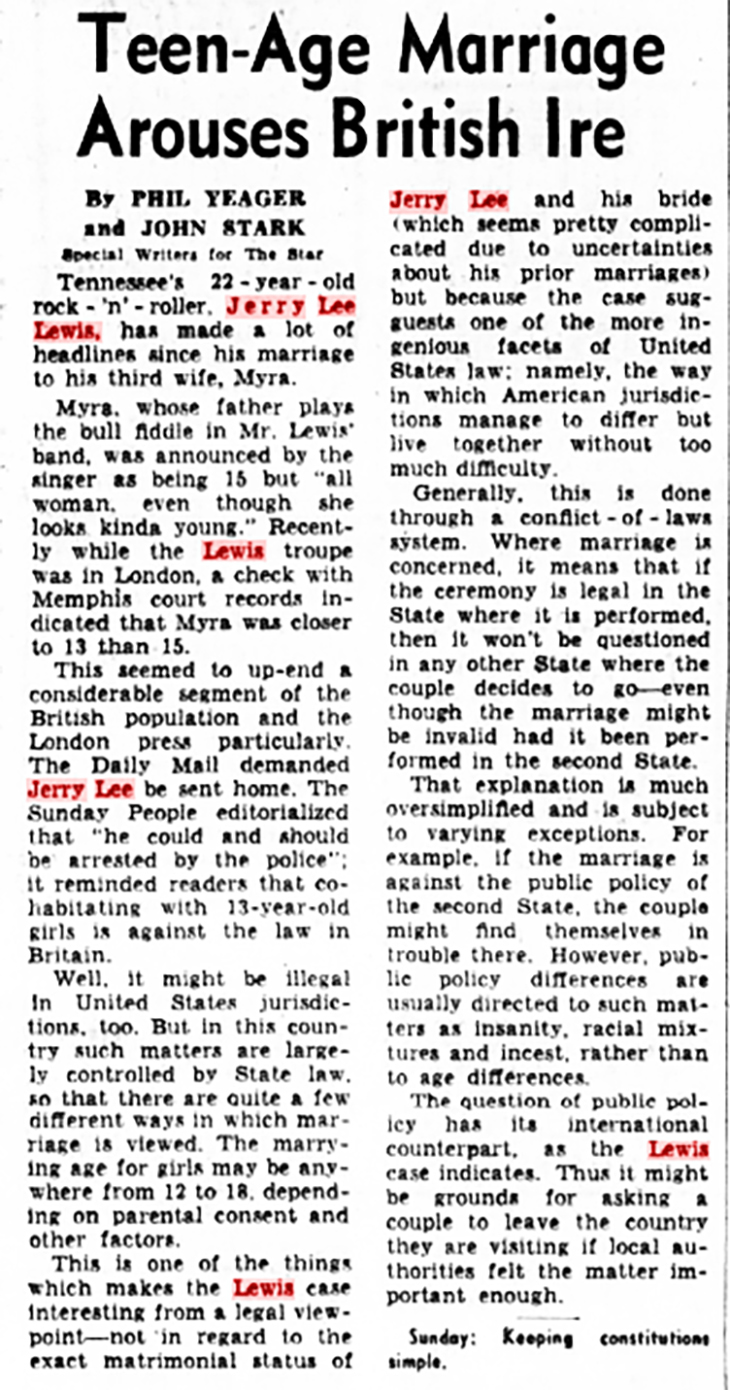 "Teen-Age Marriage Arouses British Ire" – The Evening Star, July 4, 1958
The England tour was cancelled after just 3 concerts. Jerry Lee and Myra returned to the US where they went through an other marriage ceremony, but it was too late to fix the damage done to his career. Below, Myra and Jerry Lee Lewis are interviewed. 
Jerry Lee Lewis was blacklisted from most US radio stations for many years. He was still under contract to Sun Records and kept releasing singles, but Sam Phillips didn't want to promote his records. His career was on the skids, back down to playing clubs again for $250/night.
He and Myra had son Steve Allen Lewis in 1959, and daughter Phoebe Allen Lewis in 1963; Steve died in a swimming pool accident in 1962, at age 3.
"Son of Singer Drowns in Pool – Memphis, April 23 (AP) – Steve Allen Lewis, 3-yhear-old son of rock 'n' roll singer Jerry Lee Lewis, drowned in a swimming pool at the Lewis suburban home here yesterday. The child, named for entertainer Steve Allen, apparently wandered away from his mother and fell into the pool, which was partially filled with rainwater, his grandfather said. Young Steve was the son of Mr. Lewis and 17-year-old Myra Gail Brown Lewis, the singer's third wife…Mr. Lewis was away from home yesterday filling a night club engagement in Milwaukee. He canceled the rest of the engagement and left for Memphis when he was told of his son's death." – The Evening Star, April 23, 1962
In 1961 Jerry Lee Lewis recorded What'd I Say, by Ray Charles, which was a hit in the US. Below, Jerry Lee Lewis performing What I'd Say on television in 1969: 

Jerry Lee Lewis did get airplay in Europe and his songs Sweet Little Sixteen (1962) and Good Golly Miss Molly (1963) were Top 40 hits there, while just barely cracking the Top 100 charts in the US. When his contract with Sun Records ended in 1963, Lewis went to Mercury Records (Smash Records division). His initial albums there were not successful, due in part to popularity of the British Invasion music with American baby boomers. However, his live concert album Live at the Star Club, Hamburg (1964) has since been critically acclaimed; at the time, it was not released in the US for legal reasons. 
Jerry Lee Lewis began collecting guns, his pill usage escalated, and the women multiplied; he was away touring almost every night of the year. During live performances he'd take out a gun and set it on the piano. Wife Myra would turn up unannounced at his concerts and hotels, where Jerry Lee's infidelity was obvious. Their marriage was falling apart and she threatened to divorce him.
In 1968 Lewis turned his focus to performing and recording hard country music, beginning with Another Place, Another Time (1968) by Jerry Chestnut, which went to #4 on the US Billboard Country charts.
From 1968-1977 Jerry Lee Lewis had 17 top 10 hit singles, including 5 #1 US Billboard Country hit songs such as There Must Be More to Love Than This (1970), To Make Love Sweeter For You (1968), Me and Bobby McGee (1971), Would You Take Another Chance on Me (1971) and Chantilly Lace (1972). In 1970 Myra and Jerry Lee Lewis were divorced after the private detectives she'd hired produced proof of his infidelity.
Lewis married for the fourth time to Jaren Pate in October 1971 and within a couple of weeks they were separated. Jaren's daughter Lori Lee Lewis was born in 1972 and in his biography Jerry Lee says he married Jaren partly because she was pregnant, but not with his child. The couple lived separately for 8 years before divorcing. His first child, son Jerry Lee Lewis, Jr. died in 1973 when his jeep overturned; he was only 19.
Jerry Lee Lewis in 1983 singing his 1971 #1 Country hit, Would You Take Another Chance on Me.
Jerry Lee Lewis mixed with alcohol and firearms proved not to be a good combination. In September 1976 he was holding a gun when it accidentally went off and he shot his bass guitarist, Butch Owens in the chest (Owens lived). Two months later, in November 1976 Lewis was given a gun while at a Memphis nightclub and later decided to go visit Elvis Presley (who had invited him to come over a day or so earlier). Jerry Lee drove his car (with the gun on the dashboard) into the front gates at Graceland and tried to throw a champagne bottle through the closed car window. Elvis had been watching the scene on closed circuit television and the gun was found when the Memphis Police were called.
Lewis disavowed any intent to kill Elvis, saying his feelings were hurt that Elvis would be afraid of him; he was charged with public drunkenness and carrying a gun. In his biography Jerry Lee Lewis rails against the injustice of Elvis bringing 14-year-old Priscillia Beaulieu home to Graceland and "hiding" her there for 8 years, finally marrying her when she turned 21…and never getting crucified in the press for it, unlike his own marriage to Myra.
Prophetically, Lewis recorded the song Middle Age Crazy (1977) and it became a #6 US Billboard Country hit song.
Peace for the Last Man Standing
In his 50+ years beginning in the 80's, Lewis's commercial success was on the downswing, although he continued to record and perform. He was inducted into the new Rock & Roll Hall of Fame in 1986.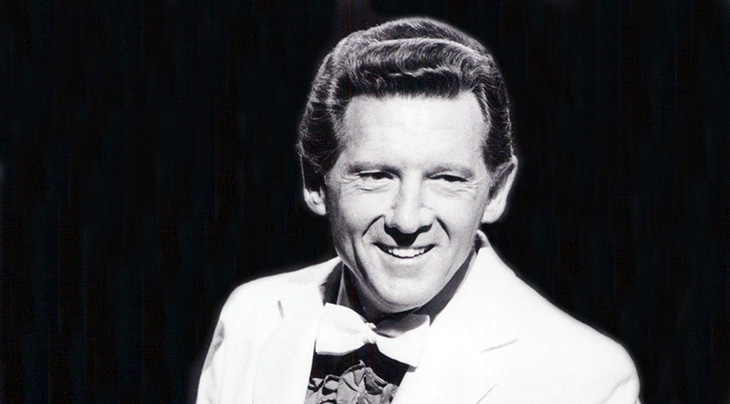 (Jerry Lee Lewis 1987: In Concert International)
Aging pioneer rock and rollers Jerry Lee Lewis, Chuck Berry, and Little Richard toured Europe in 1998.
Below, Jerry Lee Lewis performing Whole Lotta Shakin' Goin' On at the Rock & Roll Hall of Fame.
Jerry Lee Lewis' personal life continued to be chaotic in his fifties. His marriage to Jaren Pate was finally in the process of being dissolved by divorce when she drowned in a friend's pool in June 1982. Undeterred, 50+ Jerry Lee married for the fifth time in June 1983, to 25-year-old Shawn Stephens. Jerry Lee was hooked on painkillers and Shawn began using barbiturates, and they argued frequently. Shawn died after overdosing less than 3 months later, in August 1983, with unproven allegations of spousal abuse as the cause of her death. 
His sixth marriage, to 21-year-old singer Kerrie McCarver resulted in another son, Jerry Lee Lewis III (b. 1987). By then, Lewis owed money everywhere including the IRS, although he did manage to beat a charge of tax evasion. 
The movie Great Balls of Fire (1989) about Jerry Lee Lewis' early life and career featured his re-recorded songs on the movie's soundtrack and boosted the demand for his concerts again with seniors, baby boomers and a new, younger audience, but by then he was bankrupt. Jerry Lee always wanted to go on last in his concerts – below, a scene from the movie depicts a very similar incident to one described in his 2014 Jerry Lee Lewis: His Own Story biography by Rick Bragg.
Kerrie and Jerry Lee Lewis moved to Dublin, Ireland where musicians are exempt from taxes, and lived there for a year. In 1998 Kerrie Lewis filed for divorce, but it took until 2004 to be finalized. Jerry Lee Lewis finally kicked his addiction to drugs and credited God for it.
He was awarded the Recording Academy Lifetime Achievement Award in 2005, and achieved his biggest selling album ever – Last Man Standing, in 2006. The Last Man Standing album and a subsequent tour featured guest-starring duets and gigs with members of the Rolling Stones, Led Zeppelin, and other rock and roll and country music stars.
The musical Million Dollar Quartet debuted on Broadway in 2010 and a septuagenarian Jerry Lee joined the cast for an encore at one performance. Age had bowed but not defeated him. The toll it was beginning to take included a bout of shingles, arthritis in his back, and numerous bouts of pneumonia, and he needed someone to help take care of him.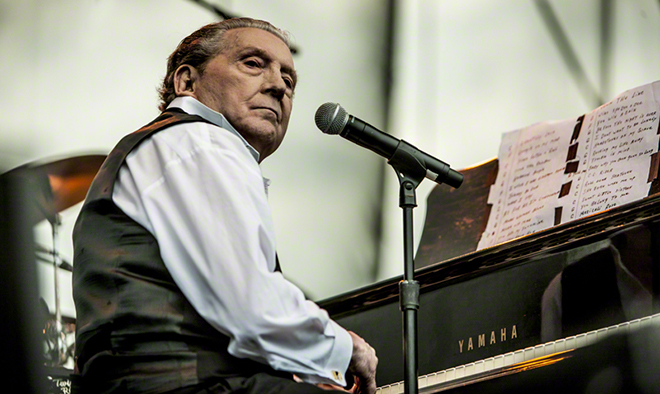 (Jerry Lee Lewis 2011: Larry Philpot)
His ex-wife Myra's brother Rusty Brown had married Judith Brown more than 25 years earlier; Jerry Lee had told Rusty if he didn't marry Judith, he would. Judith came to Jerry Lee's home in Nesbit, Mississippi to cook and take care of him, and they reminisced about the old days together. Judith divorced Rusty in 2010 and Jerry Lee gave her a diamond ring for Christmas that year. The couple married (Lewis's 7th marriage) on March 9, 2012 – Judith aged 62 and Jerry Lee age 76.
During the last years of his life, Jerry Lee Lewis lived in Nesbit, Mississippi on a ranch with his wife Judith and family, when he wasn't touring. He was survived by his widow Judith, 4 surviving children – Ronnie Guy Lewis, Jerry Lee Lewis III; Phoebe Allen Lewis (who lived with him for a good part of his life and helped with his career in his later years); and daughter Lori Lancaster – as well as sister Linda Gail Lewis, grandchildren and great grandchildren.
In his 65-year-plus career Jerry Lee Lewis recorded over 50 albums and had 12 #1 hit singles. It's now the End of the Road for Lewis (a song he performed with Tom Jones in 2006). Wherever he has gone in the afterlife, there's sure to be a Whole Lotta Shakin' Goin' On.
Note: This article was first published in three parts in 2015 with the title Celebrating Seniors: Jerry Lee Lewis is 80. It has been updated with new & additional content.