What Was New in March 1952?
News Headlines & Entertainment Trivia from March, 1952
Sun Records is Founded
"Colonel" Sam Phillips founded Sun Records on March 27, 1952, on Union Avenue in Memphis, Tennessee (according to SunRecords.com).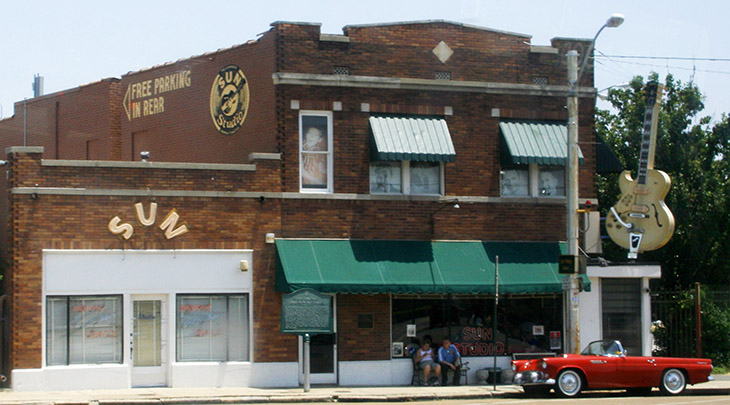 (Sun Records Studio 2009 Photo: David)
Phillips had launched the Memphis Recording Service studio two years earlier in the same brick building, in February of 1950. Phillips had already recorded Howlin' Wolf and other rhythm & blues artists, but he went on to record greats from the genres of hillbilly, gospel, and country.
With a recording stable that included artist such as Elvis Presley, Johnny Cash, Carl Perkins, Jerry Lee Lewis, Charlie Rich, Roy Orbison, Conway Twitty, Jeannie C. Riley, Merle Haggard, Roger Miller, and others, Sun Records can and does claim, "Rock 'n' Roll was born here."
The Sun Records company label was bought by Shelby Singleton in 1969 and moved to Nashville, where it since mostly has focused on re-issues of music vs recording new artists, with a few exceptions. However, the original Sun Records building on Union Avenue in Memphis, Tennessee still stands, and is a museum providing history and tours of the building. For more information, check out Elvis in Memphis and Nashville – Graceland, Sun Studios & RCA Records.
Southern U.S. Tornado Outbreak Kills 209
On March 21st and March 22, 1952, 31 tornadoes devastated the Southern United States – Arkansas, Tennessee, Missouri, Mississippi, Kentucky, and Alabama – along the Mississippi River Valley, in the space of 25 hours.
(Tornado Alley Photo: Nikolas Noonan via Unsplash)
Eleven of the tornados were ranked F4 on the Fujita rating (out of a possible 5). A single tornado in Arkansas caused 50 of the 209 fatalities that occurred during the outbreak. In addition to the fatalities, over 1200 people were injured during the tornados.
Bestselling Book of 1952: The Caine Mutiny
(Herman Wouk 1959 Photo: The Evening Star)
Author Herman Wouk's compelling novel The Caine Mutiny had been the #1 best-selling book for 33 weeks by the end of March 1952, according to the New York Times list.
Although knocked off that perch for 8 weeks during April and May of 1952 by author Daphne Du Maurier's novel My Cousin Rachel, The Caine Mutiny bounced back and stayed at #1 through August of 1952, definitely making it the #1 best-selling book of 1952. 
The Caine Mutiny draws from Herman Wouk's own life experiences and WWII service on destroyer-minesweepers.
Wouk began as an assistant communications officer, rising to first lieutenant, and finally to executive officer, captaining the USS Southard home to the U.S. at the end of WWII.
The well-developed, nuanced characters and situations in The Caine Mutiny are compelling and feel authentic, and today the book is considered a modern classic.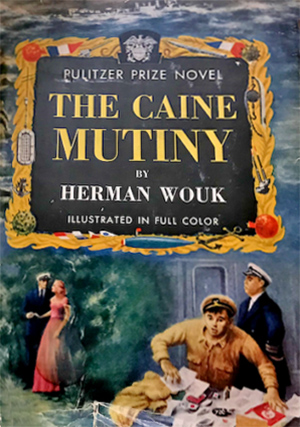 (The Caine Mutiny Book Cover Painting by John Hull)
The main character in The Caine Mutiny is recent Princeton grad Willie Keith, who signs on as a midshipman in the U.S. Navy during WWII.
Romantic, family, and work conflicts ensue while an unmotivated and undisciplined Willie undergoes training and begins serving on the USS Caine, a WWI destroyer converted to be minesweeper during WWII.
When Lt. Commander Queeg is assigned to command the USS Caine, he brings discipline and experience as a sailor – but not on this type of ship. Gradually tensions escalate between Queeg, several officers including Willie (now Officer of the Deck), and the rest of the crew, who joke about Queeg being a coward based on his decisions to avoid action.
Communications Officer Thomas Keefer suggests to Lt. Stephen Maryk that Queeg may be mentally ill, and relieving him of his duties could be justified in extreme circumstances. During a typhoon, Lt. Maryk takes over the ship from Queeg, convinced that he is incapable of saving it; Willie and an enlisted helmsman (Stilwell) support Maryk in this action.
Subsequently Maryk is court-martialed, during which process Keefer takes no responsibility for having suggested that Queeg could be relieved of duties, Queeg is found sane, and Maryk is declared unjustified for taking command of the USS Caine. A trial ensues, and Queeg cracks under the pressure of cross-examination by Maryk's attorney, Navy Lt. Barney Greenwald. As a result, Maryk is acquitted and charges against Willie are dropped. Keefer publishes a book and is denounced as a coward by Greenwald.
As the end of WWII nears, Keefer is now the Captain of the USS Caine, and Willie is back serving on it as an executive officer. When the ship is hit by a Japanese bomb, Keefer orders the crew to abandon ship. Willie ignores the order and stays aboard the Caine, saving it. Keefer is discharged and Willie is promoted to Captain. He receives commendations on one hand (the Bronze Star for rescuing the Caine) and condemnations on the other (the decision that relieving Queeg was justified has been overturned, and he's given a letter of reprimand). 
Herman Wouk won the 1951 Pulitzer Prize for Fiction for The Caine Mutiny. He went on to transform The Caine Mutiny into a play. It was made into a 1954 movie by producer Stanley Kramer, and  the blacklisted Hollywood Ten director Edward Dmytryk.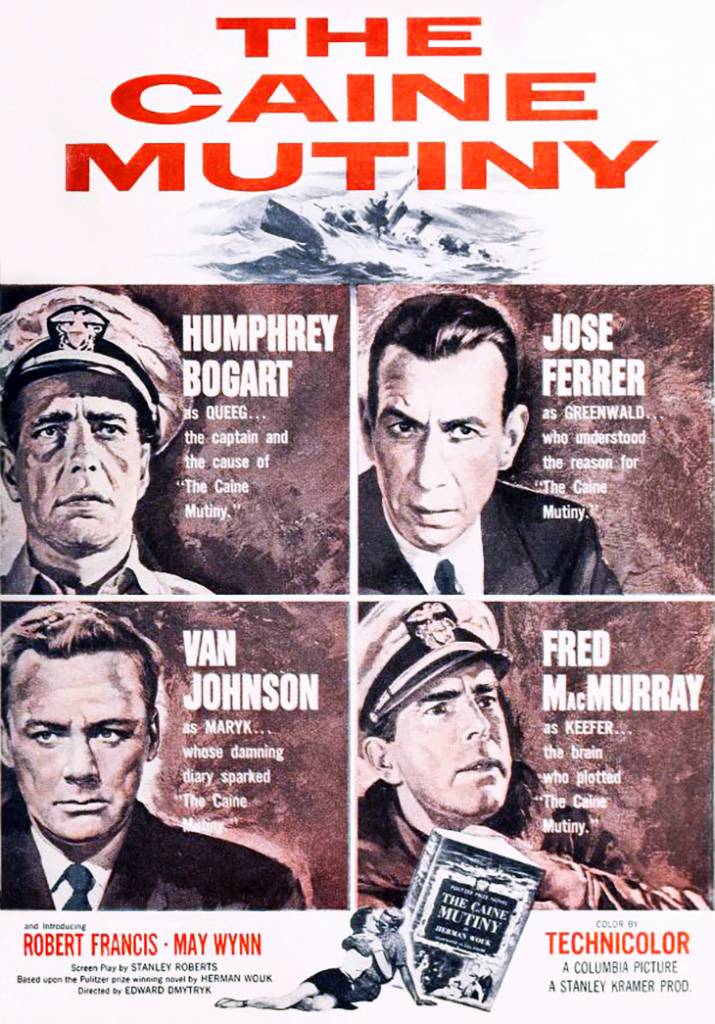 (Humphrey Bogart, Jose Ferrer, Van Johnson & Fred MacMurray 1954 The Caine Mutiny)
The Caine Mutiny (1954) stars starring Humphrey Bogart as Commander Queeg, José Ferrer as Greenwald, Fred MacMurray as Keefer, Arthur Franz as Lt. JG H. Paynter Jr., Van Johnson as Maryk, and introduced new film actor Robert Francis as Willie.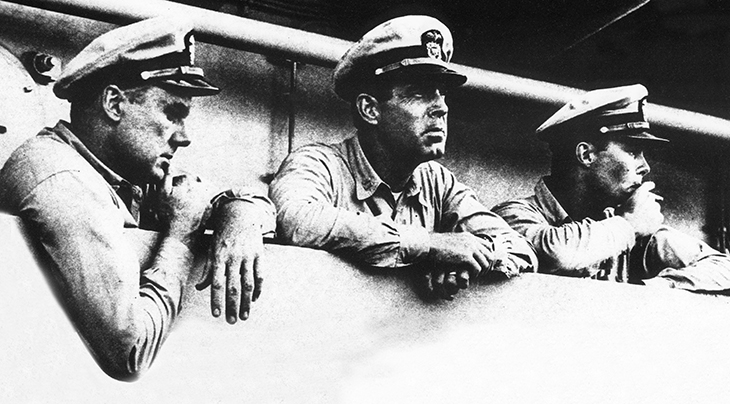 (Van Johnson, Fred MacMurray & Robert Francis 1954 The Caine Mutiny Photo: Dennis Stock)
*Images are believed to be in the public domain and/or Creative Commons licensed & sourced via Wikimedia Commons or Flickr, unless otherwise noted*