A Bonanza of Bras For Big Busts
I'm not talking about C or D cups folks, although most major retailers that sell bras seem to think cup sizes stop at double D's. For 35+ years my best friend (let's call her Sara) wore ill-fitting, ugly, too-tight bras because that was all she could find in Canadian or American stores.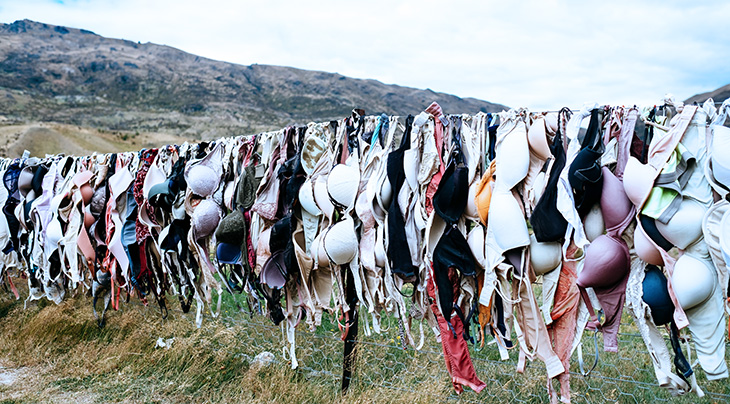 (Cardrona Bra Fence, New Zealand Photo: Pablo Heimplatz)
Emerging From the Big Bustline Bra Desert
It may seem like a joke – and there are plenty of boob jokes out there – but believe me, it's a shame and occasionally a pain when you have full breasts and can't find a bra that fits. 
Any woman who is well-endowed in the chest area will tell you that there isn't a lingerie or support garment more essential to her appearance, self-esteem, and confidence, than her brassiere. And let's not forget the importance of a supportive, well-fitting bra to physical health either. Sara's grandmother, who passed along a generous bosom to most of her second and third generation female descendants, suffered back and shoulder pain for years. She was horrified and indignant when her family doctor advised her when Sara was in her 60+ years, to have breast-reduction surgery. 
Major North American manufacturers and retailers don't seem to have caught on to the realities of their customer base. According to Wikipedia, as of 2010 data, the most common bra size sold in the US and in the UK, is 36D. This doesn't factor in how many of those bras are worn by women who should be wearing smaller band sizes with larger cup sizes, but can't find them.
Any fool could then extrapolate that if the most common bra size sold is 36D, in addition to the smaller cup sizes (A, B & C), there must also be at least a corresponding number of larger cup sizes (DD/E, DDD/F, G). Yet walk into any department store (there are increasingly fewer of them around to do this in), or even lingerie chain stores in malls, and while you'll see hundreds of pretty, sexy, and supportive A, B, and C cup bras, you'll search long and hard before you can find the same in anything larger than a D. Forget finding anything larger than a DDD at all in one of those stores – for that, you have to go to a specialty bra store, or shop online.
After Sara had children and gained some weight, finding a bra that fit well became harder than ever. She'd sort through the lingerie department of her local Sears, enlisting the help of knowledgeable sales women to help her find larger bra sizes. She had a department store bra fitting once about 20 years ago, but as the fitter had no knowledge of bra sizes beyond what was sold in their own store (up to a DDD), that was the size they told Sara was correct.
Wonderbra (a US brand further developed in Canada), Warners, and Playtex (US brands) made up 90% of the bras sold in North American department stores at the time. The larger cup sizes they sold were very plain, full-coverage bras in white, beige, or occasionally, black – made of thick material with wide straps and even bigger bands. Mostly Sara bought "minimizer" bras because they were the only ones that seemed to fit without visible bulges under t-shirts. 
She'd envy the beautiful bras worn by A-C cup models in magazine print advertisements, but could never find anything like that in a size above a D. Until she walked into a specialty bra store about 10 years ago and the experienced saleslady there measured her. The bra expert recommended a size Sara had never dreamed existed (36H). Sara tried on several European-made bras and bought one – the first bra that had fit her well since she was a young teenager, and it was actually pretty.
To help other women navigate their way out of retail desert of bras for women with larger breasts, Sara was willing to share her trial-and-error experiences of finding an attractive, supportive bra at a reasonable price.
Bigger Bra Size = Bigger Price Tag
Thankfully that local store occasionally had sales, so Sara was able to buy more from them over the next couple of years. Because that's the other problem when it comes to buying larger bra sizes – cost. Even the department store bras in larger sizes have correspondingly larger price tags (usually $30+).
Most of the manufacturers of bra sizes larger than DD, are European; and because they're usually being sold in smaller quantities to specialty bra stores, the cost to the retailer and the markup for the customer, is also higher. If you walk into a specialty bra store today (I'm not talking about La Senza or Victoria's Secret, which don't carry these larger sizes anyway), you can expect to pay anywhere from $75-$150+ for ONE bra. 
Since that first local specialty bra store purchase, a little thing called online shopping has taken off, and Sara has discovered an abundance of beautiful bra's available (often at more reasonable prices), on the web. With shipping and currency conversion, you can expect to pay between $30-$100 CAD/US online for the same bra, usually sold in North America only in specialty stores at higher prices.
Knowing Your Bra Size
Sara's Bra Size Tip – "North American (Canada/US) cup sizes are different than European cup sizes. I suggest using European cup sizes as a starting point, since I've found these are the bras and brands with the largest range of bigger cup sizes and the most consistent in sizing. Some size charts and stores indicate that US cup sizes are larger than UK, but in my experience they're either be the same, or smaller. For example, a UK 36H / 36GG might be a US 36H/GG, or US I or even US J."
The problem is, you can't try bras sold online before you buy. So knowing your correct bra size is critical. 
Bra sizes, based on my own experience and Sara's, can vary depending on who measures you, how you are measured, the country the bra is made in, and the individual manufacturer. 
I'm not going to get into how to measure yourself, or how to properly fit a bra, as I'm not an expert and there are a plethora of online resources for that.
Most online or in-store retailers will also provide a guide on their website or sale page to help you.
There's a lot to be said for having an expert help you find the right fit and trying on a bra first in person. After all – not many women look like lingerie models!
If you go to a specialty bra store and find a bra you like – please buy it from them. Their time and expertise is invaluable.
Personal Picks: Best Bras for Big Bustlines
Today Sara wears a 34 band size and European cup size H. Her comments and personal opinions on the bra brands that have fit her, her words, "big boobs" best:
Freya (a UK brand now owned by Wacoal) – "the best fitting, most attractive, and comfortable bra brand I've tried thus far, with the widest range of styles, colours, and fabrics. It fits true to size every time, and has a large line of bras up to a K cup. Their balcony bras, plunge bras, and side support bras are not only functional, they're sexy and beautiful. They're sold in specialty stores in North America and are available through online retailers." 
Fantasie / Fauve by Fantasie (more UK brands now owned by Wacoal) are – "other brands I've had great luck with, for almost all the same reasons as Freya; however, they don't have quite as wide a range of designs/styles available. Like Freya, they also have a good range price-wise, making them an affordable option for non-rich women like myself."
Gemm is a UK brand – "I've only been able to buy Gemm bras online (eBay or Amazon retailers). They are among the most reasonably-priced bras available in larger cup sizes, but their range of styles/designs is limited. However, the bras they do have fit beautifully, are supportive and comfortable to wear all day, and are available in more than the standard solid white or black." 
ASOS is a UK clothing brand and retailer – "I've recently discovered Asos online. They sell their own and other brands of bras and clothes for men and women. Like Freya, Fantasie, Fauve, and Gemm, the Asos bras are true to European sizing and fit comfortably. They also have some unique styles and are a nice mix of fashion/function. They don't have a huge range of styles/designs, but their customer service is a plus. I emailed them with a question and got a prompt response and helpful suggestion for future purchases."
Lepel, which I believe is another UK brand although I could not find their website. They're sold by several U.K. retailers in store and online. "Their Lepel Fiore full cup bra fits true to European sizing, is attractive, and comfortable." 
Charnos, a British brand established in 1958. "A great range of sizes, fashion colours and fabrics, with 3 style/fit choices- full cup, side support, plunge. Charnos is a very comfortable fit, reminds me of Freya, and true to European bra sizes. "
Curvy Kate, another English lingerie brand that makes brassieres from sizes D to K cup and band sizes from 28 up to 44.. Sold in their Canadian, UK, and American on-line stores. "Their Princess Plunge Bra fits true to size, very comfortable. They have a lot of choice when it comes to several styles of sexy bras, swimwear, and other lingerie."
Thumbs Down
Like any shopper, Sara has also had bad buying experiences. Her personal experiences and comments reflect her own body shape, style and fit preferences. Since every woman is unique, she recommends you try one on for yourself if possible or do some research online or in person, before buying any bra. 
Sara's Bra Size Tip #2 – "Stick with North American or European-manufactured bras to find the best fit."
Rosme is a Baltic brand – "has some very pretty bras – however the Rosme UK cup size I purchased online (I've never seen them in stores here) was at least one size smaller than their sizing indicated. They don't have a wide range of styles or designs, and as a result I've never bought another."
Panache / Cleo is a UK brand – makes "beautiful bras and swimwear in a wide range of styles, but I found the underwire very tight/rigid, making it difficult to get the bra (or swimsuit) on and off, and was an uncomfortable fit (for me) to wear for long periods of time. I bought a couple before I wised up."
*Pour Moi is another UK brand – "unfortunately my most disappointing experience thus far in buying a bra online. I couldn't find a Pour Moi bra or even a local specialty bra store salesperson who knew anything about them, but they have a wide selection of really nice styles and designs available online. I could have lived with the very tight-fitting band (based on the sizing) on the bralette i bought, however – it was at least 2 cup sizes smaller than claimed. To top things off, the top hook on the shoulder strap snapped in two when I was taking it off. Never again."
WingsLove – Their website doesn't indicate where this brand originates. "I saw these beautiful bras online and they advertised in European brand sizing, so I ordered one. As soon as I tried the bra on I realized that what had been advertised as a European 34G was at best a 34F or E. The band was a little tighter as well. The sewn-in label says Made in China."
Other Options for Bigger Bra Sizes?
Today Sara and other women with bigger busts have a bonanza of brassiere brands to choose from when they shop, with band sizes up to 56″ and cup sizes to N. 
On my own wish list to try are some gorgeous-looking bras (available in sizes up to a K cup) I've seen in stores or online by these companies:
Axami Lingerie, Dalia Lingerie, and Konrad Lingerie – Polish brands.
Prima Donna – a brand from Belgium.
Wacoal – a Japanese based company that spread to the US in the 1980s; in addition to Freya & Fantasie, they also own UK brand Elomi, and the US brand Goddess. 
Good old Wonderbra has even upped their stakes and come out with some sexy new bra styles in larger cup sizes.
*Update / Note: I myself have bought a different style of Pour Moi bra online and found the 36 band fit more like a 34, but the cup size was the same as other brands. 
*Images are public domain or Creative Commons licensed & sourced via Wikimedia Commons, Vimeo, YouTube, or Flickr, unless otherwise noted*
**This article is for general informational purposes and reflects the personal experience and opinion only of the author. 50+ World does not disapprove or endorse any providers, nor does it receive remuneration from them.**