Hats Off to Hedy Lamarr
Stunning Austrian-American movie star Hedy Lamarr wore a myriad of fashionable hats in her 1930s-1950s movie roles, possibly because movie costumers realized her luminous eyes and perfect features were set off beautifully by stylish headwear.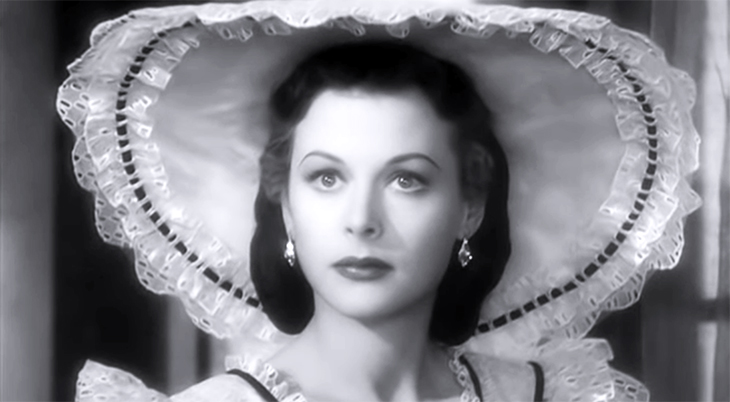 (Hedy Lamarr wearing an 1800s Cartwheel / Victorian Picture Hat 1946 The Strange Woman)
Ecstasy (1933)
The sensual 1933 German romantic drama Ecstasy (original title Ekstase) was a minor sensation when it was released in the U.S. several years later – and it wasn't due to this cute brimless Juliette cap worn by Hedy Lamarr in her first starring film role, below.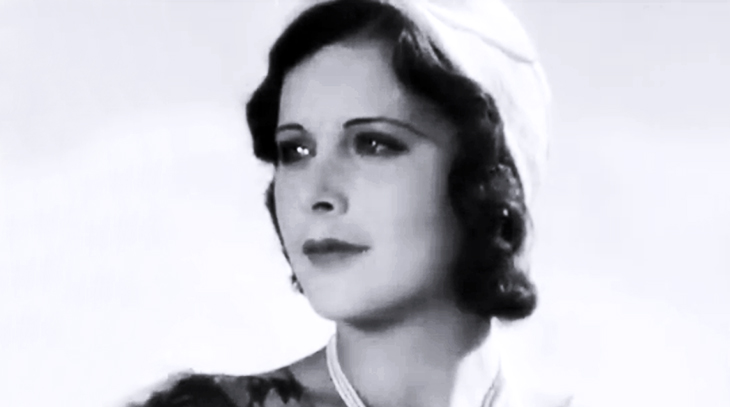 (Hedy Lamarr Wears A Skull Cap / Cloche Hat, 1933 Ecstasy)
This hat style falls between the skull cap / Juliette cap popular in the 1920s flapper era, and the 1930s cloche hats worn in the depression era. Whatever style you prefer to call it, Lamarr wears it well in Ecstasy.
Unfortunately for Ecstasy's film distributors, there were times she wasn't wearing anything at all in the movie, which delayed it's release in American for several years.
Algiers (1938)
In Algiers (1938) a film set in the "Casbah" of the time in that romantic North African Arab-Berber city, Hedy Lamarr's wardrobe is credited simply to veteran Metro-Goldwyn-Mayer costume designer Irene (Irene Lentz, aka Irene Gibbons).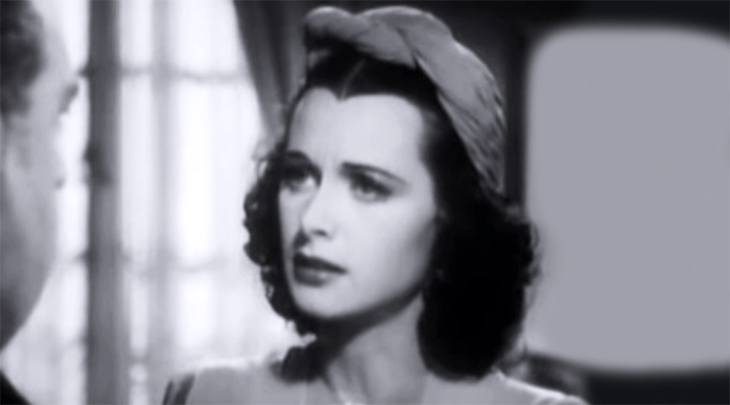 (Hedy Lamarr Wearing a Turban, 1938 Algiers)
Lamarr wore several hats in Algiers that suited the movie's era and setting, including the turban hat pictured above. Her male co-star Charles Boyer stuck to standard suits and men's fedora hats.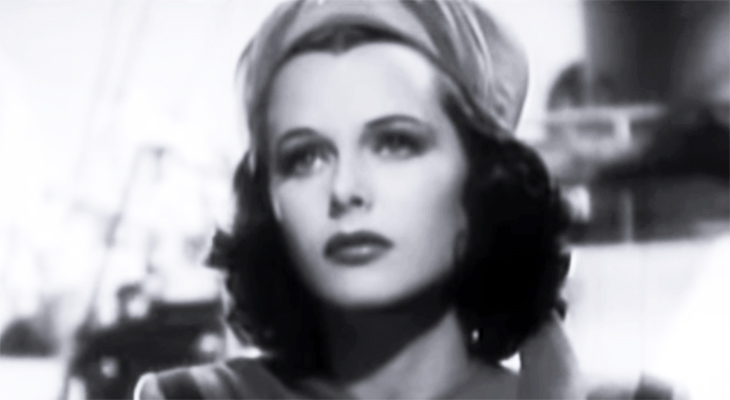 (Hedy Lamarr in a Pillbox Hat, 1938 Algiers)
The more formal pillbox hat Hedy wears in the above photo is from a shipboard scene near the end of Algiers. I found it surprising given the film's locale, that Lamarr didn't have her hair covered more often in the movie.
Lady of the Tropics (1939)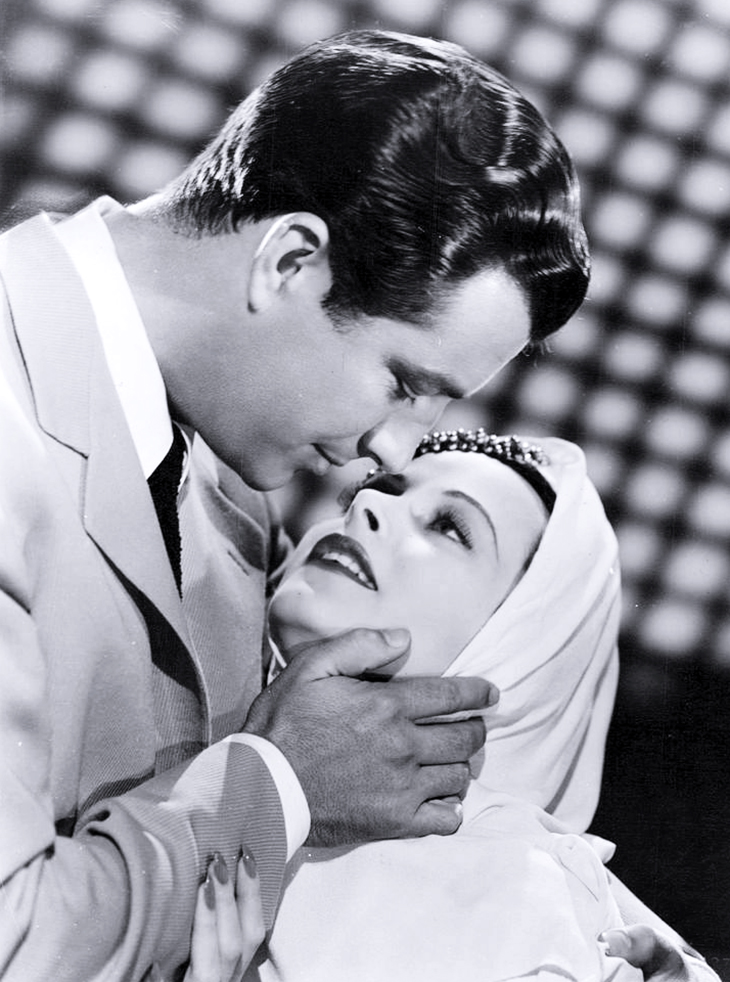 (Hedy Lamarr & Robert Taylor, 1939 Lady of the Tropics Photo: Metro-Goldwyn-Mayer)
Hedy Lamarr wears a lot of draped head coverings while co-starring with Robert Taylor in this romantic drama set in French Indochina. They are a beautiful couple to be sure.
By the late 1930s, pillbox hats were starting to come into style.
Lamarr wears a couple of versions of the same style of hat in Lady of The Tropics – a  pillbox hat topped with draped scarves or a shawl.
The scarf-or- shawl-as-headwear look suits Hedy Lamarr as well as anything. She could probably wear a paper bag on her head and make it look glamorous!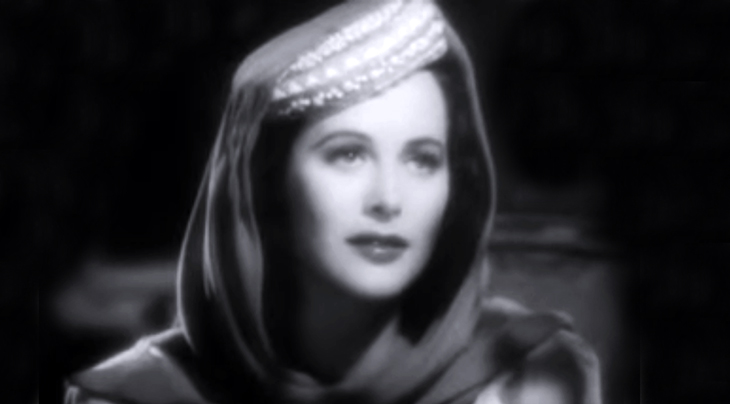 (Hedy Lamarr & Robert Taylor, 1939 Lady of the Tropics Photo: Metro-Goldwyn-Mayer)
Adrian (Adrian Adolph Greenburg), MGM's costume designer for the ladies gowns in Lady of the Tropics, obviously thought the more exotic the better, and at times Lamarr's headwear in the film is outlandish. In one of her costumes she appears to be wearing a winged Aladdin's lamp / temple on her head, for lack of a better description. 
The Heavenly Body (1944)
The elegant, high-fashion large Cartwheel /  Gainsborough / Victorian picture hat worn by Hedy Lamarr in the photo below for her 1944 romantic comedy film The Heavenly Body (co-starring William Powell and James Craig), frames her face becomingly.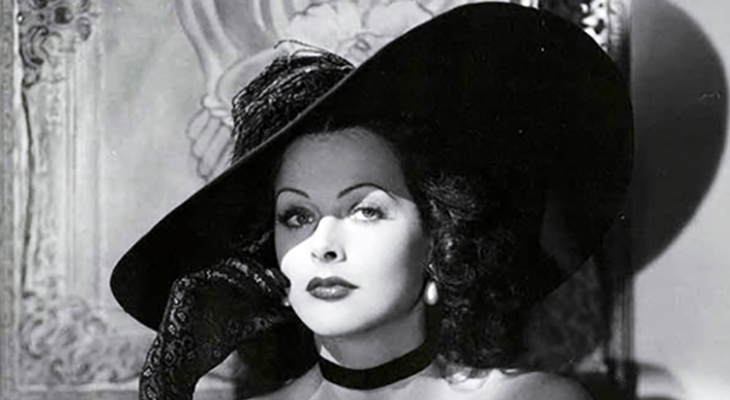 (Hedy Lamarr in a Gainsborough Hat, 1944 The Heavenly Body Photo: Willinger / MGM)
Once again MGM credits costume supervisor Irene in The Heavenly Body film credits. This was among the last of the MGM movies to be released starring Hedy Lamarr.
The Conspirators (1944)
Hedy Lamarr co-starred with Paul Henreid in the 1944 Warner Bros. WWII romantic thriller The Conspirators. Arthur Edeson was the cinematographer on this film, and he certainly knew how to light his leading lady to her best advantage, as seen in the photo below.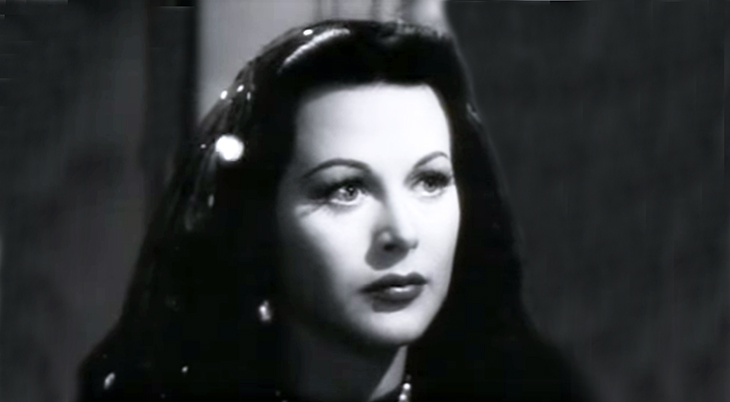 (Hedy Lamarr wearing a shawl/scarf, 1944 The Conspirators Trailer)
Once again, Lamarr rocks a simple draped scarf/shawl as a headcovering (albeit with some sparkly stuff), in The Conspirators.
Her gowns in The Conspirators are credited to Leah Rhodes, with additional costume and wardrobe credits for Mildred Duncan, Marie Pickering, and Leon Roberts. Composer Max Steiner gets a nod for the movie's music; he contributed his talents to many films of the era.
The Strange Woman (1946)
The costumer in The Strange Woman, a 1946 romantic drama with George Sanders, Louis Hayward, and Gene Lockhart as Lamarr's husbands/love interests, outdid herself.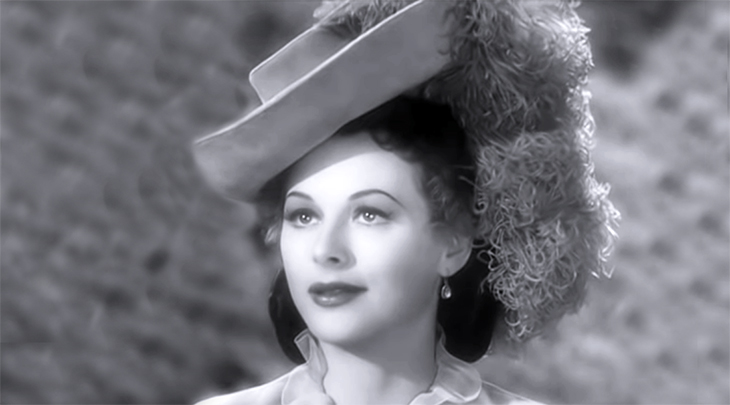 (Hedy Lamarr wearing a plumed Suiter / Victorian riding hat 1946 The Strange Woman)
This Samuel Goldwyn Studios film is set in New England of the 1830s, an era when women would not be seen in public without a head covering of some kind.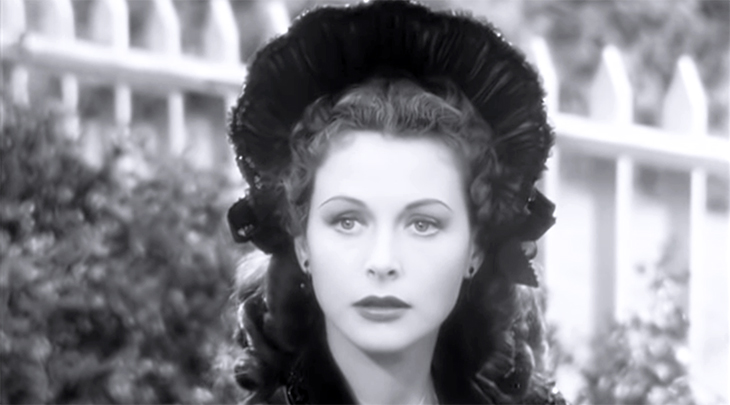 (Hedy Lamarr wearing a wide-brimmed 1820-1830s bonnet 1946 The Strange Woman)
The dresses that costume designer Natalie Visart came up with for The Strange Woman are sumptuous, and the hats are matching in stylishness.
In a twist on the Gainsborough / Victorian picture hat, Visart added wide tulle netting, worn to great effect by Hedy Lamarr in the photo below.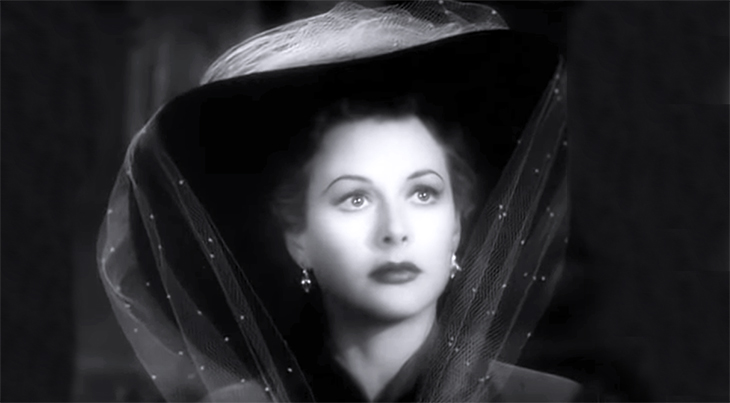 (Hedy Lamarr wearing an 1800s Gainsborough Hat with tulle netting 1946 The Strange Woman)
Dishonored Lady (1947)
Hedy Lamarr was at her regal best playing a stylish New York magazine fashion editor in the film-noir drama Dishonored Lady, starring opposite John Loder (her husband at the time), and Dennis O'Keefe.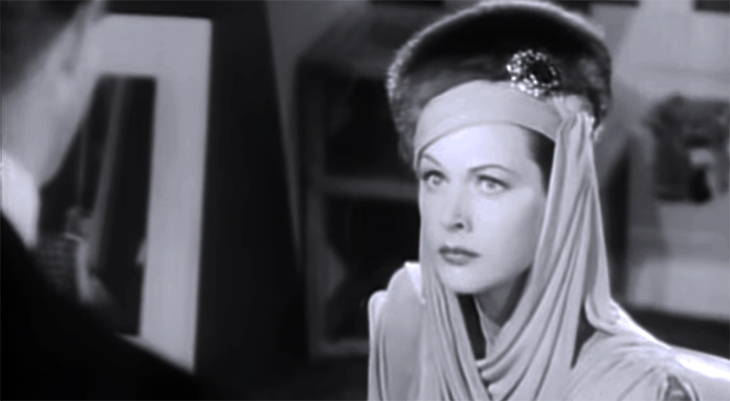 (Hedy Lamarr wears a fur-trimmed pillbox hat 1947 Dishonored Lady)
The fur-trimmed pillbox hat draped with fabric (above) was worn as Lamarr strides into her office in Dishonored Lady, and she promptly removes it.
I sympathized, and it struck me as very unlikely that any woman would wear such an elaborate and heavy hat during the daytime / while at work. But then, I belong to the no-hat era and it's hard to understand many fashions from the early part of the 20th century.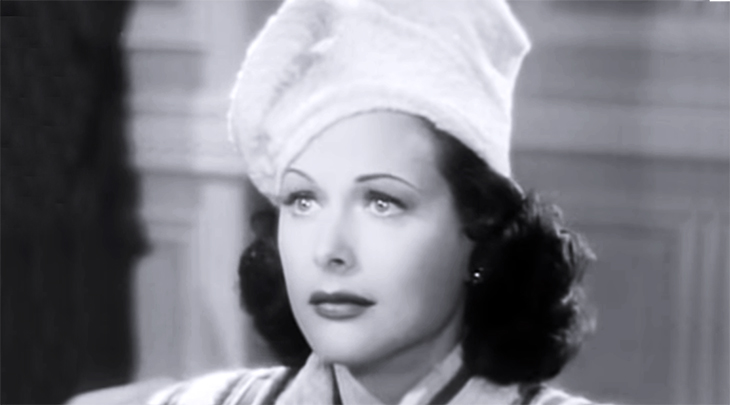 (Hedy Lamarr wears a variation of a pillbox style hat 1947 Dishonored Lady)
This simpler pillbox hat above seems more reasonable for daywear, especially for a working woman.
Elois Jenssen is credited for costume design of gowns in Dishonored Lady, which was another Samuel Goldwyn Studios movie.
My Favorite Spy (1951)
Hedy Lamarr's film career was beginning to slide by the time she was cast in what was essentially a Bob Hope picture. Nevertheless, she still looks beautiful wearing this smaller variation of a plumed Juliette cap or calot.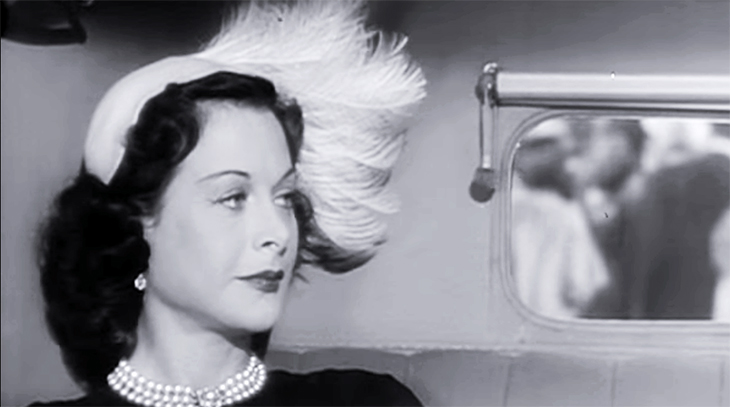 (Hedy Lamarr wears a Juliette cap / calot 1951 My Favorite Spy Trailer)
Famed Hollywood fashion designer Edith Head is credited for My Favorite Spy's costume design. Among other costumes, Edith Head also designed the fabulous blue peacock gown Hedy Lamarr wore in Samson and Delilah (1949).
Just as hats were beginning to go out of fashion by the late 1950s, so too was Hedy Lamarr. She retired after her last film The Female Animal (1958) and lived a fairly secluded life until her death in 2000 from heart disease. 
This glamorous movie star lit up the silver screen for many years and elevated wearing a hat to an art form in films (with some help from talented costume designers and cinematographers).
Hats off to Hedy Lamarr!
*Images are public domain or Creative Commons licensed & sourced via Wikimedia Commons, Vimeo, YouTube, or Flickr, unless otherwise noted*
**This article is for general informational purposes only and reflects the opinions of the author, who is not an expert in millinery or movies**