May 1947 Headlines
Baby Boomer News Headlines & Entertainment Trivia from May, 1947: Classic Film-Noir Movie Releases – Framed and Dishonored Lady; Married Co-stars Hedy Lamarr and John Loder Split; The Truman Doctrine Signals the Beginning of the Cold War  
Framed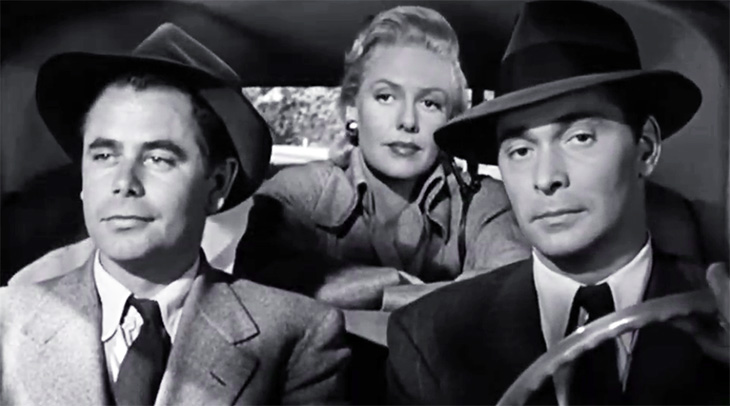 (Glenn Ford, Janis Carter & Barry Sullivan 1947 Framed)
Director Richard Wallace's film-noir "B" movie classic Framed starring Glenn Ford, Janis Carter, and Barry Sullivan, was released in May 25th, 1947. San Bernardino National Forest provided a couple of film locations for Framed – Big Bear Lake, and Lake Arrowhead.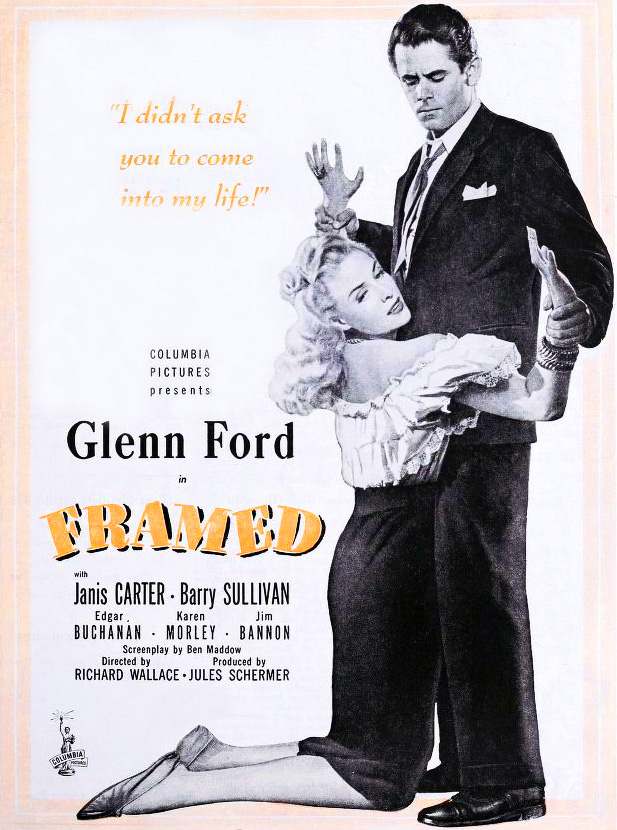 (Glenn Ford & Janis Carter 1947 Framed Ad: Photoplay)
Glenn Ford stars as mining engineer Mike Lambert, stranded in a small Arizona town when his truck's failing brakes caused him to have an accident. Having a drink while he waits it out at a restaurant, Mike meets waitress Paula (Janis Carter).
When the cops come in and arrest Mike for the accident, Paula pays his fine plus more – enough for him to get drunk.
Paula leaves a drunk Mike in a hotel room to meet up with town banker Stephen Price (Barry Sullivan), who's cheating on his wife Beth (Karen Morley). Paula and Stephen have cooked up a plot to rob the bank and pin it on someone else.
Part of their master plan involves staging a fatal accident with someone who has the same height and build as Stephen.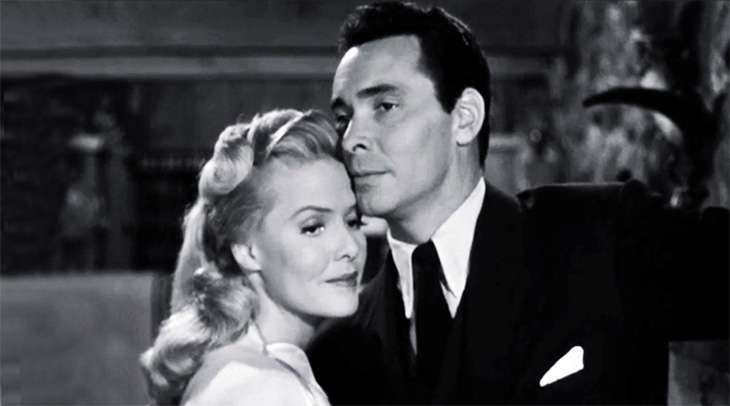 (Janis Carter & Barry Sullivan 1947 Framed)
Local miner Jeff Cunningham (Edgar Buchanan) offers Mike a job out of town.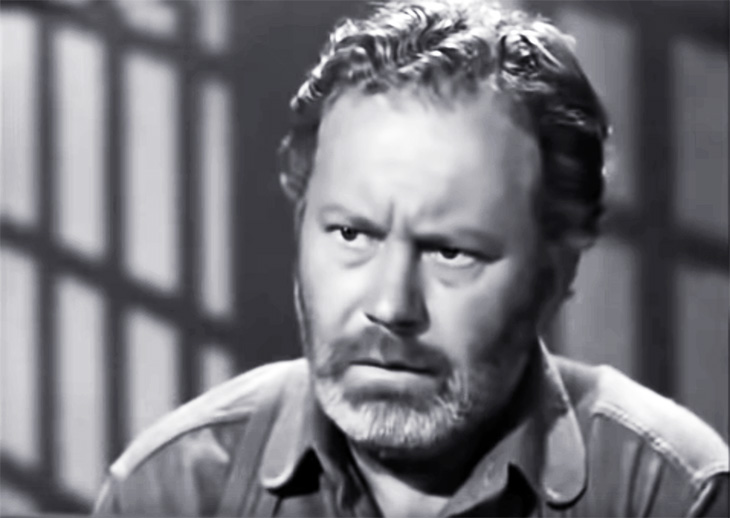 (Edgar Buchanan 1947 Framed)
Thanks to Stephen, Jeff's financing deal at the bank falls through. The plan to frame Mike goes awry thanks to Paula, and Jeff is charged with murder…but of whom? 
A number of plot twists keeps this crime thriller interesting, and both audiences and critics approved of the film. It's held up well with newer audiences over the years. 
Pretty singer, model and Framed leading lady Janis Carter started her acting career on Broadway in musicals in the mid-1930s. After her first feature film appearance in Cadet Girl (1941), she was kept busy during the rest of the 1940s in "B" films. Carter's last movie was the western The Half-Breed (1952) with Robert Young, after which she turned to television.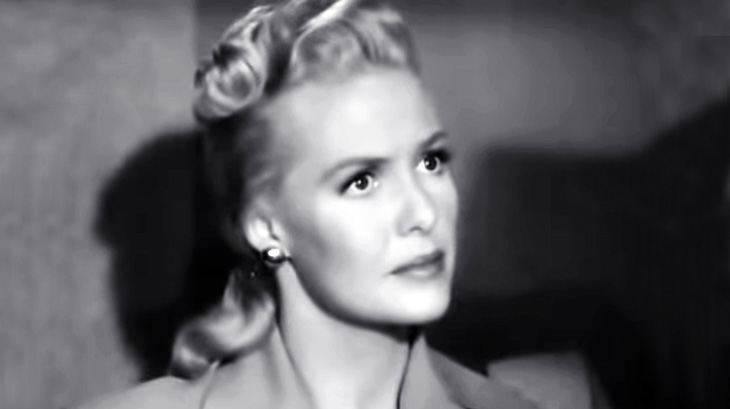 (Janis Carter 1947 Framed)
Carter made a few appearances on television series and in made-for-TV movies in the first half of the 1950s, and for her last act, co-hosted the quiz show Feather Your Nest with Bud Collyer in 1956 before promptly getting married and retiring. Janis Carter died of a heart attack on July 30, 1994 at the age of 80.
Leading man Glenn Ford was fresh off the success of co-starring with Rita Hayworth in Gilda, and building a reputation as an actor of some intensity. Modern Screen reported that Ford threw himself into filming Framed; required to rough up his co-star Janis Carter, he did it so enthusiastically that her husband complained she was black and blue the next day; these scenes don't appear in the final cut of the film that I could see. Glenn Ford died on August 30, 2006 at the age of 90.
Based on a story by John Patrick, the screenplay for Framed was written by Ben Maddow (nee David Wolff). Framed was Maddow's first feature film screenplay; during the late 1930s and early 1940s, he'd acquired credits on documentaries under the name David Wolff. Ben Maddow went on to collaboratively co-write with John Huston, the Academy Award-nominated screenplay for The Asphalt Jungle (1950). Unfortunately the House Un-American Committee (HUAC) blacklisted Maddow, and his career never achieved the heights it might have. A couple of scripts originally credited to Philip Yordan – The Naked Jungle (1954) & Men in War (1957), have since had their screenplays credited to Maddow. Ben Maddow died on October 9, 1992 at the age of 83.
Truman Doctrine Signals The Cold War
Thanks to growing "red" fears about the spread of communism in America, U.S. President Harry Truman's "Truman Doctrine" – a request to provide financial aid to Greece and Turkey – was approved (to the tune of $400 million) by the United States Congress in May 1947.  
Thanks to the effects of WWII on Europe, Britain had announced earlier in 1947 that they could no longer provide military or economic support to the government of Greece, which was in turmoil due to revolting Greek Communist Party guerillas. The U.S. was concerned that their one-time WWII ally the Soviet Union was supporting the communists in Greece and wanted to expand their territory into both Greece and Turkey. The Cold War between the communist Soviet Union and the democratic West began.
This state of affairs was finally ended decades later when the Berlin Wall was torn down in 1989, Soviet forces withdrew from Afghanistan, and both US President George H.W. Bush and Russian leader Mikhail Gorbachev declared the Cold War over at the Malta Summit. For many, the Cold War wasn't considered really over until the Soviet Republics were disbanded at the end of 1991.
Dishonored Lady Release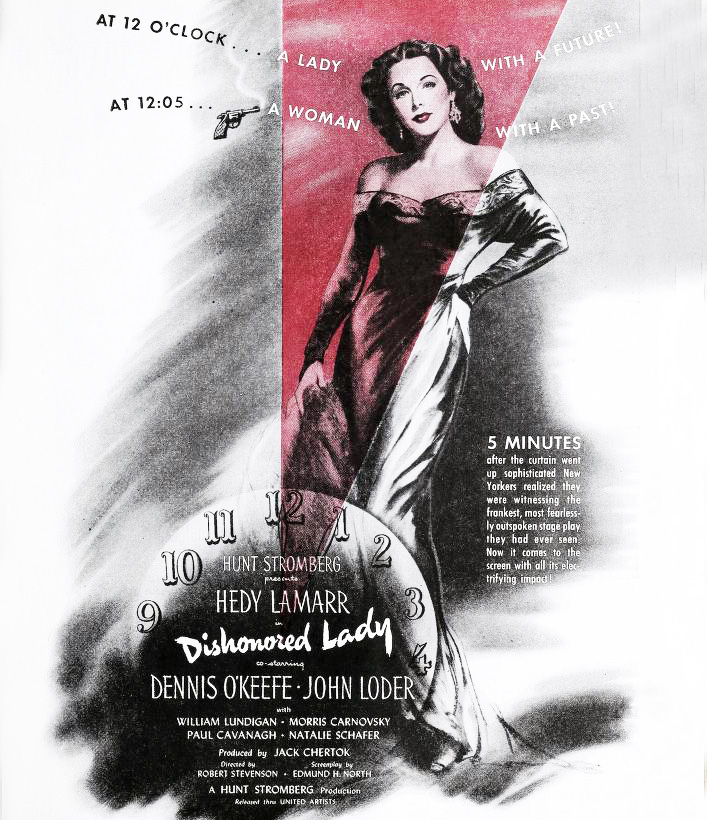 (Hedy Lamarr 1947 Dishonored Lady Ad: Photoplay)
United Artists released the Hedy Lamarr film-noir movie Dishonored Lady (1947) to American audiences on May 16, 1947. Co-starring with Lamarr in Dishonored Lady are a stellar cast that includes Dennis O'Keefe, British actor John Loder, William Lundigan, Morris Carnovsky, Natalie Schafer, Paul Cavanagh, Douglas Dumbrille, and Margaret Hamilton.
Directed by Robert Stevenson with a screenplay by Edmund H. North, Dishonored Lady had the film's leading lady Hedy Lamarr also acting as an un-credited capacity as a producer.
Hedy Lamarr: The Most Beautiful Woman in Film author Ruth Barton, says that Lamarr wanted to leave her MGM contract and struck an agreement with MGM Head Louis B. Mayer to make three films for him as an independent producer, over the next five years. Lamarr formed Mars Film Corporation in partnership with Hunt Stromberg and Jack Chertock, and Dishonored Lady was the second film-noir they produced, after the previous year's The Strange Woman (1946).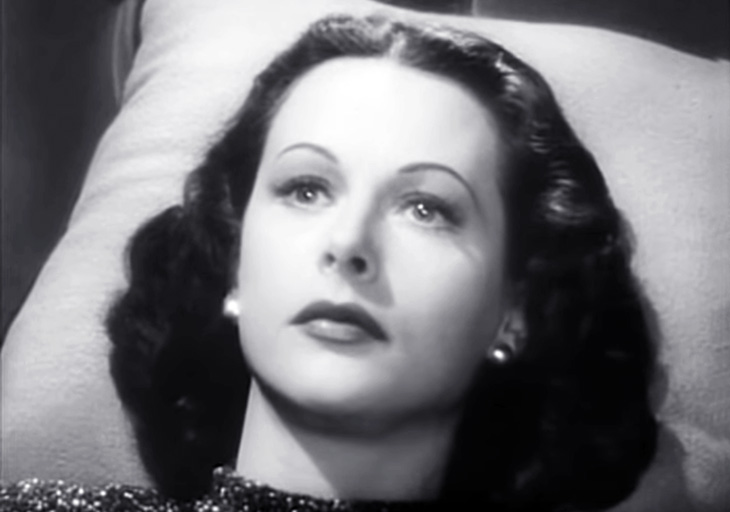 (Hedy Lamarr 1947 Dishonored Lady)
Austrian-American actress Lamarr plays stressed art department editor Madeleine Damien, working at a high fashion magazine for her boss Victor Kranish (Paul Cavanagh).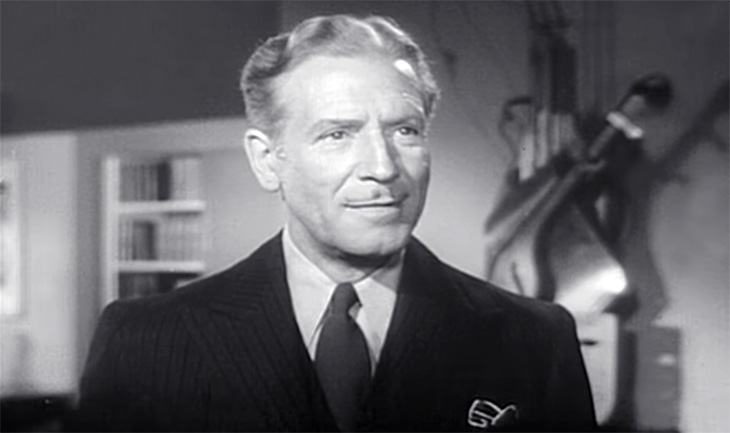 (Paul Cavanagh 1947 Dishonored Lady)
Her co-workers include friendly Ethel Royce (Natalie Schafer), and slightly slimy Jack Garet (William Lundigan).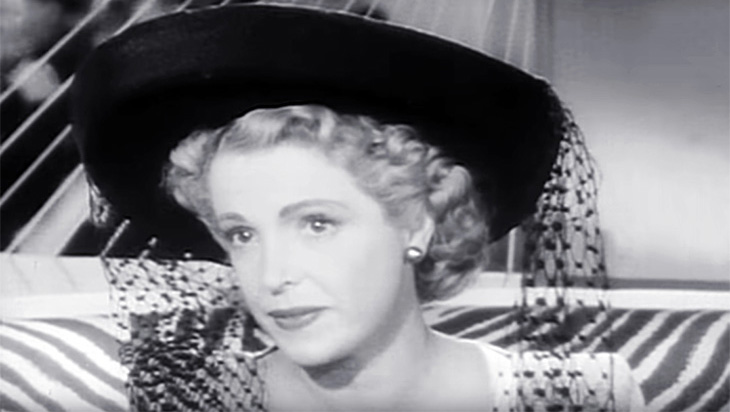 (Natalie Schafer 1947 Dishonored Lady)
Wealthy and demanding advertiser Felix Courtland (John Loder) pursues Madeleine romantically. (Loder was Lamarr's third husband, and they were still married when Dishonored Lady was filming).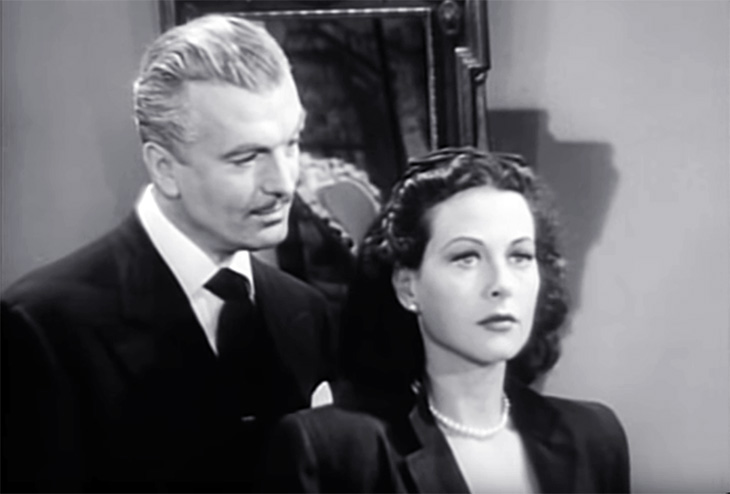 (Hedy Lamarr and John Loder 1947 Dishonored Lady)
The pressures of her job and social life drive Madeleine to attempt suicide.
On the advice of her new psychiatrist Dr. Richard Caleb (Morris Carnovsky), Madeleine quits her job and moves into a smaller apartment under a new name, to make a new life for herself.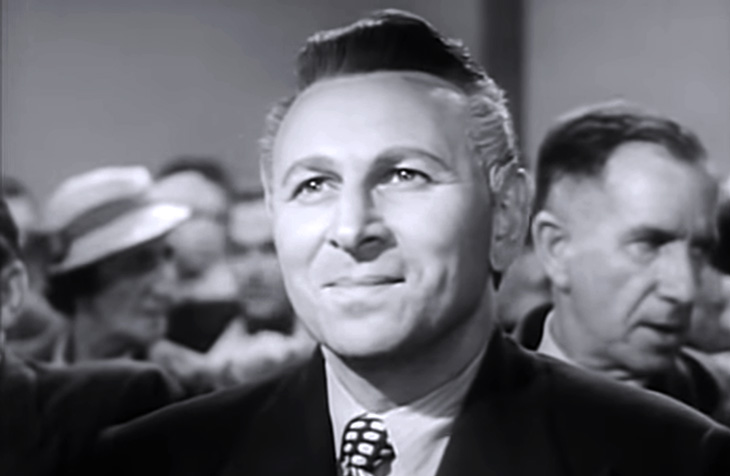 (Morris Carnovsky 1947 Dishonored Lady)
Her new landlady is Mrs. Geiger (Margaret Hamilton), and her fellow tenant is handsome scientist and painter David Cousins (Dennis O'Keefe). David and Madeleine soon fall in love, and David proposes.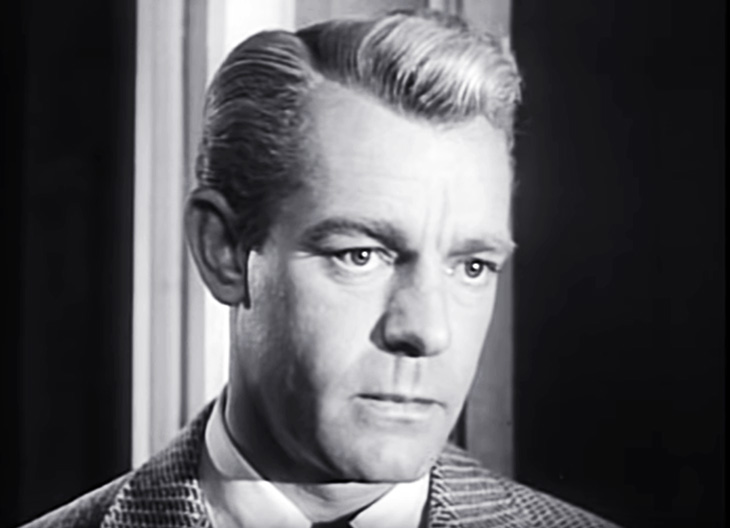 (Dennis O'Keefe 1947 Dishonored Lady)
Photoplay  reported that Lamarr had tried to borrow actor Mark Stevens from Twentieth Century-Fox to play the role of David Cousins in Dishonored Lady. When the studio refused, Hedy signed Dennis O'Keefe instead. Normally a brunette, Dennis O'Keefe dyed his hair blonde for the role of Stephen, because according to Screenland, the dark-haired Lamarr "thought the contrast in types would be intriguing to the camera."
Madeleine's former suitor Felix has hired her wanna-be blackmailer Jack Garet, and they both turn up again in her life like the proverbial bad pennies.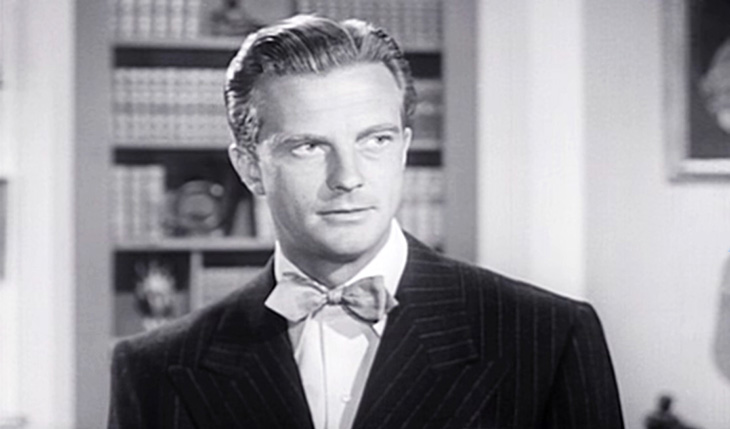 (William Lundigan 1947 Dishonored Lady)
A murder takes place that Madeleine is charged with. Douglass Dumbrille plays District Attorney O'Brien.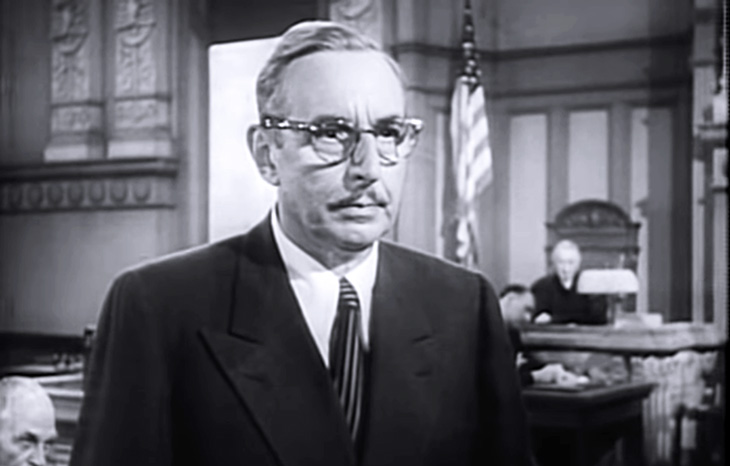 (Douglas Dumbrille 1947 Dishonored Lady)
Costume designer Elois Jenssen seizes the opportunity to clad glamorous Lamarr – possibly the most beautiful women in films at the time – in a succession of fabulous gowns and "working woman" clothes that included some astonishing hats, like the one below.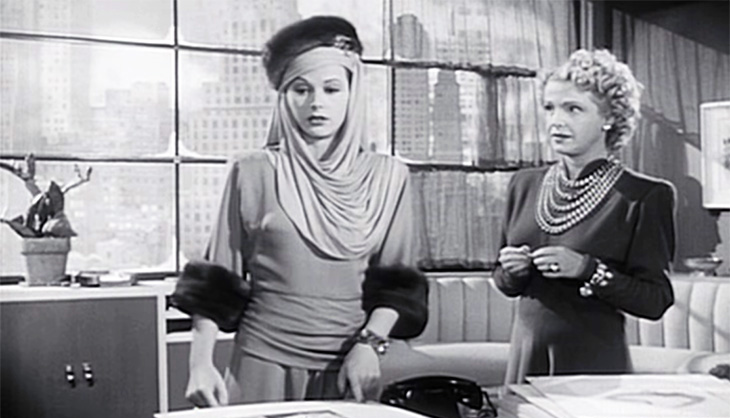 (Hedy Lamarr & Natalie Schafer 1947 Dishonored Lady)
Madeleine wore this draped snood headwear and fur-trimmed dress into the office to work; even her co-worker Ethel looks skeptical. Snoods were the height of fashion in the mid-1940s, and designer Jenssen knew that NO One could wear hats like Hedy Lamarr!
Dishonored Lady Co-Stars Hedy Lamarr and John Loder Split
By the time Dishonored Lady was released in May 1947, the Hedy Lamarr-John Loder marriage was over. It was the only movie these two actors ever appeared in together.
A single Lamarr, who was linked in the fan magazines in 1939 first with actor Nelson Eddy and then Reginald Gardner for most of 1939, had begun adoption proceedings for an infant boy born in January 1939, called James Lamarr. Two months later, The New York Times reported that Hedy married her second husband, producer-screenwriter Gene Markey on March 4, 1939. Gene Markey and Hedy Lamarr were divorced in 1941. It's unclear as to exactly when Hedy's adoption of James was finalized; Photoplay said in April 1941 that Lamarr's divorce proceedings from Markey had put her back as a probationary adoptive mother, but by February of 1942 it reported the adoption had finally gone through.
After her separation from Gene Markey, Lamarr was frequently seen with former beau Reginald Gardner, followed by john Howard, Howard Hughes, Jean Pierre Aumont, George Montgomery (they were engaged for a few months), and Orson Welles.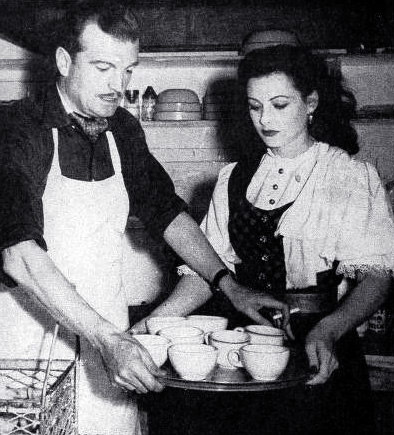 (John Loder and Hedy Lamarr at the Hollywood Canteen, August 1943 Photo: Screenland) 
The April 1943 edition of Photoplay has Hedy Lamarr and John Loder telling reporter Janet Bentley that they began dating after meeting on Christmas Day 1942, while volunteering at the Hollywood Canteen. They confessed to having met twice before that – the first time six years previously in Europe, when they were both still in their first marriages; and the second time in Hollywood in 1941, during their respective second marriages.
Hedy Lamarr and John Loder were married on May 27, 1943 at the home of Lily Veidt, the widow of John's friend actor Conrad Veidt. Loder then adopted James. It was the third marriage for each actor.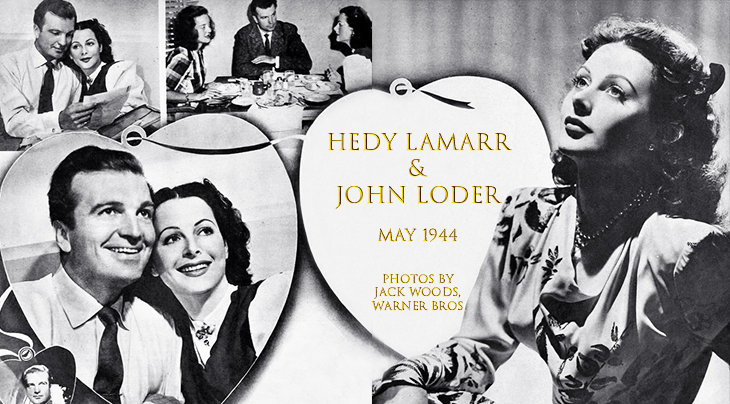 (Hedy Lamarr, John Loder & Bette Davis 1944 Screenland Feature Photos)
A year after their marriage, the couple told Screenland that even though they'd lived less than a block apart prior to meeting at the Hollywood Canteen in December 1942, ""their paths never crossed."  Imagine the surprise of their adopted son James Lamarr Markey Loder (born in 1939), when he discovered in 2001 that he was actually the natural son of Hedy Lamarr and John Loder. 
During their marriage Hedy Lamarr and John Loder lived in a remote hilltop ranch house in Benedict Canyon, which Hedy owned before they married. They were part of an elite Hollywood social circle. Separately or as a couple, their circle included author Erich Maria Remarque, Errol Flynn, Ray Milland, Ann Sothern, and Paul Henreid. They double-dated with actress Ann Sheridan and actor Robert Sterling, and Bette Davis served as godmother to their daughter Denise Loder (b. Jan 1945).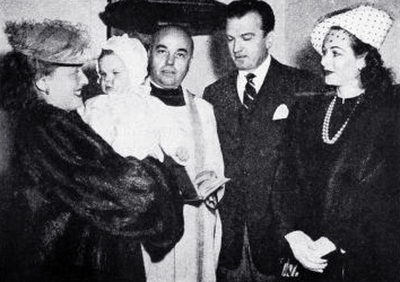 (Bette Davis holding Denise Loder, with John Loder & Hedy Lamarr Photo: Photoplay)
Long before filming even began on Dishonored Lady in 1946, the Lamarr-Loder marriage had it's ups and downs. Lamarr was by far the more famous of the duo, something that must have been awkward for Loder sometimes. Screenland recounted in 1943 that the newlywed Loder drove Lamarr to work every morning and entered the studio lot with no trouble, dropped her off, and would then be stopped as he exited and asked his name. Finally he responded that his name was Mr. Hedy Lamarr, and the gateman apologized for stopping him.
The couple separated briefly in early January 1946 but were back together in March before filming began on Dishonored Lady. Their Benedict Canyon home was burglarized in mid-1946 and soon after, they sold it to Humphrey Bogart, and moved to Beverly Hills.
Second son Anthony Loder was born in February 1947. John Loder returned from a stage production tour of Laura in May 1947 to discover that Hedy and her lawyer wanted to discuss a divorce and settlement. Loder moved out and Lamarr filed for divorce in July. Hedy began dating newly separated actor Mark Stevens six weeks later.
A Sad Footnote
Hedy Lamarr married and divorced three more times after her marriage to John Loder; she died in January 2000 at the age of 85. John Loder also married and divorced again (twice), before dying in December 1988 at the age of 90. His obituary in The New York Times mentions only a son and daughter with Hedy Lamarr.
According to the Orlando Sentinel, Hedy Lamarr's will (she died Jan. 19, 2000), left nothing to her first son with John Loder, James Lamarr Markey Loder. The Sentinel had previously reported that an argument between Hedy and James when he was 12 or 13, had resulted in James moving out to live with a teacher from his boarding school and her husband; Lamarr promptly severed ties with him, and John Loder by all accounts was never very involved in his children's lives. Siblings Anthony and Denise Loder claimed that Hedy and James had not had contact with each other for decades, whiles James said they had reconciled in the last 10 years of her life. A settlement for $50,000 for James was reached in January 2001; Lamarr's estate was estimated to be in the range of $1.8 – 3.2 million. 
*Images are believed to be in the public domain and/or Creative Commons licensed & sourced via Wikimedia Commons or Flickr, unless otherwise noted*