Celebrating Seniors - Roger Moore is 89, Part 1
Update May 23, 2017: Roger Moore has died at the age of 89 from cancer. He is survived by his fourth wife, Kristina "Kiki" Tholstrup, children and grandchildren.
Roger Moore, Part 1: Marriages 1-3, Maverick and The Saint (1927-1969)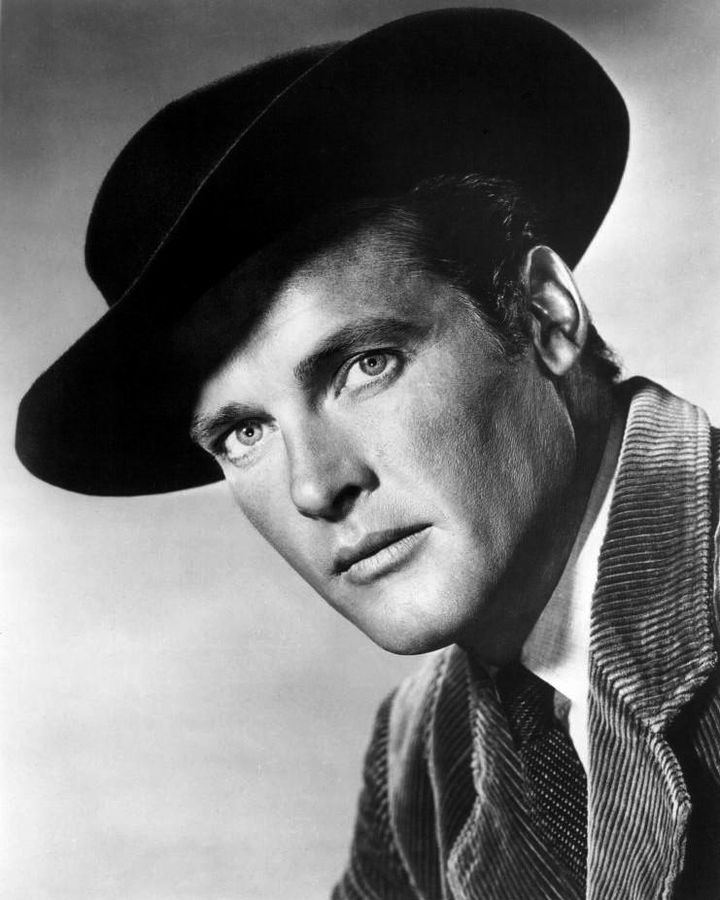 (Roger Moore 1960 Maverick Photo: ABC Television / Bureau of Industrial Service)
Octogenarian senior citizen, humanitarian, and actor, Roger Moore – former Agent 007, James Bond – was born on October 14, 1927 in London, England. Right, a younger Roger Moore circa 1960 as Beau Maverick in the popular western series Maverick.
As a young teenager, Moore was evacuated from London to Devon during World War II. 17-year-old Roger Moore got a lucky break working as an extra as soldiers on the movies Vacation from Marriage (1945), a WWII movie starring Robert Donat and Deborah Kerr; and Caesar and Cleopatra (1945) starring Claude Rains, Vivien Leigh, and Stewart Granger, whom Moore idolized.
This led to a Caesar and Cleopatra co-director offering to pay for Moore to attend the Royal Academy of Dramatic Art (RADA). Roger Moore attended (RADA) for 6 months and met young actress Lois Maxwell (future Miss MoneyPenny in the James Bond films) and a former figure skater turned actress, Doorn Van Steyn, who was more than 5 years older than him.  
In September of 1946, Roger Moore entered the Royal Army Service Corps to begin his conscripted service as second lieutenant. A few months later, 19-year-old Moore married fiery Doorn Van Steyn (nee Lucy Woodward) in December 1946. Moore was made a captain and commanded a depot in West Germany for a time before his military service ended in 1948.
Roger Moore was 21 years old when returned to acting in 1949 and found some small roles in movies. He worked occasionally as a model in the early 1950's and began to get credited roles in films. He met 37-year-old Welsh singer Dorothy Squires in 1952 at a party she held at her Kent mansion; Squires had achieved several hit songs during the late 1940's and her parties were often attended by celebrities. Moore was by then 25 years old, 12 years younger than Squires. He was also still in an unhappy marriage to Doorn Van Steyn, whom he has said was physically abusive to him (punching and scratching).
A romance began between Dorothy Squires and Roger Moore, and resulted in Doorn Van Steyn and Roger Moore divorcing un-amicably in March 1953 after 6 years of marriage. Doorn Van Steyn abandoned acting and later became a stained-glass artisan and part-time photographer with National Geographic. She was an 88-year-old octogenarian senior citizen when she died in August 2010.
Dorothy Squires and Roger Moore got married in July 1953 in New Jersey before moving to the U.S. in 1954 to live in Hollywood. Roger Moore scored a long-term contract with MGM and appeared co-starring roles in "B" movies with some of the biggest names in Hollywood:
The Last Time I Saw Paris (1954) starring Elizabeth Taylor, Van Johnson, Donna Reed, and Eva Gabor.
Interrupted Melody (1955) starring Glenn Ford.
The King's Thief (1955) starring Ann Blyth, George Sanders, and David Niven, with whom Moore enjoyed a life-long friendship until Niven's death in 1983.
Diane (1956) with co-star Lana Turner.
These movies weren't commercially successful and MGM cut Roger Moore loose 2 years into his 7-year contract. He found episodic work on television, and in 1957 in one of the 3 episodes of Matinee Theatre Moore appeared in, he co-starred with Marion Ross (Happy Days) and Patrick Macnee (The Avengers).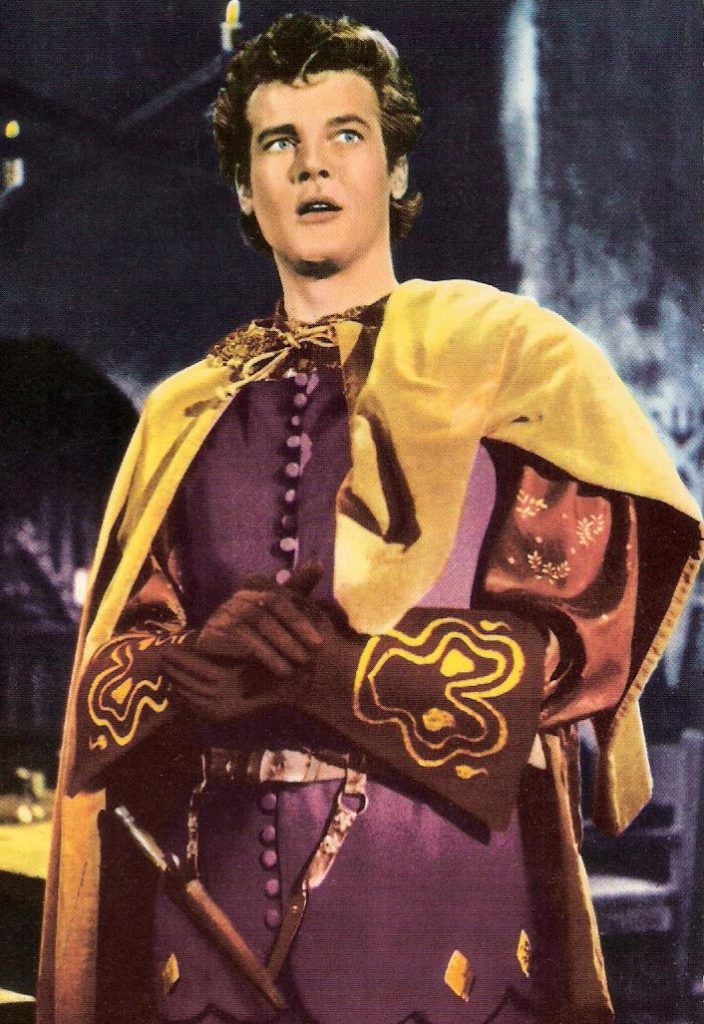 (Roger Moore c. 1958-1959 Ivanhoe Photo: Truus, Bob & Jan too!)
Roger Moore's first big break came in the starring role of Sir Wilfred of Ivanhoe in the English children's adventure series Ivanhoe (1958-1959). Ivanhoe shot in both England and California.
Guest stars on Ivanhoe included Christopher Lee and Robert Brown, both of whom would later turn up in James Bond movies with Roger Moore. Christopher Lee was another lifelong friend of Roger Moore until Lee's death in 2015. 
Moore performed some of his own stunts and earned some broken ribs while filming Ivanhoe. Left, 
During a break in filming Ivanhoe in 1958, Roger Moore filmed the movie The Miracle (1959) starring Carroll Baker, in California.
When Ivanhoe ended, Moore signed a long-term contract with Warner Bros. Next, Moore landed the lead role in a U.S. western-themed TV series, The Alaskans (1959-1960) as "Silky Harris", with Dorothy Provine as his leading lady "Rocky Shaw". 
During the filming of The Alaskans an affair began between Moore and Provine. In a two-part episode of The Roaring 20s (1961), Roger Moore and Dorothy Provine were reunited onscreen. Dorothy Provine died in April 2010.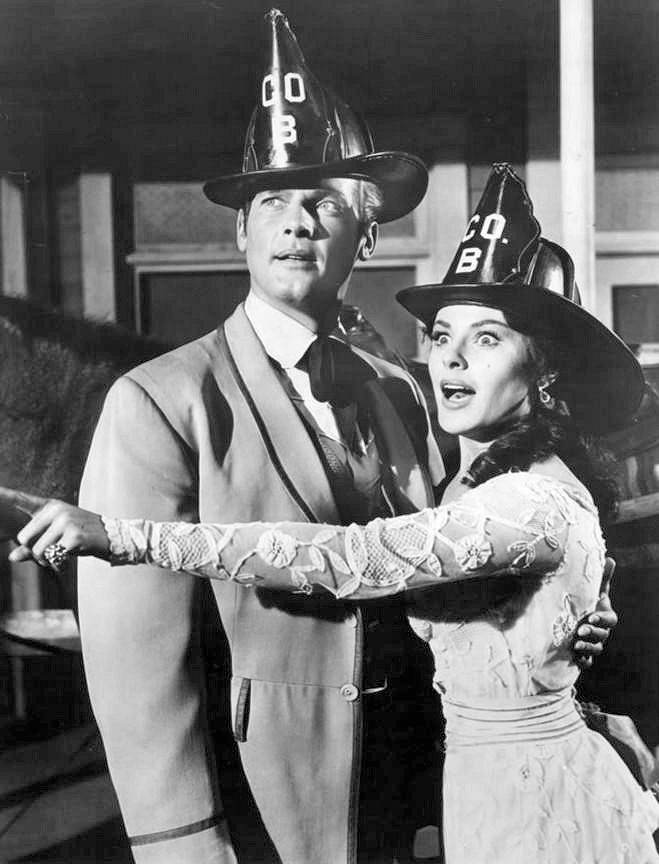 (Roger Moore and Kathleen Crowley c. 1961 Maverick Photo: ABC Television)
When The Alaskans ended, Roger Moore landed the recurring role of Beau Maverick on the popular baby boomer TV series Maverick in 16 episodes from 1960-1961.
Moore's character of Beau Maverick replaced that of Bret Maverick, played by James Garner. Roger Moore had guest-starred on Maverick as a different character in 1959, when James Garner was still starring in Maverick. 
During his time on Maverick, guest-stars that Roger Moore worked with included Max Baer Jr. (The Beverly Hillbillies) and Pat Crowley.
By the time Roger Moore left Maverick in 1961, his marriage to Dorothy Squires was getting rocky; Moore was frequently away from home on location and Squires didn't accompany him on set. Attempts to have a baby, which Squires wanted (according to the BBC) ended in miscarriages, and Squires heard rumours about Moore and other women.
Dorothy and Roger Moore  moved back to the U.K. in 1961 and Roger Moore resumed acting in films, appearing in The Sins of Rachel Cade (1961) with Angie Dickinson and Peter Finch; and the western Gold of the Seven Saints (1961) co-starring Clint Walker.
While filming The Rape of the Sabine Women/Romulus and the Sabines (1961) in Italy, Roger Moore met Italian actress Luisa Mattioli. An affair began and Moore told Dorothy Squires he was leaving and wanted a separation. A furious and hurt Squires threw a brick through the window of the house Moore was living in with Mattioli. She also refused to divorce him, and sued Moore for loss of conjugal rights, which was only the beginning of legal suits Dorothy Squires subsequently brought against Roger Moore and others over a period many years.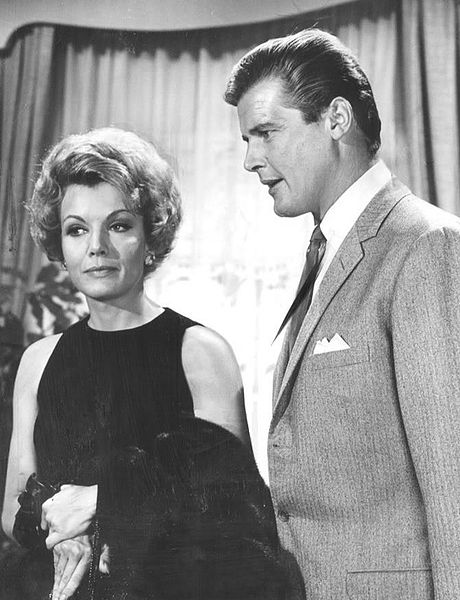 (Roger Moore guest-starring with Joanna Barnes on The Trials of O'Brien 1965 Photo: CBS Television)
Roger Moore and Luisa Mattioli appeared in the movie No Man's Land (1962) and began a family in 1963 with the birth of their daughter Deborah Moore, followed by son Geoffrey Moore (b. 1966).
After 7 years of separation, Dorothy Squires charged Roger Moore with desertion and got a divorce.
In April 1969 Roger Moore married Luisa Mattioli; their third child, son Christian Moore, was born in 1973.
Ex-wife Dorothy Squires' lawsuits left her bankrupt in 1986 and she was declared a vexatious litigant in 1988. When she was hospitalized for cancer treatments in 1996, ex-husband Roger Moore paid her hospital bills. Dorothy Squires was an 83-year-old octogenarian when she died of lung cancer in 1988. 
In 1962, Roger Moore began starring as Simon Templar in the U.K. based TV series The Saint (1962-1969). By the time The Saint TV series and two related movies – The Fiction Makers (1968), and Vendetta for the Saint (1969) – were over, Roger Moore was a household name thanks to baby boomer fans of the show. He had also produced and directed episodes on The Saint during the series run. Below, Roger Moore in character as Simon Templar with Earl Green in The Saint.
 (Roger Moore 1969 The Saint Photo: NBC Television)
Next: Roger Moore, Part 2: James Bond, Retirement and Philanthropy (1970-2016)
*Images are believed to be in the public domain and/or Creative Commons licensed (Flickr, YouTube, Wikimedia, Vimeo) or used by permission, unless otherwise noted*