Celebrating Seniors - Marion Ross Is 88, Part 1
Marion Ross, Part 1: Sabrina and Happy Days Begin (1928-1974)
American octogenarian senior citizen and actress Marion Ross (nee Marian Ross) was born on October 25, 1928 in Watertown, Minnesota. She told the Chaska Herald that her family moved when she was 3 years old to the town of Albert Lea, Minnesota.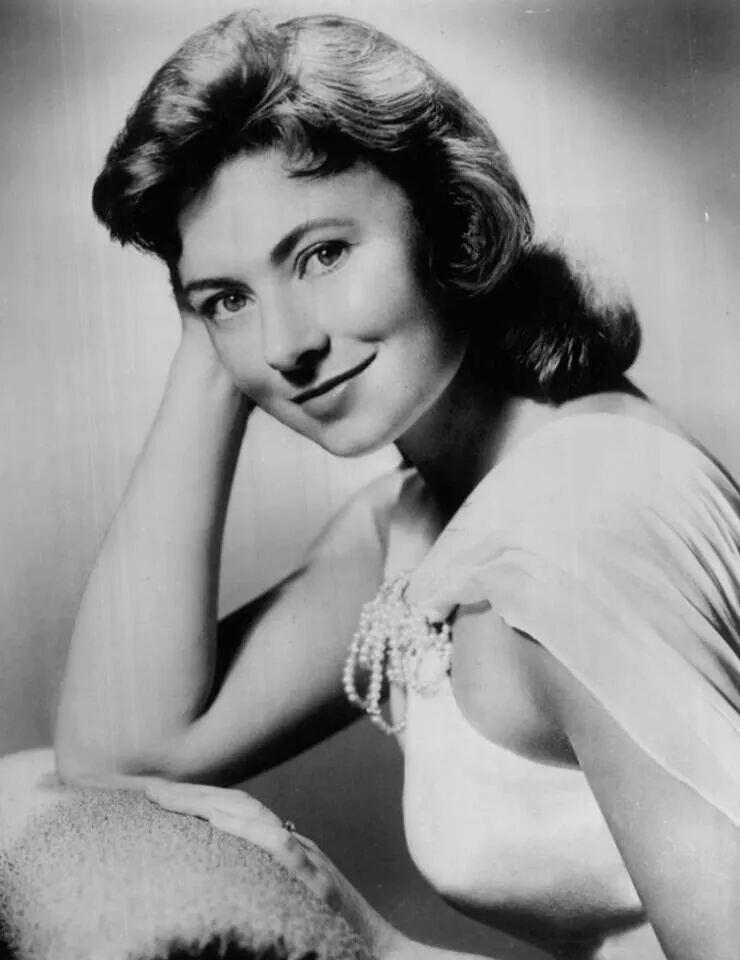 (Marion Ross 1961 Mrs. G. Goes to College Photo: Bureau of Industrial Service)
As a young teenager, she moved by herself to Minneapolis, Minnesota and transferred high schools so she could work while studying drama at the MacPhail Centre for the Arts.
After her family moved to San Diego California when she was 15, Ross completed high school in San Diego and entered San Diego State College (became San Diego State University in 1960) where she was named Most Outstanding Actress.
After Marion Ross graduated from San Diego State College in 1950, she began performing summer theater in La Jolla, California.
She met and married fellow theatre actor Freeman Meskimen in 1951. The couple moved to Los Angeles and Marion landed a contract with Paramount Pictures. 
Seniors may remember the movie Forever Female (1953) starring Ginger Rogers, William Holden and George Reeves (Adventures of Superman), which was the feature film debut for both actress Pat Crowley and Marion Ross (appears in the credits as Marian Ross). Forever Female was the first of three movies to star William Holden that Marion Ross would appear in. 
By the end of the 1950's, Marion Ross had appeared in another 14 feature films. As an uncredited character actress, Marion Ross rubbed shoulders on set with some of the biggest stars of the 1950's in the movies: 
Two films with Harry Morgan (M*A*S*H) – The Glenn Miller Story (1954), starring James Stewart and June Allyson; and It Started With a Kiss (1959) starring Glenn Ford, Debbie Reynolds, and Eva Gabor. 
Pushover (1954), starring Fred MacMurray (My Three Sons), Kim Novak, E.G. Marshall, Dorothy Malone.
Sabrina (1954), starring Humphrey Bogart, Audrey Hepburn, Ellen Corby (The Waltons), and William Holden. Actress Nancy Culp (The Beverly Hillbillies) also had an uncredited role in Sabrina.
Marion Ross would later appear in an uncredited role in a third movie starring William Holden, the World War II film The Proud and the Profane (1956), with Deborah Kerr. Other uncredited up-and-coming actors in The Proud and the Profane with Marion Ross included Claude Akins, Frank Gorshin (Batman), and Robert Morse. 
Around the World in Eighty Days (1956), starring David Niven, had a star-studded cast that included John Gielgud, Trevor Howard, Charles Boyer, Cesar Romero (Batman), Shirley MacLaine, Peter Lorre, Marlene Dietrich, John Carradine, Frank Sinatra, Buster Keaton, and playwright-actor Noël Coward. 
The Best Things in Life are Free (1956), starring Gordon MacRae, Ernest Borgnine, and Sheree North. In addition to Marion Ross in an uncredited role, The Best Things in Life are Free had uncredited actresses Ann B. Davis (The Brady Bunch) and Juliet Prowse in their second films. 14 years later, Marion Ross worked again with Ann B. Davis when she guest-starred on The Brady Bunch sit-com in 1969. 
Lust for Life (1956) starring Kirk Douglas and Anthony Quinn. 
The Big Circus (1959) starred Victor Mature, Red Buttons, Steve Allen, and one of her co-stars from Around the World in Eighty Days, Peter Lorre.
Two years later Marion Ross once again appeared in a movie with her Around the World in Eighty Days co-stars, baby boomer favourites Frank Sinatra and Shirley MacLaine, and Dean Martin, in Some Came Running (1958).
In addition to her many uncredited feature film roles, Marion Ross had some larger, credited roles in these movies:
Ross was Edith in the TV movie of Noël Coward's Blithe Spirit (1956). In addition to writing and directing Blithe Spirit, Noël Coward co-starred in Blithe Spirit alongside Lauren Bacall, Claudette Colbert, Mildred Natwick (The Snoop Sisters), and Marion Ross. 
She was Ruth Seaton in the split-personality movie Lizzie (1957), starring Eleanor Parker, Richard Boone, and Joan Blondell. Singer Johnny Mathis also made an appearance in Lizzie as a piano player.
Marion Ross moved higher up in the credits for the religious film God is My Partner (1957), co-starring opposite Walter Brennan and John Hoyt. Actresses Ellen Corby (The Waltons) and Nancy Kulp (The Beverly Hillbillies), who had appeared in 1954's Sabrina with Ross, also had small roles in God is My Partner. 
The romantic comedy Teacher's Pet (1958) starring Clark Gable and Doris Day, had Marion Ross as Katy Fuller, Doris Day's secretary in the film.
Marion Ross had acquired a list of episodic television credits by the end of the 1950's as well, beginning with an episode of Cavalcade of America in 1953 that Fay Wray in the cast. Other television highlights for Ross were a recurring role as Nora in Life With Father (1953-1955), and an appearance on Matinee Theatre in 1957 with co-stars Roger Moore and Patrick Macnee.
By the late 1950's, Marion Ross was finding more work in television. In 1958 she worked twice with actor Darren McGavin, appearing in his TV series Mike Hammer, and in an episode of Studio One in Hollywood that also included Jackie Cooper. The following year, she guest-starred on an episode of a baby boomer favourite TV series, Perry Mason; on M Squad starring Lee Marvin; The Untouchables; and on The Donna Reed Show with Shelley Fabares. Lee Marvin and Marion Ross also appeared in the same episode of Alcoa Premiere in the 1960's, with Fred Astaire and James Gregory (Barney Miller).  
In the box-office hit Operation Petticoat (1959), Marion Ross played Second Lieutenant Colfax. She was in good company in Operation Petticoat with the film's stars Cary Grant, Tony Curtis, Dina Merrill, and Dick Sargent (Bewitched). Operation Petticoat was a reunion for Ross and actor Gavin MacLeod (The Love Boat); they had worked together for the first time the previous year in an episode of The Walter Winchell File, and a lifelong friendship began.
As the 1950's ended, Marion Ross and husband Freeman Meskiman had their first child, son Jim Meskiman, in September 1959. Ross told People that Meskiman retired from acting to work as a savings and loan company officer and support their young family. 
During the 1960's, Marion Ross's feature film work dwindled to almost nil, although she did have small role in the true-crime film Blueprint for Robbery (1961) starring J. Pat O'Malley, which is a dramatization of the Great Brinks Robbery.
She was kept busy off-screen when she had daughter Ellen Meskiman (b. approx 1963) and spent time raising her young family. Ross also found more work on television, appearing in TV movies and episodes of some popular baby boomer series, oft-times in productions with some of the biggest names in Hollywood and the golden era of TV. Marion Ross worked with such luminaries:
Ronald Reagan in General Electric Theater.
Robert Young and Jane Wyatt in Father Knows Best; she had worked with Robert Young before, as an uncredited extra in the Charlton Heston movie Secret of the Incas (1954).
Loretta Young, Eddie Albert, and Ricardo Montalban in different episodes of The Loretta Young Show (1954 and 1960). Over 20 years later, a now 50+ Marion Ross would work with Ricardo Montalban again when she guest-starred on his series Fantasy Island with actor David Hedison.
Barbara Stanwyck, on The Barbara Stanwyck Show.
Robert Taylor and Adam West in The Detectives.
Clint Eastwood and Alan Hale Jr. in Rawhide.
Martin Milner (Adam 12), George Maharis, Noah Beery Jr. (The Rockford Files), DeForest Kelley (Star Trek), Harold Gould, and John Ericson (Honey West), in two different episodes of Route 66. 
Marion Ross worked again with John Ericson, and Cloris Leachman on Kraft Mystery Theater. 
Richard Chamberlain in Dr. Kildare.
David Janssen and Barry Morse in The Fugitive; Ross would later appear in another series starring David Janssen in 1971, O'Hara, U.S. Treasury.
James Franciscus, Dean Jagger, and Kevin McCarthy in Mr. Novak; and Peter Mark Richman, Robert Vaughn, and Marsha Hunt in Cain's Hundred. Marion Ross would work again with both James Franciscus and Peter Mark Richman when she guest-starred on their series Longstreet in the 1970's.  
Marion Ross had a recurring role as Susan Green on The Gertrude Berg Show (1961-1962), and co-starred as Mary Morgan on the short-lived daytime soap opera Paradise Bay (Sept 1965-July 1966). 
Marion Ross' marriage to Freeman Meskiman ended in divorce in 1969 after 18 years of marriage. She told Closer Weekly about the financial and mental struggles that ensued.
"When I was 40, I got divorced. Nobody had a job [for me], and I had two small children."
Ten years after her divorce, she began seeing a psychotherapist.
"I'd thought I would get over it quickly, get everything straight in my head. So I went to see a shrink, and I do recommend it for anyone."
As the 1960's came to a close and the 1970's began, Marion Ross appeared in two movies co-starring actress Dana Wynter. The first was the made-for-TV crime drama movie Any Second Now (1969) also starring Stewart Granger, Lois Nettleton, Joseph Campanella, and Bob Hastings (McHale's Navy).
In her second movie with Dana Wynter, Ross had an uncredited role as a passenger in the star-studded feature Airport (1970). In addition to Dana Wynter and Marion Ross, the cast of Airport included Burt Lancaster, Dean Martin, George Kennedy, Jacqueline Bisset, Helen Hayes (The Snoop Sisters), Van Heflin, Maureen Stapleton, Lloyd Nolan, Gary Collins, and Barbara Hale. Ross had worked with Barbara Hale before when she appeared on an episode of Perry Mason in 1959, and with Dean Martin in the 1958 movie Some Came Running. The following year, Marion Ross reunited with Airport co-star George Kennedy on his series Sarge.  
In the early 1970's, Marion Ross could be seen in the TV movie The Weekend Nun (1972). The cast of The Weekend Nun included actors Joanna Pettet, Ann Sothern, James Gregory, Beverly Garland, and Kay Lenz. Ross could also be seen by sharp-eyed seniors and baby boomers in episodes of popular baby boomer TV series such as Emergency!:
Mod Squad starring Peggy Lipton, Michael Cole, Clarence Williams III, and Tige Andrews, with Diana Muldaur and David Cassidy.
The Psychiatrist starring Roy Thinnes.
Mission: Impossible starring Peter Graves, Leonard Nimoy, and Lesley Ann Warren.
Insight – Ross made 5 appearances on Insight between 1964-1971, in episodes that included fellow guest-stars Edward Asner (The Mary Tyler Moore Show, Lou Grant), and Ed Begley. She'd work with Edward Asner on film again, more than 45 years later.
Hawaii Five-O starring Jack Lord and James MacArthur. Marion Ross had worked with Jack Lord previously in a 1961 episode of Stagecoach West. 
Ross was a popular guest-star on Ironside starring Raymond Burr and Vera Miles, appearing 3 times on Ironside between 1968-1972. Co-incidentally, Ross worked with Vera Miles again on one of the 3 times she guest-starred on Mannix starring Mike Connors.
Ross appeared twice on Marcus Welby, M.D. starring Robert Young and James Brolin, in episodes with fellow guest stars Agnes Moorhead (Bewitched), Sharon Farrell, and BarBara Luna. Ross and Robert Young had worked together before in 1954's Secret of the Incas, and in the 1960's when she appeared on his series Father Knows Best.  In the 1980's, Ross guest-starred on James Brolin's new series Hotel.
She worked with actor Barry Newman and Susan Howard (Dallas) when she guest-starred in 2 episodes of Petrocelli. 
Marion Ross debuted the character of Marion Cunningham in an episode of Love, American Style in 1972, in a segment called Love and Happy Days. Her co-stars in included Jackie Coogan as Uncle Harold, Harold Gould as Marion's husband Howard Cunningham, Ron Howard as her son Richie Cunningham, and Anson Williams as Richie's friend Potsie. Ross had first worked with actor and future director Ron Howard when she appeared in a episode of The Eleventh Hour.
Below from left, the Cunningham family cast on Happy Days in 1974 when the series debuted: Marion Ross, Tom Bosley, Erin Moran, and Ron Howard.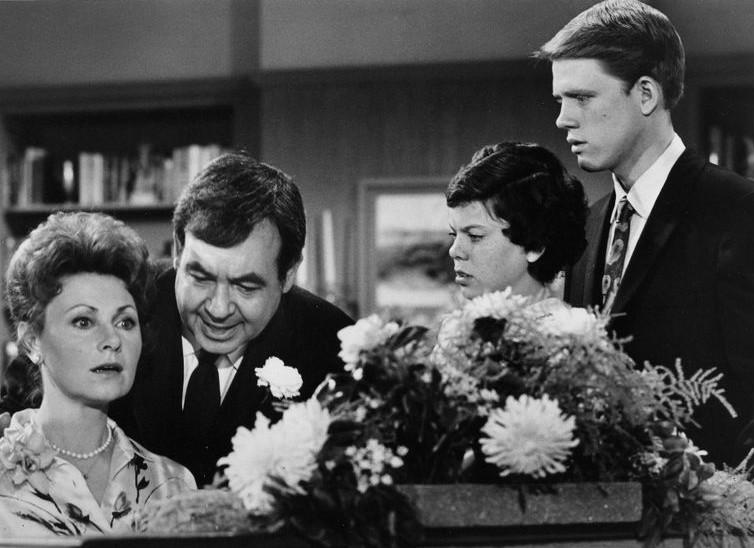 (Cunningham Family Happy Days Cast 1974 Photo: ABC Television)
When the long-running Happy Days TV show premiered in 1974, Marion Ross reprised her character of Marion Cunningham. Several of her co-stars from the previous Love, American Style episode joined her on the Happy Days – Ron Howard as Richie Cunningham, and Anson Williams as Potsie. Actor Tom Bosley replaced Harold Gould as Howard Cunningham, and new characters were introduced that included Henry Winkler as "The Fonz", Erin Moran as Joanie Cunningham, Don Most as Richie's friend Ralph "Malph", and teen heartthrob Scott Baio as Chachi Arcola.
Next: Marion Ross is 88, Part 2: Happy Days On Screen and Off (1976-2016)
*Images are public domain or Creative Commons licensed & sourced via Wikimedia Commons, Vimeo, YouTube, or Flickr, unless otherwise noted*