This Was Nifty in January 1950
News Headlines & Entertainment Trivia from January, 1950: 
The Great Brinks Robbery 
On January 17th, 1950 at 6:55 PM, seven men dressed in Brink's uniforms entered the Brink's depot in Boston, Massachusetts and walked up to the second floor of the building, using keys copied in advance to get through locked doors. Five Brink's employees were tied up and gagged. The thieves grabbed $2.7 million – over 1.2 million in cash, another 1.5 million in securities, cheques, and money orders, and 5 guns belonging to the Brinks staff. About half an hour later, they walked out to their getaway car where a driver (Joseph Banfield) and another accomplice waited (Anthony Pino, who had recruited other men to the gang and planned the timing of the robbery).
The robbery takings were counted and some of the men got their cut immediately before scattering. The eleven robbers who had helped in the planning, training, and execution of the theft (a task that took two years) agreed to wait out the statute of limitations by not using the rest of the $2.7 million for six years. The Great Brinks Robbery would remain the biggest theft in U.S. history for almost 35 years. Only $58,000 of the stolen funds has ever been recovered. 
(Private John Norris & 1950 Brinks Robbery Evidence Photo: Bob Mulligan / INP)
Although a police raid in April of that year yielded a suitcase with a Brinks guard uniform and weapons, no arrests were made for the Brinks robbery. A couple of months later two of the robbers – Joe 'Specs' O'Keefe and Stan 'Gus' Gusciora – were convicted of burglary in another case. It was O'Keefe and Gusciora who had picked the Brinks depot locks and had duplicate keys made before the Brinks robbery. They denied all knowledge of the Brinks robbery. 
Another gang member, Adolph Maffie, was convicted of income tax evasion and sentenced to nine months. 
When Joe O'Keefe was released he stood trial for parole violations and another robbery, and was released on bail; he needed money (O'Keefe said he'd given his portion of the robbery money to Maffie to take care of for him). O'Keefe kidnapped fellow Brinks gang member Vincent Costa and demanded his share of the takings for ransom. Anthony Pino hired a hitman to kill O'Keefe. Although O'Keefe was wounded he survived – and talked to the FBI when they interviewed him in the hospital.
Five of the robbery gang  who were arrested by the FBI 5 days before the statute of limitations ran out, on January 12, 1956, and another two May. The driver Joseph Banfield had already died, and Stan Gusciora died in July. Joe O'Keefe received a 4 year sentence and was out of prison in 1960, while eight of the others were convicted and sentenced life imprisonment. One of the eight died in prison, but by 1971 the rest were paroled.  
Films based in whole or part on the Great Brinks Robbery:
Six Bridges to Cross (1955), starring Tony Curtis, George Nader, Julie Adams, Sal Mineo, Jan Merlin, Jay C. Flippen, and others; narrated by Jeff Chandler. 
Blueprint for Robbery (1961), with J. Pat O'Malley. Marion Ross has a very small part in the film.
Brinks: The Great Robbery (1976), starring Carl Betz, Stephen Collins, Burr DeBenning, Cliff Gorman, Michael Gazzo, Darren McGavin, Art Metrano, Leslie Nielsen, Jenny O'Hara, Bert Remsen, Jerry Douglas, and Barney Phillips.
The Brinks Job (1978), with Peter Falk playing Tony Pino, Allen Garfield as Vinnie Costa, Warren Oates as Joe 'Specs' O'Keefe, Gena Rowlands as Pino's wife Mary, and Paul Sorvino as Maffie. Peter Boyle plays another gang member, while Sheldon Leonard is an FBI agent.
Joe O'Keefe aided author Bob Considine who wrote the true crime book The Men Who Robbed Brinks (1961).
Alleged Communist Spy Alger Hiss is Convicted of Perjury
Lawyer and U.S. federal government official Alger Hiss was convicted on 2 counts of perjury in January 1950, and received consecutive 5-year sentences for each charge.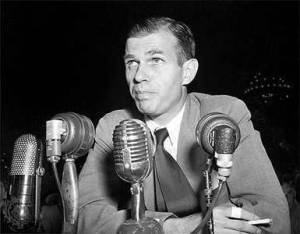 (Alger Hiss 1950s Photo: New York World-Telegram & Sun / Library of Congress)
From 1939-1944 during World War II, Hiss had worked as an assistant to a special advisor in the Office of Far Eastern Affairs. From 1945 until late 1946, he was first appointed as Secretary-General of the United Nations Conference on International Organization, and then made Director of the State Department Office of Special Political Affairs.
After leaving the government at the end of 1946, Hiss served as President of the Carnegie Endowment for International Peace.
In 1948, anti-communism sentiment and the beginning of the Cold War had ramped up the activities and determination of the HUAC (House Un-American Activities Committee). Republican Congressman Richard Nixon, a member of HUAC, was determined to go after "secret communists" like Hiss.
Alger Hiss was named by Whittaker Chambers, a former Communist Party member, as having been a member of the US Communist Party during the 1930s, and of espionage during that time. Hiss insisted on testifying before HUAC to clear his name. Conflicting testimony from both Chambers and Hiss resulted Hiss being charged with perjury; he was not charged with espionage as the statue of limitations had run out. A key piece of evidence against Hiss was 35mm film of classified government documents alleged by Chambers to have been typed by Alger's wife Priscilla on their typewriter, and given by Hiss to Chambers; the film had been hidden by Chambers inside a pumpkin on his farm. 
During Alger Hiss' first trial for perjury, Whittaker Chambers admitted to lying to HUAC several times while he had been under oath; the trial ended in a hung jury. During a second trial, Hiss was convicted on two counts of perjury and ended up serving 3 years and 8 months. 
In subsequent decades, conflicting records and claims were made both for and against the notion of Alger Hiss as a spy. Hiss had been disbarred after his 1950 conviction, but had his license to practice law restored by the Massachusetts Bar in 1975. He wrote two books, maintaining his innocence in each – In the Court of Public Opinion (1957), and Recollection of a Life (1988). He died of emphysema in 1996. 
His accuser, self-acknowledged Communist spy Whittaker Chambers – who admitted to lying under oath but was never charged with perjury – was lauded by American Conservatives. He had resigned as writer & editor for Time magazine in 1948, but continued to write for other magazines and the National Review after the Hiss trials. He authored the books Witness (1952) and Cold Friday (1964), which was published posthumously (he died of a heart attack in 1961).
Richard Nixon, bolstered by his HUAC successes, eventually rose to the office of President of the United States in 1972, only to resign in 1974 after Watergate.  
The 1984 mini-series Concealed Enemies features actors Edward Hermann as Alger Hiss, Maria Tucci as his wife Priscilla, John Harkins as Whittaker Chambers, and Peter Riegert as Richard  Nixon.
Gun Crazy Movie Premieres
Gun Crazy (aka Deadly is the Female) premiered on January 20, 1950. This film noir stars Peggy Cummins as Annie Laurie Starr and John Dall as Bart Tare, a gun-loving couple on a crime spree.
Director Joseph H. Lewis and screenwriters Millard Kaufman and novelist MacKinlay Kantor appear in the original film credits of this tense drama. It was actually blacklisted screenwriter Dalton Trumbo (using Millard Kaufman's name as a front) who reworked Kantor's 1938 short story to make it a film focused on the doomed love aspect of this gun-slinging husband and wife. 
Also in the cast of Gun Crazy are a young Russ Tamblyn, who plays Bart at age 14; Morris Carnovsky as a sympathetic Judge; and Berry Kroeger as Bart's jealous boss Packett. Bart's childhood friends are portrayed as adults by Harry Lewis as Deputy Clyde Boston and Nedrick Young as reporter Dave Allister. 
Gun Crazy is notable for a long one-shot take of an on-location bank robbery scene filmed in Montrose, California. The actors improvised dialogue to cover the range of the take – from driving into town along Verdugo Road, to robbing the (Security First National) Bank, and their getaway. 
Gun Crazy has been nominated for several AFI "best of" lists, including Top 10 Gangster Films, 100 Movies, 100 Thrills, 100 Passions, and 100 Movie Quotes, for Bart's line:
"We go together, Laurie. I don't know why. Maybe like guns and ammunition go together." 
*Images are believed to be in the public domain and/or Creative Commons licensed & sourced via Wikimedia Commons or Flickr, unless otherwise noted*