Forever Young And Restless Jerry Douglas
Singer-actor Jerry Douglas, a long-time star of the daytime television soap opera The Young and the Restless – playing patriarch John Abbott from 1981-2016 – has died at the age of 88. His career spanned 6 decades, during which time he worked with some of the biggest names in movies and TV.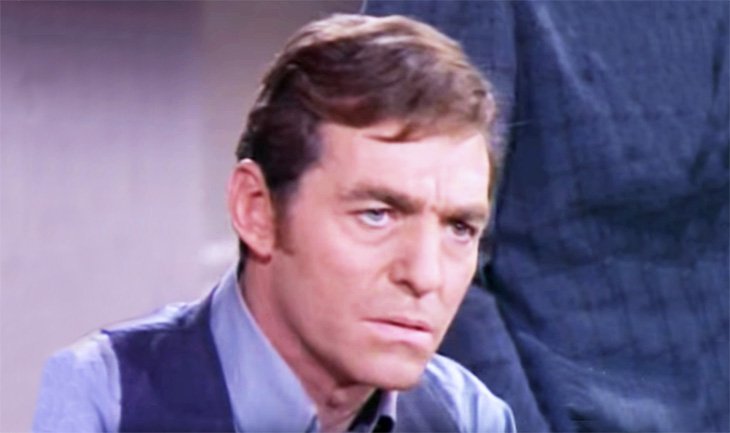 (Jerry Douglas 1970 Dan August)
Young and Restless In the Beginning
Nee Gerald Rubenstein when he was born on November 12, 1932 in Chelsea, Massachusetts (U.S.), Jerry Douglas attended Brandeis University in Massachusetts on a football scholarship. After earning a degree in economics, he moved to New York and began law school. Douglas dropped out of law school to audition for acting jobs. His first film credit is for an episode of the TV series This Is The Life (1952).
Frustrated by a lack of training and work as an actor, Jerry moved to California in 1962 and began taking acting classes at night, while working in insurance sales during the day. He married singer-actress Arlene Martel (nee Arlene Sax) in California that same year. Arlene's 4 year old son Shane Palmer, from her first marriage, was joined by their daughter Avra Douglas, born in October 1963; followed by son Jodaman Douglas (now known professionally as Jod Kaftan) born in August 1969.
Years later, Jod Kaftan described his parent's first impressions upon meeting each other:
"My parents met in a West Hollywood bar called the Raincheck. They were both actors in need of com­pany. When I asked my dad what he thought when he first saw my mom, he said, she was a pretty looking broad with a terrific figure, exotic. When I asked my mom, she said she thought he was fairly handsome and would be a good provider."
Jerry Douglas had by this time hired an agent, and he began to find steady work on television and in the occasional movie. In the 1960's he appeared on popular baby boomer TV series such as Gunsmoke and Bonanza, and worked with familiar faces in other shows too:
Robert Stack, Sheree North, Edward Asner, and Alan Oppenheimer in a 1963 episode of The Untouchables. Douglas would work with each of these actors again:

Jerry guest-starred on Robert Stack's 1970's series Most Wanted, co-starring Shelly Novack.
Edward Asner and Alan Oppenheimer were among Douglas' co-stars in the feature film Gunn (1967) starring Craig Stevens as Peter Gunn, with Regis Toomey (Burke's Law), George Murdock (Banacek), and Sherry Jackson (Make Room For Daddy). 
When Douglas guest-starred 3 times on Police Story between 1975-1979, his other Police Story co-stars included Edward Asner, Hugh O'Brian, Dabney Coleman, Dennis Weaver, Diana Muldaur, Nehemiah Persoff, Larry Hagman, Robert Culp, and George Murdock (a co-star in Gunn). 
Alan Oppenheimer and Douglas had supporting roles n the 1970's series Eischied, starring Joe Don Baker and Joe Santos. Jerry later guest-starred twice on Joe Santos' series The Rockford Files in the mid-1970's,with James Garner and Noah Beery Jr. Douglas appeared in Rockford Files episodes with James Sikking, Nicolas Coster, Hector Elizondo, Rita Moreno, and Stuart Margolin.

Richard Egan, Ryan O'Neal, and Charles Bronson on Empire.
Actor Henry Darrow  and Douglas were co-stars in episodes of The Outer Limits in the 1960's, and in the 1970's, Harry O (starring David Janssen and Mike Farrell of M*A*S*H).
Ben Gazzara, Chuck Connors, John Larch, Roger Perry, and Douglas' fellow bit players Bill Quinn (Archie Bunker's Place) and Dorothy Malone (Peyton Place) were in Arrest & Trial. Jerry Douglas and Dorothy Malone would work together a couple of more times in the 1970's.
Jerry Douglas and actor George Hamilton were co-stars in the 1975 TV thriller The Dead Don't Die, along with Joan Blondell and Ray Milland. Previously they'd guest-starred in episodes of TV series such as The Rogues, in an episode starring Ida Lupino and Charles Boyer. In an episode of Bob Hope Presents the Chrysler Theatre, their fellow guest stars included Margaret O'Brien, Carroll O'Connor (All in the Family), Dick Wilson (Bewitched), Jack Weston, and Don Marshall. Douglas also guest-starred on Don Marshall's series Land of the Giants in 1969, with Gary Conway and Don Matheson.
Douglas was an extra in the biographical feature film Harlowe (1965), based on the life of 1930s actress Jean Harlowe. Harlowe's stars included Carroll Baker, Angela Lansbury, Mike Connors, Martin Balsam, Leslie Nielsen, and Peter Hansen (General Hospital). Jerry Douglas worked with Mike Connors again when he guest-starred on 3 episodes of Mannix, in episodes with Vera Miles, Marion Ross, and Susan Howard (Dallas)
From the 1970's through the early 1980's, keen-eyed fans might have noticed Jerry Douglas in episodes of popular television series such as Mission: Impossible , as well as
Ironside starring Raymond Burr (Perry Mason), Bradford Dillman, John Lupton, prolific character actress Ann Doran, and Don Gallow. 
Dan August, starring Burt Reynolds, Norman Fell, and Richard Anderson, in episodes with Sal Mineo, Fernando Lamas and Ellen Corby. Douglas was reunited with Richard Anderson in 1976, when he guest-starred on The Bionic Woman starring Lindsay Wagner.
The F.B.I. starring Efrem Zimbalist Jr., in 4 episodes that included guest stars Telly Savalas, Celeste Holm, Martin Sheen, Anthony Zerbe, and two of his future Y & R co-stars – Eric Braeden and Jamie Lyn Bauer.
The Manhunter, starring Ken Howard with Joan Van Ark (Knots Landing), Arlene Golonka, Peter Haskell, and Robert Pine.
The Rookies, starring Georg Stanford Brown and Kate Jackson.
The Blue Knight, starring George Kennedy.
Police Woman, starring Angie Dickinson and Earl Holliman, with Joan Collins, Hayden Rorke, and Dorothy Malone. That same year, Malone and Douglas appeared in the same episode of The Streets of San Francisco.
The Quest, starring Kurt Russell and Tim Matheson, with Gary Collins and George Lazenby. Douglas worked with George Lazenby again when they co-starred in the TV movie Cover Girls (1977), with Don Johnson and Vince Edwards.
The Feather and Father Gang, with Stefanie Powers and Pat Crowley.
Richie Brockelman, Private Eye, starring Dennis Dugan, Robert Hogan, Barbara Bosson, and Earl Boen. Douglas' wife Arlene Martel (under her new professional name of Tasha Martell) appeared in the same episode of Richie Brockelman, Private Eye with him. 
Between 1973-1980, Jerry Douglas guest-starred 5 times on Barnaby Jones with series stars Buddy Ebsen, Lee Meriwether and Mark Shera. 
In addition to his episodic TV work during this era, Jerry Douglas also had parts in these feature films and TV movies:
Travis Logan, D.A. (1971), a movie starring Vic Morrow, Chris Robinson, James T. Callahan, Hal Holbrook, Brooke Bundy, Brenda Vaccaro, George Grizzard, Scott Marlowe (Valley of the Dolls), Edward Andrews, and Ed Flanders. 
Hunter (1973), a TV thriller starring John Vernon with Fritz Weaver, John Schuck, Barbara Rhoades, and Ed Flanders again.
Brinks: The Great Robbery (1976), a TV movie starring Stephen Collins (7th Heaven), Darren McGavin (Mike Hammer), Leslie Nielsen, and Jenny O'Hara. The film is based on the Great Brinks Robbery in January 1950. 
Black Tigers / Good Guys Wear Black (1978), an action feature film starring Chuck Norris, Anne Archer, James Franciscus (Longstreet), and Jim Backus. 
Avalanche (1978), an action feature film with Rock Hudson, Mia Farrow, Jeannette Nolan and Steve Franken. Franken and Douglas had both been in an unsuccessful TV pilot/movie 5 years earlier called The Stranger (1973), along with Cameron Mitchell, Dean Jagger (Mr. Novak), Tim O'Connor, and William Bryant (General Hospital). 
Douglas was in the TV movie Crash (1978), a drama starring William Shatner (Star Trek, TJ Hooker), Shatner's wife Marcy Lafferty, Adrienne Barbeau (Maude), Brooke Bundy, Ron Glass, Sharon Gless (Cagney & Lacey), George Maharis (Route 66), and Eddie Albert, with Brett Halsey, George Murdock (Banacek), Susan Brown (General Hospital), Bob Hastings, and Mark Pinter (Another World). Jerry Douglas had worked with several of his Crash co-stars previously:
In the biographical feature film Mommie Dearest (1981) starring Faye Dunaway as Joan Crawford, Jerry Douglas had another bit part. The film's co-star Steve Forrest had worked with Douglas before, when they both appeared on an an episode of S.W.A.T. in 1975, with Mark Shera.  
The big-screen thriller Looker (1981) starred Albert Finney, James Coburn, Susan Dey (The Partridge Family), Leigh Taylor-Young, Dorian Harewood, Darryl Hickman, Terry Kiser (The Doctors), with Vanna White and Douglas in small roles..
As he entered his 50+ years in 1982, Jerry Douglas had a busy year professionally. He was in the TV movie A Wedding on Walton's Mountain (1982) with Ralph Waite, Richard Gilliland (Operation Petticoat), Joanna Kerns (Growing Pains), and Ellen Corby.  Douglas also guest-starred in The Greatest American Hero, starring William Katt, Connie Sellecca, and Robert Culp, who he knew from a Police Story episode in the 1970's. 
His personal life was on the rocky side; Douglas and his wife Arlene Martel had separated in 1973 and she'd moved to Carmel with their children. They were divorced by the time Arlene remarried in 1980. Arlene Martel divorced again, and died in August 2014 at the age of 78, of complications from a heart attack. 
The Young and The Restless
In September 1983, Douglas met 26-years-younger TV host Kymberly Bankier when they were participating in The Jerry Lewis Muscular Dystrophy Telethon. Jerry Douglas and Kymberley Bankier got married in April 1986 and had son Hunter Douglas in 1997. 
With a happier home life, his professional life picked up as well. In 1982, Jerry Douglas landed the role of patriarch John Abbott on daytime soap opera The Young and The Restless. He has continued as a regular or recurring cast member on The Young and the Restless for over 30 years.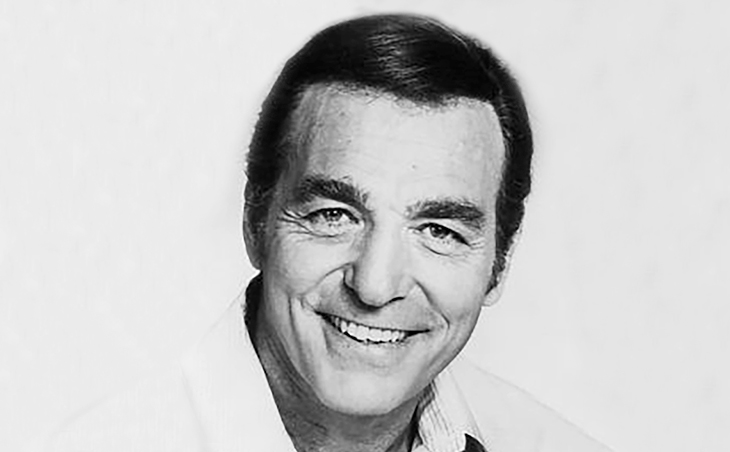 (Jerry Douglas 1983 Photo)
Douglas was briefly written out of The Young and the Restless around 2008, but was brought back frequently as either the ghost of John Abbot, or the different character of Alistair Wallingford.
Most recently Jerry Douglas played the ghost of John Abbott again, in October 2016. Key cast members that Jerry Douglas worked with while starring on The Young and the Restless included Peter Bergman, Doug Davidson, Eileen Davidson, Christian LeBlanc, Kate Linder, and Melody Thomas Scott. Jerry Douglas' ex-wife Arlene Martel appeared on The Young and the Restless in 1987, using her new professional name of Tasha Martel.
Some of the other The Young and the Restless co-stars that Jerry Douglas worked with before, during, and after his time on the popular soap opera included: 
Jeanne Cooper, in the horror movie Black Zoo (1963) starring Michael Gough and Edward Platt (Get Smart). 
Eric Braeden (1970) and Jamie Lyn Bauer (1973) in episodes of The F.B.I. 
Although acting on The Young and the Restless kept Jerry Douglas busy during the 1980's, 1990's, and 2000's, he did find time to guest-star on a 2-part episode of Hunter (1989), with Pat Skipper (Y&R). His other Hunter episode co-stars included Fred Dryer, Stepfanie Kramer, Ken Foree, and Steve Franken, whom Douglas had worked with in the movies The Stranger (1973) and Avalanche (1978).
Barbara Crampton in the comedy feature film The Godson (1998) starring Rodney Dangerfield, Dom DeLuise, and Lou Ferrigno and Barbara Crampton.
Douglas had a bit part in the feature film JFK (1991). The all-star cast of JFK included Kevin Costner, Sally Kirkland, Edward Asner, Sissy Spacek, Brian Doyle-Murray (Saturday Night Live), Wayne Knight (Seinfeld), Laurie Metcalf (Roseanne), Gary Grubbs, Joe Pesci, Tommy Lee Jones, and Donald Sutherland. Edward Asner and Jerry Douglas had first worked together almost 30 years earlier, in a  1963 episode of The Untouchables. 
Jerry Douglas was officially a senior citizen when he became a father for the third time, to son Hunter Douglas with wife Kymberly.
Baby boomer and senior fans of Jerry Douglas could see him on television in the TV movie The Christmas Wish (1998) with Debbie Reynolds, and Michael Fairman; and as Mr. Damarr in 2 episodes of Melrose Place in 1999. On Melrose Place, his other guest co-stars included veteran actors J. Kenneth Campbell, Julie Adams, and James Darren.
Douglas recorded and released a CD of jazz standards in 2007 and toured the U.S. and Canada. He could be seen onscreen more recently in the comedy feature film Silent But Deadly (2012). Silent But Deadly co-starred Dawn Wells and Martin Kove, and reunited Douglas with actress Lee Meriwether, whom he had first worked with in Barnaby Jones in 1973, 39 years earlier.
The comedy short The Final Show (2016) co-starred seniors Jerry Douglas, Peter Mark Richman, and Nancy Dussault. Fittingly, it was indeed his final film appearance.
Grandfather Jerry Douglas and his wife Kymberly Douglas celebrated their 35th wedding anniversary in April 2021. Douglas died on November 9, 2021, 3 days before his 89th birthday. He'll remain forever young in our hearts, but his spirit is no longer restless.
Note: This article was first published in 2016 as Celebrating Seniors – Jerry Douglas Turns 84. It has been updated with new & additional content.
*Images are public domain or Creative Commons licensed & sourced via Wikimedia Commons, Vimeo, YouTube, or Flickr, unless otherwise noted*