Boomer TV Trivia: The Streets of San Francisco
Q1. Two actors that guest-starred frequently on The Streets of San Francisco would end up starring as police officer partners in their own television series (1975-1979). What was the series they would star in, and who were the actors?
Q2. When Michael Douglas, who played Assistant Inspector Steve Keller left The Streets of San Francisco after the first episode of the final season, who was the new actor that was brought on to play the character of Inspector Dan Robbins?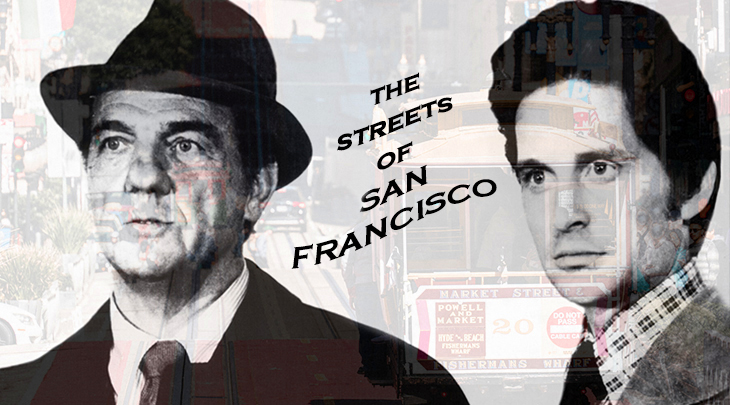 (Karl Malden & Michael Douglas 1972-1976 The Streets of San Francisco Photo Blend: A. Hamilton)
Baby boomers and seniors will remember watching veteran actor Karl Malden play Lieutenant Michael Stone from 1972-1977 on The Streets of San Francisco.
For most of that time Malden's co-star was Michael Douglas as Steve Keller, a young, inexperienced plainclothes detective. The Streets of San Francisco was the first experience as a TV series regular for both Malden and Douglas.
Michael Douglas' acting and producing career was on the rise while the series was on the air, and he left the show after producing One Flew Over the Cuckoo's Nest, which won the Academy Award for Best Film (1975). Douglas' character Steve Keller left the show to teach at college, while Douglas went on to produce and star in many more movies including winning another Academy Award, this time as Best Actor, for 1987's Wall Street.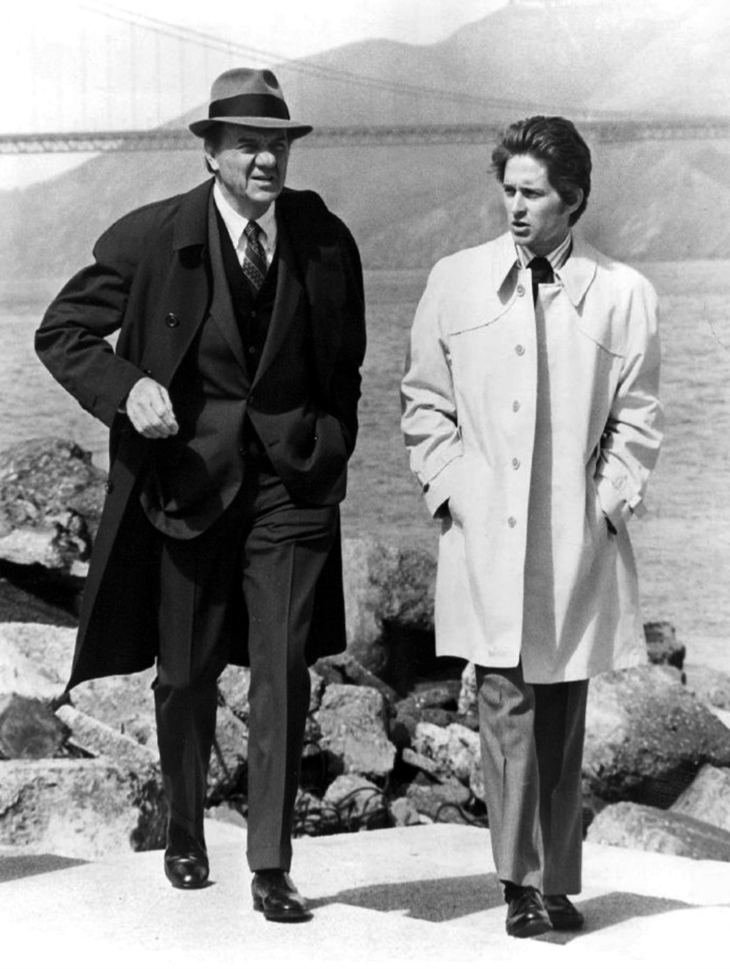 (Karl Malden & Michael Douglas 1972 The Streets of San Francisco: ABC Television)
Karl Malden was 60 years old when The Streets of San Francisco started in 1972, with 45 movies already under his belt – including 1951's A Streetcar Named Desire, for which he won an Academy Award as Best Supporting Actor. Despite his extensive experience on stage and in films, he initially struggled with the demands of a weekly television series.
"'You have to memorize a whole script every week. You have to get on the air and get off in a set time. You have to hit your mark. They took all the things that actors hate and put together and called it television' …On stage and in films, he was an actor who submerged himself wholly in a role. He would not accept a part unless he had a month to study the script. He prepared three approaches to every character to give himself and the director a choice…he hid his own personality behind a character. 'You can't do that week after week. I had to say, who is Karl Malden? I think that 70 per cent of what you see on the screen today is Karl Malden. I never did that before.'" – Karl Malden [Mladen Szkuloupch]: character actor entered TV reluctantly, AP, The Times Herald, May 5, 1974
Co-stars Michael Douglas and Karl Malden developed a personal and professional relationship that mirrored their partner's relationship on the show, with veteran Malden regarding Douglas as a son and Douglas referring to Malden as his mentor.
"When we started 'Streets of San Francisco' it was the luck of God that Michael and I worked well together. I love him like a son and I know he likes me," he said. Many years ago, when Malden was relatively new to the business, he said he worked in summer stock with a newcomer named Kirk Douglas 'and I tried to help him by teaching him the little I knew. So here I am teaching his son." – Karl Malden, Everywhere, Karl-The-Cop, by Richard K. Shulll, The Indianapolis News, January 22, 1976
The third star of the show was the city of San Francisco, as the series was filmed almost entirely on location there; except for scenes set inside the police station, which were filmed on a Hollywood stage.
Semi-regulars on the series over the years included Reuben Collins as Inspector Bill Tanner and Darleen Carr as Jeannie Stone.
Among the many actors and actresses that guest-starred more than once on The Streets of San Francisco during it's run: Hari Rhodes, Barry Sullivan, Tim O'Connor, Dick Van Patten, Anthony Geary, Marion Ross, Leslie Nielsen, Bernie Kopell, A. Martinez, Dean Stockwell, Peter Strauss, Pat Conway, Tom Bosley, Jerry Douglas, William Windom, Mark Miller, and others.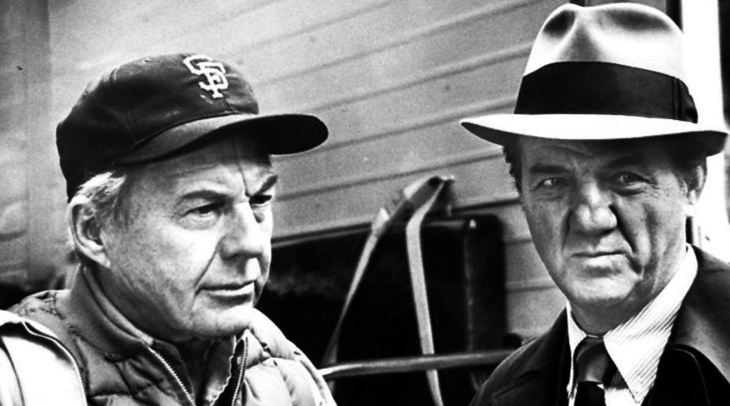 (Guest Star David Wayne & Karl Malden 1972 The Streets of San Francisco: ABC Television)
When The Streets of San Francisco ended in 1977, Karl Malden was a senior citizen. Malden went on to star in 2 television mini-series and 15 more movies, ending with his last film in 2003 when he was 90 years old – Broadway: The Golden Age, by the Legends Who Were There.  
In 1992 a TV reunion movie Back to the Streets of San Francisco was aired; although Karl Malden played his original character Mike Stone in the movie, Michael Douglas did not appear.
More than two decades after The Streets of San Francisco went off the air, 92-year-old Karl Malden accepted an Award from the Eugene O'Neill Theater Center in 2004, from former co-star Michael Douglas and actor Kirk Douglas (Michael's father and Karl's friend). That same year, Karl Malden and his wife Mona were present at a tribute to his former Streets of San Francisco co-star Michael Douglas (below). In his acceptance speech, Michael Douglas praised Malden's example and thanked him for his mentorship.
A1. Both David Soul and Paul-Michael Glaser made several appearances on The Streets of San Francisco before starring in Starsky and Hutch as police officers.
A2. Richard Hatch had appeared on Broadway in the 60's, and in the early 70's starred on the daytime soap All My Children as Philip Brent, before landing the role of Inspector Dan Robbins on The Streets of San Francisco in 1976. 
Note: This article was first published in 2015. It has been updated with new / additional content.
*Images are public domain or Creative Commons licensed & sourced via Wikimedia Commons, Vimeo, or Flickr, unless otherwise noted*