Peripheral Artery Disease - Symptoms & Risks
Peripheral artery disease (also called peripheral arterial disease or PAD) is a common circulatory problem in which narrowed arteries reduce blood flow to limbs (ie, legs), according to experts at the Mayo Clinic and the Canadian Society for Vascular Surgery (CSVS).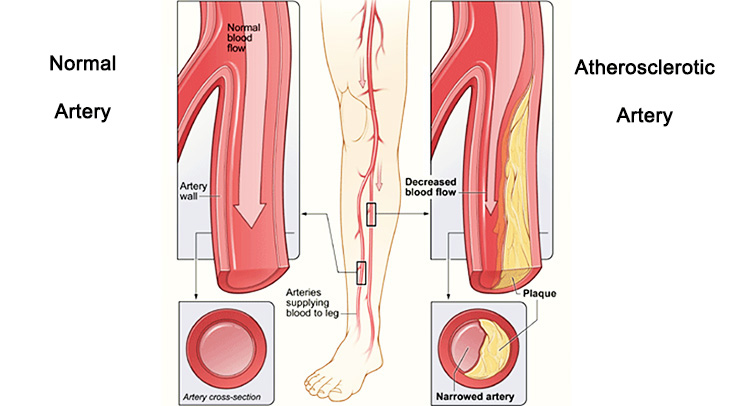 (Peripheral Arterial Disease Infographic: National Heart Lung and Blood Institute)
Peripheral artery disease is also likely to be a sign of a more widespread accumulation of fatty deposits in arteries (atherosclerosis), and reduced blood flow to the heart and brain. The risk of developing PAD increases as you get older/with aging. If you are a senior, or even age 50+, a diabetic, or a smoker, you are at greater risk of developing PAD.
Symptoms of Peripheral Artery Disease
Unfortunately, many people with PAD have mild or no symptoms, and it can only be determined with testing.
The most common symptom of peripheral artery disease is leg pain or cramping (usually in the calf, but could be hip/buttock, or thigh) with activities such as walking or climbing stairs. This is also called claudication.
The pain usually disappears after a short rest, and the location of the pain will depend on the location of the narrowed or clogged artery. Other symptoms of peripheral artery disease include:
Leg numbness or weakness
A change in the color of legs
Slower growth of toenails
Shiny skin on legs
Weak pulse in legs or feet
Hair loss or slower hair growth on feet and legs
Coldness in lower leg or foot, especially when compared with the other side
Sores on toes, feet or legs that won't heal
Erectile dysfunction in men
Risk Factors for Peripheral Artery Disease
You should see your doctor if you are experiencing pain or other symptoms of PAD, especially if you are a smoker, or have diabetes – these are the two greatest risk factors for PAD due to reduced blood flow. Other risk factors for peripheral artery disease are:
Over age 70
Age 50 or older with history of smoking or diabetes
Family history of peripheral artery disease, heart disease, or stroke
Overweight/obesity
High cholesterol
High levels of homocysteine (your doctor can do blood tests for this)
Treatment for Peripheral Artery Disease
Peripheral artery disease can often be successfully treated with lifestyle changes such as quitting smoking, regular exercise, keeping blood sugar under control if you are a diabetic, limiting salt intake, and follow a heart-healthy diet low in saturated fat.
Proper footcare is important if you have PAD, especially if you are a diabetic. Wash, dry, and moisturize feet daily to prevent cracks and sores. See a podiatrist or foot doctor promptly for fungal infections, bunions, corns, calluses, sores, or injuries to your feet.
Medical treatment for PAD may include taking Aspirin or another antiplatelent agent, and/or a drug to lower cholesterol.
As a preventative measure, avoid cold medications that contain pseudoephedrine, which constricts blood vessels and may increase PAD symptoms. Example: Advil Cold & Sinus, Aleve-D Sinus & Headache, Claritin-D, Sudafed, Tylenol Cold, Zyrtec-D, etc.
More About Heart Disease, Heart Attacks, High Blood Pressure/Hypertension, And Strokes
Atrial Fibrillation: Risk Factors
Heart Attack Symptoms (men)
Signs of a Heart Attack For Women
Hormone Therapy for Menopause and Heart Disease
High Blood Pressure: Fish Oil Supplements
Strokes: Brain Function and Impacts
What to Say to Someone Who's Had a Stroke
Health Risks for Aging Couch Potatoes
**This article is for informational purposes only and is not intended as expert nutrition advice, nor is it a substitute for professional medical or nutritionist advice, diagnosis, or treatment. Always seek the advice of a qualified physician or nutrition expert with any questions you may have regarding a medical or other health condition. In the event of a medical emergency, call a doctor or 911 immediately. This website does not recommend or endorse any specific tests, physicians, products, procedures, opinions, or other information that may be mentioned on the Site or on other websites it links to. Reliance on any information provided by this website or other websites it links to, is solely at your own risk..**