October 3rd Birthdays
If you were born on October 3rd, you share a celebrity birthday with these famous people: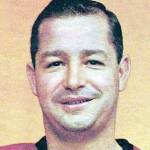 Glenn Hall ("Mr. Goalie")
Hockey Hall of Fame Canadian professional hockey player, NHL goalie, and three-time Vezina Trophy-winning "Butterfly" style hockey goaltender (Detroit Red Wings, Chicago Black Hawks, St. Louis Blues), born October 3, 1931. (Glenn Hall 1963-1965 Photo: Ralston-Purina)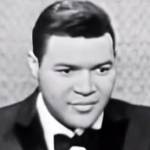 Chubby Checker (nee Ernest Evans; married Catharine Lodders)
American dancer, voice-over artist (The Class), singer-songwriter (The Twist; Limbo Rock; Pony Time; The Fly; Knock Down the Walls; The Hucklebuck), and occasional actor (Twist Around the Clock; Don't Knock the Twist; Teenage Millionaire), born October 3, 1941. (Chubby Checker 1962 What's My Line?)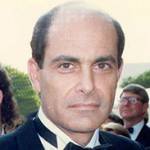 Alan Rachins (married Joanna Frank)
American actor of TV (Douglas Brackman Jr. on L.A. Law; The Texas Ranger; Larry Finkelstein on Dharma & Greg; General Hospital) and films (Heart Condition; Showgirls; Leave It to Beaver; North; Always; Thunder Run; Meet Wally Sparks), born October 3, 1942. (Alan Rachins 1988 Photo: Alan Light)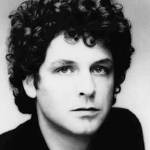 Lindsey Buckingham (ex partner of Stevie Nicks)
American music producer, lead guitarist, songwriter and singer (Trouble), for Rock & Roll Hall of Fame band Fleetwood Mac (Go Your Own Way; Tusk; Gypsy; Big Love; Rhiannon; Dreams; Don't Stop; The Chain; Landslide), born October 3, 1949. (Lindsey Buckingham 1981 Photo: Jim Shea / Asylum Records)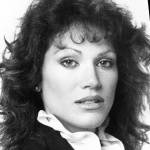 Pamela Hensley (married E. Duke Vincent)
American model, actress of movies & TV shows (C. J. Parsons on Matt Houston; Marcus Welby, M.D.; The New Treasure Hunt; Buck Rogers in the 25th Century; The Nude Bomb; Rollerball), & audiobook narrator (Legacies), born October 3, 1950. Ex of Wes Farrell. (Pamela Hensley 1982: ABC)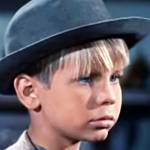 Dennis Holmes (nee Charles Dennis Holmes)
American former 1950s-1960s child actor of TV (Mike Williams on Laramie; Wagon Train; Leave It to Beaver; Bachelor Father; The Jack Benny Program; The Virginian; 77 Sunset Strip), movies (The Fiercest Heart; Key Witness; Woman Obsessed), born October 3, 1950. (Dennis Holmes 1960 Bonanza)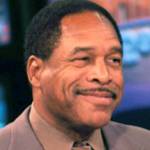 Dave Winfield (nee David Mark Winfield)
Baseball Hall of Fame American MLB right fielder (San Diego Padres; New York Yankees; California Angels; Toronto Blue Jays – 1992 World Series Champs), 12-time MLB All-Star, 7-time Gold Glove & 6-time Silver Slugger Awards, born October 3, 1951. (Dave Winfield 2006 Photo: Phil Konstantin)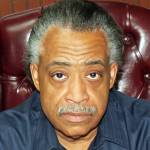 Al Sharpton (nee Alfred Charles Sharpton Jr.)
American civil rights activist, founder of the National Youth Movement, radio & TV talk show host and news correspondent (Politics Nation with Al Sharpton; Keepin' It Real; Deadline: White House; Sharp Talk), and author (Al on America), born October 3, 1954. (Al Sharpton 2007 Photo: David Shankbone)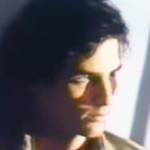 Hart Bochner (son of Lloyd Bochner)
Canadian screenwriter, director & actor of TV (War and Remembrance; The Starter Wife; The Sun Also Rises; East of Eden) and movies (Rich and Famous; Supergirl; Die Hard; Mr. Destiny; Islands in the Stream; Breaking Away), born October 3, 1956. (Hart Bochner 1980 Haywire Promo: CBS)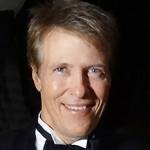 Jack Wagner (nee Peter John Wagner II; ex of Kristina Wagner)
American singer (All I Need), actor of TV (Dr. Peter Burns on Melrose Place; Frisco Jones on General Hospital; When Calls the Heart; Santa Barbara; The Bold and the Beautiful; Sunset Beach) & films (Play Murder for Me), born October 3, 1959. Ex partner of Heather Locklear. (Jack Wagner 2012: Jennifer Su)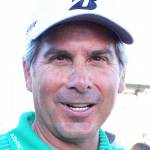 Fred Couples (nee Frederick Steven Couples; "Boom Boom")
World Golf Hall of Fame American professional  golfer, 1991-1992 PGA Tour Player of the Year, 1992 Masters Tournament champion, 1991-1992 Vardon Trophy and Byron Nelson Award winner, born October 3, 1959. (Fred Couples Photo: Tech. Sgt. Meredith Mingledorff / USAF)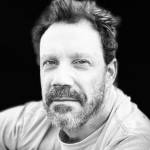 Marcus Giamatti (brother of Paul Giamatti)
American acting teacher, actor of TV (Peter Gray on Judging Amy; Flying Blind; Another World; Big Time in Hollywood, FL; The Young and the Restless) & films (The Business of Strangers; Starving in Suburbia; Necessary Roughness), born October 3, 1961. (Marcus Giamatti: used by permission)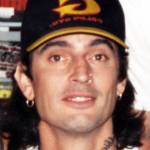 Tommy Lee (nee Thomas Lee Bass)
American rock musician, Motley Crue drummer (Girls, Girls, Girls; Dr. Feelgood; Without You; Smokin' in the Boys Room; Looks That Kill; Kickstart My Heart), reality TV producer & star (Rock Star: Supernova) born October 3, 1962. Ex of Pamela Anderson, Heather Locklear. (Tommy Lee 2010: C Thomas)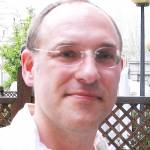 Simon Scarrow
Nigerian-United Kingdom historical fiction novelist, author of Eagles of the Empire & Revolution series (Under the Eagle; Centurion; Praetorian; Young Bloods; Fire and Sword), and young adult books (Gladiator: Fight for Freedom) born October 3, 1962. (Simon Scarrow 2007 Photo: Revista Stilus)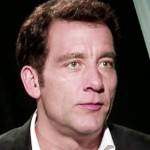 Clive Owen
British actor of movies (Inside Man; Children of Men; Gosford Park; The Rich Man's Wife; Elizabeth: The Golden Age; The Bourne Identity; King Arthur; Beyond Borders; Sin City; Derailed; The Boys Are Back) and TV (Hemingway & Gellhorn), born October 3, 1964. (Clive Owen on Shadow Dancer 2013: Caryn James)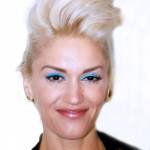 Gwen Stefani (married Blake Shelton; ex of Gavin Rossdale)
American singer with No Doubt (Don't Speak; Hey Baby; Underneath It All; It's My Life; Hella Good; Just a Girl) & solo (Hollaback Girl; Rich Girl; The Sweet Escape; Wind It Up; What You Waiting For; Cool; 4 in the Morning), born October 3, 1969. Ex partner of Tony Kanal. (Gwen Stefani 2009: Liton Ali)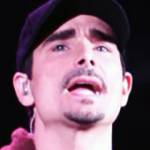 Kevin Richardson (cousin of Brian Littrell)
American Backstreet Boys singer-songwriter (Quit Playing Games [With My Heart]; Everybody [Backstreet's Back]; All I Have to Give; I Want It That Way; Show Me the Meaning of Being Lonely; Shape of My Heart; Incomplete), born October 3, 1971. (Kevin Richardson 2005 Photo: Joel Telling from Snohomish, USA)
Richard Ian Cox
Welsh-Canadian voiceover artist of video games & TV (Inuyasha; RoboCop: Alpha Commando; My Little Pony Tales; Transformers; Dinotrux; Bob the Builder; Dragon Ball Z Kai; Geronimo Stilton; Being Ian), actor of movies and television (Alex Ramsay on The New Adventures of the Black Stallion; Breaker High; Cold Squad), born October 3, 1973.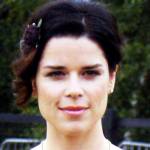 Neve Campbell (sister of Christian Campbell; partner of JJ Feild)
Canadian actress of TV (Julia Salinger on Party of Five; House of Cards; Catwalk) and films (Scream movies; Wild Things; The Craft; Drowning Mona; 54; Three to Tango; Panic; Skyscraper; Churchill: The Hollywood Years; The Company; Lost Junction), born October 3, 1973. (Neve Campbell 2009 Photo: Phil Chappell)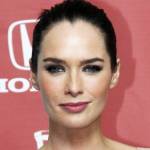 Lena Headey
British actress of television (Cersei Lannister on Game of Thrones; Terminator: The Sarah Connor Chronicles) and movies (The Brothers Grimm; The Red Baron; Imagine Me & You; The Remains of the Day; 300; The Jungle Book; Dredd; Mrs. Dalloway), born October 3, 1973. (Lena Headey 2007 Photo: pinguino k)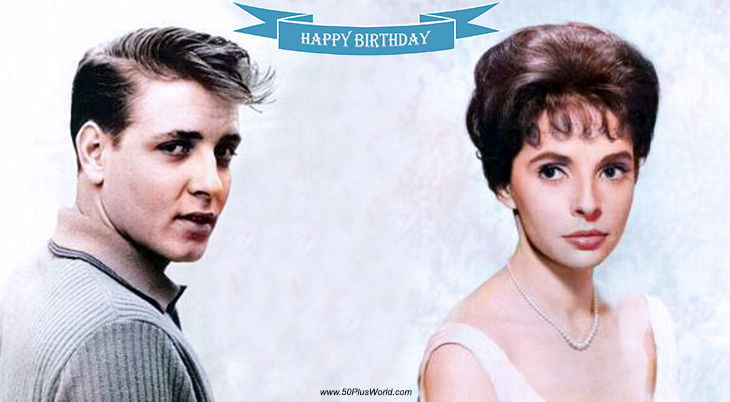 (Eddie Cochran 1948: Liberty Records [colorized] | Madlyn Rhue 1961: Warner Bros [colorized])
Happy Birthday to everyone celebrating their birthday on October 3rd!
Remember These October 3rd Famous Birthdays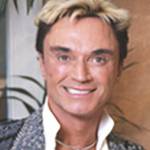 Roy Horn (nee Uwe Ludwig Horn)
German-American entertainer, white lions and tigers magician with partner Siegfried Fischbacher (Siegfried & Roy at the Mirage Resort and Casino 1990-2003) (born Oct. 3, 1944 – died May 8, 2020; age 75). Roy Horn suffered a disabling attack from a tiger in 2003. He contracted COVID-19 shortly before he died. (Roy Horn c. 2003 Photo: Carol M Highsmith)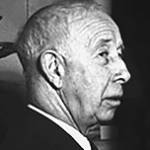 A. Y. Jackson (nee Alexander Young Jackson)
Canadian World War I artist and landscape painter (House of Ypres; The Red Maple; Vimy Ridge from Souchez Valley; Terre Sauvage), and Beaver Hall Group, Group of Seven, and Canadian Group of Painters founding member (born Oct. 3, 1882 – died Apr. 5, 1974; age 91). A. Y. Jackson had a major stroke in 1965. (A. Y. Jackson 1944 Photo: National Film Board of Canada)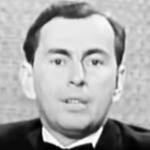 Gore Vidal (nee Eugene Louis Vidal; pseudonym Edgar Box)
American political essayist and novelist (Myra Breckinridge; Burr; Julian; Lincoln; Death before Bedtime; The City and the Pillar; Empire; Hollywood; Washington, D.C.), and playwright (Visit to a Small Planet) (born Oct. 3, 1925 – died July 31, 2012; age 86). Gore Vidal had Wernicke-Korsakoff syndrome and died of pneumonia. (Gore Vidal 1964 What's My Line?)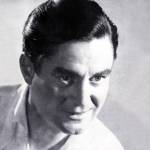 Leo McCarey (nee Thomas Leo McCarey; brother of Ray McCarey)
Oscar-winning American film producer, screenwriter, & director (Make Way for Tomorrow; The Awful Truth; Going My Way; Ruggles of Red Gap; An Affair to Remember; Duck Soup; Love Affair; The Bells of St. Mary's; Six of a Kind; The Kid from Spain; Once Upon a Honeymoon; Good Sam; Belle of the Nineties; Indiscreet) (born Oct. 3, 1898 – died July 5, 1969; age 70). (Leo McCarey 1945)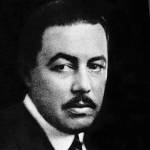 Warner Oland (nee Johan Verner Ölund)
Swedish-American actor of stage, silent films (The Witness for the Defense; When a Man Loves) & classic movies (The Mysterious Dr. Fu Manchu; Shanghai Express; Charlie Chan Carries On; Dishonored; Charlie Chan on Broadway; Charlie Chan at the Opera; The Scarlet Lady; The Jazz Singer; A Passport to Hell) (born Oct. 3, 1879 – died Aug. 6, 1938; age 58). (Warner Oland 1920)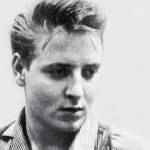 Eddie Cochran (nee Ray Edward Cochran)
Rock and Roll Hall of Fame American rockabilly & blues guitarist, singer-songwriter (C'mon Everybody; Summertime Blues; Sittin' in the Balcony; Twenty Flight Rock; Teenage Heaven), & film performer (Go, Johnny, Go!; The Girl Can't Help It) (born Oct. 3, 1938 – died Apr. 17, 1960; age 21). Eddie Cochran died as the result of injuries from a car accident. (Eddie Cochran 1960)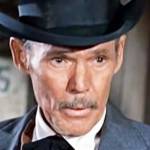 Henry Hull (brother-in-law of Margaret Anglin & Josephine Hull)

American actor of silent films (A Square Deal), (TV (Wagon Train; Suspense), & classic movies (Lifeboat; Werewolf of London; High Sierra; The Buccaneer; The Return of Frank James; Great Expectations; Mourning Becomes Electra; Fighter Squadron; Portrait of Jennie; El Paso) (born Oct. 3, 1890 – died Mar. 8, 1977; age 86). Brother of Shelley Hull & Howard Hull. (Henry Hull 1960 Bonanza)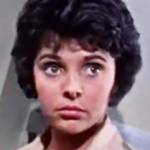 Madlyn Rhue (nee Madeleine Roche; ex of Tony Young)
American actress of TV (Bracken's World; Days of Our Lives; Fame; Executive Suite; Murder, She Wrote; Mannix; Ironside; Cannon; The Fugitive; Hawaii Five-O; The Man From U.N.C.L.E.) & films (A Majority of One; Escape From Zahrain) (born Oct. 3, 1935 – died Dec. 16, 2003; age 68). Madlyn Rhue had multiple sclerosis and died of pneumonia. (Madlyn Rhue 1959 Operation Petticoat)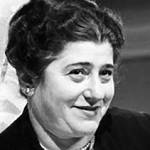 Gertrude Berg (nee Tillie Edelstein)
Tony and Emmy Award-winning American songwriter, producer, writer, and actress of stage (A Majority of One), golden age radio programs (The Rise of the Goldbergs), and TV (The Goldbergs; The Gertrude Berg Show; The Milton Berle Show) (born Oct. 3, 1899 – died Sept. 14, 1966; age 66). Gertrude Berg died of heart failure. (Gertrude Berg 1952 The Goldbergs Photo: NBC Television)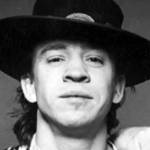 Stevie Ray Vaughan (nee Stephen Ray Vaughan)
Rock and Roll Hall of Fame American blues guitarist, Double Trouble lead singer-songwriter (Crossfire; Telephone Song; Pride and Joy; Texas Flood; The House is Rockin'; Empty Arms; Tick Tock / Brothers; Cold Shot; Lenny) (born Oct. 3, 1954 – died Aug. 27, 1990; age 35). Stevie Ray Vaughan was killed in a helicopter crash. (Stevie Ray Vaughan 1983: Don Hunstein)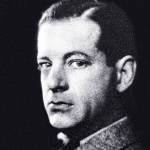 Alan Dinehart (nee Harold Alan Dinehart; aka Mason Alan Dinehart Sr.)
American stage & film actor (Human Cargo; Dance, Girl, Dance; The Whistler; Supernatural; Oh, What a Night!; A Study in Scarlet; Moon Over Las Vegas; Girl Trouble; What a Woman; The Heat's On; King of the Turf; The First Hundred Years) (born Oct. 3, 1889 – died July 18, 1944; age 54). Alan Dinehart had heart failure before he died. (Alan Dinehart 1921 Bachrach Studios)
American "fadeaway" and negative space artist, painter (water colors) and illustrator of advertising (Overland automobiles; Oneida Community Flatware; Holeproof Hosiery) and magazine covers (Good Housekeeping, Life) (born Oct. 3, 1880 – died June 13, 1927; age 47). Coles Phillips died of tuberculosis of the kidney. (Coles Phillips 1900 Photo: Bain News Service / LoC)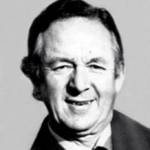 James Herriot (nee James Alfred Wight)

British veterinarian and writer (All Creatures Great and Small / If Only They Could Talk, It Shouldn't Happen to a Vet; All Things Bright and Beautiful / Let Sleeping Vets Lie, Vet in Harness; All Things Wise and Wonderful; Every Living Thing; Cat Stories) (born Oct. 3, 1916 – died Feb. 23, 1995; age 78). James Herriot had prostate cancer. (James Herriot 1975: AP News Library)
*Images are public domain or Creative Commons licensed & sourced via Wikimedia Commons, Vimeo, YouTube, or Flickr, unless otherwise noted*