Celebrating Seniors - Chubby Checker Turns 75
Celebrating Chubby Checker's 75th birthday with his story and vintage performances: The Class, The Twist, Pony Time, Let's Twist Again, The Fly, Slow Twisting (duet with Dee Dee Sharp), Limbo Rock.
 (Chubby Checker 1961 Twist Around the Clock Movie Screenshot)
Septuagenarian senior citizen and singer-dancer Chubby Checker was named Ernest Evans when he was born on October 3, 1941 in Spring Gully, South Carolina. 
Ernest Evans grew up in South Philadelphia and had formed a harmony group by the age of 8 years old.
While attending South Philadelphia High School with friend Fabiano Forte (Fabian), he did impersonations of singers Elvis Presley, Jerry Lee Lewis, and Fats Domino. His boss at the Fresh Farm Poultry Market where he worked after school gave him the nickname Chubby, and the store owner arranged for Chubby to do a recording for Dick Clark (American Bandstand). Dick Clark's wife asked if his name was Chubby as in Checker, and from that point on Ernest Evans used Chubby Checker as his professional name (his legal name is still Ernest Evans). 
Chubby Checker's recording of The Class (where he impersonates several different artists) for Dick Clark, resulted in a recording contract for Checker. The Class was 17-year-old Chubby's first single, and made it to #38 in 1959. Listen for Chubby Checker's impersonations of Elvis Presley, Fats Domino and Fabian, Frankie Avalon, and Ricky Nelson as The Chipmunks, in the audio recording of The Class below.
The Twist was originally written, recorded and released in 1959 by Hank Ballard and the Midnighters. Chubby Checker's recording of The Twist was released on June, and fueled by Checker's appearances on American Bandstand, it reached #1 in September 1960 in the U.S., and was a #1 hit in the U.K. as well. Two years later, The Twist was re-released and reached #1 again in January 1962. Baby boomers loved Chubby Checker's version of The Twist, which launched the 1960's dance craze and spawned two highly profitable box-office hit movies – Twist Around the Clock (1961) and Don't Knock the Twist (1962) – featuring Chubby Checker performances of The Twist.
By 1965 The Twist had already sold over 15 million copies and made Chubby Checker a millionaire. Below, Chubby Checker performs The Twist on Dick Clark in a vintage live performance.
In 1960, The Hucklebuck, written by Andy Gibson and first recorded and released in 1949 by Paul Williams and his Hucklebuckers, became a #14 chart hit for Chubby Checker. 
The following year, he had 7 Top 100 hit singles in the U.S. One of the first was his second #1 hit single, Pony Time (1961), which launched yet another dance craze. Written by Don Covay and John Berry the previous year, it wasn't until Chubby Checker recorded and released his version of Pony Time that the song was a chart success with baby boomers. Pony Time was featured in the John Waters musical comedy Hairspray (1988). Below, Chubby Checker sings Pony Time.
Let's Twist Again (1961) won the 1961 Grammy Award for Best Rock and Roll Solo Vocal Performance, and was a #8 chart hit for Checker. Let's Twist Again was the first of many songs for he recorded with lyrics by songwriter Kal Mann, with Dave Appell. Chubby Checker was the first artist to chart with Let's Twist Again, in 1961. He recorded Let's Twist Again in other languages as well – Der Twist Beginnt (German); Balliamo il Twist (Italian) – and the song has been featured on film in The Help (2011). Chubby Checker and dancers perform Let's Twist Again. 
Perhaps less well-remembered is another Chubby Checker song that launched a dance craze, The Fly (1961). The Fly was written by John Madara and David White, and Chubby's recording was a #7 hit in 1961. 
Checker had two more Top 30 hits in 1961 – Dance the Mess Around at #24. His Jingle Bell Rock duet cover with Bobby Rydell was a #21 hit single for them. 
Chubby Checker recorded the duet Slow Twisting (1961) with unknown singer Dee Dee Sharp. The next day, Sharp recorded the song that became her first hit single, Mashed Potato Time. Slow Twisting was a #3 hit single for Checker.
Limbo Rock (1962) written by Kal Mann (as Jon Sheldon) and Billy Strange was first recorded as instrumental only in 1961 by The Champs. When Chubby Checker recorded and released the first vocal version of Limbo Rock, he scored a #2 hit single. Checker's follow up song Let's Limbo Some More (1963) also made it to the Top 20. Limbo Rock was also featured in the 1988 musical Hairspray. Below, some amazing Limbo performers lower the bar to the tune of Chubby Checker singing Limbo Rock.
His last Top 10 hit was another novelty dance song, Popeye The Hitchhiker (1962), once again written by Kal Mann, with Dave Appell.  #10
While on a concert tour of the Philippines in January 1963, Chubby Checker met 21-year-old Dutch model and beauty pageant winner (Miss World 1962) Catharina Lodders in Manila.
By the end of 1963, he had proposed to Catharine, and ended the year with 6 more singles in the Top 25. Two songs with lyrics by Kal Mann made it to #12 – Birdland, and Loddy Lo; Loddy Lo is a play on Catharina's last name Lodders, with lyrics that begin "La la la Loddy, la la la Loddy, I've got a girl that I love so…". 
On April 12, 1964, New Jersey Pastor George Garver married Catharina Lodders to Ernest Evans (Chubby Checker). Below, Chubby Checker sings at his wedding reception while new wife Catharina Lodders dances with a guest.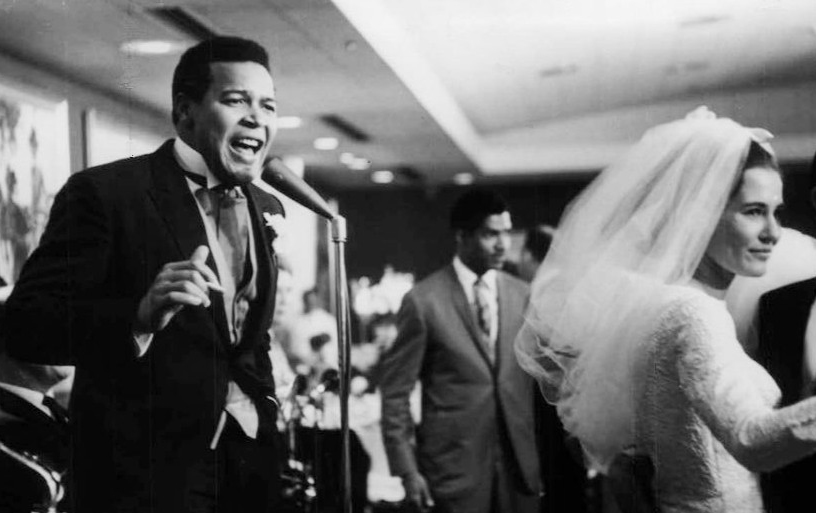 (Chubby Checker 1964 Photo: Jack T. Franklin | Wikimedia Commons / Public Domain)
Garver told the Bradenton Herald that although interracial marriages were legal in New Jersey in 1964, protesters gathered outside the church. In addition to the press, police were on hand in case of violence. Garver later resigned from that parish after receiving racist threats.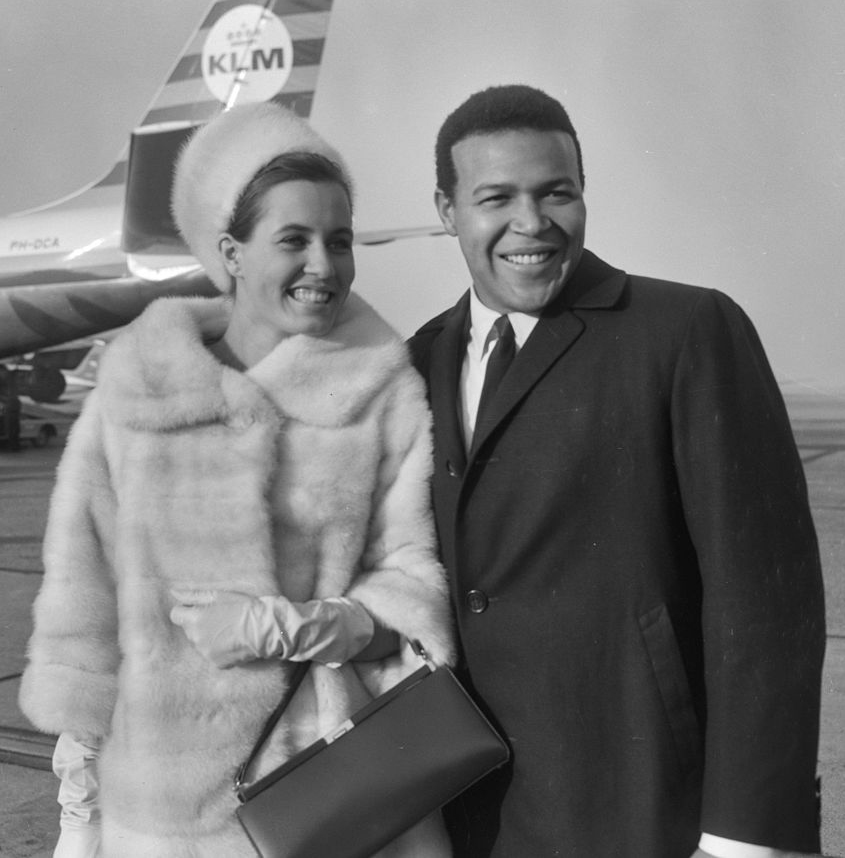 (Catharina Lodders Evans & Chubby Checker December 1964, Holland Photo: Joop van Bilsen / Nationaal Archief NL | Wikimedia CC 4.0)
Chubby Checker and Catharina (Rina) Evans moved to Paioli, Pennsylvania to raise their children.
Their daughter Bianca Evans was born in Philadelphia in December 1966, followed by son Shan Egan and daughter Ilka Evans. Checker told SFGate in 2012 that he and Catharina (Rina) still live in the farmhouse in Paoli, Pa., that he bought in February 1965. 
By 1965, Checker's musical highlights had dimmed. During the rest of the 1960's, 1970's, and 1980's, he toured smaller venues in the U.S. and Europe, where he had better success. In December 1983, a woman named Pam Bass gave birth to Chubby Checker's daughter, Mistie Bass (married name Williams), in Janesville, Wisconsin. Mistie Williams is today a Women's National Basketball Association professional basketball player for the Phoenix Mercury. Williams has said that she has always had a relationship with her father, although it was often only by phone. Checker has attended some of her games but keeps a low profile.
In the late 1980's and on the cusp of his 50+ years, Chubby Checker was featured on The Fat Boys 1988 hip-hop song The Twist (Yo, Twist!!) (1988), which became a Top 16 hit in the U.S. and #2 in the U.K. he made a few television and movie appearances as himself in the 1980s:
On an episode of Quantum Leap (1989), in a fictional play on the invention of The Twist, with actors Scott Bakula and Dean Stockwell.
He also appeared with contemporary Little Richard in the sci-fi comedy Purple People Eater (1988), starring Peggy Lipton, Ned Beatty and Neil Patrick Harris.
A 50+ Chubby Checker appeared as himself on Ally McBeal in 2001 in a guest-starring role, and sang The Twist. He has continued to perform and record as a senior citizen, and achieved a #1 Dance chart single with the song Knock Down the Walls (2008). That same year, Chubby Checker's recording of The Twist was recognized by Billboard Magazine as the biggest chart hit of all time (1958-2008).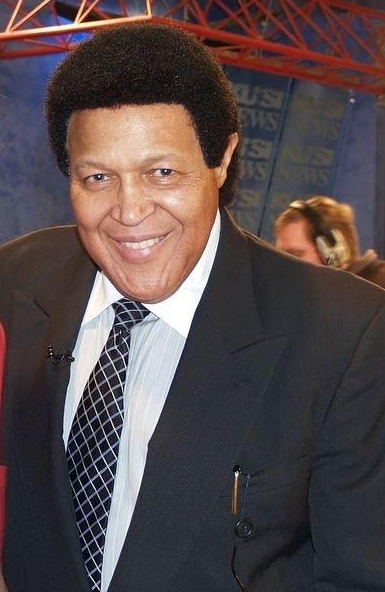 (Chubby Checker 2007 Photo: Phil Konstantin | Flickr)
A senior himself, Chubby Checker's Social Security Administration 2009 public service announcement helped create awareness with senior citizens about changes to the Medicare law, so they can save on prescription drug plan fees.
In July 2013, Checker performed his new single Changes (2013) on NBC's Today Show. Changes made it to #41 on the Gospel chart and #43 on the Adult Contemporary chart.
More recently Checker has been recording more gospel and country songs, but he may never stop performing The Twist. 
Catharina (Rina) Evans and husband Chubby Checker (nee Ernest Evans) posed with 100-year-old George Garver (he performed their 1964 wedding ceremony) and his wife Betty, in November 2015. Chubby Checker and Rina celebrated their 52nd wedding anniversary in 2016 and are grandparents several times over.