Mod Squad's Forever Hip Peggy Lipton
Update: Peggy Lipton has died from colon cancer on May 11, 2019 at the age of 72.
Former Mod Squad actress, model, and septuagenarian Peggy (Margaret) Lipton was a baby boomer baby, born on August 30, 1946 in New York City, New York.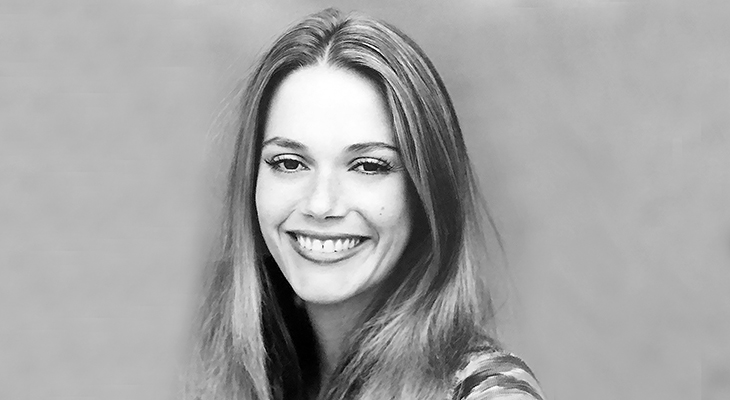 (Peggy Lipton 1972 Mod Squad Photo: ABC Television)
Lipton has said she was sexually abused by an uncle around age 7 and became a shy, nervous child with a pronounced stutter. She overcame this and began taking acting lessons and modeling in New York City, becoming a successful Ford Agency model at the age of 15.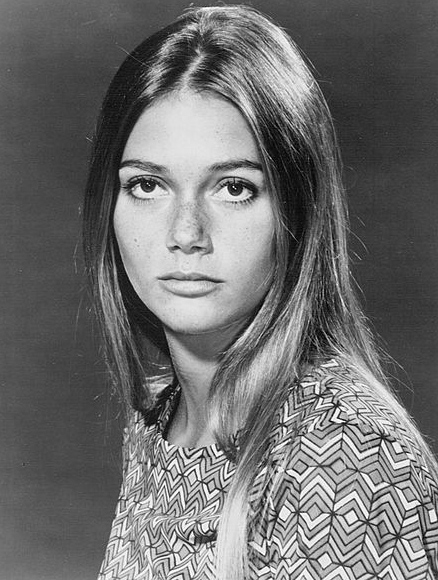 (Peggy Lipton 1968 or 1969 The Mod Squad Photo: ABC Television)
After the Lipton family moved to Los Angeles in 1964 when she was 18, Peggy Lipton embraced the 60's hippie culture with recreational sex and drug use, and and signed a contract with Universal Pictures.
Peggy Lipton's television debut came at the age of 19 on an episode of The John Forsythe Show (1965). That same year, she appeared in episodes of popular baby boomer TV series such as Bewitched and The Alfred Hitchcock Hour. Her older brother Robert Lipton appeared in the same episode of Mr. Novak that she did in 1965.
Off-screen, Lipton had affairs that were slated to go nowhere.
She slept with Paul McCartney a few times when he visited the U.S. beginning in 1965 at the height of Beatles fame, and while he was living with girlfriend Jane Asher's family in England. For almost a year she lived with an unfaithful alcoholic named Rick who hit her. 
During the rest of the 1960's, Peggy Lipton continued to find occasional episodic television work, popping up on The Virginian (1966), The F.B.I. (1967), a two-part episode of Walt Disney's Wonderful World of Color (1967) titled Willie and the Yank, which starred Kurt Russell as Private Willie Prentiss, and The Invaders (1967) starring Roy Thinnes, in an episode guest-starring Ed Asner.
Lipton explored a singing career and had Top 200 hits between 1968-1970. Around the time she recorded her album, she lived with music producer Lou Adler for a time. Lipton's 1968 album Peggy Lipton included her #121 chart single, Stoney End. Below, Peggy Lipton is introduced by Sammy Davis Jr. and sings on The Hollywood Palace in 1969. 
Lipton's first movie experience was a small role in the western romance Blue (1968) starring Terence Stamp, Joanna Pettett, Karl Malden, Sally Kirkland, and Ricardo Montalban (Fantasy Island). Peggy's brother Robert Lipton and her friend Mike Nader also had parts in Blue.
In her autobiography Breathing Out (2005) written with David and Coco Dalton, Lipton recalls smoking pot and having a crush on Terence Stamp while filming Blue. Lipton would have an affair with both Terence Stamp and his brother Christopher Stamp, as well as Elvis Presley (although she said he was mostly impotent by then), Keith Moon, and Ryan O'Neal, among others, during her teens and early 20's.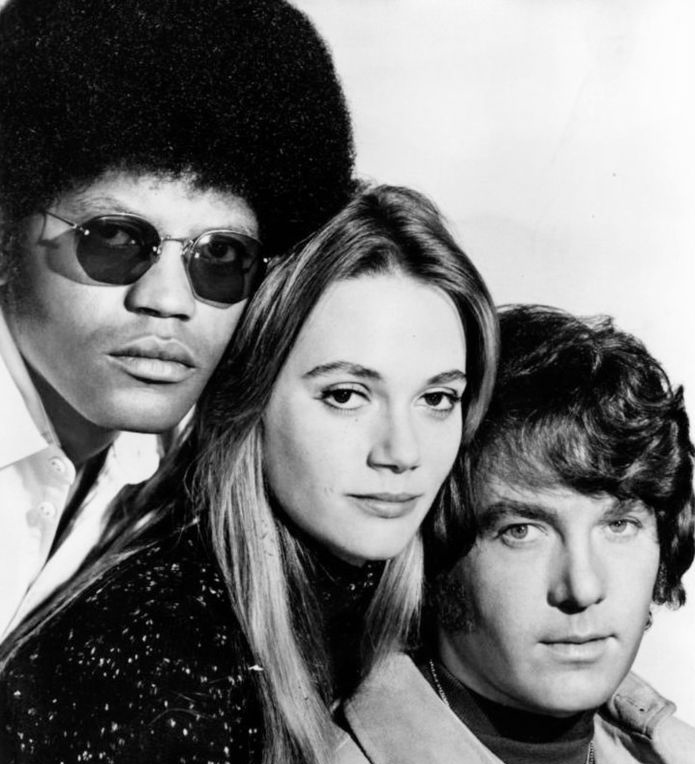 From left, Clarence Williams III as Linc Hayes, Peggy Lipton as Julie Barnes, and Michael Cole as Pete Cochran. (The Mod Squad 1971 Photo: ABC Television) 
Most baby boomers will remember Peggy Lipton best for her co-starring role as Julie Barnes on Mod Squad (1968-1973), the hippest cop show of the 1960's-70's. Lipton and her co-stars Michael Cole and Clarence Williams III appeared in all 123 episodes of Mod Squad during the 5 years the series was on the air.
Below, Peggy and a guest star in a clip from a Mod Squad episode – note the vintage car, vintage fashions, and vintage "car phone"!
Peggy Lipton told People that she first met producer Quincy Jones on a friend's sailboat in the Bahamas in 1969 and thought he was "adorable", but Jones was married to his second wife Ulla Andersson at the time.
In 1971, Lipton's friend Jolie (who happened to be Jones' oldest daughter) invited newly separated/single Quincy and Peggy to dinner; they were soon living together. After an abortion in 1972, Lipton gave birth to their daughter Kidada Jones in March 1974. The couple married in 1974 a few months after Quincy's brain aneurism and subsequent surgeries in August of that year. Their second daughter Rashida Jones was born in February 1976, and Lipton's acting career was put on hold.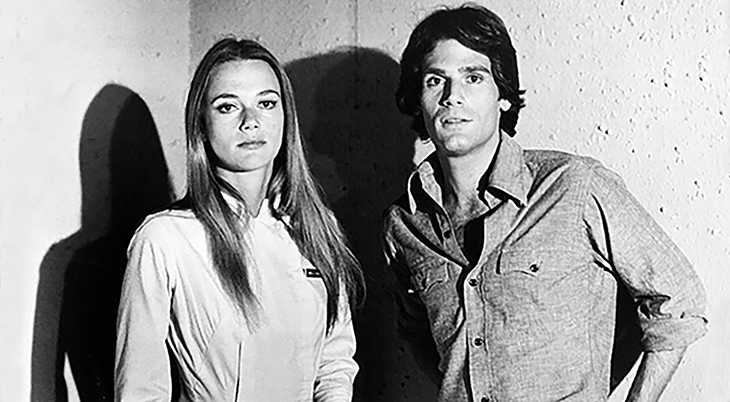 (Peggy Lipton & brother Robert Lipton, a 1972 Mod Squad guest star, in an ABC publicity photo)
An exception to this was The Return of Mod Squad (1979) TV movie reunited the original Mod Squad cast of Lipton, Michael Cole and Clarence Williams III, 6 years later. Actor Roy Thinnes also appeared in the movie, in another reunion for Peggy Lipton (she had appeared in his series The Invaders in 1967).
During her marriage to Quincy Jones, who was often away at work, stay at home mom Peggy Lipton had an affair with a woman, suffered panic attacks, and had a breakdown in 1984. She left Jones in 1986 and their divorce was finalized in 1990 after 17 years of marriage (20 years together).
A period of self-exploration, travel, and more mental health crisis, was followed by counselling. Although Peggy Lipton has been linked with other men since her divorce from Quincy Jones, she has never remarried, and they remain friends today.
Meanwhile, after a 9 year absence from the screen, Peggy Lipton returned to the movies and TV in 1988 with a vengeance, appearing in 4 releases that year. The comedy TV movie Addicted to His Love (1988) starred Barry Bostwick as a con artist, featured Hector Elizondo as a police detective, with a host of young actresses including Erin Gray, Colleen Camp, Linda Purl, Dee Wallace, and Peggy Lipton as the Assistant D.A. In the sci-fi comedy Purple People Eater (1988), Peggy Lipton co-starred with Ned Beatty and Neil Patrick Harris; singers Chubby Checker and Little Richard also appeared.
Nostalgic baby boomers embraced David Lynch's spooky 30-episode series Twin Peaks (1990-1991) starring a large ensemble cast that included Peggy Lipton as Norma Jennings and other regulars Kyle MacLachlan, Michael Ontkean, Dana Ashbrook (Bobby Briggs), Richard Beymer (Benjamin Horne), Lara Flynn Boyle (Donna Hayward), Sherilyn Fenn (Audrey Horne), James Marshall (james Hurley), and Joan Chen (Jocelyn Packard).
Among the numerous recurring Twin Peaks cast members were Michael Horse, Piper Laurie (Catherine Martell), Ray Wise, Mädchen Amick  (Shelley Johnson), Grace Zabriskie, Russ Tamblyn, Sheryl Lee (Laura Palmer / Maddy Johnson), Kenneth Welsh, Miguel Ferrer, Heather Graham, and David Duchovny. Director and Twin Peaks co-creator and co-producer David Lynch gave himself and Lipton's former Mod Squad co-star Clarence Williams III, recurring roles as well.
Phil Donahue interviewed Peggy Lipton, Piper Laurie, Dana Ashbrook, Madchen Amick, Eric DaRae (truck driver Leon Johnson), and Sheryl Lee in 1990 about their experience in the Twin Peaks murder mystery series. 
Peggy Lipton played waitress Norma Jennings again in the Twin Peaks series TV movie prequel, Twin Peaks: Fire Walk with Me (1992), as did most of the regular and many of the recurring cast members. New faces in Twin Peaks: Fire Walk with Me included singer Chris Isaak, Jürgen Prochnow, Harry Dean Stanton, and Kiefer Sutherland.
During the remainder of the 1990's, Peggy Lipton appeared on film only occasionally. She was in the mini-series Secrets (1992) starring Jamie Lyn Bauer and David Birney; the TV mystery movie The Spider and the Fly (1994) starring Mel Harris, Ted Shackelford, Kim Coates, Colm Feore, and Kenneth Welsh; and an episode of Wings (1994) starring Tim Daly, Steven Weber, Crystal Bernard, Tony Shaloub, Thomas Haden Church, and Amy Yasbeck. 
In her early 50+ years, Peggy Lipton had a starring role in the TV thriller Justice for Annie: A Moment of Truth Movie (1996) with Bruce Weitz. She had a smaller role in the big-screen adventure drama The Postman (1997) starring Kevin Costner, Will Patton, James Russo, and rocker Tom Petty.
During the 2000's, Peggy Lipton could be seen in the romantic comedy-drama Skipped Parts (2000) starring Drew Barrymore, and Jennifer Jason Leigh; and in the musical comedy-drama Jackpot (2001) starring Jon Gries, Daryl Hannah, Adam Baldwin, country singer Mac Davis, and Crystal Bernard, whom Lipton had worked with when she guest-starred on Wings in 1994.
Peggy Lipton had recurring roles on the prime-time series
Popular (2000) as Kelly Foster, appearing in episodes that also guest-starred Ray Wise (one of her Twin Peaks co-stars) and Delta Burke.
Alias (2004) as Olivia Reed; series regulars included star Jennifer Garner, Ron Rifkin, and Victor Garber.
Crash (2009) as Susie; regulars Dennis Hopper, recurring Dana Ashbrook (Twin Peaks), Eric Roberts, Tom Sizemore, D. W. Sweeney, and Keith Carradine.
In 2004 while she was working on her autobiography Breathing Out, Lipton was diagnosed with colon cancer and underwent chemotherapy.
She had begun dating Jack Chartier, chief of staff for the New York state comptroller in 2003. Chartier was a man in love, some have said obsessed with, Peggy Lipton, and he diverted state pension funds to help her with rent, hospital bills, and later a business venture.
In the romantic comedy When in Rome (2010) starring actors Kristen Bell (Beth Martin), Josh Duhamel (Nick Beamon), Angelica Huston (Celeste), and Danny DeVito (Al Russo), Peggy Lipton played Priscilla Martin, Beth's (Kristen Bell) mother. New senior citizen Peggy Lipton appeared in an episode of House of Lies (2012) starring Don Cheadle and Kristen Bell, playing Bell's on-screen mother.
In 2014, Peggy Lipton and ex-husband Quincy Jones filmed an episode of Angie Tribeca, their daughter Rashida Jones's new series. In a scene mirroring life, senior citizens Lipton and Jones played Rashida's parents on-screen. 
That same year, Peggy Lipton could be seen on television in an episode of Psych (2014) and in another Twin Peaks prequel feature film, Twin Peaks: The Missing Pieces (2014). In addition to Lipton returning as her Norma Jennings character, many of the actors and characters from the original Twin Peaks series and previous prequel movie Twin Peaks: Fire Walk with Me also returned, including Michael Ontkean and Joan Chen.
Peggy Lipton fans could see her in the family comedy A Dog's Purpose (2017) co-starring Dennis Quaid.
She was back on television screens in 2017 as Norma Jennings again, in the premiere episode of the new Twin Peaks TV series. Lipton's co-stars from the previous series and movies that were regulars again on the new Twin Peaks included Mädchen Amick, Kyle MacLachlan, Dana Ashbrook, Sheryl Lee, Russ Tamblyn, Ray Wise, and Grace Zabriskie.
Also returning for 1 episode or more to guest-star on the new Twin Peaks series with Peggy Lipton were Richard Beymer, Sherilyn Fenn, Miguel Ferrer, Michael Horse, David Lynch, James Marshall, David Duchovny, and Harry Dean Stanton. Tom Sizemore, Don Murray, James Morrison, Jennifer Jason Leigh, Ashley Judd, Ernie Hudson, Laura Dern, Richard Chamberlain, Jim Belushi, and Naomi Watts. 
In 2018, a septuagenarian Peggy Lipton told interviewer Sheila Weller for a NextTribe article, that she has continued her long-time practice of meditating. She believes that staying vital should involve being around young people, learning new skills (CPR) and taking on new challenges. Some of her sources of strength are other women who have beat ageism and are a source of inspiration for her, including Meryl Streep, Gloria Steinem, Michelle Obama, and close friend Jane Fonda:
"I've known her for 45 years but we've become friends now and I look up to the energy" of this woman who, at age 80, looks fabulous, is the star of a hit TV series, and has taken part in every major change in American culture for 50 years. "
Baby boomer fans would tell Peggy Lipton that she was a major influencer herself during those cultural shifts – from dating Beatle Paul McCartney during the peak of the British Invasion, to starring on the hip series Mod Squad, being an early "pioneer" of biracial marriages with Quincy Jones, and taking part in the stylish Twin Peaks television phenomenon.
*Images are public domain or Creative Commons licensed & sourced via Wikimedia Commons, Vimeo, YouTube, or Flickr, unless otherwise noted*
Note: This article was first published in 2016 with the title Celebrating Seniors – Peggy Lipton Turns 70. It has been updated with new / additional content.