Celebrating Seniors - Tom Petty is 65! Part1of2
Update: Tom Petty has died of cardiac arrest on Monday, October 2, 2017 at the age of 66. He is survived by his second wife Dana Epperson, their stepson Dylan, and his aughters Adria and AnnaKim with his first wife Jane Benyo.
4 vintage Tom Petty (and the Heartbreakers) tunes – Don't Do Me Like That, Here Comes My Girl, Refugee, The Waiting – from this new senior citizen.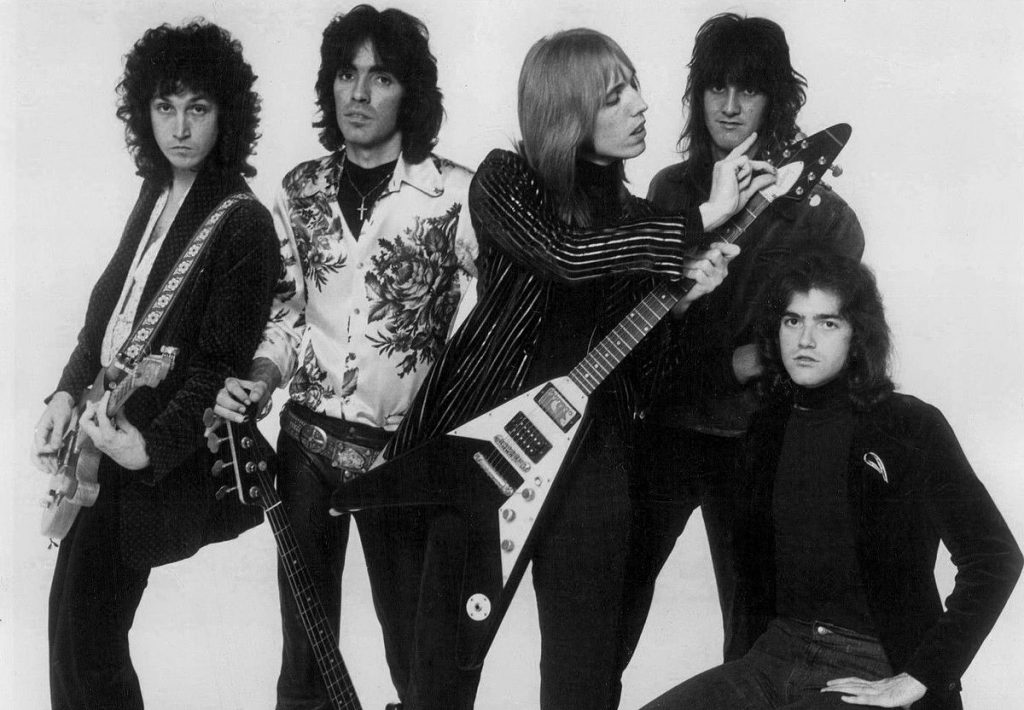 (Tom Petty & The Heartbreakers 1977 Photo: ABC/Shelter Records eBay | Wikimedia Commons / Public Domain)
Tom Petty Part 1: Inspiration Strikes
New senior citizen, baby boomer and singer/songwriter/guitarist Tom Petty was born October 20th, 1950 in Gainesville Florida. Although Tom was close to his supportive mother Katherine, he has said that his hunting and fishing-loving father Earl Petty was emotionally and physically abusive him, causing Tom to turn even more strongly to music.
When ten-year-old Tom Petty met Elvis Presley on the set of Follow That Dream (1961) in Ocala Florida (his uncle was working on the set), Petty became a fan of both Elvis and rock and roll music. Four years later, after seeing The Beatles on Ed Sullivan, teenager Petty was inspired again and knew he wanted to be in a band; he was helped along the way by an early guitar teacher and fellow Gainesville musician, Don Felder (in Felder's pre-Eagles days). Although his father bought him his first guitar when he was 14, Petty has said "it was to shut me up"…and the pair never had a good relationship. Tom Petty's mother Katherine died in 1980, followed by his father Earl in 1999.
Bass guitar player and vocalist Tom Petty started The Sundowners (his first band) while he was in high school in Gainesville. When The Sundowners ended, Petty's next group was The Epics; the group name changed to Mudcrutch in 1970 with a line-up that featured Tom Petty, Tom Leadon (guitar and vocals), Jim Lenehan (lead vocals), Randall Marsh (drums), Mike Campbell (guitar). Tom Leadon and Jim Lenehan left  and were replaced by Danny Roberts (bass guitar & vocal) and Benmonth Tench (keyboards). 
Petty and his girlfriend Jane Benyo married in March 1974, just before Mudcrutch moved to LA and signed with Shelter records. The Petty's oldest daughter Adria was born in November of that year. Mudcrutch released their first single Depot Street in 1975 and promptly broke up. Daughter Kimberley (Anna Kim Petty) was born in 1982 (she currently goes by the name Annakim Violette). 
33 years later a now 50+ Tom Petty, along with Randall Marsh, Tom Leadon, Benmont Tench and Mike Campbell, reunited Mudcrutch to record the album Mudcrutch (2008) and tour in California that same year. Senior citizen Petty said in 2015 that Mudcrutch band members are still working on new material for a follow up album.
After the original break-up of Mudcrutch in 1975, Benmont Tench formed a new group with Ron Blair (bass guitar and vocals) and Stan Lynch (drums); they were soon joined by Tom Petty and Mike Campbell, forming a new band that would be called The Heartbreakers in 1976.
Their first album Tom Petty and the Heartbreakers (1976) had the single Breakdown (1976) below, which became a Top 40 UK hit in 1978 after being re-released in 1977. Most of the songs on this album including Breakdown, were written by Tom Petty. 
Two songs on their next album, You're Gonna Get It! (1978) made the Billboard Hot 100 charts that year – I Need to Know (#41) and Listen to Her Heart (#59). All songs on the album were written by Tom Petty. By their third album, Damn the Torpedoes (1979), Tom Petty and the Heartbreakers had built up steam and expectations. This album did not disappoint, striking a chord with baby boomers and going platinum, hitting #2 on the album charts, and featuring no less than 3 hit singles including this one written by Tom Petty – Don't Do Me Like That (1979) – which reached #10:
Tom Petty began acting with a cameo in the musical FM (1978), and has since appeared in small roles, cameos, and voice-acting parts on television (The Simpsons, King of the Hill) and film (The Postman, 1997).
Meanwhile, Tom forged ahead with his music – their next two hit singles were co-written by Tom Petty and Mike Campbell – Here Comes My Girl (hitting #59 in 1980). Below, Here Comes My Girl being performed below by Tom Petty and the Heartbreakers,
and Refugee (1980) at #15. Below, Tom Petty performing Refugee circa 1985.
In 1981 the single The Waiting on Tom Petty and the Heartbreakers fourth album Hard Promises (1981) became their biggest success to date, reaching #19 on the Billboard US Hot 100 charts and #1 on the US Rock charts. The Waiting has since been covered by other artists including Linda Ronstadt and Natalie Imbruglia, and is often played at Philadelphia Flyers home games. Below, The Waiting (1981) written by Tom Petty – the official music video:  
Next: Tom Petty Part 2 – The Traveling Wilbury's, Going Solo, and Aging Heartbreakers