Celebrating Seniors - Angie Dickinson Turns 85, Part 1
Angie Dickinson, Part 1: From Oceans 11 to Point Blank (1931-1969)
Octogenarian senior citizen an actress Angie Dickinson (nee Angeline Brown) was born on September 30, 1931 in Kulum, North Dakota. Her father became an alcoholic, and in 1942 the Brown family moved to Burbank, California. Angeline graduated from Bellarmine-Jefferson High School at age 15 in 1947 and worked as a secretary from 1950-1952 while she was enrolled at Immaculate Heart College. In 1952 Angeline Brown met and married football player and future accountant Gene Dickinson.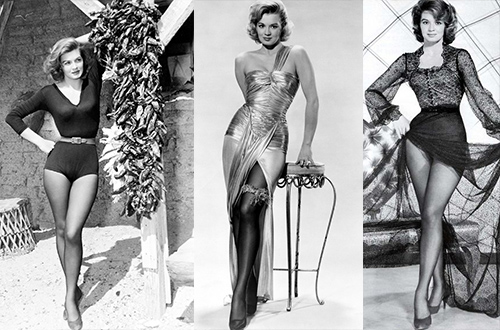 Angie Dickinson 1950's and 1960's.  (Photo Sources: Pinterest, Imgur | Photo Montage: 50+ World)
Angie Dickinson placed second in a 1953 beauty pageant and a TV producer suggested she consider acting. In 1954 Dickinson graduated with a business degree from Immaculate Heart College. Dickinson told the Los Angeles Times that she got into acting because "I was just killing time, more or less. I was unhappy in my personal life — not a good marriage." 
She told Vanity Fair that she first met Frank Sinatra (who was separated but still married to Ava Gardner) when he guest-starred on The Jimmy Durante Show in 1954. It was Angie Dickinson's first day on her new job as one of six showgirls. Frank Sinatra and Angie Dickinson would be lovers on and off for 10 years, as well as lifelong friends. Dickinson was a member of Frank Sinatra's Rat Pack entertainer friends – Dean Martin, Sammy Davis, Jr., Peter Lawford, Joey Bishop, as well as Shirley MacLaine and Juliet Prowse.
Singer Paul Anka was also a friend of Frank Sinatra, and in his book My Way: An Autobiography (2013) reminisced that Sinatra had said of Angie Dickinson
"Of all the women he'd known, he said she was the best in bed. Dean Martin agreed."
Below, Angie Dickinson appears in the movie trailer for Ocean's 11 (1960). 
Angie Dickinson began taking acting classes 4 nights a week, and landed uncredited roles in the movies such as a party guest in a scene from Lucky Me (1954) starring Doris Day, and small guest-starring roles on TV variety shows and series such as Matinee Theatre (1955). With her marriage in it's death throes, she was separated from Gene Dickinson and dating different men, including director Richard Brooks.
Dickinson worked several times with future President Ronald Reagan, beginning with her appearances on TV in several episodes of Death Valley Days in 1954; they were also in the same episodes of the TV series General Electric Theater (1956). Angie Dickinson was in the Ronald Reagan movies Tennessee's Partner (1955) and Hidden Guns (1956).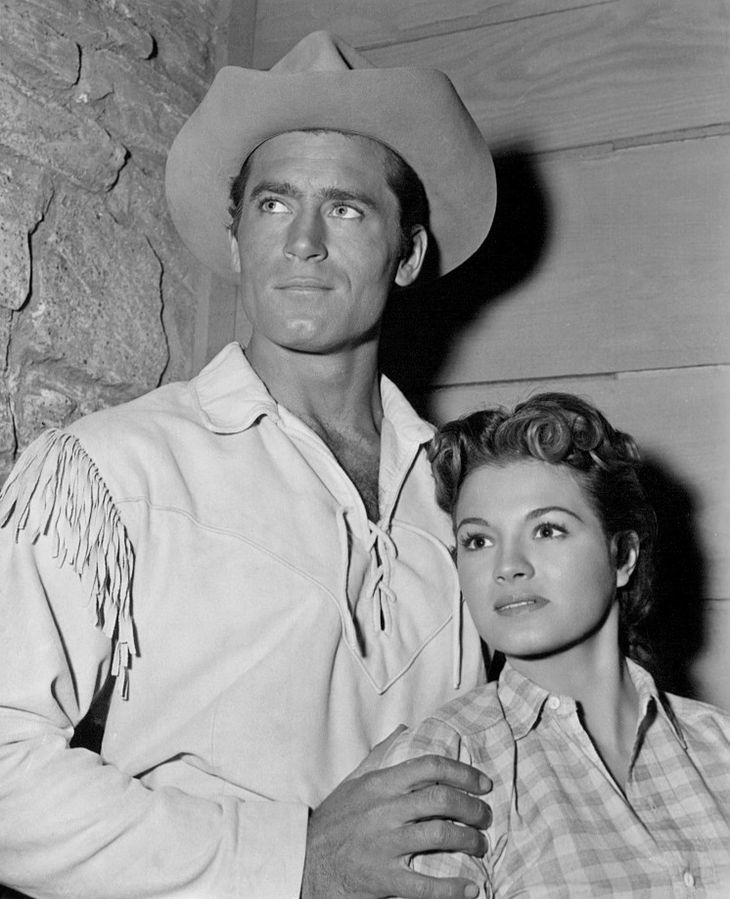 Other 1950's episodic TV appearances for Angie Dickinson included Broken Arrow; Cheyenne starring Clint Walker and James Garner; Perry Mason; and Northwest Passage starring Buddy Ebsen (Barnaby Jones). Right, Clint Walker and Angie Dickinson on Cheyenne in 1957. (Photo: Warner Bros. ebay | Wikimedia Commons / Public Domain)
As the 50's continued, Angie Dickinson began to land credited roles in the movies, many of them the western genre so popular with baby boomer audiences of the time, like Tension at Table Rock (1956) with Dorothy Malone (Peyton Place), and thrillers like Man With The Gun (1955) starring Robert Mitchum. 
Gradually baby boomers and studio executives began to see  her as a leading lady, although she never fully made it to be a bonafide "movie star". She was the female lead in Gun the Man Down (1956) starring James Arness (star of TV's Gunsmoke, which Dickinson guest-starred on) and Shoot-Out at Medicine Bend (1957) with James Garner also in the cast.
In the French Indochina war movie China Gate (1957), Dickinson played a mixed-race woman. Her co-stars included Gene Barry (as her husband), Nat King Cole as a soldier, and Lee Van Cleef as Major Cham, a mixed-race officer on the opposing side who is in love with her.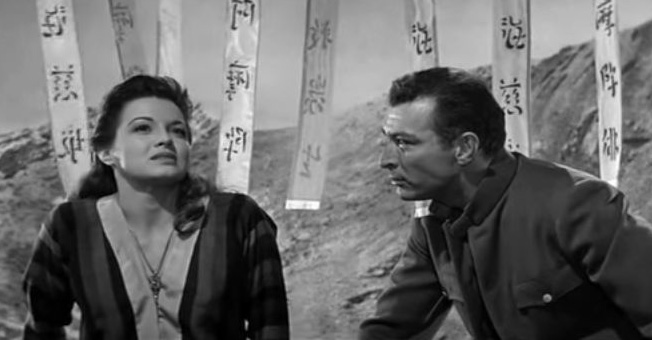 (Lee Van Cleef & Angie Dickinson 1957 China Gate Screenshot)
In the thriller Cry Terror! (1958) Angie Dickinson's co-stars included James Mason, Rod Steiger and Jack Klugman. It was her role as Feathers in the western Rio Bravo (1959) with co-stars John Wayne, Dean Martin, Ricky Nelson, that cemented Angie Dickinson as a female lead actor and brought her to the attention of the baby boomer movie-going audiences. Below, a brunette Angie Dickinson, in a scene from Rio Bravo with Ricky Nelson and John Wayne.
In 1959 Angie Dickinson filmed the drama The Bramble Bush (1960) with co-stars Richard Burton. In the Richard Burton biography And God Created Burton by Tom Rubython, the author says Richard Burton had an affair with both his co-star Angie Dickinson, and a young actress called Barbara Rush, while filming The Bramble Bush.
By the end of 1960, Angie Dickinson's divorce from Gene Dickinson was finalized, and she had met several people that would become important in her life. 
Dickinson had filmed the crime caper Ocean's 11 (1960) early in 1960, playing the role of wife Beatrice Ocean to husband Frank Sinatra as Danny Ocean. Ocean's 11 showcased Las Vegas as well as all of Sinatra's Rat Pack friends. 
Frank Sinatra, who was an ardent Democrat and knew presidential candidate John F. Kennedy and the Kennedy clan, sent a copy of Ocean's 11 to them before it was even released; they were reportedly fans of the film. Just before the July 1960 Democratic convention in Los Angeles, Sinatra introduced Angie Dickinson to John F. Kennedy, and she campaigned for Kennedy that year. She was invited JFK's inauguration festivities, and although speculation has existed for years that Dickinson and Kennedy had an brief relationship there, she has only ever said that she was a supporter. Years later, Angie Dickinson told Vanity Fair that she didn't publish her autobiography because it had the " details of her affair with the president", and she didn't want that to become public. 
Around the same time, Angie Dickinson met and became friends with historian Arthur Schlesinger Jr., who in turn introduced her to Kennedy's American Ambassador to India, John Kenneth Galbraith and his wife Catherine (Kitty) Galbraith. Dickinson enjoyed lifelong friendships with both the Schlesinger and Galbraith couples and visited them often.
Throughout the early 1960's, Angie Dickinson continued to appear in leading lady roles in movies like A Fever in the Blood (1961) starring Efrem Zimbalist Jr. (The F.B.I.)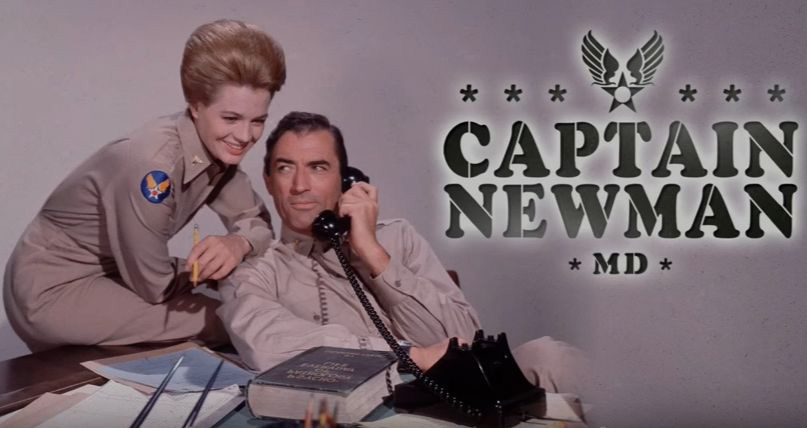 (Angie Dickinson & Gregory Peck 1963 Captain Newman M.D. Movie Trailer Screenshot)
She headlined The Sins of Rachel Cade (1961), a Nazi-era romantic drama that had Peter Finch and Roger Moore as her leading men. In the WWII comedy Captain Newman, M.D. (1963), her co-stars included Gregory Peck, Tony Curtis, Eddie Albert (Green Acres), Robert Duvall, Bobby Darin, and Dick Sargent (Bewitched). 
Angie Dickinson co-starred with Troy Donahue, Suzanne Pleshette, and Rossano Brazzi in the romantic drama Rome Adventure (1962), which was filmed in several locations in Rome and Northern Italy – Bolzano, Trento, the Dolomites, and Lake Maggiore's lovely Borromeo Summer Palace on Isola Bella.
In The Killers (1964), Angie Dickinson co-starred again with Ronald Reagan, Clu Gulager & Lee Marvin, who played hit men. The Killers was Reagan's last feature film and only outing as a bad guy; he apologized for having to slap her in the face. It was while filming The Killers in 1963 that she heard the news about President John F. Kennedy's assassination. In 1975, both Ronald Reagan and Angie Dickinson appeared as themselves in the TV movie Dean's Place (1975), starring Dickinson's close friend Dean Martin.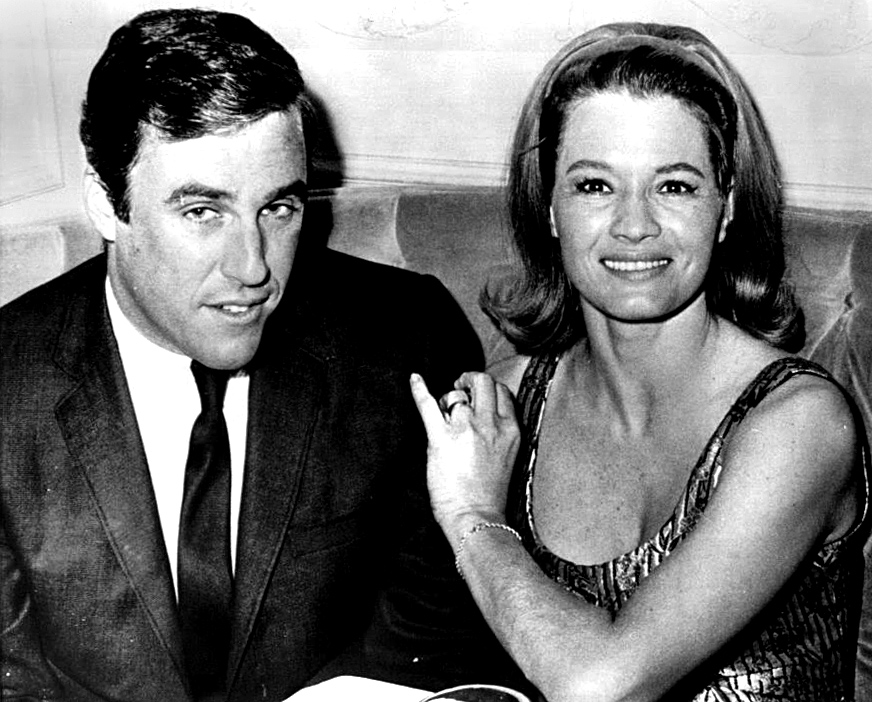 (Burt Bacharach Angie Dickinson 1965 Photo: AP Wirephoto ebay | Wikimedia Commons / Public Domain)
In 1964, Burt Bacharach's father introduced him to Angie Dickinson, according to the Los Angeles Times. Burt Barcharach and Angie Dickinson began dating and got married in May 1965 in Las Vegas. The Bacharach-Dickinson marriage was soon on rocky ground, with Bacharach saying in his autobiography that he had affairs and started thinking about getting a divorce after 9 months of marriage. 
Burt Bacharach and Angie Dickinson's premature baby daughter Lea Nikki Bacharach was born 3 months early in July 1966, and barely survived. Throughout the rest of her life, Nikki would have emotional and health problems, and was at one point hospitalized for 9 years. From then on, Dickinson made career choices that enabled her to be with Nikki as much as possible. Below, Burt Bacharach, wife Angie Dickinson and daughter Nikki Bacharach in happier times in 1966.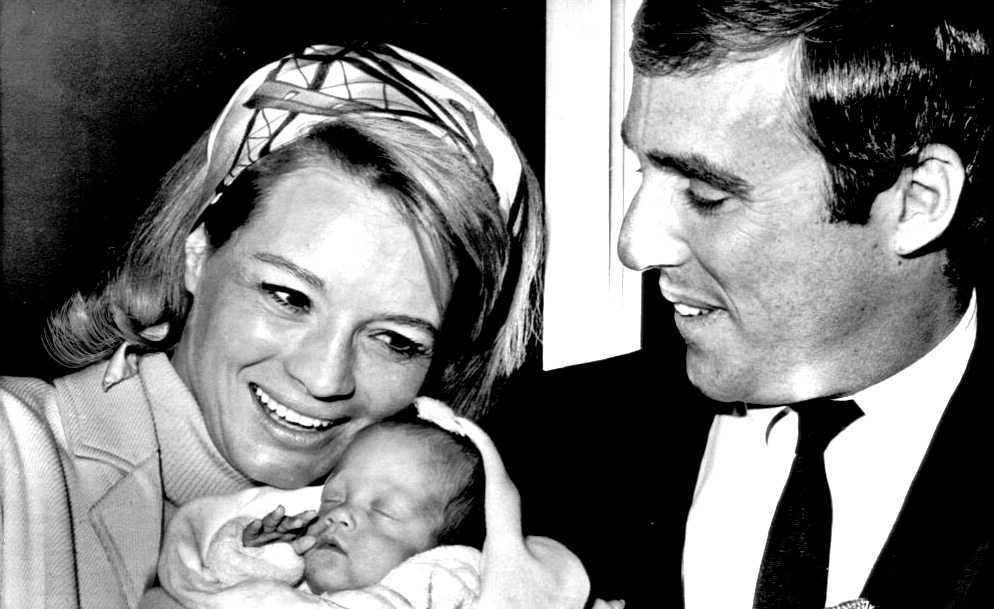 (Photo: Press photo ebay | Wikimedia Commons / Public Domain)
Angie Dickinson continued working in movies such as The Art of Love (1965), a comedy co-starring James Garner (in their second movie together), Dick Van Dyke, Elke Sommer, and The Art of Love co-writer Carl Reiner. In the thriller The Chase (1966) she co-starred with Marlon Brando, Jane Fonda, Robert Redford and Robert Duvall, who had been in an episode of The Fugitive with her.
Angie Dickinson's co-stars in the WWII historical adventure Cast a Giant Shadow (1966) were Kirk Douglas and Senta Berger. Also in the large cast of Cast a Giant Shadow were John Wayne, Frank Sinatra, Yul Brynner, and Michael Douglas in an uncredited role. That same year, the TV movie The Poppy is Also a Flower (1966) reunited Dickinson with her Cast a Giant Shadow co-stars Senta Berger and Yul Brynner. 
In 1967 Angie Dickinson co-starred with Lee Marvin (from 1964's The Killers) again, in director John Boorman's thriller Point Blank (1967). Point Blank was shot on location in Alcatraz 3 years after the prison had closed down. During the filming of the movie, Dickinson and co-star Sharon Acker did a fashion photo shoot for Life magazine on Alcatraz island. Below, a scene from Point Blank with Angie Dickinson and Lee Marvin:
Other films co-starring Angie Dickinson in the late 1960's included: 
The Last Challenge (1967), a western co-starring with Glenn Ford and Chad Everett (her Rome Adventure co-star in 1962). When asked about Glenn Ford, Dickinson told Nick Thomas for The World-Herald that "We worked on the western 'The Last Challenge' and hooked up again and dated in the '80s for a while."  
A Case of Libel (1968), a TV movie co-starring Lloyd Bridges; Angie Dickinson worked again with Lloyd Bridges in the sci-fi movie The Love War (1970).
Sam Whiskey (1969), a western comedy with Burt Reynolds and Clint Walker; she had worked with Clint Walker in the 50's when she appeared on Cheyenne.
Young Billy Young (1969), a western romance starring Robert Walker Jr. that reunited her with Robert Mitchum (from 1955's Man With The Gun), and had David Carradine in the cast.
Some Kind of a Nut (1969), a comedy that re-united Dickinson with her 1965's The Art of Love co-star Dick Van Dyke.
On television during the 1960's, baby boomer favorite actress Angie Dickinson was a frequent awards show presenter beginning with the 1960 Academy Awards. She could be seen on episodes of popular baby boomer TV series like The Alfred Hitchcock Hour, in an episode with her Cry Terror! (1958) co-star James Mason. 
Dickinson appeared in episodes of Mission: Impossible; had a brief recurring role as Carol Tredman in Dr. Kildare (1965) starring Richard Chamberlain, with Robert Culp; and was in episodes of Bob Hope Presents the Chrysler Theatre with Bob Hope, Stuart Whitman, and Cliff Robertson. From 1964-1973, Angie Dickinson was a frequent celebrity guest on Password All-Stars, and guest-starred on close friend Dean Martin's The Dean Martin Show and his celebrity roasts several times in the 1960's, 1970's and 1980's.
Angie Dickinson was a guest on The Tonight Show Starring Johnny Carson (above) 13 times between 1967-1986. Johnny Carson was a close friend and card playing buddy of Angie Dickinson's (poker is her game of choice); Dickinson has said although she never had a romantic relationship with Johnny Carson, they came close. 
Next: Angie Dickinson, Part 2: From Police Woman to Oceans Eleven (1970-2016)