Celebrating Seniors - Angie Dickinson Turns 85, Part 2
Angie Dickinson, Part 2: From Police Woman to Oceans Eleven (1970-2016)
By the early 1970's, Angie Dickinson's husband Burt Bacharach's career was at a peak, after winning the Academy Award Best Song for Raindrop's Keep Fallin' on my Head from Butch Cassidy and the Sundance Kid (1970). Dickinson's career was in decline; although she did appear in a few feature films, by 1974 she was mostly appearing in TV movies, with feature films being the exception rather than the norm. 
Burt Bacharach and Angie Dickinson appeared in Martini & Rossi beverage commercials during the 1970's, below.
Some of the films Angie Dickinson could be seen in by her baby boomer fans in the early 1970's:   
The Resurrection of Zachary Wheeler (1971), a sci-fi film co-starring Leslie Nielsen and Bradford Dillman.
See the Man Run (1971), a TV thriller co-starring Robert Culp (whom she'd worked with on Dr. Kildare in 1965), and Eddie Albert, her co-star from 1963's Captain Newman, M.D.
The Outside Man (1972), a crime drama co-starring Jean-Louis Trintignant, Ann-Margret, with Georgia Engel (The Mary Tyler Moore Show) in the second movie of her career, and child actor Jackie Earle Haley in his first movie.
Pray for the Wildcats (1974), a TV thriller co-starring Andy Griffith (The Andy Griffith Show, Matlock), William Shatner, and Robert Reed (The Brady Bunch).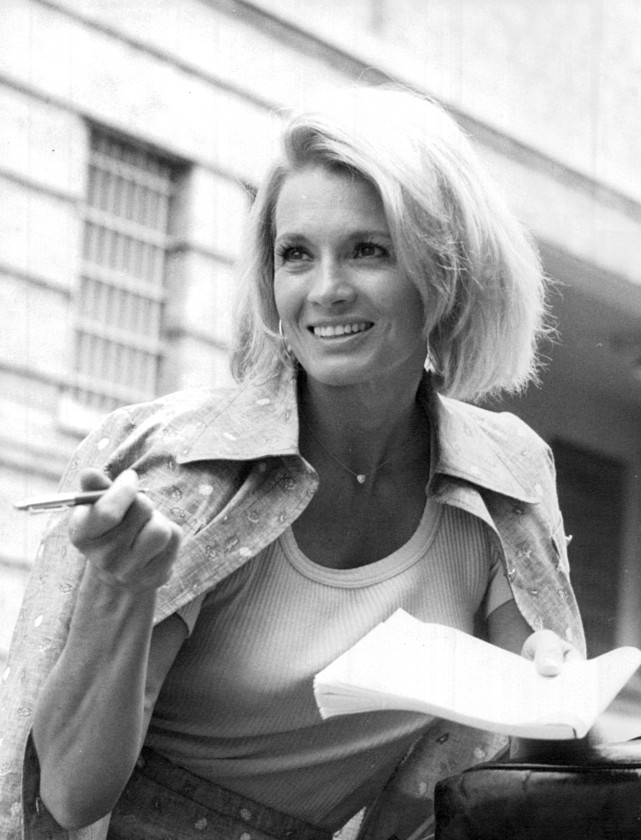 (Angie Dickinson 1976 Police Woman Photo: NBC Television)
In 1974, Dickinson guest-starred in an episode of popular baby boomer TV series Police Story as a police woman, in an episode with Joseph Campanella. She was then offered the starring role of Sergeant Suzanne (Pepper) Anderson, in the iconic TV series Police Woman (and Joseph Campanella guest-starred on that series with her as well).
While Police Woman was on the air (1974-1978), Angie Dickinson was nominated for 3 Emmy Award nominations. The TV movie Ringo (1978) starring Ringo Starr, with Art Carney (The Honeymooners) had Dickinson appearing as her Police Woman character Sergeant Pepper Anderson.
Below, vintage video scenes from the opening & closing of Police Woman.
Although husband Burt Bacharach had encouraged her to appear in Police Woman, the long hours Dickinson worked on set contributed to the demise of their marriage. They separated in 1976 and began to date other people, but remained on friendly terms. 
In the latter half of the 1970's, Angie Dickinson could be seen on screen in:
The TV drama Overboard (1978) was a reunion for Dickinson with Cliff Robertson, whom she had worked with in the 1960's on an episode of Bob Hope Presents the Chrysler Theatre.
The Pearl Harbor TV mini-series Pearl (1978) had an all-star cast that included Angie Dickinson, Robert Wagner, Lesley Ann Warren, Gregg Henry, Adam Arkin, Brian Dennehy, Richard Anderson, Marion Ross, and Joseph Campanella, among others. 
Big Bad Mama (1974) with William Shatner (her co-star in 1974's Pray for the Wildcats), Tom Skerritt, and Sally Kirkland. Big Bad Mama was notable primarily for full-frontal nudity by Angie Dickinson, and having the leading lady have sex with both male lead actors on screen (separately). Either because of or despite this, Big Bad Mama spawned a 1987 sequel (Big Bad Mama II).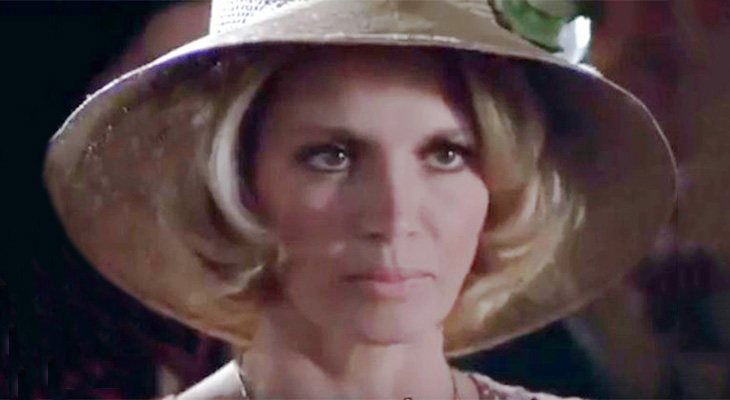 (Angie Dickinson 1974 Big Bad Mama)
Angie Dickinson had worked with actor David Janssen when she guest-starred in his series The Fugitive in the 1960's. While filming the TV drama A Sensitive, Passionate Man (1977) with Janssen in 1976, the newly separated Dickinson and Janssen began a 5-month affair. Dickinson later said of David Janssen that he was "A great gentleman, a great date, and a great love." 
A couple of years later on the cusp of her 50+ years in 1978, Dickinson told People magazine that "I will not embarrass myself by pretending to be 30 when I'm 50. I would like to sustain a career when it doesn't matter what age I am." 
As the 70's ended and the 80's began, Angie Dickinson co-starred with Canadian actor Gordon Pinsent in two movies – The Suicide's Wife (1979) and Klondike Fever (1980). 
Dickinson's career took an upswing when she co-starred in the erotic thriller Dressed to Kill (1980) starring Michael Caine. Dickinson had a body double for the nude scenes in Dressed to Kill, but her performance was sexually charged; both her performance and the movie received critical acclaim. This trailer for Dressed to Kill features Angie Dickinson and Michael Caine.
Angie Dickinson's divorce from Burt Bacharach was finalized in 1981, the same year she turned 50; they remain friends today. That same year, Dickinson appeared in 3 movies: 
Dial M for Murder (1981), a TV movie co-starring Christopher Plummer, with Michael Parks. 
Charlie Chan and the Curse of the Dragon Queen (1981) co-starring Peter Ustinov, Lee Grant, with Richard Hatch, Michelle Pfeiffer, and Roddy McDowall. This was the second movie for both Dickinson and McDowall; they had both appeared in 1971's Pretty Maids All in a Row with Telly Savalas and Rock Hudson, and McDowall had guest-starred on Angie's Police Woman TV series.
Death Hunt (1981), a crime-adventure movie co-starring Charles Bronson, Andrew Stevens, Scott Hylands, and Lee Marvin. Death Hunt was Dickinson's third and last movie with Lee Marvin (The Killers in 1964 and Point Blank in 1967). She had worked with actor Charles Bronson 23 years earlier, in his TV series Man With a Camera (1958).
Angie Dickinson was the star of the short-lived TV series Cassie & Co. (1982). In Cassie & Co. she played P.I. Cassie Holland, and reunited with co-star A. Martinez, who had guest-starred on her Police Woman series.
The TV thriller One Shoe Makes It Murder (1982) was Angie Dickinson's third and last movie with co-star Robert Mitchum, over 27 years of her career. Both Robert Mitchum and Dickinson had previously been in 1955's Man With The Gun, and the western romance Young Billy Young (1969). 
Stillwatch (1987), the TV horror movie co-starring Lynda Carter, reunited Dickinson with Don Murray and Stuart Whitman, another co-star of Dickinson's from an episode of Bob Hope Presents the Chrysler Theatre in the 1960's. Stillwatch was Angie Dickinson's second movie with actor Don Murray; they had both appeared in A Touch of Scandal (1984), which was also her second movie with Tom Skerritt (Tom Skeritt and Dickinson had co-starred in 1974's Big Bad Mama).
Before the decade was over, Angie Dickinson co-starred with Robert Culp in the sequel, Big Bad Mama II (1987). Third time was the charm once again for Angie Dickinson and her co-star Robert Culp, who had both appeared in the same episode of Dr. Kildare 23 years earlier in 1965, and the TV thriller See the Man Run (1971). 
The TV mini-series Hollywood Wives (1985) had a large all-star cast that included Angie Dickinson, Anthony Hopkins, Stefanie Powers, Robert Stack, Frances Bergen, Rod Steiger, Roddy McDowall, Joanna Cassidy, Andrew Stevens, Steve Forrest, Mary Crosby, Candice Bergen (Murphy Brown), Catherine Mary Stewart, and Suzanne Somers. Andrew Stevens had been Dickinson's co-star in 1981's Death Hunt, while Hollywood Wives was the fourth time for Roddy McDowall and Angie Dickinson to work together, after Police Woman, Pretty Maids All in a Row, and Charlie Chan and the Curse of the Dragon Queen.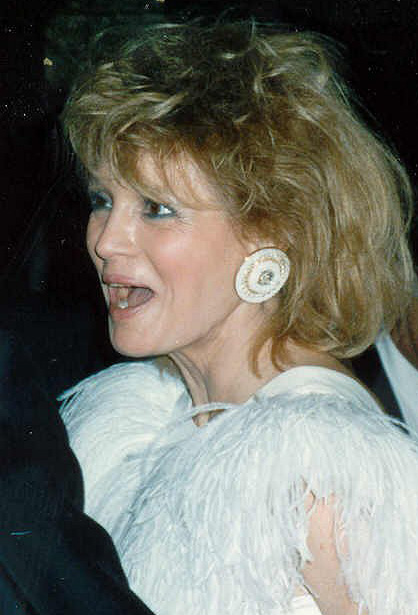 (Angie Dickinson 1989 Photo: Alan Light)
Angie Dickinson ended the 1980's with two police movies – Prime Target (1989) with co-stars David Soul and Joseph Bologna; and the TV movie Kojak: Fatal Flaw (1989) starring Telly Savalas, Andre Braugher, and Steven Weber. Telly Savalas and Dickinson had both been in the comedy Pretty Maids All in a Row (1971).
In the 1990's, Angie Dickinson's movies were confined to 4 films, among them a starring role in the TV movie Angie, the Lieutenant (1992).
She was part of large cast in the romantic comedy Even Cowgirls Get the Blues (1993) starring Uma Thurman, Lorraine Bracco, Keanu Reeves, John Hurt, Ed Begley Jr., Carol Kane, and Sean Young.
In Sabrina (1995) starring Harrison Ford, Julia Ormond, and Greg Kinnear, Dickinson played actress Lauren Holly's on-screen mother and actor Richard Crenna's wife. Richard Crenna and Angie Dickinson had co-starred in Thief (1971), and they would work together again in the TV thriller Deep Family Secrets (1997), a working professional relationship spanning 26 years.
Her episodic television appearances in the 1990's included Daddy Dearest (1993) starring Richard Lewis and Don Rickles, and Diagnosis Murder (1997) starring Dick Van Dyke (her co-star in 1965's The Art of Love). 
61-year-old Angie Dickinson told People she felt an immediate attraction to her Wild Palms (1993) TV mini-series director Oliver Stone, although she said,
"There's just no way that a 50-year-old woman is attractive to some men. Your appearance changes, and your desirability." 
Wild Palms had co-stars Jim Belushi, Dana Delany, Kim Cattrall, Ernie Hudson, Bebe Neuwirth, Nick Mancuso, Robert Morse, David Warner, and Robert Loggia in the cast. Robert Loggia and Angie Dickson worked together several times; in 1976-77, Robert Loggia had guest-starred twice on Police Woman, and appeared in 1984's A Touch of Scandal. The comedy The Don's Analyst (1997) was Angie Dickinson's last movie with Robert Loggia.
Below, Wild Palms stars Jim Belushi, Angie Dickinson, Robert Loggia, Dana Delaney, Robert Morse, Bebe Neuwirth, Nick Mancuso, and Kim Cattrall in the trailer for the mini-series. 
The year she became a senior citizen, baby boomer fans could see Angie Dickinson co-starring with Burt Reynolds in the TV thriller The Maddening (1996), 27 years after they both first worked together in the western comedy Sam Whiskey (1969). Her last significant role in the 1990's was in the romantic comedy Sealed With a Kiss (1999) starring John Stamos and Annabeth Gish.
Shortly before becoming a septuagenarian senior citizen in 2001, Angie Dickinson appeared in 3 feature films:
She reunited with her Sabrina on-screen daughter, actress Lauren Holly, in The Last Producer (2000) starring Sean Astin and Benjamin Bratt.
The ensemble cast movie Duets (2000) starring Huey Lewis, Gwyneth Paltrow, Paul Giamatti, Scott Speedman, and Lochlyn Munro.
The drama Pay it Forward (2000) starring Kevin Spacey, Helen Hunt, Jay Mohr, Jon Bon Jovi, and Jim Caviezel.
The next year, Angie Dickinson co-starred in the Vietnam vet romantic comedy Big Bad Love (2001) starring Arliss Howard, Debra Winger, Paul Le Mat, Rosanna Arquette, and Michael Parks (in their second movie together; 1981's Dial M For Murder was the first). She had a cameo role as a boxing spectator (along with Wayne Newton and Steve Lawrence) in the Ocean's Eleven (2001) re-make starring George Clooney, Brad Pitt, Elliott Gould, and Andy Garcia. 
Iickinson appeared on 7 episodes of Hollywood Squares as a celebrity guest (2001-2003). Her last feature film was the 2004 comedy Elvis Has Left the Building, starring Kim Basinger, John Corbett, Annie Potts, Sean Astin, and Tom Hanks.
After her 40-year-old daughter Nikki Bacharach committed suicide in January 2007, Angie Dickinson said she temporarily lost interest in working, and there weren't many good roles for actresses of her age. She told Vanity Fair in 2009 that,
"I don't care who you are, when you get to be past 50, it all changes. That's the way it is. It isn't wrong—we want to look at young, beautiful things," and laughed, "I don't want to see two old people screwing."
Septuagenarian Angie Dickinson's last acting role was in the TV movie Mending Fences (2009), in which she co-starred with Laura Leighton, Peter Jason, and Roark Critchlow.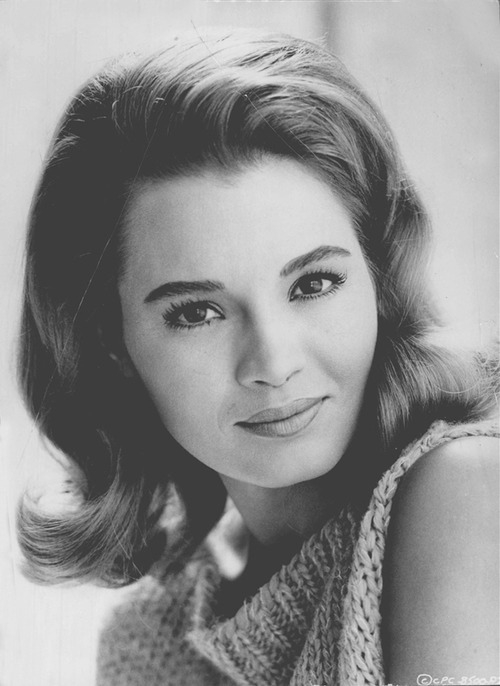 (A younger, brunette Angie Dickinson circa the late 1950's/early 1960's Photo: Film Star Vintage)
Angie Dickinson became an octogenarian in 2011. Most recently she has narrated or been interviewed for numerous retrospective features and documentaries about Hollywood and stars of yesteryear, such as the TV mini-series documentary about her close friend and one-time lover Frank Sinatra, Sinatra: All or Nothing at All (2015).
In a 61-year acting career that has spanned over 6 decades, Angie Dickinson acquired more than 145 film credits and worked with many of the biggest names in the business. 
Previously: Angie Dickinson, Part 1: From Oceans 11 to Point Blank (1931-1969)
*Images are public domain or Creative Commons licensed & sourced via Wikimedia Commons, Vimeo, or Flickr, unless otherwise noted*