TV Trivia: The Mary Tyler Moore Show
A1. What was the name of the hour-long television show that Edward Asner starred in after The Mary Tyler Moore Show went off the air on March 19, 1977?
A2. Which of the original cast members of The Mary Tyler Moore Show also starred in the 1980 movie Caddyshack?

From 1970 to 1977, The Mary Tyler Moore Show aired on CBS and kept the baby boomer generation laughing at the television newsroom antics of Mary Richards (Mary Tyler Moore), Lou Grant (Edward Asner), Ted Baxter (Ted Knight), and Murray Slaughter (Gavin MacLeod).
Incoming new characters Georgette (Georgia Engel, 1972-1977) and Sue Ann Nivens (Betty White, 1973-1977) took up the slack when best friend Rhoda Morganstern (Valerie Harper) left the show in 1974 to star in a spin-off (Rhoda), followed by landlady Phyllis Lindstrom (Cloris Leachman) to star in a 2nd spin-off (Phyllis), in 1975.
From the last episode of The Mary Tyler Moore Show, the cast members gather: From left: Betty White, Gavin MacLeod, Edward Asner, Georgia Engels, Ted Knight, and Mary Tyler Moore.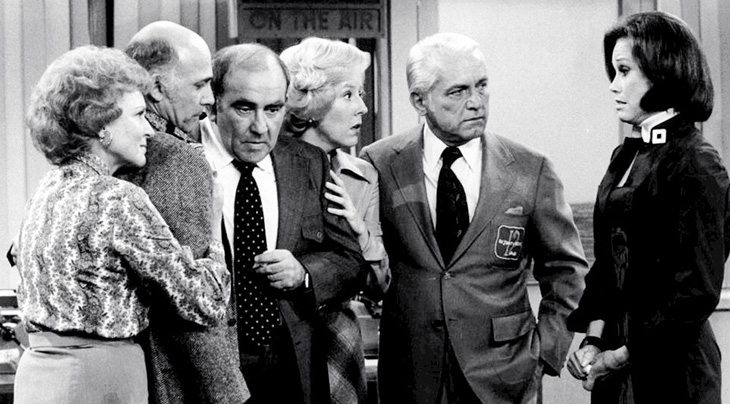 (The Mary Tyler Moore Show 1977 Cast Photo: CBS TV)
During it's run The Mary Tyler Moore Show won 3 Outstanding Comedy Series Emmy Awards (1975, 1976 & 1977).
The Mary Tyler Moore Cast Update
Series star Mary Tyler Moore was already known to TV sitcom-lovers from her Emmy Award-winning work on The Dick Van Dyke Show (1961-1966); she won 3 more Emmy Awards for work on The Mary Tyler Moore Show, and another for for starring the in TV movie Stolen Babies (1993). She later starred in several short-lived television series in the next decades after The Mary Tyler Moore Show went off the air. She won a Tony Award in 1980, and was nominated for an Academy Award Best Actress for playing an emotionally frigid mother to a grieving son (Timothy Hutton) and husband (Donald Sutherland) in Robert Redford's directorial debut Ordinary People (1980). Mary Tyler Moore had diabetes, heart issues and kidney problems for years prior to her January 2017 death from pneumonia complications at the age of 80. 
Ted Knight went on to star as Henry Rush in the sitcom Too Close for Comfort from 1980-1987. He died of colon cancer complications in 1986.
Two of the MTM cast died in 2019:
Valerie Harper starred in Rhoda for 4 years, from 1974-1978. Harper had received 3 Primetime Emmy Awards for Outstanding Supporting Actress in a Comedy Series during her run on , and received another Emmy for Rhoda – Outstanding Lead Actress in a Comedy Series. After Rhoda came Valerie (1986-1987), and other television roles. Harper also continued to perform on stage in her senior years, even competing on Dancing With the Stars in 2013 in her 70s. Valerie Harper died in August 2019 at the age of 80 from brain cancer.
Georgia Engel, who played Ted's on-screen love Georgette, had a thriving career in films and as a semi-regular / star on several television series over the next 35+ years (Goodtime Girls, Coach, Everybody Loves Raymond, Passions, Hot in Cleveland). Engel received several Emmy Award nominations – 2 for her work on The Mary Tyler Moore Show, and another 3 for her Everybody Loves Raymond performances as Pat MacDougal. Georgia Engel passed away in April 2019 at the age of 70 from unknown causes (she was a Christian Science follower and did not consult doctors). 
Four of the regular cast members of The Mary Tyler Moore Show died in 2021:
Cloris Leachman enjoyed a long career before and after The Mary Tyler Moore Show, with her list of TV & movie credits approaching 300. Some additional highlights from her career aside from starring in Phyllis (1975-1977), include playing mom Ruth Martin on Lassie (1957-1958), Beverly Ann Stickle on The Facts of Life (1986-1988), and Maw Maw on Raising Hope (2010-2014). She's topped Asner's amazing Emmy Award count with 8 wins of her own – 2 for The Mary Tyler Moore Show, and most recently another 2 as a guest actress on Malcolm in the Middle (2002 & 2006). Among her many movie credits are Young Frankenstein (1974) and The Last Picture Show (1971), for which she won an Academy Award. Cloris Leachman turned 94 on her April 30 birthday in 2020, and died in 2021 (January) of natural causes.
Gavin MacLeod starred in another long-running series, The Love Boat (1977-1987), as Captain Merrill Stubing. He worked on stage, television, and films after that. Gavin MacLeod turned 90 on his  February 28th birthday in 2021; he died in May 2021.
Edward Asner was a star of TV and movies for years before and after The Mary Tyler Moore Show, often playing Santa onscreen in Christmas movies. He voiced the lovable old man in the animated feature film UP (2009), and his list of film and TV credits approached the 400 mark. Over his career, Asner amassed 7 Primetime Emmy Awards – 3 for playing Lou Grant on The MTM Show, and another 2 for starring in the spin-off drama Lou Grant; 1 for his work as grim Axel Jordache on Rich Man, Poor Man (1976); and another for his portrayal of slaver Captain Thomas Davies on Roots (1977). In 2020 he was involved in no less than 15 TV or movie projects, and Asner toured on stage as recently as 2019, when he turned 90 on his November 15th birthday. Ed Asner died on August 29, 2021 at the age of 91.
Betty White made a career out of being a funny, racy "older" woman and was an AARP commercial regular. She starred on the Hot in Cleveland (2010-2015) television comedy and on a 2013 episode was joined by friends Cloris Leachman, Valerie Harper, Mary Tyler Moore, and Georgia Engel for an MTM reunion of sorts. No slouch when it came to Emmy Awards herself, Betty won 5 of them, among which were 2 from The MTM Show and another from her performance as Rose Nylund on The Golden Girls (1985-1992) Lovely Betty White celebrated her 99th birthday on January 17, 2021; she passed away on New Year's Eve, 2021.
Q1. Lou Grant, Ed Asner's character from The Mary Tyler Moore Show. Lou Grant was a drama set in a newspaper newsroom.
Q2. Ted Knight played Judge Elihu Smails in the movie Caddyshack. 
Note: This article was first published in 2015. It has been updated with new & additional content.
*Images are believed to be in the public domain and/or Creative Commons licensed & sourced via Wikimedia Commons, Vimeo, YouTube, or Flickr, unless otherwise noted*