Witty Golden Girl Betty White
Witty American comedian, singer, animal rights activist, and multiple Emmy Award-winning actress Betty White died on December 31, 2021 – just a few weeks before her 100th birthday (she was born on January 17, 1922 in Oak Park, Illinois.)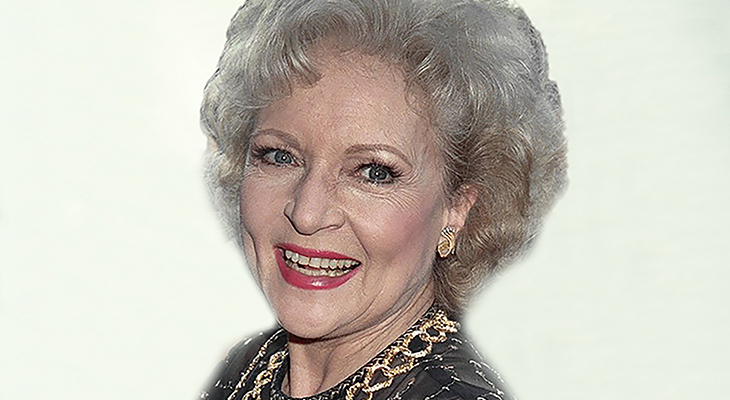 (Betty White 1989 Photo: Alan Light)
Before she was a TV personality and actress, Betty White was an only child and had a very close, loving relationship with her mother and father. They moved to California while she was elementary school and the White family would often go on horseback camping vacations in the High Sierra's.
A Nature and Animal Lover
Betty White credited these family vacations to her deep-seated love for nature, wildlife, and a desire to work with animals and become a forest ranger or manage a zoo after graduating from Beverly Hills High School in 1939. Although her wish to become a forest ranger was stymied because "Back then, girls were not allowed to become forest rangers," throughout her life Betty White supported various animal welfare and conservation causes. In 2010, octogenarian senior citizen Betty White was made an honorary Forest Ranger by the U.S. Forest Service in recognition of her support for wildlife and nature conservancy.
Betty White told author Robert Kubey (Creating Television, 2004) that she wrote her Beverly Hills Horace Mann grammar school graduation play and realized "how much fun it was to be up on the stage." When plans for a career as a forest ranger didn't work out, she turned to writing and then acting, confessing that when it comes to learning her lines,
"I memorize everything, so memorizing is no problem. I happen to have a rather photographic eye. I memorize visually. It's become a conditioned reflex." 
Initially rejected by movie producers, Betty White found work on radio in commercials, and making appearances on game shows. Modeling and local television acting work came soon after high school graduation in 1939. When World War II began later that year, she joined the American Women's Voluntary Services.
Betty White told Newsweek that in 1945 she married because it was the thing to do.
"Back in those days…you didn't sleep with a fella unless you married him. It was during World War II and I met this P-38 pilot (U.S. Army Air Corps Pilot Dick Barker), which was terribly romantic, and we were going to live just up the coast from Los Angeles. He didn't tell me he got mustered out, so instead of going up to our apartment in Santa Maria, we had to drive to Belle Center, Ohio, a town of 800 people. Belle Center was a chicken farm. We were living with his mom and dad, and they would send me out to kill a chicken to bring it in for dinner. I said, "No way!" That was a real trauma because I'm such an animal nut. I couldn't hack it, so I split and came back to California. We were married eight months, and it was a very bad mistake early on." 
She told TV Guide that they had a great sex life, but it wasn't enough:
"I married my first husband because we wanted to sleep together…It lasted six months and we were in bed for six months."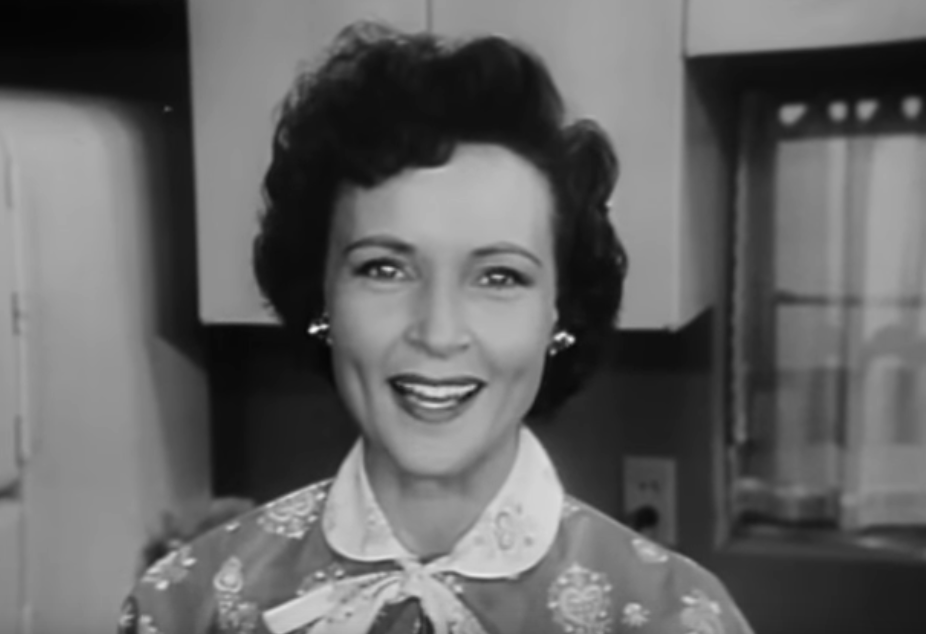 (Betty White 1957 Date With the Angels)
Betty White once again found work on radio and was given her own series, The Betty White Show. Once again, she told Newsweek a new romance proved to be a mistake.
"Met a wonderful man, Lane Allen. He was a theatrical agent, and we had a couple of very good years. But he wanted me to stop working. He didn't want me to be in show business. When you have a calling you have to follow it, so I made the choice."
Betty White and Lane Allen were married in 1945 and divorced in 1949, and she returned to live at home with her parents. 
Betty White told WFMU's Beware of the Blog Kliph Nesteroff that she began appearing on KFWB radio host Al Jarvis' experimental new television series Hollywood on Television on KLAC in 1949. Hollywood on Television consisted of Betty White and Al Jarvis (and later, Eddie Albert of Green Acres) ad-libbing for five and 1/2 hours a day, 6 days a week. This is less mind-boggling when you realize it was the very beginning of television, with the alternative local viewing options consisting of one other television station and watching test patterns. Betty White would also frequently present the commercials for the program, which took up to 1 hour of the 5.5 hours of air time for Hollywood on Television each day.
The Betty White Show
While Hollywood on Television was still airing, in 1951 White was given her own series on KLAC, The Betty White Show. She would sing songs, read letters from viewers and respond to their questions, anything to fill the air time. When Eddie Albert quit Hollywood on Television, that left Betty White as the solo host. At the suggestion of the series pianist and script writer George Tibbles, guest-stars and scripted sketches became regular segments on Hollywood on Television, making Betty White the first female daytime talk show host. She received her first Emmy Award nomination for Best Actress in 1951 (the Emmy Awards had only begun in 1949) but lost to Gertrude Berg of The Goldbergs.
Together with George Tibbles, Betty White and local KLAC station manager and producer Don Fedderson founded Bandy Productions and created the new TV sitcom Life with Elizabeth in 1952, which was based in part on sketches from Hollywood on Television. In addition to starring in the sit-com Life with Elizabeth, Betty White produced the series – making her the first female sitcom producer at the young age of 31. Like most television shows at the time, Life with Elizabeth was aired live, with episodes written and directed by George Tibbles. Betty White played wife Elizabeth, married to Alvin (Del Moore). Betty White won a Regional Los Angeles Emmy for her performance on Life with Elizabeth, beating rival Zsa Zsa Gabor, who was starring on the dating show Bachelor's Haven. Life with Elizabeth was soon syndicated and aired as a taped vs live series on NBC beginning in October 1953.
While Life with Elizabeth was still on the air, yet another series from Bandy Productions was sold to NBC, The Betty White Show. This second version of The Betty White Show, once again a daytime talk show with a mix of celebrity guests, songs, and sketch comedy, began airing in 1954. By the end of 1955 White had been given the honorary title Mayor of Hollywood, but both of her TV series – Life with Elizabeth and The Betty White Show – had been cancelled. Below, a classic episode of The Betty White Show from 1954 hosted by Betty White, and complete with vintage commercials.
Betty White began appearing as a panelist on TV game shows, and started planning a new sitcom series with her Bandy Productions partners. On A Date with the Angels, which ran on ABC in 1957, Betty White played Vickie Angel, opposite Bill Williams (The Adventures of Kit Carson) as her husband Gus Angel. White told Kliph Nesteroff that without Del Moore's comedic timing, A Date With the Angels floundered; she wanted out of the series.
Below, the "Star Struck" episode of Date with the Angels in 1957, complete with vintage ads from the series sponsor Plymouth. This Star Struck episode of Date with the Angels features regulars Betty White and Bill Williams as Vickie and Gus Angel, recurring actors Roy Engel and Natalie Masters as their friends George and Wilma Clemson, and guest stars Dennis Day, Hugh O'Brien and Liberace as themselves.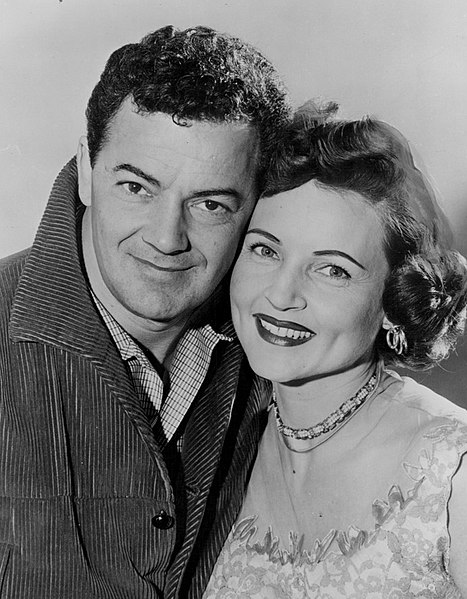 (Betty White & Cornel Wilde 1958 The Betty White Show Photo: ABC Television)
A format change to a variety show and new title debuted in February 1958: The Betty White Show (for the third time!), but it was soon cancelled.
At loose ends, Betty White turned once again to appearing on game shows like To Tell The Truth (1958-1963), performing in summer stock theatre, and as a regular bi-weekly guest/guest-host on The Tonight Show with Jack Paar (1958-1962). She began appearing as a regular on the New York-based game show Password in 1961, which was hosted by widower Allen Ludden, a staple on television game shows in the 60's and 70's. 
Love With Allen Ludden
In 1962 both Betty White and Allen Ludden co-starred in a summer stock production of Critic's Choice. As White told TV Guide, Allen Ludden asked her repeatedly to marry him:
"He bought me a beautiful ring and I threw it back at him so he wore it on a chain around his neck…He said, 'I'm going to wear it until you put it on your finger.'"
White held him off, intimidated by the thought of a move to New York and her two previous failed marriages. Here's a lesson for the rest of us from someone in her senior years that's lived a (very) long life: In a March, 2015 interview with Oprah Winfrey, when asked what her biggest regret was, Betty White said:
"I spent a whole year, wasted a whole year that Allen and I could have had together, saying, 'No, I wouldn't marry him. No, I won't. No, I won't leave California. No, I won't move to New York…I wasted a whole year we could have had together."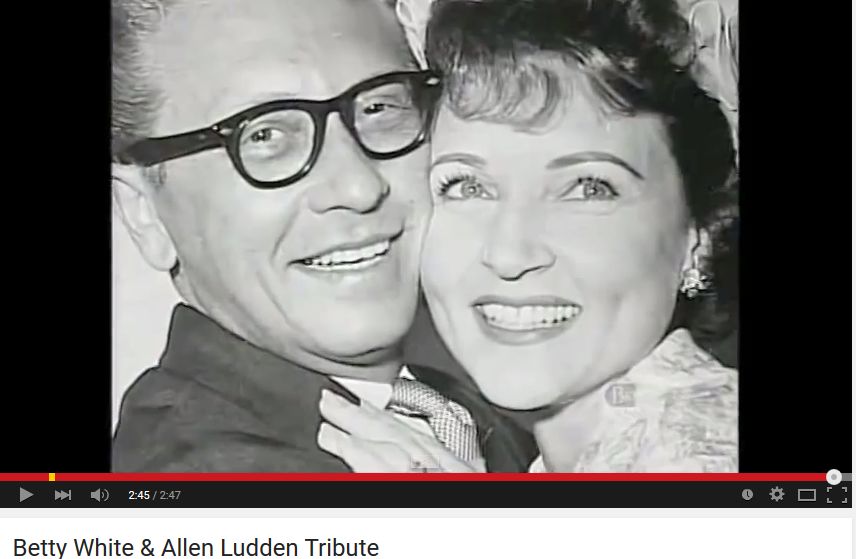 She told Newsweek about their lifelong romance: 
"Then I met Allen Ludden. He was enthusiastic about everything. He was intellectually wonderful. He was silly. He was romantic. He knew how to court a lady…I kept saying no for a year. Finally, Easter came along. He sent me a white stuffed bunny with diamond earrings clipped to its ears and a card that said, 'Please Say Yes?' So when I answered the phone that night, I didn't say hello, I just said, 'Yes.' "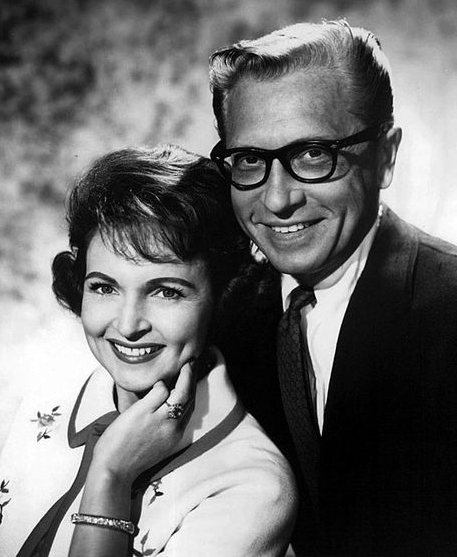 (Betty White & Allen Ludden 1968 Photo: Ogunquit Playhouse)
Betty White and Allen Ludden were happily married in 1963. She told Newsweek that:
"Even long after we were married, he'd call me up during the day and ask me out on a date. He'd barbecue a chicken. We'd have a glass of wine, put on a stack of records, and dance. Now, that's silly for an old married couple—and a far cry from my first marriage, in terms of chickens—but it worked." 
Betty White and Allen Ludden were close friends with Mary Tyler Moore and her then-husband Grant Tinker during their marriage.
She was also a contestant from 1963-1969 on The Match Game, and in 1967 she and Allen Ludden both appeared on a special episode of Match Game titled Betty White & Allen Ludden as opposing team captains. In 1969, she was co-hostess with Allen Ludden of his new series Allen Ludden's Gallery. Off-screen, the couple toured in summer stock productions of The King and I, Any Wednesday, and Brigadoon.
Below, Betty White and Allen Ludden on Match Game, along with their fellow celebrity panelists Brett Somers, Charles Nelson Reilly, Dolly Martin, and Richard Dawson.
Although primarily known as a television personality and sitcom actress, during the 1960's and 1970's, Betty White's other on-screen appearances included the odd movies and roles:
White was Senator Bessie Adams in the Otto Preminger drama Advise & Consent (1962) with Henry Fonda, Don Murray, and Gene Tierney.
In the TV mystery Vanished (1971) starring Richard Widmark, Robert Hooks, William Shatner, and Sheree North, Betty White played a TV hostess. Randolph Mantooth appeared in Vanished as an extra. 
The Mary Tyler Moore Show
Betty White's television career began to take off again as she entered her 50+ years, and from 1972 on, she was never far from a television screen, guest-starring on series like The Odd Couple, Ellery Queen, and Lucas Tanner starring David Hartman. 
Most baby boomers and seniors will remember Betty White as man-hungry on-air homemaker Sue Ann Nivens on The Mary Tyler Moore Show from 1973-1977. She made a perfect foil for The Mary Tyler Moore Show characters portrayed by her friend Mary Tyler Moore (newswoman Mary Richards), Ed Asner (shy boss Lou Grant), Gavin MacLeod (nervous newswriter Murray Slaughter), Ted Knight (bumbling newscaster Ted Baxter), Valerie Harper (Mary's friend Rhoda Morganstern), Cloris Leachman (witchy Phyllis Lindstrom) and Georgia Engel (sweet, naive Georgette Franklin).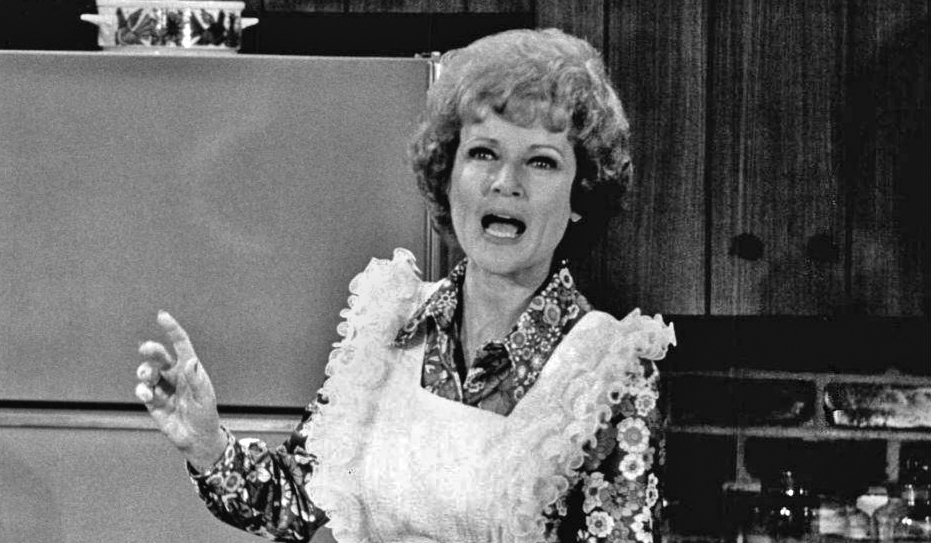 (Betty White The Mary Tyler Moore Show 1973 Photo: CBS Television)
Next, she starred on yet another (fourth) TV series named after her – The Betty White Show. The Betty White Show (1977-1978) sitcom had Betty White starring as actress Joyce Whitman, with her Mary Tyler Moore Show pal Georgia Engel as Mitzi Maloney, and actor John Hillerman (better known from his role as Higgins on Magnum, P.I.) as John Elliot.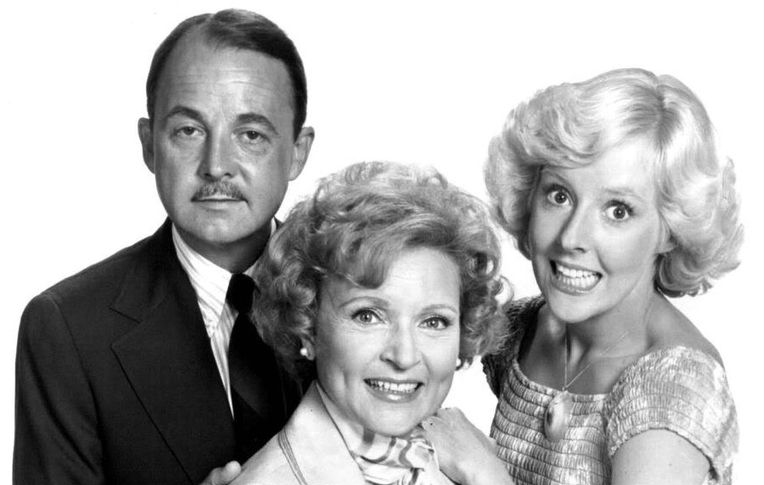 (John Hillerman, Betty White & Georgia Engel 1977 The Betty White Show Cast Photo: CBS Television)
After The Betty White Show ended in 1978, White was most often seen on TV game shows (Matchgame 73, from 1973-1982) and movies, appearing alongside emerging new talent and other familiar faces for baby boomer television viewers:
Betty White, Carol Burnett, and the actors on The Carol Burnett Show worked together many times, beginning with Betty White guest-starring on The Carol Burnett Show in 1975 and continuing from there:
Betty White was in the Beach Blanket Boo-Boo skit on The Carol Burnett Show with Vicki Lawrence, Carol Burnett, Steve Martin, and Tim Conway. It was during her appearances on The Carol Burnett Show that White originated the character of Ellen Harper Jackson.
She co-starred in the TV comedy movie Snavely (1978) with Harvey Korman.
Eunice (1982) was a TV special/comedy based on Carol Burnett's sketch comedy character Eunice from The Carol Burnett Show. Carol Burnett, Ken Berry, Harvey Korman, Betty White, and Vicki Lawrence all appeared in Eunice.
She guest-starred as Trisha Durant on Carol & Company in 1990 starring Carol Burnett, in episodes with Terry Kiser and Peter Krause as skit characters. 
Betty White was the recurring character of Ellen Harper Jackson on the comedy series Mama's Family (1983-1986) starring Vicki Lawrence, Ken Berry, Dorothy Lyman, and actress Rue McClanahan (also in a recurring role). Below, Vicki Lawrence's 2013 interview of Mama's Family cast members includes reminisces and clips from Carol Burnett and Betty White.
Sadly, in June 1981 Betty White's husband Allen Ludden died from stomach cancer a few days before their 18th wedding anniversary. She never remarried, saying frequently
"When you've had the best, who needs the rest?"
In addition to her recurring characters, TV movies and game shows, during the 1980's White was a popular guest-starring actress on episodes of popular TV series such as Love, Sidney with Swoosie Kurtz and Tony Randall; Fame with Debbie Allen and Lori Singer; and Hotel with James Brolin, Connie Sellecca, and Shari Belafonte. On a special 1987 episode of Matlock starring Andy Griffith and Nancy Stafford, Betty White appeared with other guest stars Jason Bateman, Corbin Bernsen, Rhea Perlman, and Malcolm-Jamal Warner – all of whom played themselves. White was so popular that some series brought her back more than once: 
St. Elsewhere twice in 1985, working with St. Elsewhere series regulars Ed Begley Jr., Williams Daniels, David Morse, Christina Pickles, Denzel Washington, Ed Flanders, Bonnie Bartlett, Cynthia Sikes, and Mark Harmon.
The Love Boat had Betty White on 5 times between 1980-1985, recurring in 4 episodes as the character of Betsy. She worked with The Love Boat regulars Gavin MacLeod, Ted Lange, and Bernie Kopell.
Who's The Boss starring Judith Light, Tony Danza, and Katherine Helmond, had Betty White guest-star twice in 1985.  
Daytime soap opera Santa Barbara, known for it's witty repartee, was a perfect fit for Betty White; she appeared on Santa Barbara 3 times in 1988 as a waitress/theatre goer.
The Golden Girls Rose Nylund
From 1985 to 1992, Betty White played dippy Rose Nylund on The Golden Girls. Her three housemates on The Golden Girls included Bea Arthur as Dorothy Zbornak, Rue McClanahan as Blanche Devereaux, and Estelle Getty as Sophia Petrillo. White was nominated for Outstanding Actress in a Comedy Series every year for her performances in The Golden Girls, and won the Emmy for her work in the first season. Betty White would later resurrect the character of Rose Nylund in crossover guest-starring gigs, such as on Empty Nest 3 times between 1989-1992. Below, a series of Betty White as Rose Nylund short clips from The Golden Girls.
Betty White told Robert Kubey, author of Creating Television (2004) that she thought the reason The Golden Girls was so popular was because:
"The show tells people that you don't fall off the planet when you get to be 35 years old. Inside, you're thinking and looking out from the same perspective that you always did. If you were a dull young person, you're going to be a dull older person."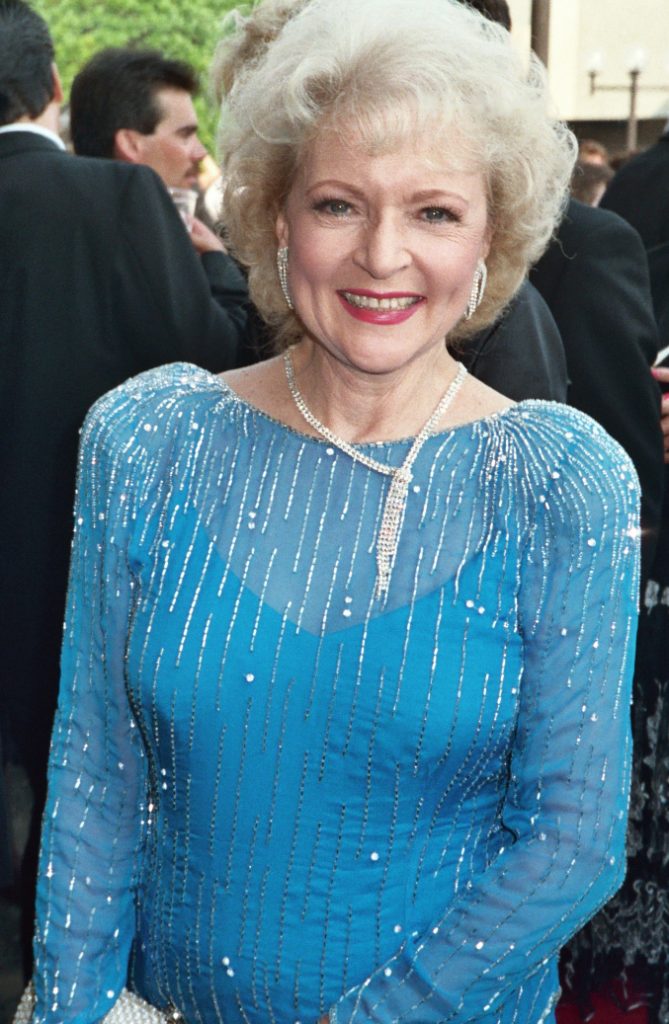 (Betty White 1988 Photo: Alan Light)
White received 2000-5000 pieces of fan mail each week while appearing on The Golden Girls, and said she made it a point to respond personally to letters from recent widows, who often asked "How do you do it? Is it ever going to get better?", because "That's one lady who's got a problem, who's hurting, and she doesn't know that I get others like it."
In addition to continuing to appear as a celebrity contestant on game shows like The $10,000 Pyramid (1982-1991), Betty White became the first woman to win an Emmy Award for Outstanding Game Show Host for the series Just Men in 1983.
In 1987, Betty, Estelle Getty, and Lucille Ball appeared together on Super Password to promote their favorite charities.
Below, Betty White & Estelle Getty supporting the Humane Society, and Lucille Ball supporting Child Abuse, in this 1987 episode of the game show Super Password.
After becoming a septuagenarian senior citizen in 1992, Betty White guest-starred on a number of television programs including Suddenly Susan, The Practice, and Yes, Dear where she received Emmy nominations for her individual appearances. She won another Emmy Award in 1996 for Outstanding Guest Actress in a Comedy Series, appearing as herself on an episode of The John Larroquette Show. Baby boomers and seniors may also recall seeing Betty White recurring as the character of Sylvia Schmidt on the sitcom Bob (1993), starring Bob Newhart.
The Golden Palace (1992-1993) comedy sequel to The Golden Girls had actresses Betty White, Rue McClanahan, and Estelle Getty playing their same characters from The Golden Girls, who have bought a hotel to run. Appearing with them on The Golden Palace were actors Don Cheadle and Cheech Marin.
1990's episodic television appearances for Betty White included Diagnosis Murder starring Dick Van Dyke and guest-starring on Ally McBeal as Ally's (Calista Flockhart) pill-pushing septuagenarian doctor. She began taking on voice acting roles on television and the movies, and can be heard on the animated film The Story of Santa Claus (1996) with Ed Asner and Tim Curry. 
Betty White was a regular on the comedy series Maybe This Time (1995-1996) as much-married Shirley Wallace, mother to Julia Wallace (Marie Osmond). On Maybe This Time, she dispensed romantic encouragement to "daughter" Marie Osmond. 
On the comedy Ladies Man (1999-2001), Betty White was a regular cast member as matriarch Mitzi Stiles, with actors Alfred Molina and Sharon Lawrence as married couple Jimmy and Donna Stiles. 
1990s Film Stardom
It was as a septuagenarian senior citizen that Betty White finally came into her own as an actress with a scene-stealing comedic touch in featured films. Baby boomers, seniors, and audiences of all ages saw her in these television and big-screen movies:
A Weekend in the Country (1996), a TV movie, co-starring with comedians & actors Rita Rudner, Jack Lemmon, Richard Lewis, Dudley Moore, Faith Ford, and Christine Lahti.
Hard Rain (1998), a feature film with Morgan Freeman, Christian Slater, Randy Quaid, Minnie Driver, Edward Asner, Michael A. Goorjian, and Dann Florek. Richard Dysart (L.A. Law) and Betty White played elderly couple Doreen and Henry Sears. 
Holy Man (1998), a comedy flop starring Eddie Murphy, Jeff Goldblum, Kelly Preston, Robert Loggia, Jon Cryer, Eric McCormack. In Holy Man, celebrities Dan Marino, Morgan Fairchild, Betty White, and Florence Henderson all appeared as themselves. 
Dennis the Menace Strikes Again (1998), with George Kennedy, Brian Doyle Murray, and Don Rickles and Betty White playing senior citizen neighbors Mr. & Mrs. Wilson.
The Story of Us (1999), a romantic comedy drama directed by and co-starring Rob Reiner, with Bruce Willis, Michelle Pfeiffer, Tim Matheson, Rita Wilson, Ken Lerner, Jayne Meadows, and Tom Poston. In The Story of Us, Betty White once again plays a family matriarch/grandmother, Lillian Jordan. 
The Retrievers (2001) a TV comedy with Robert Hays, Mel Harris, Alan Rachins, and Robert Wagner.
Lake Placid (1999), a comedy-horror feature film starring Bridget Fonda, Bill Pullman, Oliver Platt, Brendan Gleeson, and Mariska Hargitay. White played Mrs. Delores Bickerman, who is covertly supplying a food source to the resident giant crocodile. Below, a clip from Lake Placid featuring Betty White, Bridget Fonda, Bill Pullman, Brendan Gleeson, a cow, and a crocodile.
Becoming and octogenarian senior citizen in 2002 didn't dim Betty White's star, and retirement didn't enter her vocabulary. She continued to work in voice acting roles for animated television series and movies, and guest-starred or appeared in cameos as herself on many TV series.
On That '70s Show from 2002-2003, Betty White was Bea Sigurdson, a recurring character and shouty mother to Kitty Forman (Debra Jo Rupp) and her husband Red Forman (Kurtwood Smith); grandmother to Eric Forman (Topher Grace), and wife to alcoholic Burt Sigurdson (Tom Poston).
On Everwood (2003-2004), starring regulars Treat Williams, Tom Amandes, and Marcia Cross (Knot's Landing), Betty White and Richard Herd played Carol and Herb Roberts. 
Catherine Piper, on The Practice in 2004, and on spin-off series Boston Legal from 2005-2008. Betty White was in episodes with The Practice and Boston Legal regulars Camryn Manheim, Michael Badalucco, Steve Harris, James Spader, Patrick Dempsey, Jill Clayburgh, Edward Asner, William Shatner, Candice Bergen (Murphy Brown), Mark Valley, Rene Auberjonois, Julie Bowen, John Larroquette, and Monica Potter. She crossed paths with former Everwood co-star Tom Amandes in an episode of Boston Legal. 
On the daytime soap opera The Bold and The Beautiful, Betty White played Ann Douglas from 2006-2009. The character of Ann Douglas was mother to Stephanie Forrester (Susan Flannery) and Pamela Douglas (Alley Mills), with John McCook as Eric Forrester, Ronn Moss as Ridge Forrester, and Winsor Harmon as Thorne Forrester.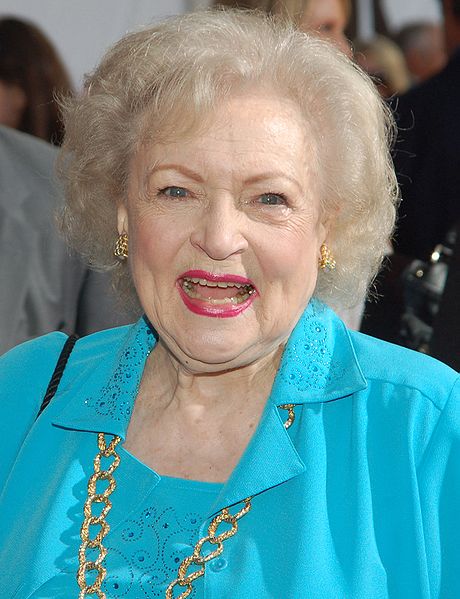 (Betty White 2009 Photo: Angela George)
Betty White wasn't neglected in movies during her 80's either.
As an octogenarian, she acted in comedy TV movies and feature films, often providing the pivotal plot points in movies like  Bringing Down the House (2003), a comedy starring Steve Martin, Queen Latifah, Eugene Levy, Joan Plowright, and Jean Smart. In Bringing Down the House Betty White played against type as Steve Martin's racist neighbor.
Other notable appearances onscreen during this era included:
She had a cameo as a grandma climbing out of a window, in the TV movie Return to the Batcave: The Misadventures of Adam and Burt (2003), which starred Adam West and Burt Ward as elderly actors reminiscing on their days playing Batman and Robin on the Batman TV series.
The romantic comedy You Again (2010) starring Kristen Bell, Sigourney Weaver, Jamie Lee Curtis, Victor Garber, Kristen Chenoweth, and Patrick Duffy, with singers Daryl Hall and John Oates appearing as themselves. In You Again, Betty White played Grandma Bunny, whose rival was a fellow grandmother played by Cloris Leachman. Cloris Leachman and White had of course been co-stars over 30 years earlier, on The Mary Tyler Moore Show in the 1970's.  
She was scene-stealing Grandma Annie in the romantic comedy The Proposal (2009) starring Sandra Bullock and Ryan Reynolds, with Mary Steenburgen, Craig T. Nelson, Dennis O'Hare, Oscar Nuñez, and Aasif Mandvi. The Proposal was a box office hit.
It seems that Betty White's popularity keeps increasing in proportion to her age (and wit). She told TV Guide in 2010 that
"I don't have a fella, but if Allen — or Robert Redford — were around, we'd have a very active sex life."  
Thanks to a Facebook campaign, 88-year-old Betty White was tapped to host Saturday Night Live in May 2010, becoming the oldest person ever to host the show. White told the SNL audience in her monologue that she
"Didn't know what Facebook was, and now that I do know what it is, I have to say, it sounds like a huge waste of time."
Betty White won her 7th Emmy Award, for Outstanding Guest Actress in a Comedy Series, for her performance on Saturday Night Live.
After beginning another decade in show business in 2012, nonagenarian senior citizen Betty White kept busy with voice acting and guest-starring on television series. She was God in an episode of Save Me in 2013, starring Anne Heche, and resurrected her The Golden Girls character Rose on an episode of Fireside Chat with Esther in 2015. Most recently her baby boomer fans might have caught her as Dr. Beth Mayer in a two-time recurring role on Bones with Emily Deschanel and David Boreanaz. 
Not content with personal appearances and guest-starring gigs, Betty White became a regular on the hit new sitcom Hot in Cleveland comedy from 2010-2015. She was nominated for Primetime Emmy Award for her performance as Hot in Cleveland's Elka Ostrovsky in 2011. Her Hot in Cleveland cast mates included 40+ Valerie Bertinelli, Wendie Malick, and Jane Leeves.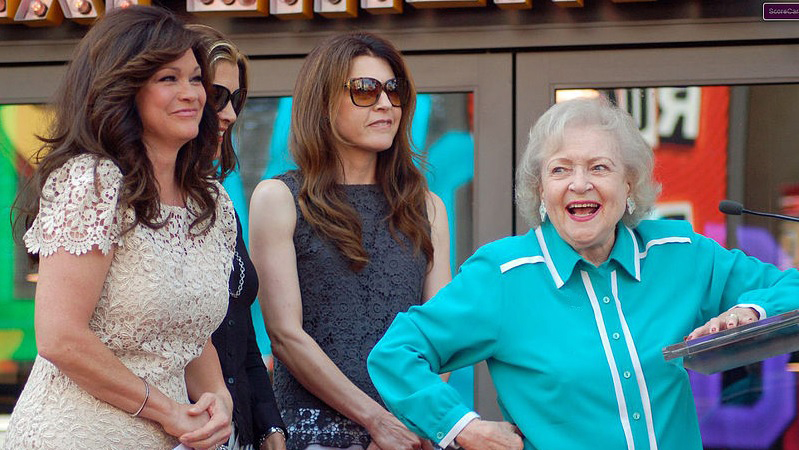 (Valerie Bertinelli, Wendie Malick, Jane Leeves, Betty White 2012 Hot in Cleveland Photo: Angela George)
She also hosted the hidden camera "prank" show Betty White's Off Their Rockers (2012-2014), where senior citizens play tricks on younger victims. She received three Emmy nominations for her work on Betty White's Off Their Rockers. 
In addition to her multiple Emmy Award nominations and wins, recognition for Betty White has included the Television Hall of Fame (1995), The Hollywood Walk of Fame, a Grammy Award for her best seller If You Ask Me, and the Guinness World Record in 2013 for the longest TV career for a female entertainer.
As of 2016, Betty White was still a celebrity panelist on game shows, a popular late night and daytime talk show guest, and awards show guest presenter. Proceeds from a clothing line bearing her name, and other charitable activities, go to various animal causes she supports.
Below, Betty White provided her Top Ten List for Living a Long and Happy Life when she visited David Letterman; as a nonagenarian senior citizen, she's was a funny expert on the topic. 
People magazine reported that Betty White died at her home on December 31, 2021 at the age of 99. Her wit, humour, and love of animals, will live on through her legacy of television and film work.
Note: This article was first published in 2017 as Betty White is 95 and She's Hot in Cleveland: 1922-2017. It has been updated with new and additional content.