The Voyage of Gavin MacLeod
The Love Boat Captain, former mayor, author, Christian activist and actor Gavin MacLeod was born Allan George See on February 28, 1931 in Mount Kisco, New York.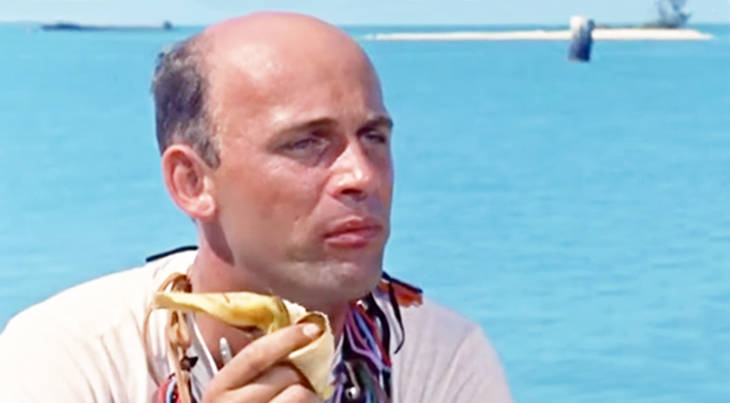 (Gavin MacLeod 1959 Operation Petticoat)
Gavin MacLeod grew up during the Great Depression in Pleasantville, New York.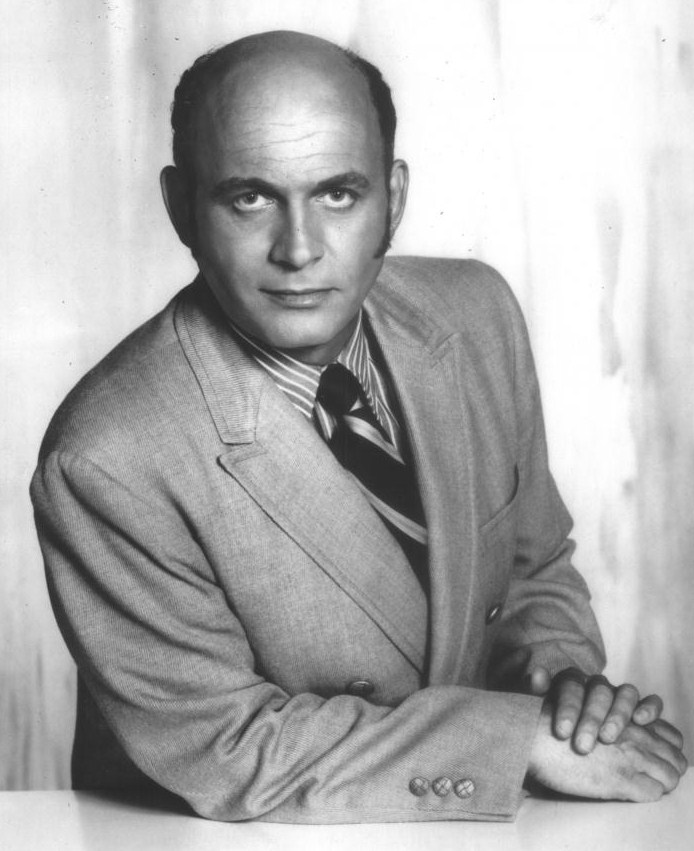 (Gavin MacLeod 1970 The Mary Tyler Moore Show Photo: CBS Television)
According to a 2009 interview with The Flaming Nose TV Blog, George See's first experience onstage was at age 4 and his passion for acting continued through high school, where he received a drama scholarship to Ithaca College.
While at Ithaca College George studied acting with drama teacher Beatrice MacLeod and he began losing his hair; he was almost completely bald when he graduated in 1952 with a BA in Fine Arts. 
In his autobiography This is Your Captain Speaking: My Fantastic Voyage Through Hollywood, Faith & Life (2013), MacLeod says he moved to New York City in 1952 and worked as an elevator operator at Radio City Music Hall while he struggled to find work as a bald actor.
He finally purchased a second-hand toupee (previously worn by New York radio personality Andre Barouch), changed his name to Gavin (for a character in the show Climax) MacLeod (for his former drama teacher), and took acting classes. Gavin MacLeod also married for the first time in 1955, to Radio City Music Hall Rockette Joan Rootvik; he introduced himself to her at an Easter breakfast at the Waldorf-Astoria Hotel.
In 1956 MacLeod got his first big break, replacing another actor in the play A Hatful of Rain (1956) on Broadway, and continuing in the play when it went on tour. He flew out to California to find and agent and met struggling actor Ted Knight in the waiting room, beginning a lifelong friendship. Joan and Gavin MacLeod moved to California and he promptly found work on stage and then, in 1957, on television with small roles. Being bald and having a toupee allowed him to play different types of characters – with or without the toupee – and expanded his opportunities.
While acting in The Walter Winchell File that year, he met another person that would become a lifelong friend – actress Marion Ross. In 1958 MacLeod scored another big break with a role in the Susan Hayward movie, I Want to Live! (1958). 
More small parts in television – Peter Gunn, The Untouchables, Dr. Kildare – and the movies came his way, with a role in Operation Petticoat (1959) courtesy of friend Blake Edwards. In addition to co-star Dina Merrill, pal Marion Ross had a small part in Operation Petticoat as well.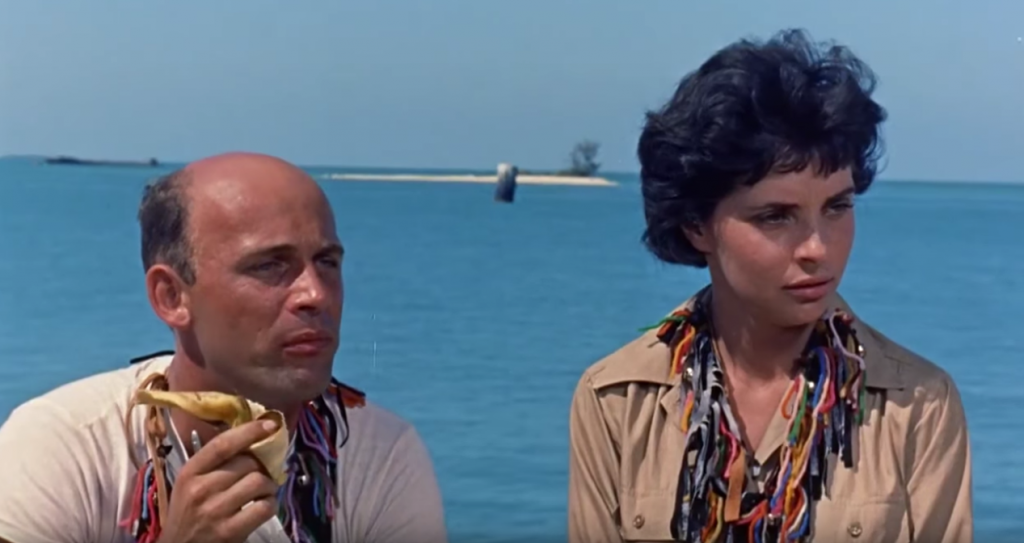 (Gavin MacLeod & Madlyn Rhue 1959 Operation Petticoat)
Bigger parts started to come his way and Gavin MacLeod was on a professional roll, but found balancing the highs and lows of being an actor – one day you're employed, the next day you're not – difficult. He first met actress Mary Tyler Moore while filming an episode of The Dick Van Dyke Show in 1961 – Empress Carlotta's Necklace.
A small character part as "Happy" Haines in the television comedy McHale's Navy with Ernest Borgnine and Tim Conway from 1962-1964, made him miserable. MacLeod began drinking to assuage feeling like a failure; depression was not helped by heavy drinking, and Gavin MacLeod almost killed himself before quitting McHale's Navy.
He went to China to film the movie The Sand Pebbles (1966) with Steve McQueen and Candice Bergen (Murphy Brown). The MacLeods now had four children – son Keith was born March, 1960, followed by son David (September 1961), daughter Julie (January 1963), and daughter Meghan (1965). MacLeod has said that his drinking (and depression) made his marriage to Joan suffer
"I was ugly when I drank. I said some rotten things. I was irritable." 
Gavin MacLeod continued to appear in small television roles such as Hogan's Heroes (Left: Aveleyman.com), and on the big screen in movies like The Rat Patrol (1967) and Kelly's Heroes (1970) starring Clint Eastwood, Telly Savalas (Kojak), Don Rickles, Donald Sutherland, and Harry Dean Stanton.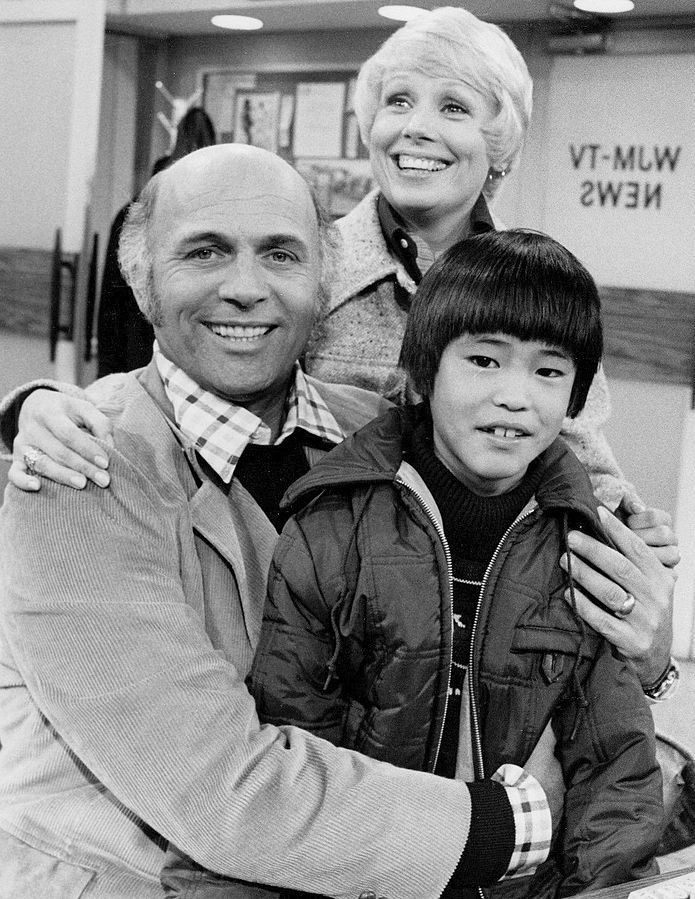 (Gavin MacLeod as Murray Slaughter, Joyce Bulifant as Marie Slaughter, Michael Higa as their adopted son on The Mary Tyler Moore Show 1975 Photo: CBS Television
His role as Murray Slaughter in the long-running The Mary Tyler Moore Show (1970-1977), starring Mary Tyler Moore, Ted Knight, Edward Asner, Georgia Engel, Cloris Leachman, and Betty White, made him a beloved figure with fans of the series.
During the filming of The Mary Tyler Moore Show, he met actor Bernie Kopell; they became lifelong friends.
After his divorce with Joan was finalized in 1972, Gavin began dating divorced actress-ballet dancer and mother of three (Stephanie, Andy, and Tommy) Patti Steele (nee Kendig) the next year.
When Patti told him her first husband had been an alcoholic and she could not go through that again, MacLeod quit drinking the next morning. Patti and Gavin MacLeod got married in February 1974.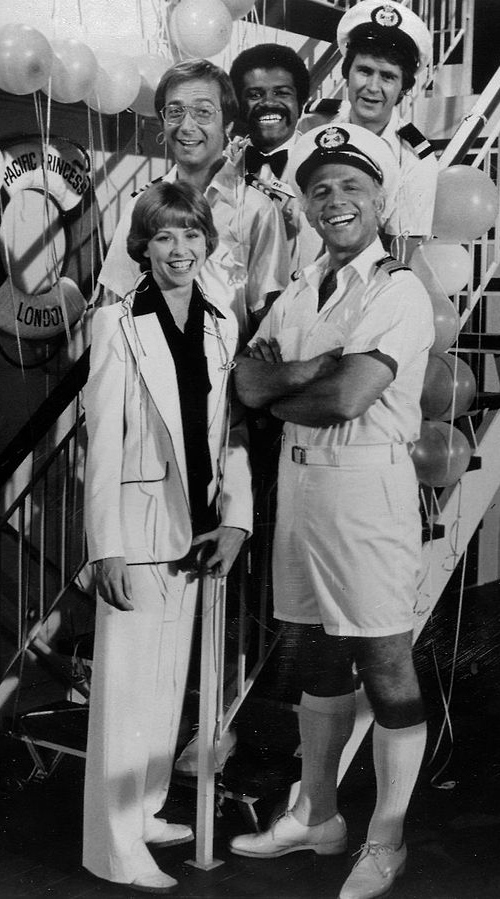 (The Love Boat Cast 1978: Lauren Tewes [Julie[, Bernie Kopell [Doctor Adam Bricke]), Ted Lange [Isaac], Fred Grandy [Gopher], and Gavin MacLeod [Captain Stubing] Photo: ABC Television)
Not long after The Mary Tyler Moore Show ended, Gavin MacLeod landed the role of Captain Merrill Stubing on the popular baby boomer series The Love Boat, with friend Bernie Kopell playing Dr. Adam Bricker.
MacLeod has said he divorced Patti in 1982 when he was in his 50+ years, because he was traveling and prioritizing his work with The Love Boat over time with Patti. Fast forward 3 years, and when MacLeod's mother got ill, he prayed that if she got better he would give his life over to Jesus. He met with Patti for dinner soon after and she told him she was now a born-again Christian herself. They realized they wanted to be together again, and remarried in 1985.
Both Patti and Gavin MacLeod have been born-again Christians ever since. Patti appeared on a few episodes of The Love Boat before the series ended in 1986.
Gavin MacLeod has said that one of his favorite moments on The Love Boat was marrying his long-time friend, guest actress Marion Ross, in the last episode.
When the series ended, 55-year-old Gavin MacLeod was offered the role of spokesperson for Princess Cruises. MacLeod even celebrated his 80th birthday aboard The Golden Princess in Los Angeles, California in 2011.
After The Love Boat ended, Patti and Gavin MacLeod hosted a program for couples with marital problems, Back on Course for 17 years (1986-2003) on the Trinity Broadcasting Network. They also co-wrote a book, Back On Course: The Remarkable Story of a Divorce That Ended in Remarriage (1987). They appeared onstage in some plays together in the 1990's and early 2000's.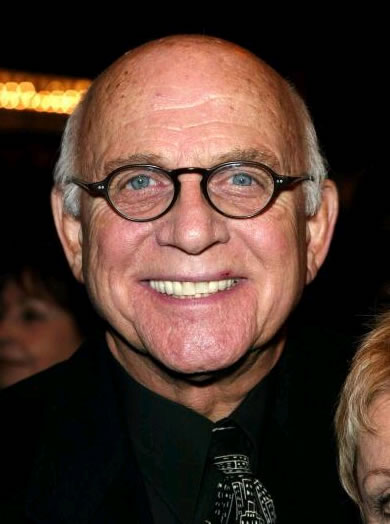 (Gavin MacLeod 2006 Photo: Base115)
In his 70's, Gavin MacLeod served as the Mayor of Palm Springs, California from 2006-2011.
He weathered his share of health issues common to seniors – surviving two heart attacks and a quintuple bypass; prostate cancer, and back surgery, and said that overcoming these issues was possible because he went to the gym to exercise, ate less carbs, and lived a healthy lifestyle.
In a 2014 interview for MeTV, the then-octogenarian senior citizen had this to say about aging and holding onto your dreams:
"I'm a guy who loves life, and I enjoy every day—I think every day is a gift from God. I've been through a lot of things, a lot of difficult things: a heart attack; I've just beaten prostate cancer. I've been through an awful lot of stuff, but that's just what happens when people get older, but that's why I am grateful for every day! And for anybody that's having a rough time—hang in there. Never give up! Never give up, because you just don't know what's going to happen. If you have a dream, if you have a passion about something, keep going."
Below, Gavin MacLeod with Princess Cruises VP Stuart Allison, CLIA President Christine Duffy, and CLIA Australasia GM Brett Jardine.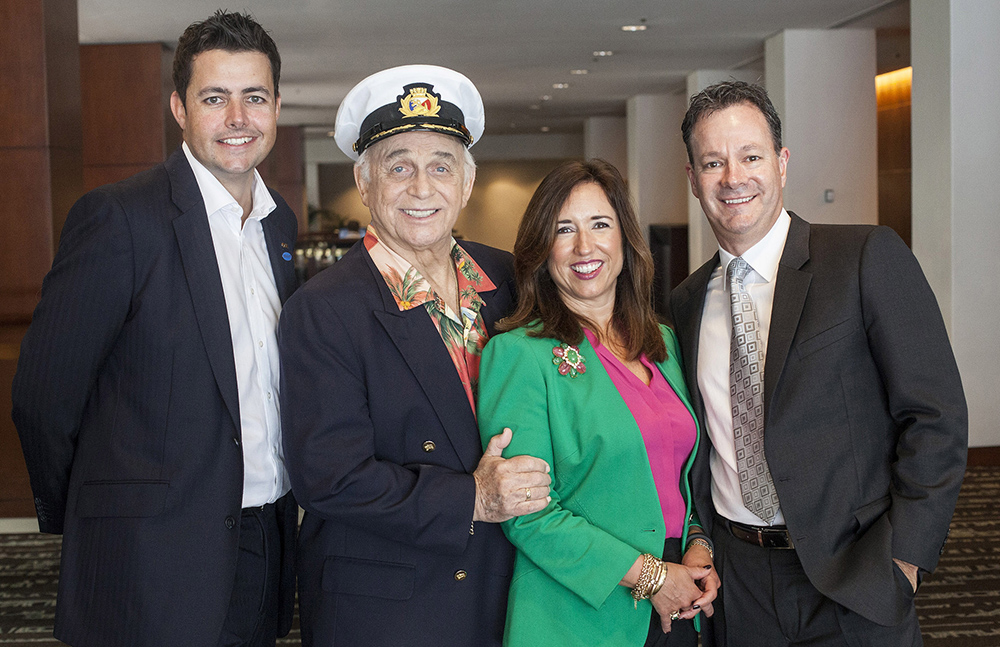 (2014 Photo: CLIA / Chris Gleisner)
Although he retired from Hollywood-type productions, MacLeod did star in the Christian feature film Secrets of Jonathan Sperry (2008), and in pal Betty White's airplane safety video in 2012, at the age of 81. He and Patti lived in Palm Springs, California and in November 2015 he appeared on stage at the California Coachella Valley Rep, in the play Happy Hour (Princess Cruises is one of the sponsors).
Gavin MacLeod had been ill for a while before he died on May 29, 2021 at the age of 90. He's sailed into the sunset on his last voyage, leaving happy memories behind for his fans.
Note: This article was first published in 2016 as Celebrating Seniors: Gavin MacLeod is 85. It has been updated with new & additional content.
*Images are public domain or Creative Commons licensed & sourced via Wikimedia Commons, Vimeo, YouTube, or Flickr, unless otherwise noted*