Celebrating Seniors - Bernie Kopell Turns 83
Actor Bernie Kopell was born on June 21, 1933 in Brooklyn, New York and graduated from Erasmus High School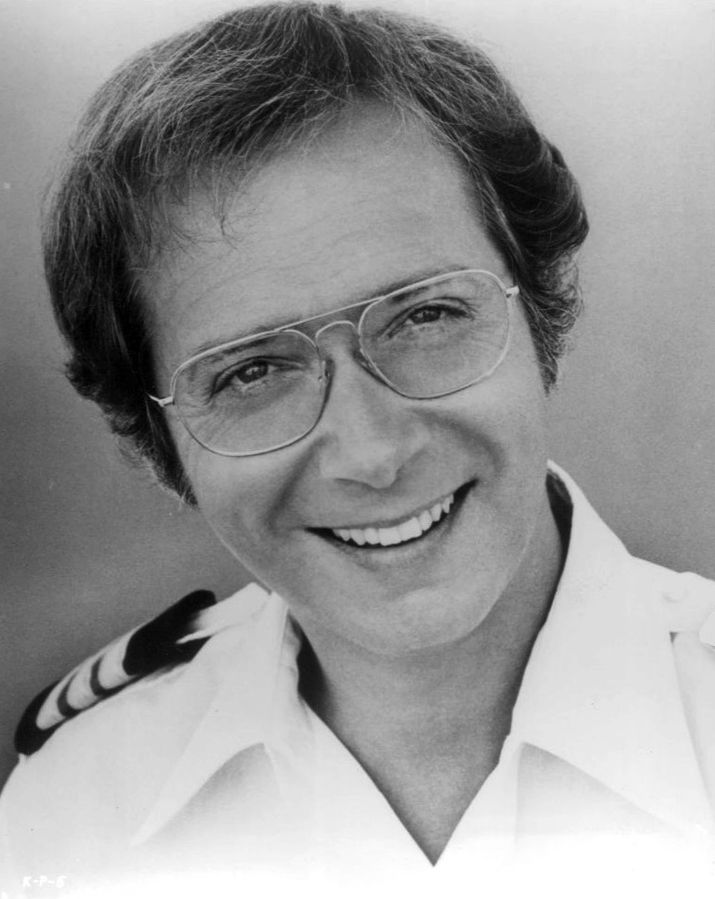 on Flatbush Avenue in Brooklyn.
(Bernie Kopell 1977 The Love Boat Photo: ABC Television)
Bernie Kopell told People magazine that in summer camp at age 13, he was attracted to acting because "It was a tremendous opportunity not to be me."
Kopell majored in Dramatic Art and studied Shakespeare and Shaw at New York University and graduated in 1955, and began acting at an upstate theater.
Bernie Kopell was on active duty in the U.S. Navy from 1955-1957. He told the Los Angeles Times he boarded the USS Iowa, a former WWII and Korean War battleship, in 1956. For part of the time when Kopell served on on the USS Iowa, it was stationed at Guantanamo Bay in Cuba, where talk was of a potential takeover of the country by "this guy in the hills" (Fidel Castro, who did take over Cuba in 1959). Kopell has characterized his Navy service lightheartedly:
" I don't like to talk about my heroism, but what the hell: I was a librarian. I kept America safe from overdue books!"
His service in the Navy over, Bernie Kopell migrated to Los Angeles, where he worked odd jobs and tried to break into work as an actor. He was broke and driving a cab when passenger Dick Einfeld, a producer on the movie The Oregon Trail (1959) starring Fred MacMurray (My Three Sons), gave him a small part – 4 words "Yes Sir… No Sir" in The Oregon Trail as President Polk's secretary.
Bernie Kopell's early marriage to first wife, actress Celia Whitney in 1962, ended in divorce.
On his website BernieKopell.com, Kopell recalls finding frequent acting work as Spanish or Russian-accented characters in television episodes of popular baby boomer series throughout the 1960's and early 1970's. He debuted on television as Cuban "Pablo" on daytime soap opera The Brighter Day for 3 months; in My Favorite Martian (1964-1965), Bernie Kopell was a Mexican businessman and mayor; on The New Dick Van Dyke Show in 1972, a Mexican divorce lawyer; on The Flying Nun (1968), Kopell was a Puerto Rican dentist.
Kopell also appeared in episodes of Ben Casey (1965), Green Acres (1966), Room 222 (1970-1972), The Streets of San Francisco (1974-1975), and Kojak (1975), among others. It was while appearing on an episode of The Mary Tyler Moore Show in 1975 that Kopell first met Mary Tyler Moore and actor Gavin MacLeod, his future co-star on The Love Boat.
Bernie Kopell held recurring roles on Get Smart (1966-1969) as Siegfried, a KAOS villain/agent.
On That Girl, Kopell had a recurring role from 1966-1971 as Jerry Bauman, co-worker and neighbour to the main character Ann Marie (actress Marlo Thomas).
On seasons 3 and 4 of The Doris Day Show Kopell was Doris' landlord Louie Palluci. On Bewitched, he played several different characters between 1969-1972, and was Alan-a-Dale on 13 episodes of the sitcom When Things Were Rotten (1975). Below from left, the cast of When Things Were Rotten: Dick Van Patten as Friar Tuck, Richard Dimitri as Bertram, Dick Gautier as Robin Hood, Bernie Kopell as Alan-a-Dale, and David Sabin as Little John.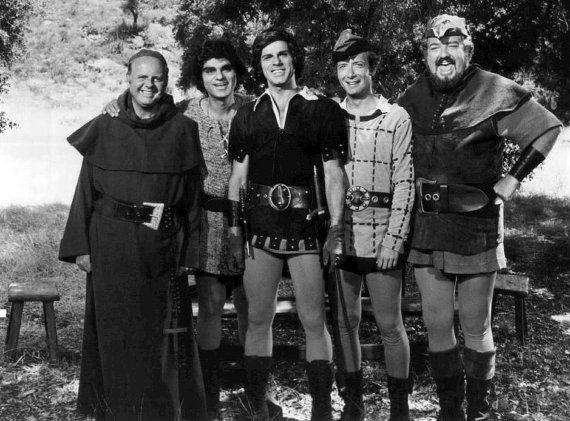 (When Things Were Rotten 1975 Cast Photo: ABC Television)
While appearing as a regular cast member on the one and only season of the television series Needles and Pins (1973-1974), Kopell met fellow actress Yolanda Veloz. They dated for a year before marrying in November 1974, and friend and actor James Francisus (Longstreet) was Kopell's best man.
Yolanda and Bernie Kopell told People magazine in 1982 that they were disappointed at not having children and were considering adopting. Yolanda Veloz gave up acting in 1975 to concentrate on a career in real estate; Bernie Kopell credited her with investing and managing their money wisely.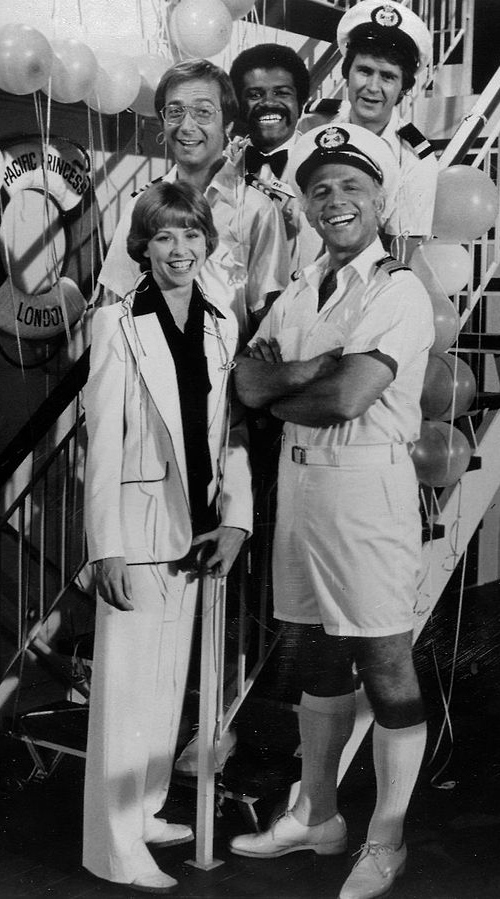 Bernie Kopell appeared as Dr. O'Neill in the 1977 TV movie The Love Boat II, a precursor to his long-running role as amorous Dr. Adam Bricker on the series baby boomers will remember him best from, The Love Boat (1977-1986). During his run on The Love Boat, Kopell co-wrote several episodes with co-star Fred Grandy, and wife Yolanda would often travel with Kopell for on-location shoots. The Love Boat television series has been credited with the rapid expansion of the cruise lines and the cruising travel industry.
Clockwise from left, The Love Boat cast in 1978: Lauren Tewes (Julie), Bernie Kopell (Doctor Adam Bricker), Ted Lange (Isaac), Fred Grandy (Gopher), and Gavin MacLeod (Captain Stubing). (The Love Boat 1978 Photo: ABC Television)
After The Love Boat ended, Bernie Kopell reprised his role as Dr. Adam Bricker in 3 more made-for-tv Love Boat movies in 1986 and 1990.
He returned to episodic television work, appearing in shows like Monk, Charmed, and many others; he was Captain Nelson in 4 episodes of the daytime soap opera Sunset Beach in 1998. Kopell also returned to live theatre in California.
Alas, appearing on The Love Boat wasn't enough to hold together Yolanda and Bernie Kopell's marriage; the couple divorced in February 1995.
While appearing in a production of Neil Simon's play Rumours at the Burt Reynolds Jupiter Theatre in Florida, Bernie Kopell met 20-years-younger Catrina Honadle. Kopell and Honadle opened their own production of Rumours in Los Angeles in June 1996; by this time they were a couple.
On the cusp of becoming a senior citizen, at the age of 64 Bernie Kopell married Catrina Honadle in 1997, and son Adam  Kopell was born in October of 1998. Second son Joshua Kopell was born in 2003. Bernie Kopell had a cameo in the big-screen Get Smart 2008 movie.
Throughout the 1990's and 2000's, Kopell continued to appear in feature films such as Bug Buster (1998) with Katherine Heigl and Randy Quaid, and played an octogenarian senior citizen and concentration camp survivor in The Cutter (2005), a Chuck Norris movie. Bernie Kopell could be seen regularly on television as himself – he's been  on Letterman, the Conan O'Brien Show, and frequently appeared on the Jimmy Kimmel Show – and in television movies such as Follow Your Heart (1999) with Ted McGinley.
In a 2010 article in The Wall Street Journal, Bernie Kopell shared his fitness secret to staying slim and youthful in his senior years – he lives in Tarzana, California and swims regularly, in addition to playing tennis and competing in celebrity charity tennis tournaments. Kopell hosted a charity golf and tennis tournament in Fort Lauderdale, Florida, with proceeds going to the Alzheimer's Association. In 2014 the American Heart Association and Princess Cruises awarded a Lifetime Achievement Award; Kopell has been a California Chairman of the American Heart Association's Jump Rope for Heart program, and was jumping rope in the 1970's when married to his second wife Yolanda.
Bernie Kopell named his family's golden retriever Klugman, for Kopell's friend actor Jack Klugman. For almost two years Kopell appeared in the play Viagara Falls, in Calgary, Toronto, and finally made his New York off- Broadway stage debut with the play in July 2010. Viagara Falls is a comedy about aging and the famous Viagara erectile-dysfunction pills, which Kopell has confessed to taking himself.
Bernie Kopell told the WSJ that the appeal of Viagara Falls is "It speaks to seniors, it speaks to young people. There's no man in the world who has not had some issues with his private parts. It happens to everybody."
When asked if he resembled his character Moe Crubbs in the play, he said: "The biggest resemblance is he's an old fart, which I am."
More recently, Bernie Kopell could be seen on television in recurring roles on Arrested Development as Judge Kornzuker in 2013; and in See Dad Run as The Colonel/ Colonel James Cunningham in 2012/2013. In 2016 octogenarian senior Kopell appears in the movie A Horse Story (2016), where he plays a judge; and in a personal appearance September 14-17 at the Mid-Atlantic Nostalgia Convention in Maryland. He shows no signs of retiring.