Raquel Welch - One in a Million
Raquel Welch burst into the public consciousness with her role in the prehistoric cave-man / woman fantasy One Million Years B.C. (1966). Welch died February 15, 2023 at the age of 82, but for many, she will forever remain in their memory as a shapely beauty wearing an animal skin bikini – an instant sex symbol.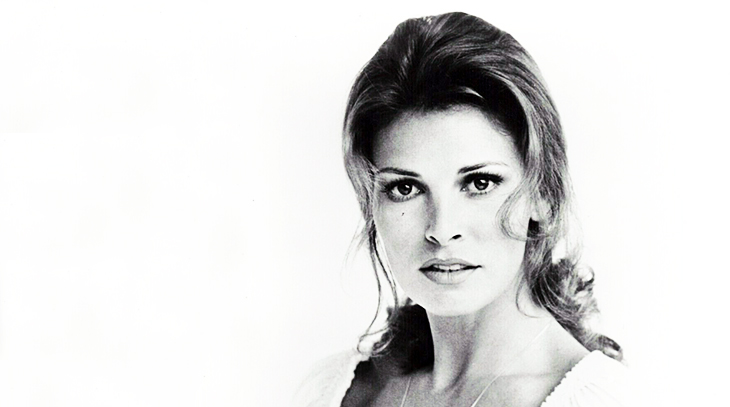 (Raquel Welch c. 1960s-1970s)
Raquel Welch was born September 5, 1940 in Chicago, Illinois as Jo Raquel Tejada.Her parents were of Bolivian (father Armando was an aeronautical engineer) and English (mother Josephine) descent.
While in high school, Raquel entered and won some minor beauty contests beginning at age 14, including "Miss Fairest of the Fair" at the San Diego County Fair. She studied ballet until at age 17, her ballet instructor told her she would make a better comedienne than ballerina. 
Virginal cheerleader Raquel and her football player boyfriend Jim Welch went to all the post-football game school dances and jitterbugged. 
Jim Welch dropped out of high school in their senior year and jumped on a tuna clipper to Peru. 17-year-old Raquel finished her senior year of high school by herself, graduated in 1958 with honours and attended San Diego State College on a theatre arts scholarship. When Jim Welch returned from Peru, Raquel was dazzled by his matured good looks. Raquel Tejada and Jim Welch eloped to Las Vegas, getting married on May 8, 1959. 
Raquel got a job as a morning show weather girl on a San Diego news channel and began modelling, but she soon began to suffer morning sickness. Their son Damon Welch was born in November 6, 1959 when Raquel was 19, and daughter Latanne Welch (later called Tahnee, the same name as Jim's mother; now and actress) was born two years later, December 1961.
When the Welch marriage broke up (they separated in 1962), Raquel briefly moved to Texas with their two children before moving back to California and settling in Los Angeles in 1963.
Once in Los Angeles, Welch quickly met former Gone With the Wind child actor-turned-publicist Patrick Curtis, and he soon became her manager. They formed a production company to create vehicles for Raquel, and planned how to make her a sex symbol. 
By 1964 Raquel Welch was now divorced from Jim, a single mother of two, and finding work with bit parts on television (Bewitched) and in movies (Roustabout, uncredited). 
Although Welch is better known today for her feature films, she could be seen in guest-starring or bit parts on television on several 1964-1965 series:
McHale's Navy, starring Ernest Borgnine, Joe Flynn, and Tim Conway, in an episode with Bob Hastings. 
Bewitched, starring Elizabeth Montgomery, Dick York, and Agnes Moorehead, in an episode with semi-regulars Irene Vernon (Louise Tate), David White (Larry Tate).
The Rogues, starring Gig Young, Charles Boyer, Robert Coote, and Gladys Cooper, in an episode with Ricardo Montalban, Marie Windsor, and Michael Fox.
The Baileys of Balboa, starring Paul Ford, Sterling Holloway, John Dehner, Clint Howard, and Les Brown Jr., in an episode with Michael J. Pollard.
Raquel Welch's first big break came in 1966 with the female lead opposite Stephen Boyd in Fantastic Voyage, which landed her a contract with 20th Century Fox. Supporting cast members in Fantastic Voyage included Edmond O'Brien, Donald Pleasence, Arthur O'Connell, Arthur Kennedy, Barry Coe, and James Brolin in a role as a technician. 
She had only 3 lines in her next big-screen movie (filmed in Europe) that same year, but it was enough. One Million Years B.C. – the movie and an accompanying poster of Raquel Welch in a fur skin bikini – launched her as a major sex symbol in the 1960's and 70's. This movie trailer for One Million Years B.C. features Raquel Welch, John Richardson – and some very dated special effects.
Welch and her children moved with Patrick Curtis to Europe for a short time, and she landed some movie roles there including The Biggest Bundle of Them All (1968). Her co-stars in The Biggest Bundle of Them All included leading men Vittorio De Sica and Robert Wagner, and supporting character actor Edward G. Robinson.
Patrick Curtis and Raquel Welch were married in Paris in 1967, and Patrick Curtis adopted her two children. Raquel acknowledged in later interviews that being the husband of Raquel Welch would have been hard on any man, but from her perspective, she was happy to be free from his control when they divorced in 1972.
"Raquel: It is tough being married to me – …In her divorce action Miss Welch was awarded one dollar a month token support and custody of her two children by a former marriage but who were adopted by Curtis. Miss Welch started to weep when she told the judge there were 'irreconcilable differences' in her marriage and marriage counselling could not help." – Evening Standard, January 7, 1972. 
Below, Raquel Welch co-starred with Frank Sinatra (as Tony Rome) in Lady in Cement (1968).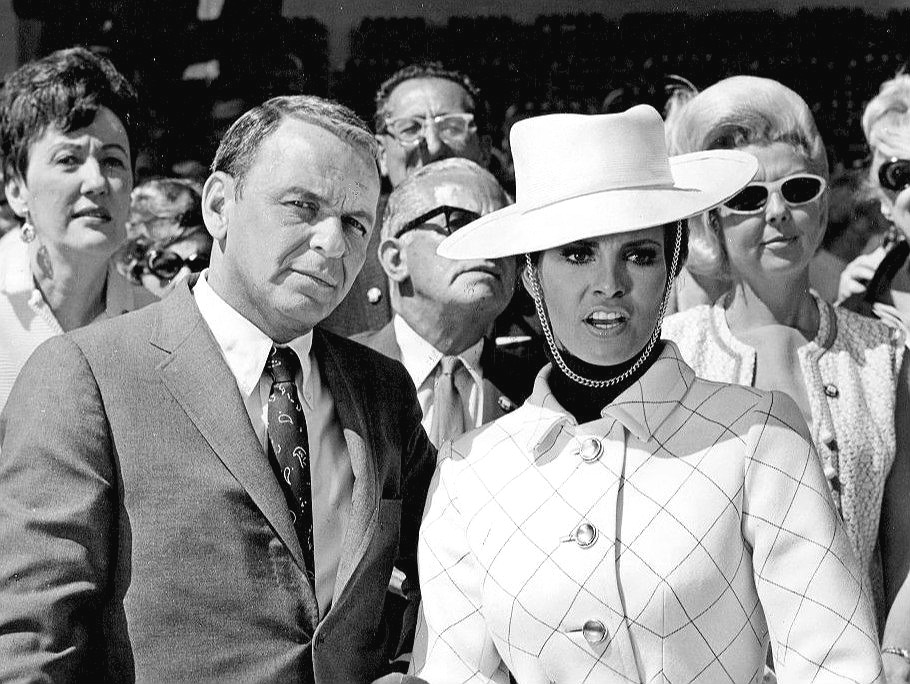 (Frank Sinatra & Raquel Welch 1968 Lady in Cement Photo: 20th Century Fox)
Raquel Welch's acting career continued throughout the 1960's, with some larger parts in a few big-screen westerns:
Bandolero! (1968) with James Stewart and Dean Martin. Bandolero's supporting cast members included George Kennedy, Andrew Prine, Clint Ritchie, Will Geer, Denver Pyle, and Harry Carey Jr.
100 Rifles (1969) co-starring Jim Brown and Burt Reynolds. Other cast members in 100 Rifles were Fernando Lamas and Eric Braeden. Below, the movie trailer for 100 Rifles features Jim Brown, Raquel Welch, Burt Reynolds, and Fernando Lamas.
During the 1970's Raquel Welch made more films, but her career as a movie star never really took off.
(Raquel Welch & James Stacy 1969 Flareup: 1970 Press Photo)
She appeared in some hits and misses:
The controversial and universally panned Myra Breckenridge (1970) – a miss. Her Myra Breckenridge co-stars included Mae West, John Huston, Rex Reed, Farrah Fawcett, George Furth, Jim Backus, and John Carradine, but none of them could save the movie.
The slightly more popular Kansas City Bomber (1972), co-starring Kevin McCarthy. Welch also produced Kansas City Bomber.
The Three Musketeers (1974), for which she won a Golden Globe Award for Best Motion Picture Actress in a Musical or Comedy. Oliver Reed, Richard Chamberlain, and Michael York played the titular Three Musketeers, with Christopher Lee, Geraldine Chaplin, Charlton Heston, Joss Ackland, and Faye Dunaway as supporting cast members. The Three Musketeers was a hit.
In Mother, Jugs and Speed, Raquel Welch played Jugs, with Bill Cosby as Mother and Harvey Keitel as Speed. Larry Hagman, Bruce Davison, and Dick Butkus were also in Mother, Jugs and Speed.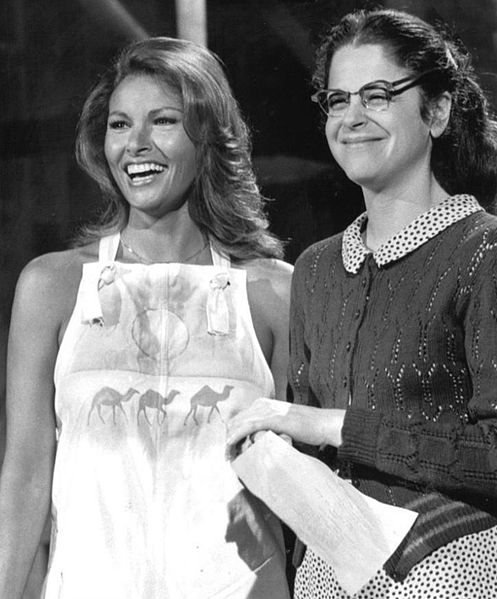 (Raquel Welch & Gilda Radner 1976 Saturday Night Live: NBC Television)
As the 1970's progressed, Raquel Welch's time on the big screens was winding down. 
She appeared on Saturday Night Live in a sketch with Gilda Radner in 1976. 
A few years later, she was on the cover of Playboy magazine in 1979 when she was 39 years old.
Playboy named her the "Most Desired Woman" of the 1970's.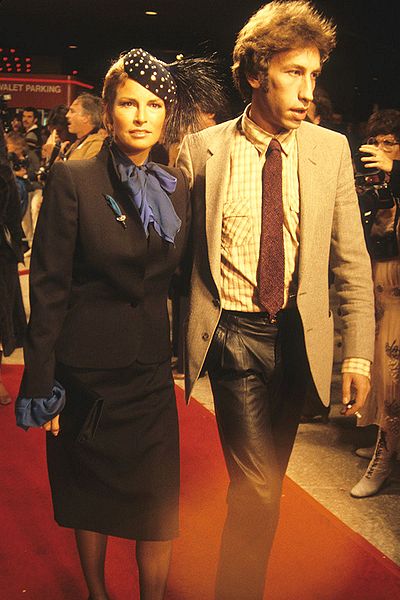 (Raquel Welch & Andre Weinfeld 1979 Photo: Alan Light)
Ironically, 3 years after her Playboy cover, Raquel Welch was a few days into production of the movie Cannery Row (1982) when the producers replaced her with Debra Winger, telling her she was too old to play the character. Raquel sued and won a $10.8 million settlement in 1986. 
Television director, producer, photographer and journalist Andre Weinfeld was only 31 but already successful in his native France when he met 37-year-old Raquel during the filming of L'Animal (1977) on location in Paris.
When filming on L'Animal  ended, Andre Weinfeld moved to Los Angeles to be with Raquel, and started his own production company. They married in 1980, and divorced in 1990. They had been living in New York, but post-divorce, Welch bought a home in Beverly Hills. 
"RAQUEL DIVORCED – …No official word on the settlement but published reports indicated that Weinfeld, a screenwriter, walked off with a $6 million settlement." – The Record, August 29, 1990
For most of the 1980's Raquel Welch's film appearances were limited to a handful of TV movies.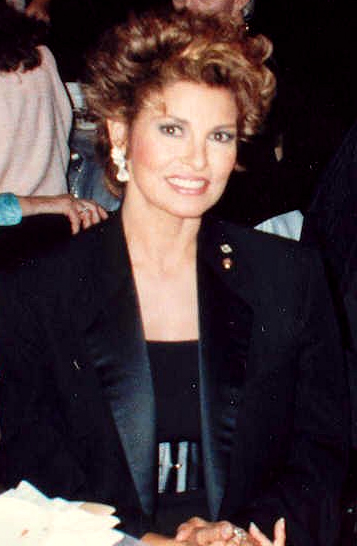 (Raquel Welch 1987: Alan Light)
In her fifties, Raquel launched The Raquel Welch Hair Collection (available through Hair U Wear) company in the 1990's, which is still in business today. She also continued to act on television, making appearances on television shows and made-for-tv movies.
Raquel Welch's big-screen movie career was re-launched with a supporting role in the comedy Chairman of the Board (1998).
In 1999 at age 59, Raquel Welch married her fourth husband, 43-year-old pizza-chain restaurateur Richard Palmer. They separated in 2003 and divorced in 2004.
"It was a beautiful wedding, with some good years. We tried to make it work. It just didn't, and you have to move on." – Raquel Welch still enjoying the fame, The Journal News, March 8, 2004
As she was turning the corner into her sixties, Playboy ranked Raquel Welch #3 on their 100 Sexiest Stars of the Twentieth Century, and she appeared in Legally Blonde (2001).
Raquel's sister had cancer in 2005; Welch was inspired to work with Hair U Wear to annually donate $1  million in wigs annually to the American Cancer Society.
(Raquel Welch 2010 Photo: Justin Hoch | Flickr Some rights reserved)
In her senior years, Raquel Welch's modelling career also resumed.
She became the face of MAC cosmetics Beauty Icon product line in 2007, and a spokeswoman for Foster Grant's reading glasses campaign
In her seventies, Raquel Welch authored the book Beyond the Cleavage (2010), part memoir, part inspirational/self-help for health, beauty and longevity.
During an Oprah Winfrey show interview that year to promoted the book, Welch urged urged women to feel comfortable with growing old.
"I want them to stop being scared of it, because it's just another chapter in life."
In 2011 Men's Health magazine named her as #2 on their list of Hottest Women of All Time, and Time magazine listed her One Million Years B.C. bikini in the Top Ten Bikinis in Pop Culture.
As a septuagenarian senior citizen, Welch didn't slack off on her commitment to her body and health. In 2014, the 74-year-old told Jason Chester for mailonline.com that she spent almost 2 hours a day on cardio exercises and yoga (which she discovered when she was 35), six days a week.
Note: This article was first published in 2015 as Celebrating Seniors – Raquel Welch is 75. It has been updated with new & additional content.